Small business owners and human resource heads have a lot on their plates. If you are a business owner focused on the mission of growing your business or an HR executive trying to boost company culture while being bogged down in the HR weeds, a professional employer organization may ease your mind and workload.
A professional employer organization (PEO) can help with managing HR functions like employee benefits, recruiting, and payroll. PEOs can be a cost-effective way to streamline HR services, improve employee satisfaction, and grow your business.
What is a PEO?
According to the National Association of Professional Employer Organizations (NAPEO), PEOs offer comprehensive HR services for small and mid-sized businesses. PEOs bring their expertise in federal, state, and local tax, and compliance, and employment laws allowing companies to outsource as much or as little of their HR tasks as appropriate.
PEO service offerings include:
Contract and benefits administration
HR administration
Employee and contractor recruitment and hiring
Employee training and performance management
Payroll processing and payroll tax compliance
Management of workers' compensation and unemployment insurance claims
NAPEO reports that PEO clients grow seven to nine percent faster and are half as likely to go out of business compared to companies that use an in-house HR model.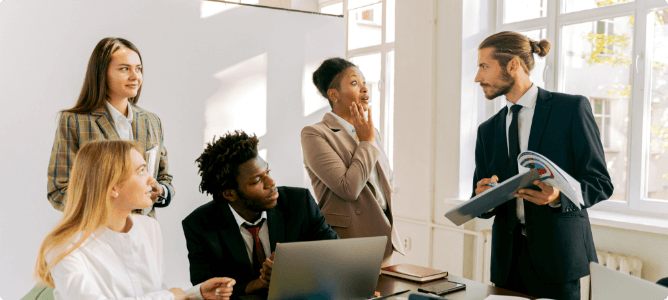 How Do PEOs Work?
PEO providers are full-service HR outsourcing organizations that collaborate with small businesses and mid-sized businesses via a co-employment arrangement. A co-employment relationship is a contractual relationship where the PEO is the employer of record for tax purposes, but the business maintains full authority over its workforce.
Primarily, the PEO team handles all the HR responsibilities, and the business owner and employees manage the daily business operations.
PEO pricing varies depending on the number of employees and the services selected. PEO clients can select a standard set of PEO service offerings or customize a plan with their HR service needs. The PEO team, with access to a vast array of high-quality benefit options, employee pools, and HR professionals, presents choices that meet their clients' needs. The business owner, or PEO client company, usually has the final say in HR business-related decisions, including pay rates, hiring and firing decisions, health insurance, and benefit package requirements.
PEO team handles all the HR responsibilities, and the business owner and employees manage the daily business operations.
Depending on the agreement, the PEO will manage employee recruitment, employee benefits enrollment, claims and plan administration, payroll, and payroll taxes. The PEO can also offer retirement plans and education reimbursement.
PEO Benefits for Any Sized Business
Regardless of the number of employees in your company, you must face HR administrative tasks, like staffing, retention, and payroll. PEOs are not all-or-nothing services, so find one that offers the services and support you need.
Ability to recruit and hire top talent
PEOs have eyes and ears in every industry and can reach top-notch staff that you would not otherwise be able to access. 
Employee training and business-related documentation
Let your PEO develop employee handbooks, company FAQs, and other in-house documentation. Some PEOs can also administer employee compliance training like sexual harassment and diversity training.
No more payroll worries
Ease your headaches and ensure payroll is timely and accurate with a PEO. Payroll services can include time-tracking, managing deductions, tax withholding, and reporting, etc. Certified PEOs (CPEOs) and Employer Services Assurance Corporation (ESAC) accredited PEOs may be able to offer additional financial and tax services.
Risk mitigation and compliance
Ease headaches, relieve yourself of liabilities, and minimize issues over employment law and IRS and employment tax concerns by using PEOs as part of your risk management strategy.
Stay competitive by offering top-level benefits
PEOs often have access to the same benefits large corporations can offer their employees, but for a small-business budget. Attract and keep talent with appealing health benefits, life insurance, 401(k) plans, and more.
PEO Services to Ease Your HR Burden
Find more information about the PEO industry, get help selecting a PEO, or learn about other small business topics in our Learning Hub.