Motivating people to perform to their best ability while building productive relationships requires top-of-the-line management skills. Being a better manager means building stronger bonds with employees that are more likely to inspire feelings of trust and loyalty. Different management styles can be useful depending on the situation, but one thing is certain, improving management skills benefits the manager, employees, and the organization.
A large proportion of employees that resign from their position cite 'bad management' as the reason for leaving. With the cost of recruitment and retraining running into thousands of dollars per employee, it can be financially beneficial for businesses to invest in teaching better management skills.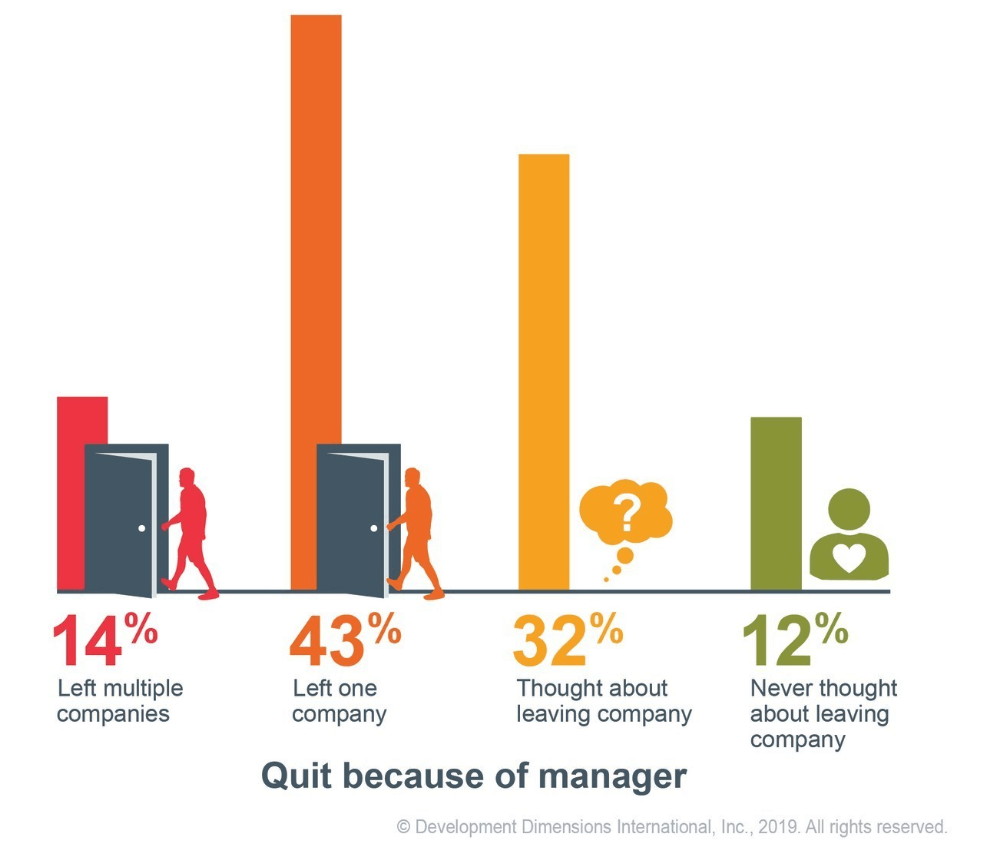 So how can managers connect better with their employees and forge productive relationships? Some studies indicate that the solution is that managers creating positive relationships with employees are generally more successful and that employees highly value things such as transparency and authenticity.
Good employees quit when management is bad. Bad employees quit when management is good.
– Peter Drucker 
Improving manager-employee relationships
Clearly, learning how to be a better manager is the key to driving an organization forward, and shaping leadership roles to encompass tenets like communication, mentorship, and development brings many advantages. But being a good manager takes more than simply engaging employees. The wants, needs, and desires of staff will need to be recognized and supported.
Those needs fall into one of several categories and even though they fluctuate depending on the country the top three influences affecting employee satisfaction remain more or less the same.

Businesses can create a better environment for their employees by bringing employee relationships to the fore and by using some of the following management tips.
Highlight core values
By shifting core values and emphasizing what employees need, managers can develop and implement lasting leadership strategies that motivate and engage their staff. Good managers understand that while things like compensation and benefits are important, employees who feel valued will be more engaged and perform at higher levels than those who feel neglected.
Discovering individual team members' strengths and weaknesses helps managers organize tasks better and drive teams towards maximum productivity. Understanding the different motivations of staff members allows leaders to position employees in the areas where they will be the most effective.
Concise and direct communication
Communication is highlighted over and over as the lynchpin of all business operations. Becoming a better manager starts with thoughtful communication and listening to employees' thoughts or concerns. Information that needs to be shared often gets lost in translation so managers benefit from making their exchanges clear and concise.
Technology tools bring ease of communication to managers, allowing clear delivery of messages. Business software like ClickUp features productivity tools that support efficient cross-team collaborations with a platform that is visible to all. Tracking and moving tasks to simplify the workflow makes work processes run smoother and removes friction, meaning that teams can divert energy to tasks without confusion. 
Foster a collaborative environment
Good managers recognize that they don't always have all the answers, drawing on team members' knowledge to support business ideas. Inviting employees to an open forum to share their thoughts can encourage employees to make suggestions and discuss insights. Managers who demonstrate empathy create a safe environment for idea sharing, strengthening processes like strategic planning and decision-making.
Collaborating on projects allows team members to form a better bond within the group and with external stakeholders, as well as aligning individual experience, skills, and strengths with project tasks. Building a collaborative environment provides a big-picture view and optimized workflows. When a team works cohesively, it manages tasks quicker and improves company processes.
This maximizes time and allows other project areas to be addressed with available resources. Collaboration tools provide a holistic view of tasks, files, documents and products such as Asana simplifies workload tracking with organizational and reporting tools designed to monitor companywide goals.
Strategic planning
Good managers communicate business objectives to their teams by defining a goal and a vision. Outlining stages of a project, from inception to task assignment through to completion, helps teams to understand and drive towards expected targets. With clear outcomes and a strategy that creates a roadmap, roles and responsibilities are identified and assigned to each employee. This helps determine which team members are accountable for specific functions and devises a plan incorporating multiple parts or stages.
As well as laying out the components of organizational plans, good managers should be able to establish goals and the sequence in which each goal should be delivered. Implementing and guiding business strategies to their conclusion and having control mechanisms in place means that managers can quickly assess project stages and focus on priority areas.
Personal development
While many management processes are focused on directing and guiding an external team, personal development plays a big part in a manager's success. Learning, adding to skills, and keeping up with the latest technology are all tools that help direct teams. Good managers take the time to invest in themselves and devote energy to continual improvement by attending courses, seminars, and classes. LMS platforms such as Talent LMS are flexible, accessible, and can be used to support self-paced study.
Leadership and learning are indispensable to each other. 
— John F. Kennedy
Leaders who keep up with the latest developments and trends can remain at the forefront of best management practices. A team working with a manager that stays up to date will appreciate the efforts put forth by a manager who is in touch with industry changes and the latest innovations. Team members are often inspired by the dedication of a committed leader. They may adopt a similar policy, following their own path of learning and self-development which is beneficial for current projects and the business organization.
Tie outcomes to meaningful rewards
Designing a series of rewards that are tied to the completion or success of tasks can be highly motivating for employees, but only if those rewards are meaningful. Bonuses, employee benefits, and gifts can build a connected culture and generate positive work habits. Rewards drive home individual and collective business successes and make them more impactful. Using this incentive allows managers to show appreciation for individual team members and groups.
Rewards drive up employee engagement and by increasing recognition of team members' strengths and achievements, employee retention and turnover are positively impacted. Special occasions, work anniversaries, birthdays, and nominations for like employee of the month are all examples of incentives that hold true meaning for employees.
Being a better manager involves both external and internal focus. Developing a productive and willing team to drive towards targets means bringing people together with a clearly defined process. Improving the talents and abilities of employees will be a large priority for any good leader. Still, the best managers will turn their attention inward and assess their own learning gaps and fill them with the necessary skills and techniques.