30-Second Summary:
Email marketing is a small business owner's friend.

Gmail — Google's email app — makes it easier to do targeted and timely email marketing through scheduling and canceling scheduled emails.

Gmail add-ons like Boomerang offer scheduling, tracking, reminders, and much more.

Google Workspace is another Google product that can help small business owners succeed. All that you need is a Gmail account.
As a small business owner, marketing is very important. Knowing the ins and outs of your Gmail account is important to your overall marketing efforts, because it's one of the best ways to communicate with your clients.
To get the most out of gmail, it's essential to  learn how to use Gmail's scheduling tools to send your emails so that they are delivered at an optimal later date. Learning how to do this will save you time and help you stay on top of your email correspondence.
The Importance of Email Marketing
Email marketing is a highly valuable way to reach and retain customers in a quick and efficient way. Here are some ways to use email marketing so it can benefit your small business:
Email marketing messages can include compelling subject lines such as "limited time offer" or "new product release", which can alert recipients to new offers, while enticing them to make purchases.
Segmenting your list, which allows you to send different emails to different groups of people, allows small business owners to personalize messages and target customers in a more effective way.
Follow up after your email campaigns is important because email marketing also allows you to track your results so that you can see what is working and what is not working.
Email marketing is a cost-effective way to reach your customers. It is also a great way to stay top of mind and keep your business in front of your customers. These are just a few reasons why email marketing is so important for small business owners.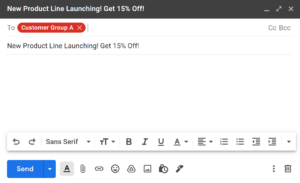 Scheduling Gmail Emails
Email scheduling is popular for small businesses because it allows business owners to take control of when their company emails are sent. This means that you can send out an email campaign at a time that is convenient for you and your recipients.
Here's a look at two different paths to scheduling a Gmail email.
1. Use Gmail's Built-In Scheduling Feature

To use Gmail's in-tool scheduler, do the following: Compose your email as usual, then click on the dropdown arrow next to the send button. From there, you will be able to click "Schedule Send" and select a time and date you want to send your email.
How to Schedule Gmail Emails:
Log into your Gmail account.
Click on the down arrow next to the reply button in the top right corner of the screen.
A drop-down menu will appear. Click on "Schedule Send" at the bottom of this menu.
A pop-up window will appear. Enter the date and time you would like your email to be delivered, then click "Schedule".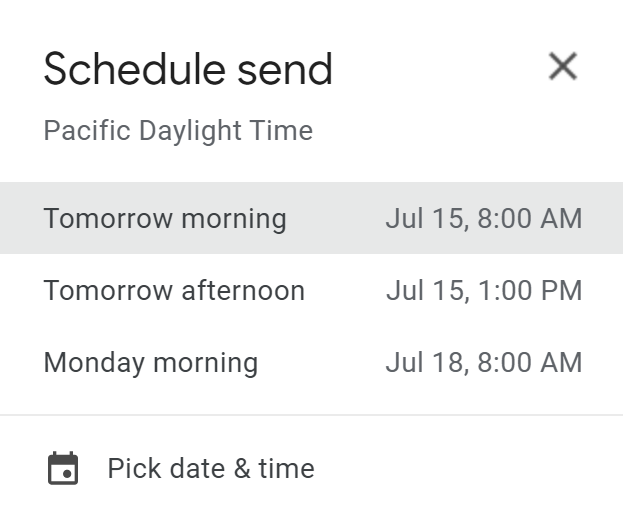 2. Use a Third-Party Extension or Plugin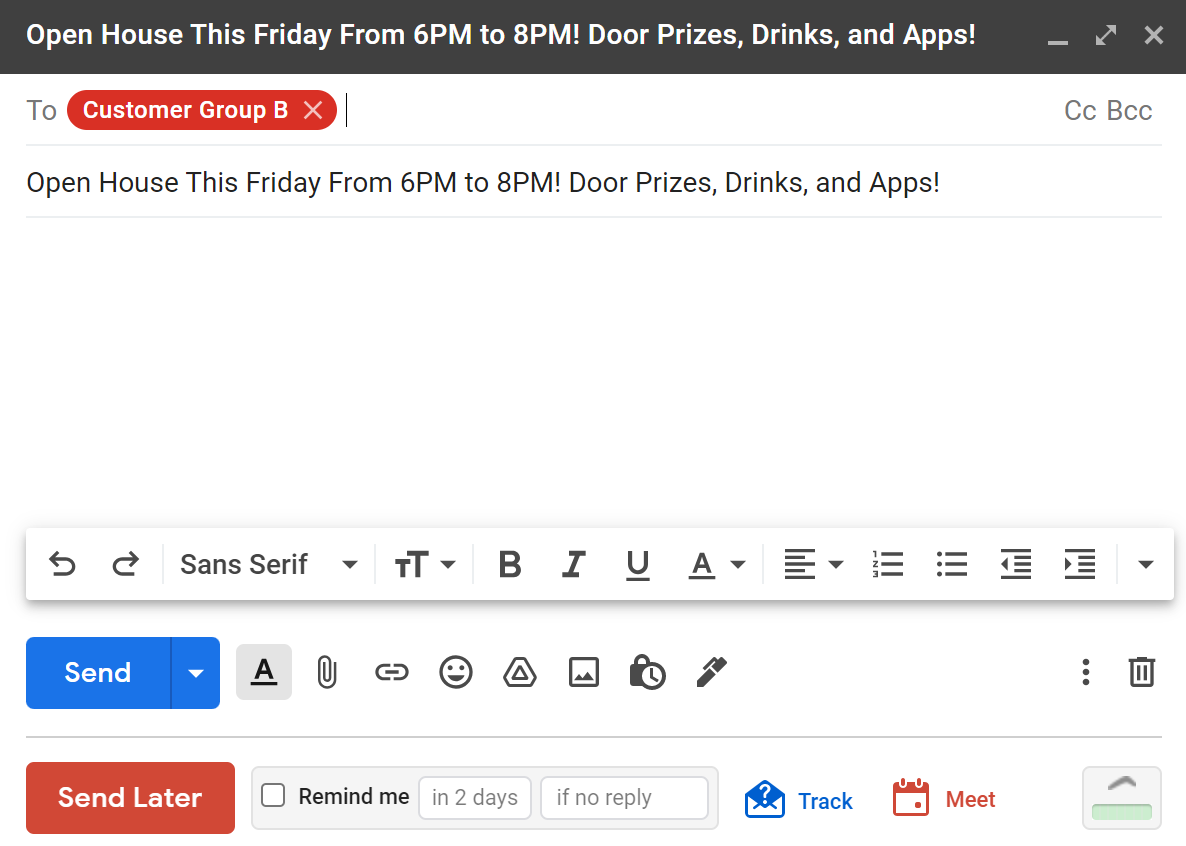 Another way to schedule your Gmail emails is to use a third-party extension or plugin. Boomerang is a Gmail add-on that allows you to schedule your emails so that they are sent at a later time. It also allows you to set-up reminders according to various rules, automate replies, pause your inbox to cut down on interruptions, and more.
To use Boomerang, you create a new email in Gmail as usual and click on the Boomerang button. From there, you will be able to select a scheduled time for your email to be sent.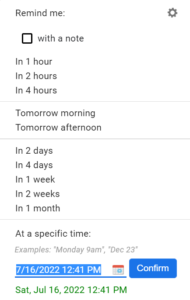 How to Use a Third-Party Extension to Schedule Gmail Emails
1. Install the Boomerang extension from the Chrome store.
2. Log into your Gmail account.
3. Click on the pencil to the left of the screen to compose an email. Then click the red "Compose".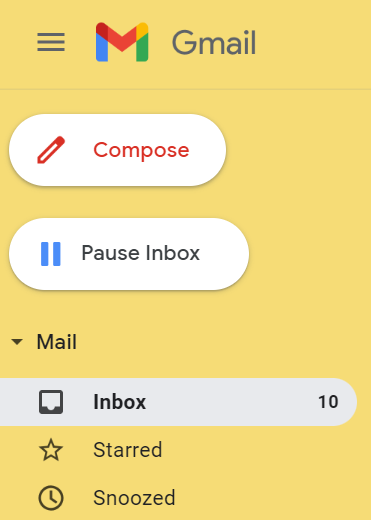 4. Write your email, subject line, and enter the recipient(s).
5. Click on the red "Send Later" at the bottom of the email.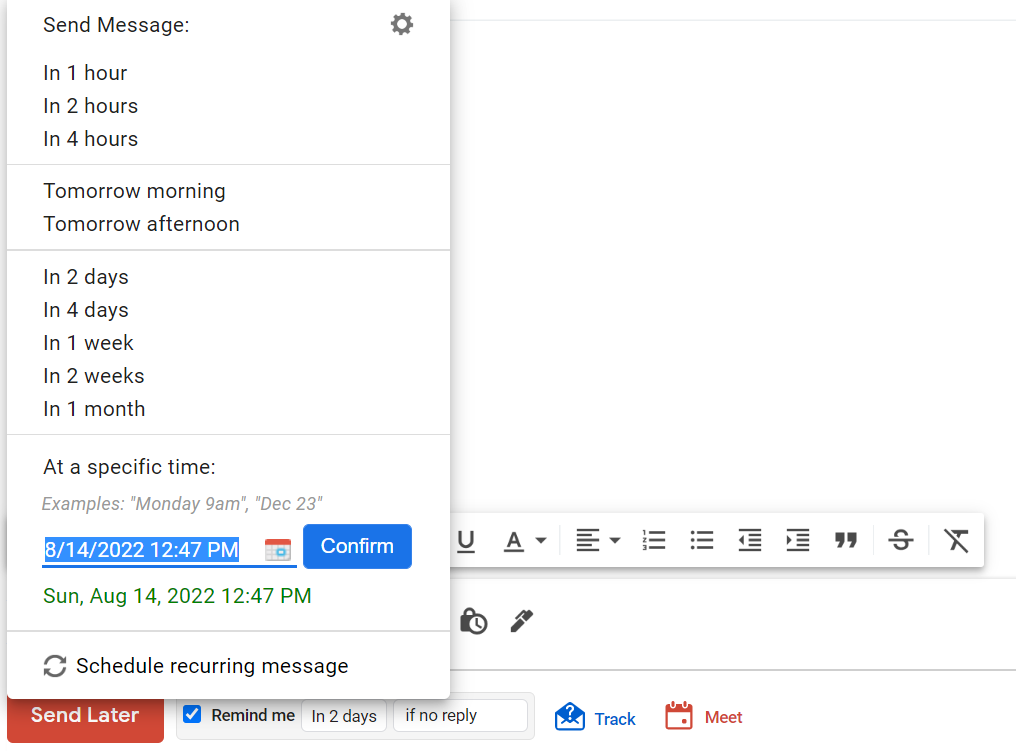 6. A pop-up window will appear. Enter the date and time you would like your email to be delivered. It will then be saved and scheduled.
How to Cancel Scheduled Emails in Gmail
Canceling your scheduled emails in Gmail is as straightforward as scheduling them. Simply open up your Gmail account and click on the "Mail" menu button. From there, select "Scheduled" from the drop-down menu.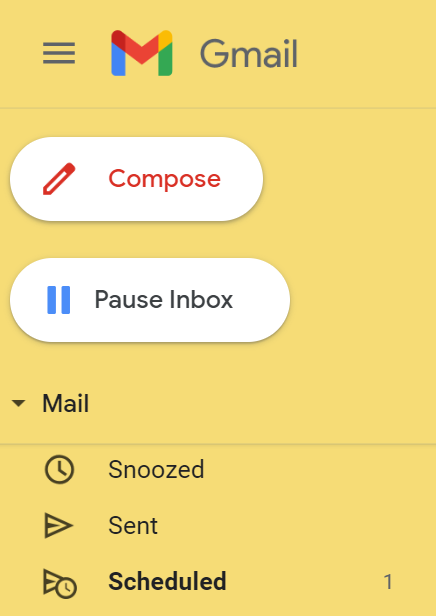 Click on "Scheduled". Once you see your scheduled emails, you can choose which one to cancel. To do this, click on the checkbox next to the email you want to cancel. Then, click on the "Cancel Send" button at the top of the page.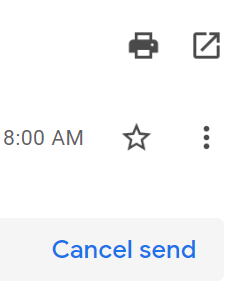 After the scheduled send is canceled, the email will be moved to a draft, so you won't lose any of your work.

For small businesses, Google offers much more than Gmail and Gmail scheduling. Continue reading to learn about other Google-related small business hacks, including Google Workspace.
Benefits of Scheduling (and Canceling) Gmail Emails
Reduce the amount of time you spend on email correspondence, which will free up time to focus more on other important tasks.
Help you increase productivity by ensuring your messages go out at a date and time that is most beneficial to your marketing and sales efforts.
Allows you to take control of your email list and segment it into different groups.
Sending scheduled emails can help you build relationships with your customers and potential customers.
Using and Understanding Google Workspace
Google Workspace can be extremely beneficial to small business owners who understand how to use it well. What is Google Workspace? Google Workspace is a set of free Google apps that can assist small businesses in productivity, collaboration, deliverables, communication, and more. It includes Gmail (or Google Mail), Google Calendar, Google Drive, Google Docs, Google Sheets, Google Slides, Google Sites, and more. Google Workspace is best accessed and utilized using Google Chrome, Google's web browser, because it is cloud-based. Google Chrome works well with all Google Workspace apps and offers the greatest user experience.
While there are many, many software equivalents available — some for free and some for purchase or subscription — the many benefits of Google's suite of workplace tools (and how well they work together) make Google Workspace a natural starting point for small businesses, entrepreneurs, and startups.
How to Get Started with Google Workspace
To get started with Google Workspace, all you need is a free Gmail account. From there, you will have access to all the tools included in Google Workspace. There is a learning curve to using Google Workspace, however it is minimal when compared to other similar applications. Learn more about how to utilize Google Workspace to benefit your company.
Improve Your Small Business Today
Small business owners and other entrepreneurs can find the tools they need to succeed by reading Sonary's reviews of business-related software.  Sonary's team of experts research and review the best software for small businesses so that business owners can make informed decisions about which tools will work best for them. Check out our reviews today to find out more about the best software for your small business.