Today's Unified Communications as a Service (UCaaS) ecosystem is quickly becoming saturated with many VoIP providers, delivering all sorts of features at aggressively competitive prices. Sometimes it's challenging to sort through the various offerings simply due to the sheer number of available options.
For this reason, we've decided to showcase two particularly impressive offerings and compare them to let you more easily decide which one is best for your business.
Specifically, we'll be looking at RingCentral and Nextiva, comparing their pros and cons, and presenting the best each provider offers.
An overview of what each has to offer
Let's begin by taking a closer look at what each of these leading VoIP providers has to offer to its customers:
RingCentral
The company was among the first to enter the market in 1999 and has grown as a world leader in UCaaS offerings. Continually enriching its services, it has added several innovative and value-added services.
Main offerings
Its flagship service is the RingCentral Message, Video, Phone (MVP), a cloud-based IP PBX system for businesses that incorporate text messages, video conferencing, and telephony. Using RingCentral's desktop software or mobile app and compatible IP desk phones, you can enjoy using an integrated communication system in an office environment, at home, or on the go.
RingCentral is ideal for even the smallest businesses up to enterprise-scale companies. It is a solid choice for any business with flexible options and many helpful telephony and communication features.
Additional features
Some additional services that are provided by RingCentral, beyond the business communication system, include:
RingCentral Contact Center – A customer service, support, and engagement platform used to interact with customers. Options include an omnichannel incoming customer contact center, which not only uses telephony but also messaging, email, and chat features, outbound dialers and agent scripting, as well as digital engagement and support options.
RingCentral Video – A platform that focuses on videoconferencing and team messaging for businesses that use such remote meetings extensively.
Integrated apps – RingCentral delivers integration with various popular apps, including CRM, customer support, automation, and business productivity applications. If integration with your particular software is unavailable, you can develop your integration by building custom workflows and applications with RingCentral's open APIs, SDKs, and widgets.
Service Summary
RingCentral has many years of experience in the market and has one of the largest customer bases of any UCaaS provider serving over 400,000 businesses and millions of end-users. As a company, it delivers sound, reliable, and feature-rich services that are sufficient for most small, medium, and large-sized businesses.
Nextiva
Nextiva was founded in 2006 and has since grown exceptionally rapidly in the 2010s. Although it falls well short of RingCentral as far as revenue, the number of employees and the number of customers are concerned, it is no longer a trivial player in the UCaaS market.
Main Offerings
Nextiva offers two main categories of services. Its primary offering is that of business communication, which includes functions such as telephony, video, as well as collaboration. This is the UCaaS service delivered to desktops or laptops, mobile devices, and IP desk phones. The service's central hub is the Nextiva App, which acts as the VoIP endpoint and can be installed on any mobile device or PC.
Additional features
The second main category of service that Nextiva offers is that of the intelligent cloud contact center. This set of features includes:
A more traditional voice contact center through which customers can contact the specially trained company staff to resolve issues and answer questions.
The Digital engagement platform delivers omnichannel communication support and quality management through text messaging, email, and online chat.
Workforce optimization capabilities to manage and motivate both on-site and remote teams.
Analytics and workflow automation tools and apps that allow you to visualize the actual performance of your staff
RingCentral vs Nextiva
Now having gone over the general presentation of each provider, let's take a closer look at specific areas of operation and how the two companies compare.
Feature set
Both companies deliver a similar set of advanced telephony features such as voice teleconferencing, advanced voicemail features, multi-level auto attendants, advanced call handling, music on hold, call history, and call logging features. However, they do differ in some of the following areas:
Nextiva supports up to 250 participants in a video call, while RingCentral supports 100 or 200, depending upon the plan.
Nextiva has more ready-to-go integration options than RingCentral, including Salesforce, ServiceNow, Oracle, Microsoft, Google Contacts, NetSuite, ConnectWIse, Lotus Notes, and even its own homegrown CRM called Nextiva CRM.
RingCentral has a more granular choice of services with three groupings compared to Nextiva's two. These three groupings include the MVP offering, a contact center option, and a free-to-use RingCentral Video option. Although free, it has some limitations that can be lifted by purchasing a Video Pro+ plan.
Customer support
Nextiva delivers 24/7 customer support via email, chat, and telephone for all of their plans, while RingCentral offers the same for all but the first-tier Essentials plan. Both providers offer a comprehensive resources page with how-tos, blogs, e-books, guides, self-help knowledge bases, and tutorials. RingCentral's resource center is arguably more user-friendly to less technical users, while Nextiva's seems to be a little more geared towards tech-savvy users, with more in-depth information.
With its Enterprise and Ultimate plans, Nextiva offers on-premises support from its professionals to ensure you get up and running smoothly. However, there is no such indication from RingCentral for on-site service.
RingCentral has a large active developer community to support your integrations with other software that may or may not be compatible with its services. While Nextiva has a similar resource, it seems to be less developed.
Pricing and plans
For its Business Communication product line, Nextiva delivers three tiers of service: Essential, Professional, and Enterprise. The cost varies depending on the number of users and length of the contract, but each one is billed per user per month. The cheapest cost is for 100 or more users, and contract lengths can range from one to 36 months. Below you can see the prices for 1-4 users for an annual contract: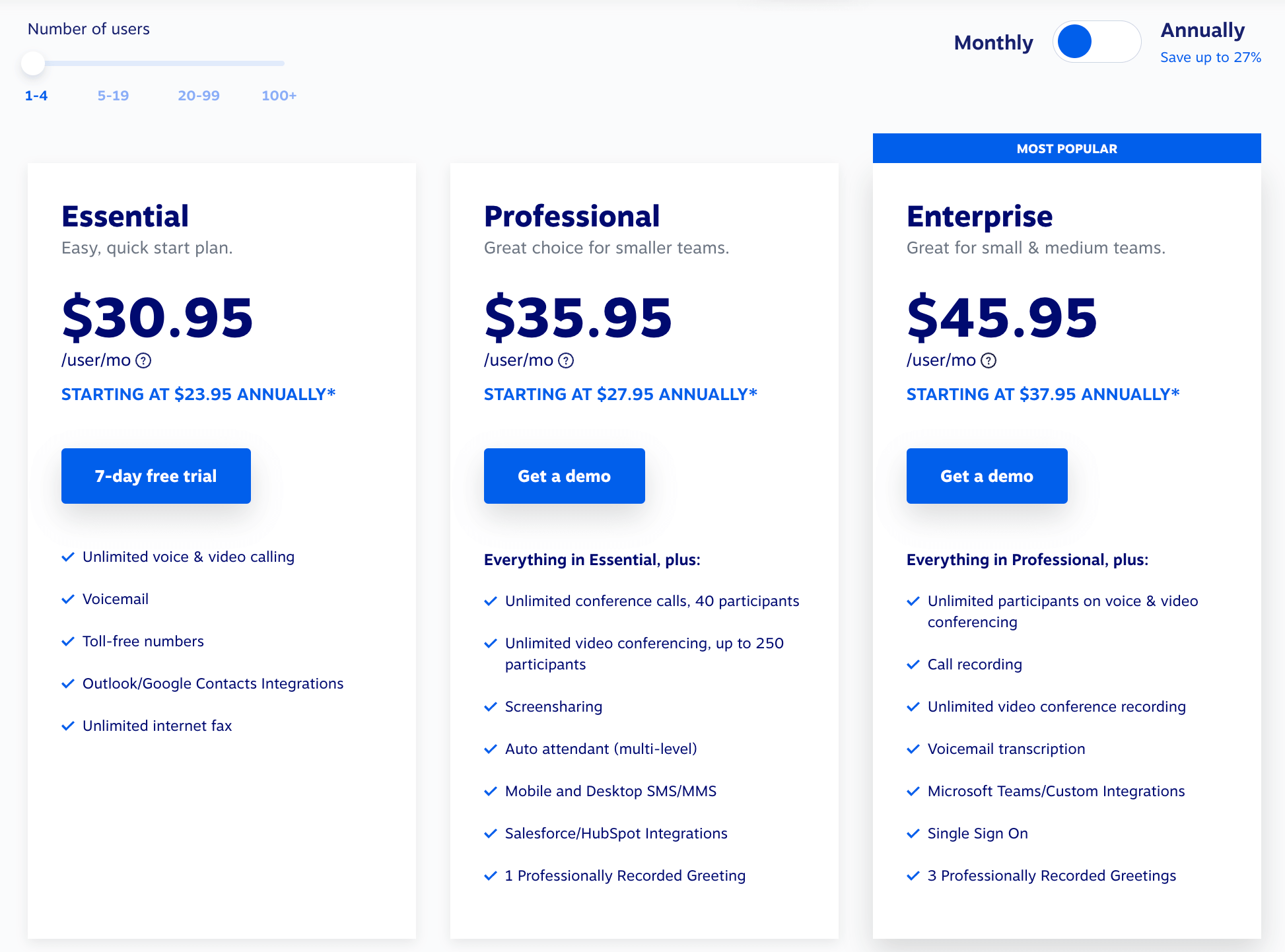 Prices for over 100 users and a 36-month contract can reach as low as $17.95 for the Essential plan, $21.95 for the Professional plan, and $31.95 for the Enterprise plan.
RingCentral's pricing is similar in structure. It offers four tiers of service: Essential, Standard, Premium, and Ultimate, and each is billed per user per month basis. Additional savings can be achieved for multiple users as well as annual billing. Indicative costs with yearly contracts and 1 to 20 users for each available tier can be seen below: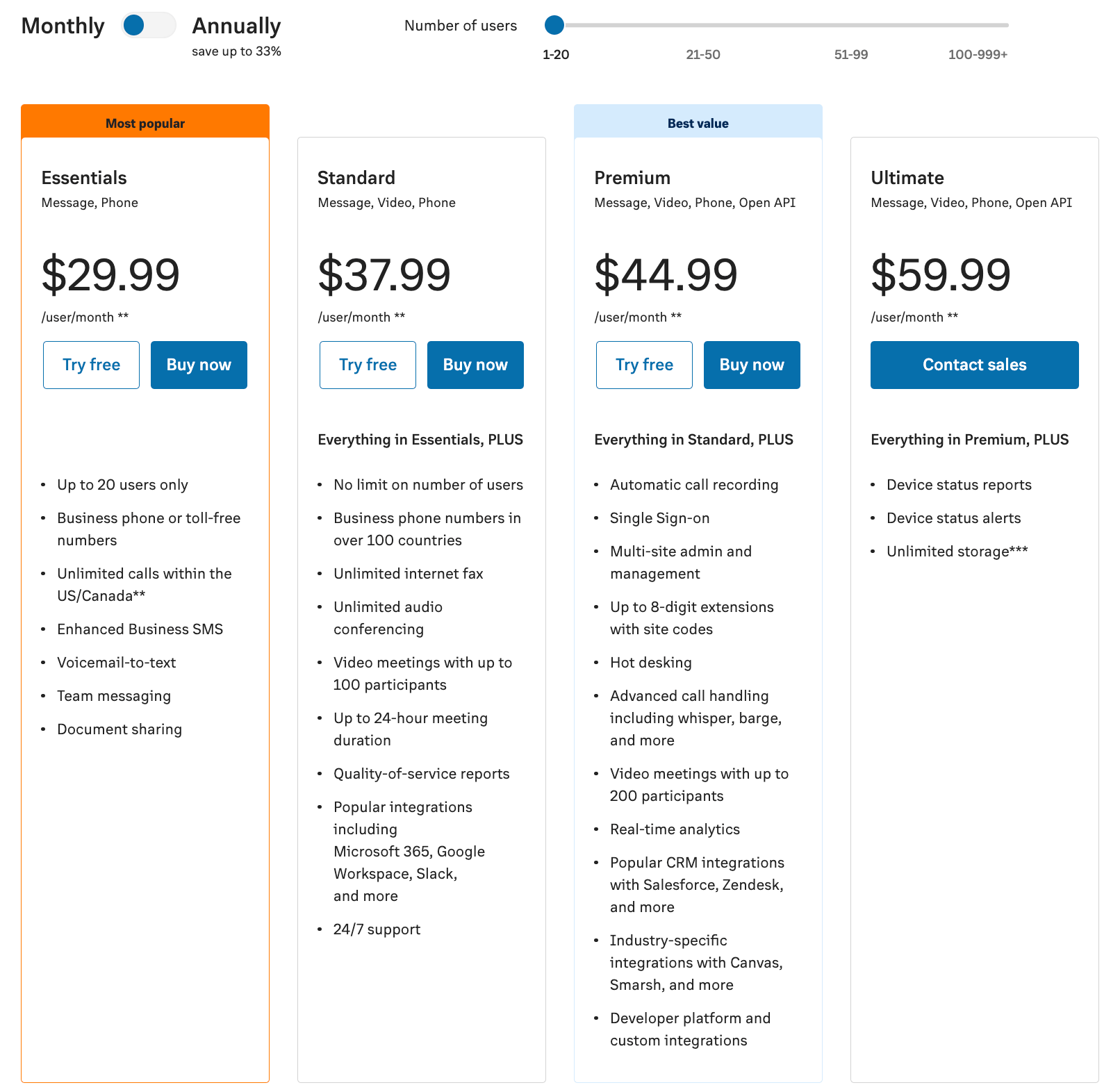 Interestingly enough, for 21 or more users, the essentials tier becomes unavailable. The Standard, Premium, and Ultimate plans remain the same in cost, and for 100 or more users, these costs go up slightly, as seen below: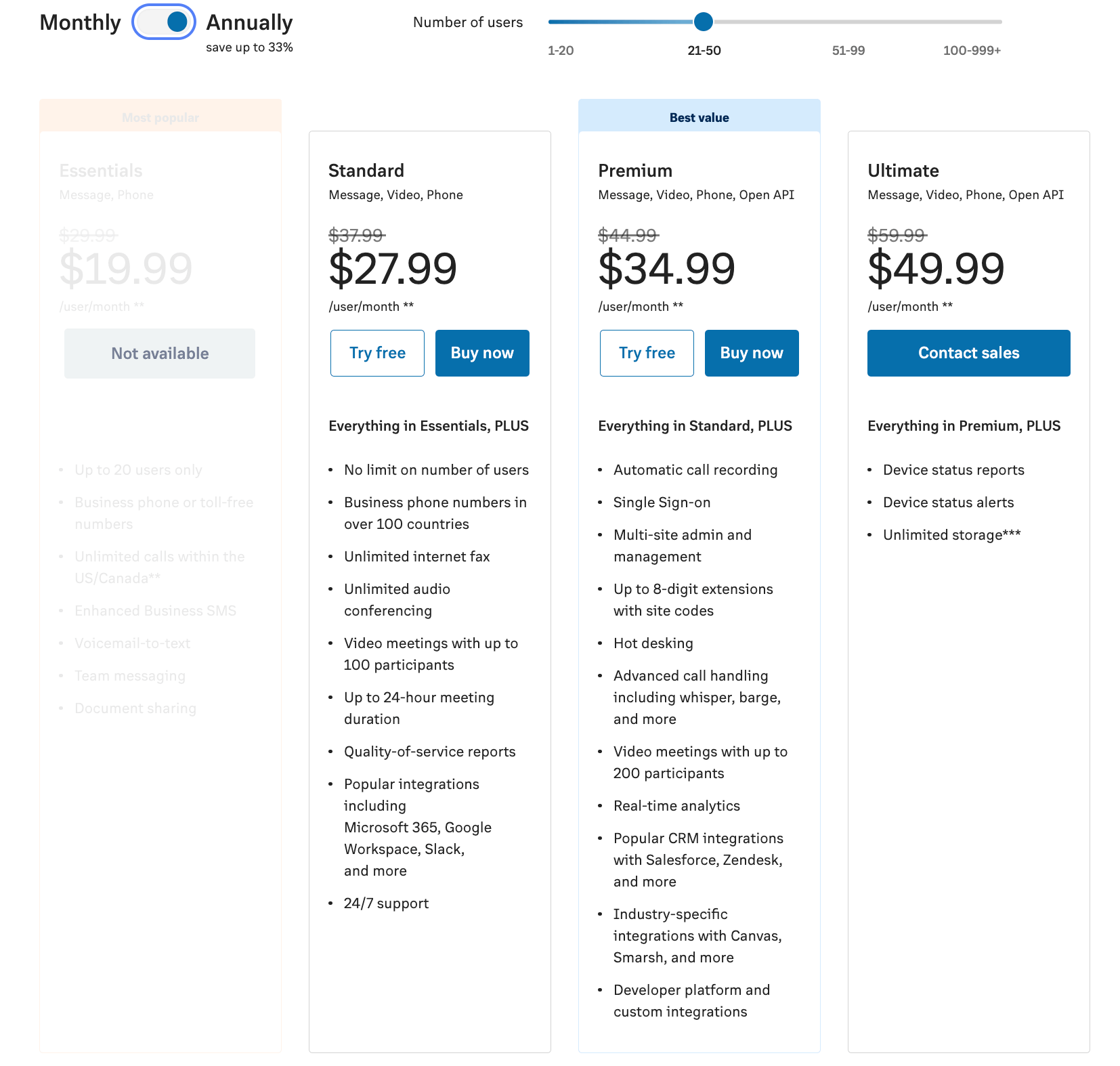 Ultimately, RingCentral's prices are notably lower, especially for the lower-tier plans. As for the Contact Center options, no prices are published for either company, as the costing here will depend heavily on each customer's choice.
User experience
Arguably among the essential sources of information that will help evaluate a VoIP provider is user experience. These are the most commonly expressed views of users of both services:
RingCentral
Users report that the system is easy to set up, has an excellent and intuitive interface, and delivers well-designed integration with other services. A common complaint among reviewers is that customer service seems somewhat lacking or of lower quality than expected.
Nextiva
Nextiva users tend to give a more positive review than RingCentral, citing easy call flows, ease of use, and a comprehensive range of useful features. Technical and customer support is often described as "excellent," "outstanding," and "great." It has many options and features, but one of the common negative aspects seen is the level of complexity of some of the features and some limitations of equipment support. The higher price point was also a common disappointing aspect, but many are willing to pay the higher costs for the level of service provided.
Pros and cons
Here is a comprehensive list of pros and cons for each provider:
RingCentral
Pros:

Better price
Intuitive interface and slight learning curve
Provides free videoconferencing service with somewhat limited functionality
Comprehensive developers' portal and services for customizations

Cons:

Generally poorer customer support as reported by users
Some technical issues with call drops and voicemails not working have been reported
No significant cost savings with an increased number of users
Nextiva
Pros

High level of quality from technical and customer support
A somewhat more comprehensive, intricate, and advanced set of services
All plans include video calling

Cons

One of the most expensive VoIP providers on the market
Low prices only available with a 36-month commitment
The basic plan doesn't offer many options for software integration
The final verdict
Both RingCentral and Nextiva deliver what they advertise: a highly reliable, feature-rich, easy-to-set-up and use business communication system with many options, including video, text messaging, multi-channel contact centers, and a multitude of other practical and innovative functions.
Arguably, Nextiva has the edge over RingCentral if we only consider feature-richness and customer service quality. For others, however, price is the most important thing. They would be willing to sacrifice some technological innovation and customer service for the generously lower price RingCentral offers.
Keeping in mind that both providers deliver their services to hundreds of thousands of businesses with millions of end-users indicates that they are both excellent choices. What's more important to each prospective customer, however, is that which will determine what you choose in the end.
For a full visual comparison of RingCentral and Nextiva, here is one available onsite – Click here