About SharpSpring
Category: CRM
SharpSpring CRM is a cloud-based CRM tool for businesses of all sizes. It provides the features to connect with, keep full track of, and automate customers' experience at every position on the sales funnel, from awareness to conversion.
* Featured prices and terms can be updated. Free offers may include additional terms.
Pros
Intuitive design
Free demo is available
Numerous workflow templates
Flexible tool
Cons
No free plan/trial
Difficulty to sign up
No human live chat
Plans And Pricing:
All the features on the SharpSpring CRM are available on paid plans. This software has no free trial but a demo. The demo feature gives a personalized tour and the liberty to experience every tool and feature available for businesses.  However, the paid plans have five tiers.
Customer Support
Sharpspring has a support center to provide assistance through numerous resources and support options. With the Sharpspring CRM software, you get assistance via emails, videos, guides, phone calls, and a live chat. When you need assistance, once you log in, you can click the resource section and find support assistance. The support portal takes your request, log it as a ticket, and allows you to track the request for a swift response.
Sharpspring Chatbot
Finding the chatbot feature was easy. The live chat icon is at the bottom right corner of the homepage. Immediately I clicked on it, a chatbot popped up.
The chatbot is tightly programmed to answer very specific requests and that was very limiting. I went on to request an audience from a real human but I was merely asked to submit a ticket.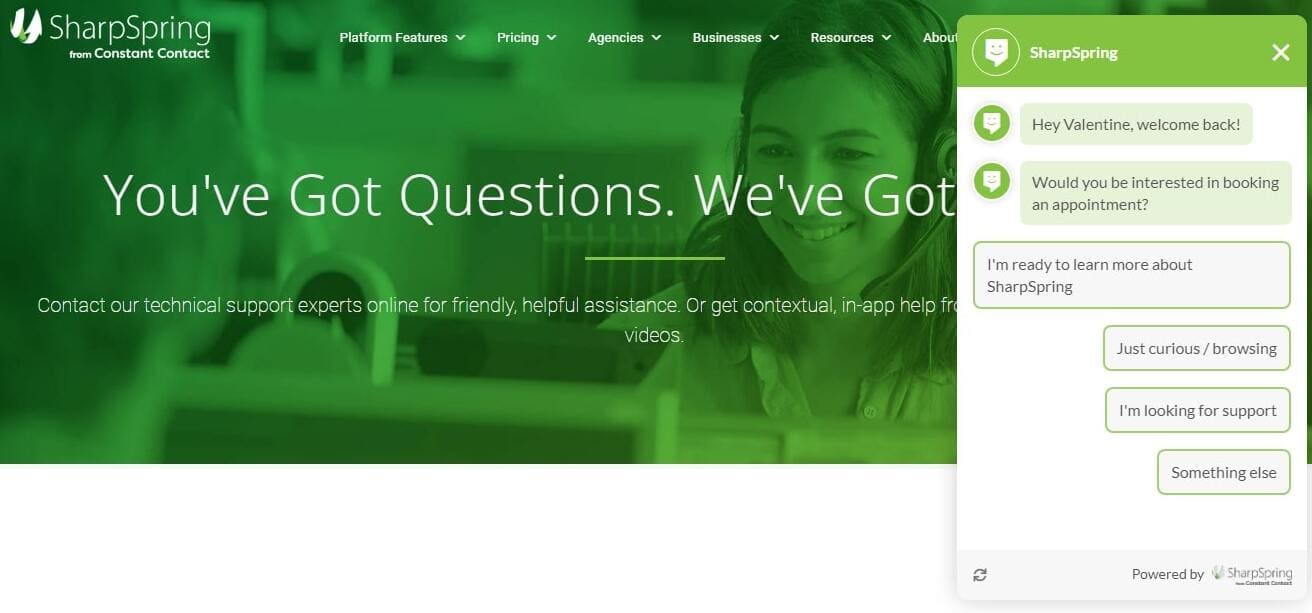 Sharpspring Email Support
Sharpspring allows you to log in to support requests via email. However, 24 hours after sending the request, I got no response from the support team. I eventually received an email response about 3 days after. The email wasn't very helpful either.
Phone support
SharpSpring has a phone support option with the call line clearly written on their contact page.
I called the line and there was no answer on the first try. However, they answered on the second try. Their response was very brief. The representative wanted to know more about my business and how I intend to use the software. He offered to set up a meeting with the right personnel to address my questions.
In 3 minutes, we were done and the line disconnected.
Virtual Classroom (Training)
Several automation and integration features on Sharpspring require some technical skills. However, with this virtual training, you can attend online virtual classes, and learn how to use the tools. These virtual classes are webinar-based and designed to guide you through the various parts and features of SharpSpring.
Features & Functionality
General Features
(Smart) Email Marketing Automation
Sharpspring has an email marketing platform that allows you to start conversations, create personalized messages and automate campaigns that track and respond based on user behavior.
In this feature, you can build a campaign using the pre-built layout by modifying the available templates.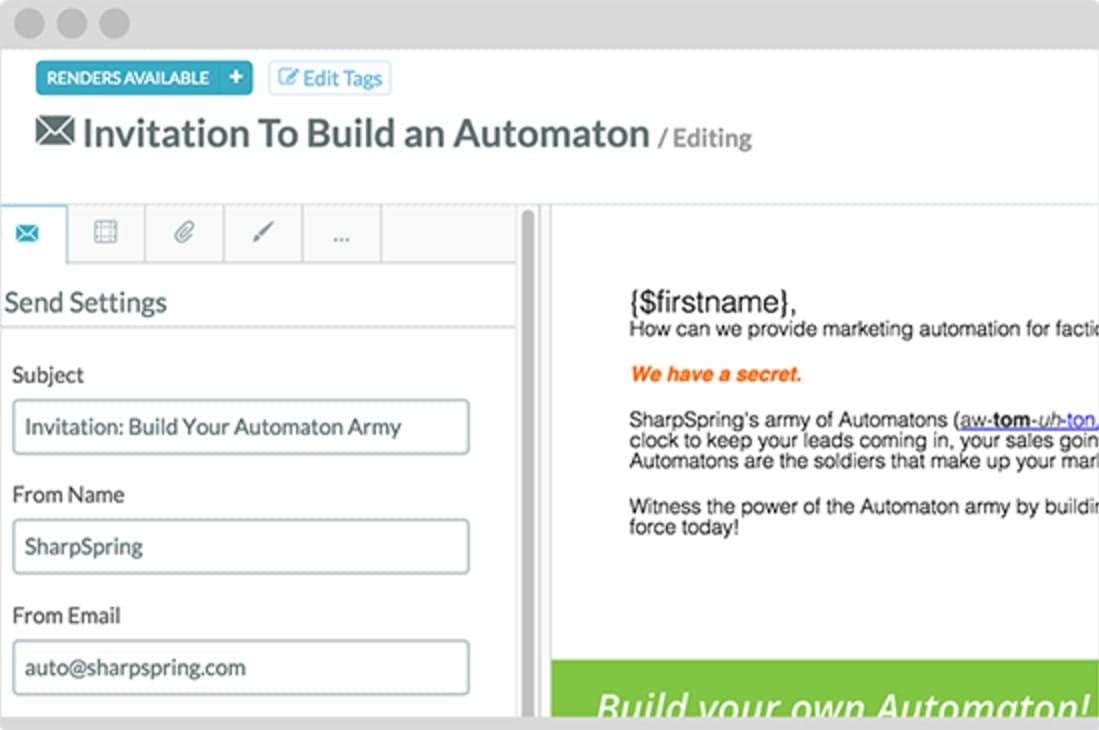 Forms Automation
Sharpspring has a dynamic form builder that allows you to build a responsive web form and integrate it directly with the CRM tool.
This allows you to parse first-party data directly from consumers to your CRM tool through these interactive forms.
Most excitingly, these forms are easy to build. The drag-and-drop WYSIWYG framework for building these forms is an attractive perk for business owners with no technical background.
Contact Management
SharpSpring is the CRM of choice for marketers with several consumer data points. With the contact management feature, you can collect and consolidate consumer data right on the CRM as you collect them from various data points.
Opportunity Management
As you collect leads, you can easily add them to the sales funnel and assess, track, and automate the customer's journey through the sales process. With ShaprSpring's opportunity management feature, you can easily assess how well your leads are progressing through the sales funnel and figure out where to focus more of your sales resources.

Social Media Integration
Social media is a very valuable source of leads and customer data. SharpSpring's social media integration features allow businesses to send and manage posts across various social medial platforms right from the CRM. Also, as customers engage with brands and share their data on social media, SharpSpring collects and links the data with the appropriate contacts in real time.
Dashboards
Reporting
Marketing Analytics
Pipeline Management
Call Management
Account Management
Collaborative Data
Mobile App
Integrations
Email
Email Sync
Email Tracking
Email Templates
Schedule Emails
Sales
Sales AI
Customer Contact Management
Sales Opportunity
Quote Management
Lead Chatbot
Lead Scoring
Automation
Automated Reports
Marketing Automation
Sales Pipeline Automation
Sales Forecasting Automation
Automated Emails
Performance:
In identifying the capabilities of this software, I assessed some of the performance metrics and conducted an objective review accordingly.
Speed
The speed for setup on Sharpspring is not impressive. However, once you set up your dashboard, performing all the tasks is fast. You can create forms, update contact lists and do much more quickly. Almost everything has a template on SharpSpring and that makes it fast to carry out tasks.
Automation
Identifying leads, monitoring, and converting them to loyal customers requires time and attention. It involves keeping tabs on multiple data points simultaneously. However, the SharpSpring CRM tool lets you automate the entire process and make them seamless.
Sharpspring has impressive automation features that cater to online/social media marketing, client conversion, and customer relations.
You can also launch customized ad campaigns, design web pages, and integrate marketing funnels for analytics on Sharpspring.
Ease Of Use:
Sharpspring provides a tour of the software when you sign up. This tour guides users through the different tools and features. With the tour, the entire use process can be really smooth, except for one.
Setup
Setting up the Sharpspring CRM software is not really easy because finding it's not a web app and deploying the software isn't an easy fit.
However, if you're a first-time user, you can start with the demo version of the software by clicking the "Get a Demo" button on the website.
After the demo, you will have to work closely with technical support personnel to deploy and set up your CRM.
Uploading contact and segmenting
Once you're set up and logged in, you can easily add contacts manually to your CRM or upload your contact file directly from your computer. This is a relatively easy thing to do. Just head to the "Options" menu in the left toolbar and select "Import Contact".
You'll be taken to the import page where you can select the file you want to upload in .csv or Excel format. Right after, you'll be allowed to map your contact data accordingly. Easy!

Automation
Despite the cumbersome setup, SharpSpring has an impressive automation feature. The workflow setup process is quite simple. All you need to do is navigate to the "Automation" page and create a new workflow. You can choose to create a visual workflow that makes it easy for you to see and track activities as they happen, or automate opportunity tracking and assessment. The rest of the process is pretty much intuitive.

Uniqueness:
Sharpspring has real-time lead assessment. This feature is peculiar to Sharpspring as it allows you to detect how leads behave over time. This feature considers metrics such as page tracking, fit, and completeness of information, to assess leads.
Verdict:
Businesses of all sizes require an effective CRM tool that will streamline their entire lead generation, sales, and marketing activities. Sharpspring does these quite well.
Considering the pricing, however, I consider it somewhat far-fetched for small businesses to pay that high for a CRM tool when there are far more cost-efficient options in the market.
Pricing aside, SharpSpring could use some improvement in its customer service department as well. For business owners that can figure out tech software on their own and are comfortable investing that much in a CRM tool, SharpSpring may be a pretty good buy. But, the lack of a free trial makes it a somewhat risky investment.
SharpSpring Related Article