About Domain.com
Category: Website Builders
Domain.com website builder is an intelligent web design software for small businesses and professionals to build websites that looks just perfect on mobiles, desktops, and any other device. With apps and webhooks, users can supercharge their websites and reach more goals.
Starter
30-day money-back guarantee
Business
30-day money-back guarantee
eCommerce
30-day money-back guarantee
* Featured prices and terms can be updated. Free offers may include additional terms.
Pros
Affordable pricing
AI-powered intelligent website builder
High uptime and quick content delivery via CDN
Offers up to $200 free ad credit
Cons
Custom domain and domain privacy has to be paid for
Limited resource for self-service customer support
Plans And Pricing:
An interesting part of using the Domain.com website builder is the affordability and the amazing features that come with the low price. With 3 main pricing packages available, you can start with the Starter Plan for a basic website, especially if you are a self-employed professional who simply wants to show off your services. This is an insanely inexpensive option.
Alternatively, you can opt-in for the Business Plan where you can build as many web pages as needed, as well as have access to real-time analytics and business promotion tools.
The eCommerce plan basically brings it all together. A combination of Starter, Business, and more. You can sell online, process payments, integrate shipping solutions, manage tax and inventories, and much more.
The table below shows a breakdown of the plans, their key features, and prices.
Customer Support
The customer support services offered by Domain.com are very good overall. I propose this because the real human support team is very responsive. However, the self-service alternatives are far from impressive.
Regarding the self-service resources provided by Domain.com, there are only 5 help articles on Domain.com's Knowledge Base that focus on the website builder.
The Domain.com Blog is a pretty good reserve for insightful articles. However, it is not frequently updated. The company could use a better content plan and implementation. This will give users more trustworthy information to rely on.
Regardless of the quality of the company's self-service resources, the human-to-human support service is awesome. Trying out all three available options, I've highlighted my experience in the next section of this review.
Live Chat
Nothing is more seamless than Domain.com live chat. This is one support feature that competitors don't really provide as good as Domain.com.
Clicking the live chat button, I simply filled out a 3-field form that defined a few details of my issues. After submitting the form, I got connected to a support expert in less than one minute. My conversation with the support expert was professional. He offered to assist in the best possible way. And he did.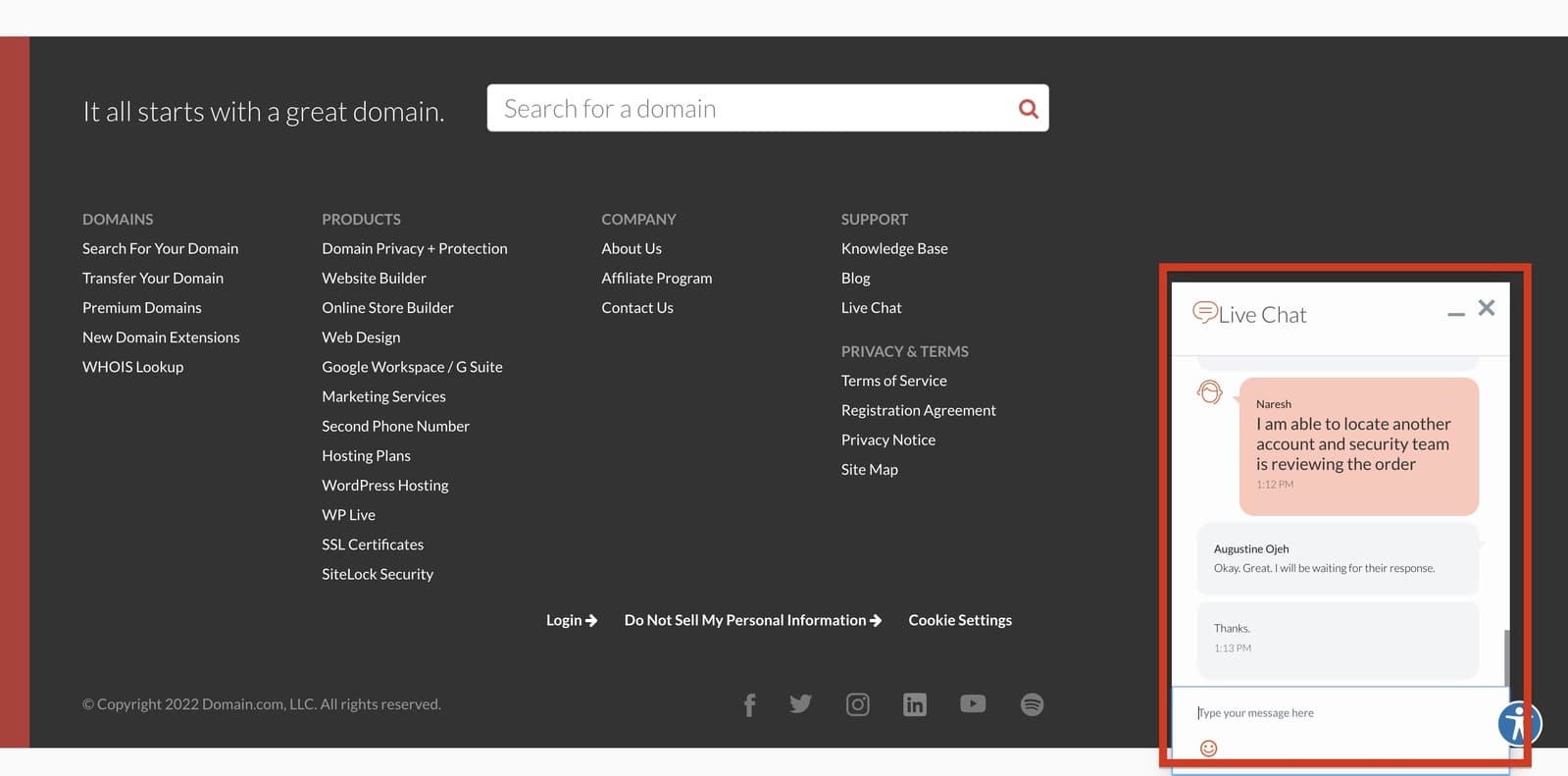 Phone Support
The phone support is just as responsive as the live chat. Maybe better for those that prefer talking over texting. Placing a call to the support phone line, I got connected with an expert within a minute. Same as the live chat.
Once we connected and exchanged pleasantries, we went straight to the business of solving the issues that I was facing. The technical support expert on the other side of the phone wasn't exactly a pro with the website builder, but he understood other Domain.com services to a decent degree.
The call took less than 4 minutes. His recommendations weren't top notch but they were building blocks for me to figure out what could work. I eventually did.
Email Support
Domain.com isn't big on email support but if you need to handle an issue related to the company's compliance policies, email support is the best route to follow. This often happens when you're setting up your account. Shoot an email, open a ticket, and get actionable solutions.
Nevertheless, this compliance and email support team were very responsive. They handled issues quickly and reported back to me with advice on what next action is best. While the platform wasn't really easy to sign up for, the response of the support team via email was particularly helpful.
Guides & Tutorials
Hundreds of tutorials and guides to turn you into a pro.
Blog
Thousands of insights and best practices are shared on regular bases.
Features & Functionality
Design
Domain.com may be moving slowly in the self-service resources department but they are, in no way, falling short when it comes to features and functionalities. There are several features that users are sure to enjoy when using the Domain.com website builder.  Below are some of the outstanding features.
Search Engine Optimization
SEO is a critical part of marketing and growing a business organically. Without the right tools, SEO is pretty much guesswork. With the tools built into the Domain.com website builder, you can be certain of the actions required to put your business in the face of millions of potential customers, searching every day for keywords related to your business.
Mobile Optimization and Responsiveness
As important as having a website in the first place, ensuring that your website is well adapted for any device type (especially mobile phones) can increase your engagement and conversion rates significantly.
The Domain.com website builder is engineered to help business owners build websites that adapt seamlessly to any device and screen size without the extra work of manually re-designing a mobile interface for your website every time. Now you can rest easy, knowing that your customers everywhere are experiencing your website just the way you want them to.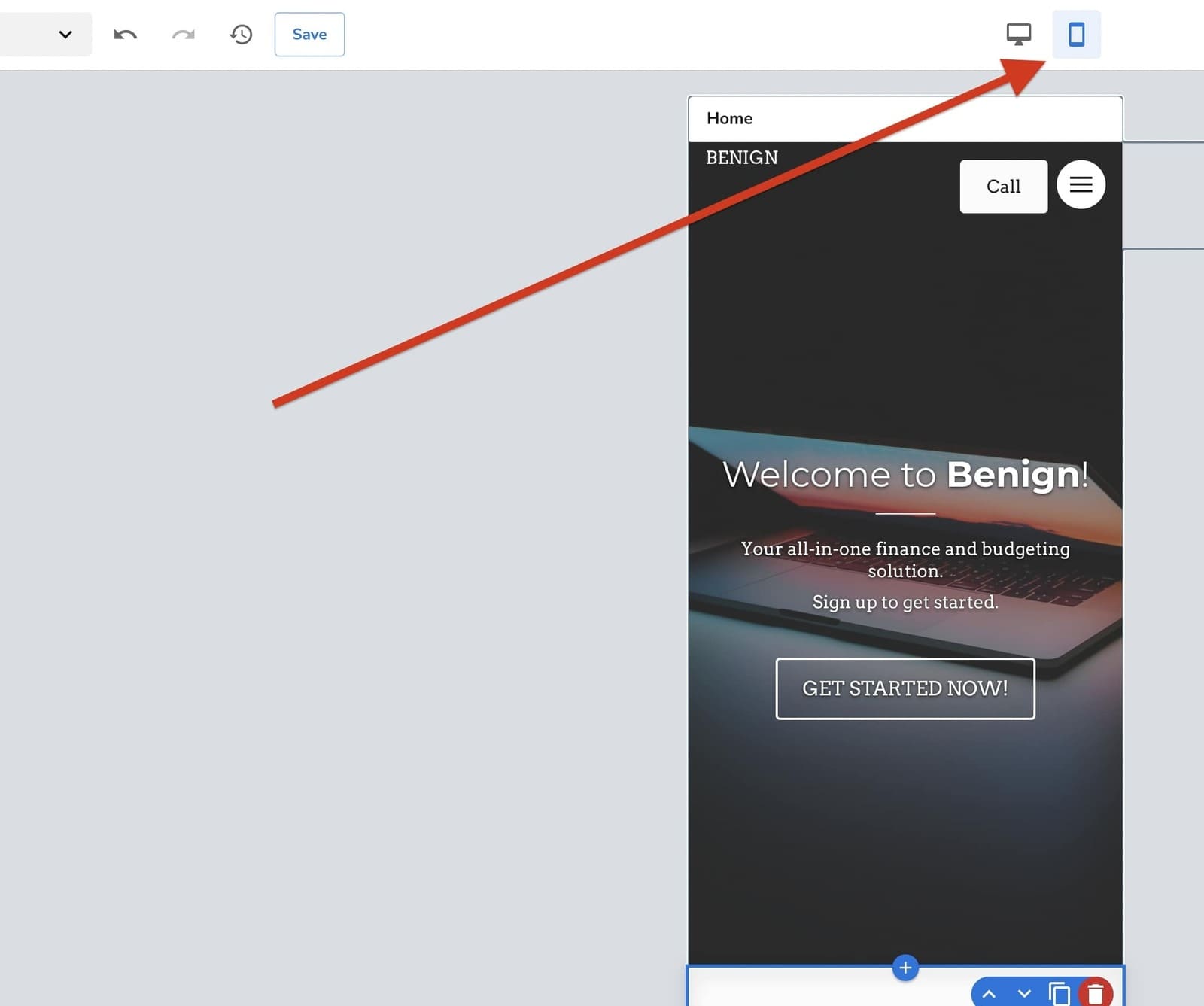 Self-building Website Editor
Figuring out what design works best for your business isn't exactly easy. Choosing the elements and deciding their position on your website is about 80% of the work required to build a functional website. With Domain.com website builder, a majority of that work is done for you. By harnessing the power of AI, Domain.com offers an intelligent website builder that creates an industry-coherent website for you. All you have to do is provide a few details about your business, and voila!
Analytics and Reporting
You can't improve what you can't measure. The Domain.com website builder includes tools for reviewing and reporting website analytics. With comprehensive reporting and an intuitive interface, you can gain a complete understanding of what's happening on your website, collect insight from visitors' interactions, and make better decisions for your business.
100+ Templates
Add HTML Code
Blog Templates
Portfolio
Drag & Drop Editor
Multi-lingual Website
Fully Customized
Mobile-friendly
Marketing
SEO Tools
Social Media Integration
Widgets + Apps
Newsletter Tool
Monetization
Visitor statistics
Hosting
Multiple Sites
Free Custom Domain
Unlimited Space
Unmetered Bandwidth
Multimedia
Free Stock Photos
Video Plug-Ins
Audio Plug-Ins
Good For
Blogging
Online Stores
Automatic Website Building
Performance:
Nothing is worth putting our energy and resources into if it won't deliver a performance of some sort. It's possible that the performance may not be very appealing at first but if eventually improved, it could be worth every penny. With the Domain.com website builder, your website is set to deliver a decent performance. After building my website and publishing it, I ran a performance test to ascertain how website visitors would interact with the website. The results weren't the best to ask for but it was a good starting point for a just-minted website.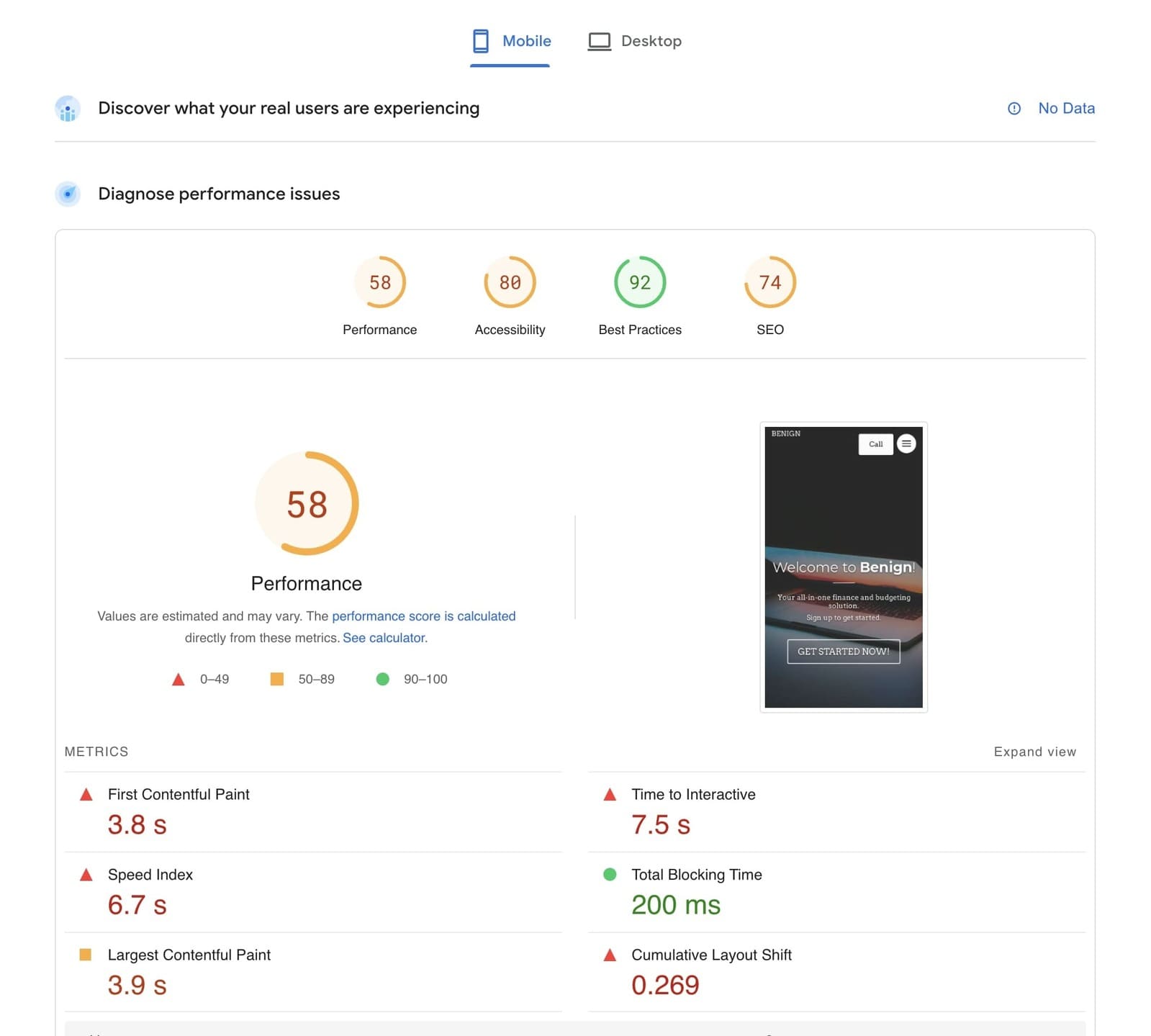 Site and Page Speed
The speed of a website is a critical factor to consider when choosing a website builder. According to statistics from Google, the best-performing websites load in under 5 seconds. Built on Domain.com, my website load speed index was 6.7 seconds as seen in the image above. This is below the benchmark set by Google but with good website practices, it could be better.
Accessibility
Important elements of your website should be made accessible to visitors. Hidden elements and broken links can greatly affect performance. With Domain.com with mostly working links, my website had a near-excellent accessibility score of 80%. This could be improved.
Best Practice and SEO
With certain SEO checklists left unattended, my SEO score from the performance report falls below acceptable standards. With a 74% score on SEO, a lot more could be done to make my website well-positioned for search engines.
Despite the poor scores so far, the Domain.com website builder was designed with the best practices. Its codes are lightweight and the responsive components are in excellent shape. It scores 92% in best practices.
Ease Of Use:
Despite the intelligent website builder and intuitive interface, Domain.com isn't particularly an easy platform to get into. For some reason, you have to go through a rigorous verification process when signing up for the platform. Once you're signed up, however, the rest of the process is pretty seamless. From setting up the website builder to supercharging it with third-party apps, it's a smooth process.
Setup
Setting up the website builder on Domain.com after signing up is a smooth 13-step process. Firstly, you are required to provide the name of your website and what you intend to accomplish by building the website. Then, you can start defining the elements that you need on your website, including the colors and text style, among other things.
In the video below, I will walk you through the entire setup process in barely 3 minutes.
Designing
Once you've completed the setup stage, there isn't much designing to do. This is because the entire website color palette has been decided during setup. The text font family also is defined in the setup stage. However, you can make a few design changes from the website editor and see it take shape in real time.
Text Styling
When building a website on Domain.com, the issue of text uniformity is completely removed from the equation, but you can decide what texts to bolden and italicize. You can also increase the sizes of individual texts right from the editor. Simply by selecting a text, you can style it however you see fit. The video below gives a more vivid description of the text styling experience.
Form Customization
Working with forms can be fun because it's your opportunity to bring real interaction to your website. Done right, forms can make it easy for visitors to solicit personal information.
On Domain.com, there are certain limitations to the way you can customize forms. There are predefined fields. You can choose to hide them or change their questions, but you can't add more or change their input functions. However, if you know your way around forms, you can collect just the right amount of information needed to know your customers better.
Button Designing
Buttons are a common element on websites and how they look has a significant effect on engagement and conversion. Colors and contours are some of the most important aspects of buttons. Sadly, the Domain.com website builder doesn't give you so much control over the color and contour of your buttons. It does let you control the layouts though.
App Integration
Integrating a third-party app to your website on Domain.com is just as simple as adding a regular element. However, there are limited apps accessible from the website editor. Other third-party apps can be integrated into the website using custom HTML codes or embedded manually.
Uniqueness:
Domain.com is an industry-leading web hosting provider trusted with millions of websites. Its unlimited bandwidth and storage make it possible for users to build websites of any size and accommodate web traffic of any size. With an intelligent website builder, customers can get industry-standard websites in minutes without the trouble of dragging and dropping every element into the website editor.
Verdict:
There's no doubt that restricted design freedom is a major concern, especially for business owners with a knack for aesthetics. The Domain.com website builder can be frustrating if you want the freedom to tweak every element the way you want.
However, this creative limitation stems from good intentions. Keeping a uniform website where elements obey the website's universally defined design can reduce the trouble of conflicting elements and color scales.
For small business owners that don't have the time to tinker with various shades of color and radius of curves, the Domain.com website builder may be a really good option for you. The pricing is next to nothing, especially if you're using the Starter plan for the first year.