About Quickbooks
Category: Payroll Services
QuickBooks Payroll is a comprehensive payroll management software that is designed to simplify and streamline payroll processing for small to medium-sized businesses. It makes an excellent addition to QuickBooks Online users, however, QuickBooks Payroll can also function as a standalone app.
Payroll Core + QuickBooks Simple Start
+$5/mo/employee
Payroll Core + QuickBooks Essentials
+$5/mo/employee
Payroll Premium + QuickBooks Plus
+$10/mo/employee
* Featured prices and terms can be updated. Free offers may include additional terms.
Pros
Unlimited Payroll Runs
Extensive Learning & Support Resources
Wide Range of Integrations
Longevity
Cons
More expensive than competitors
Additional filing fees for employees in other states
24/7 support only for Elite plan
Plans And Pricing:
QuickBooks Payroll is available in 3 pricing tiers as a standalone product, but you have to do some deeper searching on the site to find the packages that aren't bundled with their other services.
There is an option for a 30-day free trial, however, the following monthly prices double when the trial ends.
Customer Support
QuickBooks Support staff Monday – Friday, 5 AM to 6 PM PT.
Chatbot
The QuickBooks website has an onscreen icon that resembles a chatbot but serves as a portal to schedule a call or redirect to the support page. It accepts limited information for a return call. Once inside the account, I was able to get a live agent on the chat.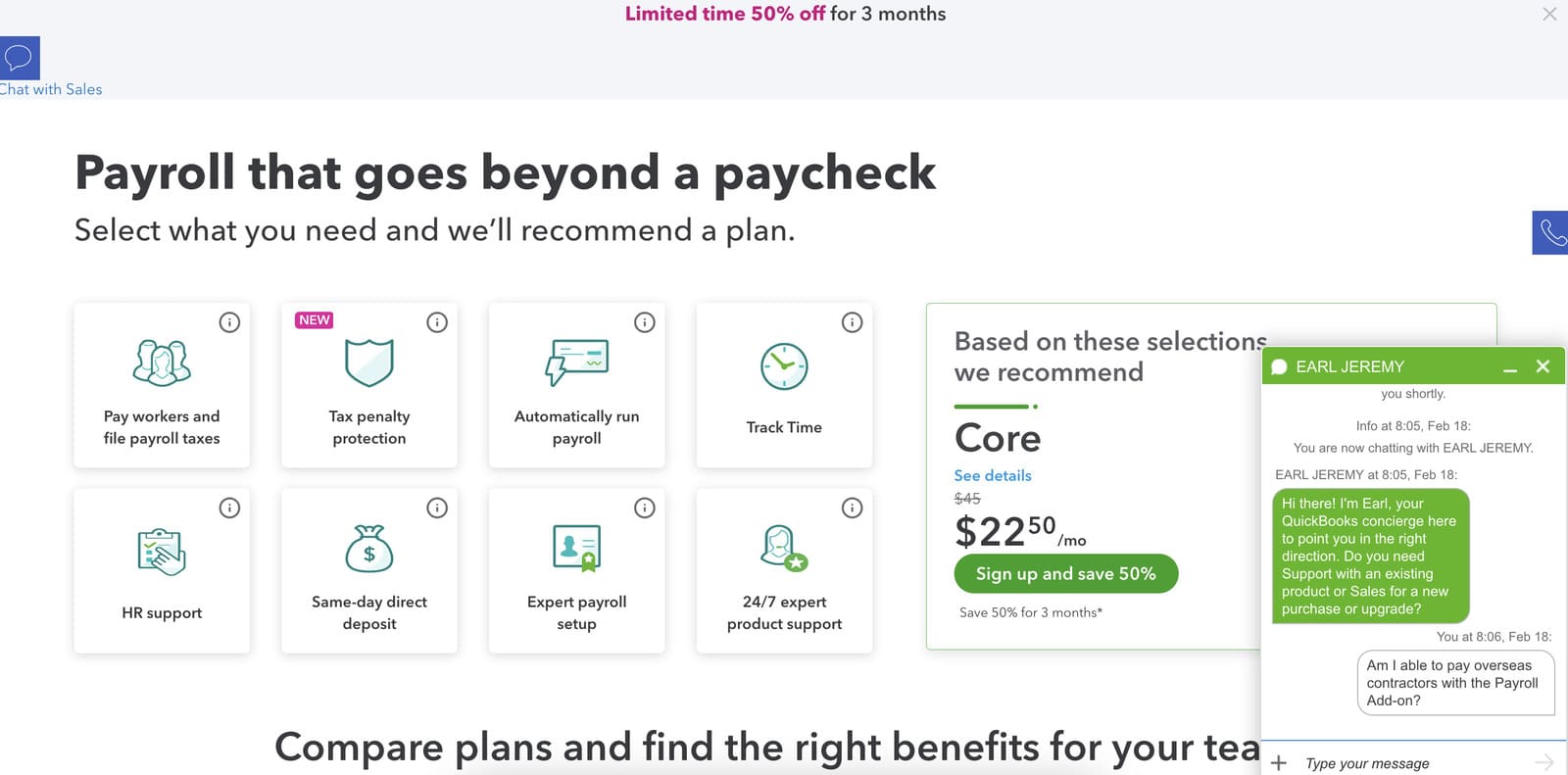 Live Phone Conversation
I requested a callback and received one within 3 minutes, and my conversation with QuickBooks sales was pleasant and informative.
Online Resources
QuickBooks has extensive online learning resources including a Community Forum, tutorials, certification courses, and literature. There are also webinars and options to work with certified QuickBooks users.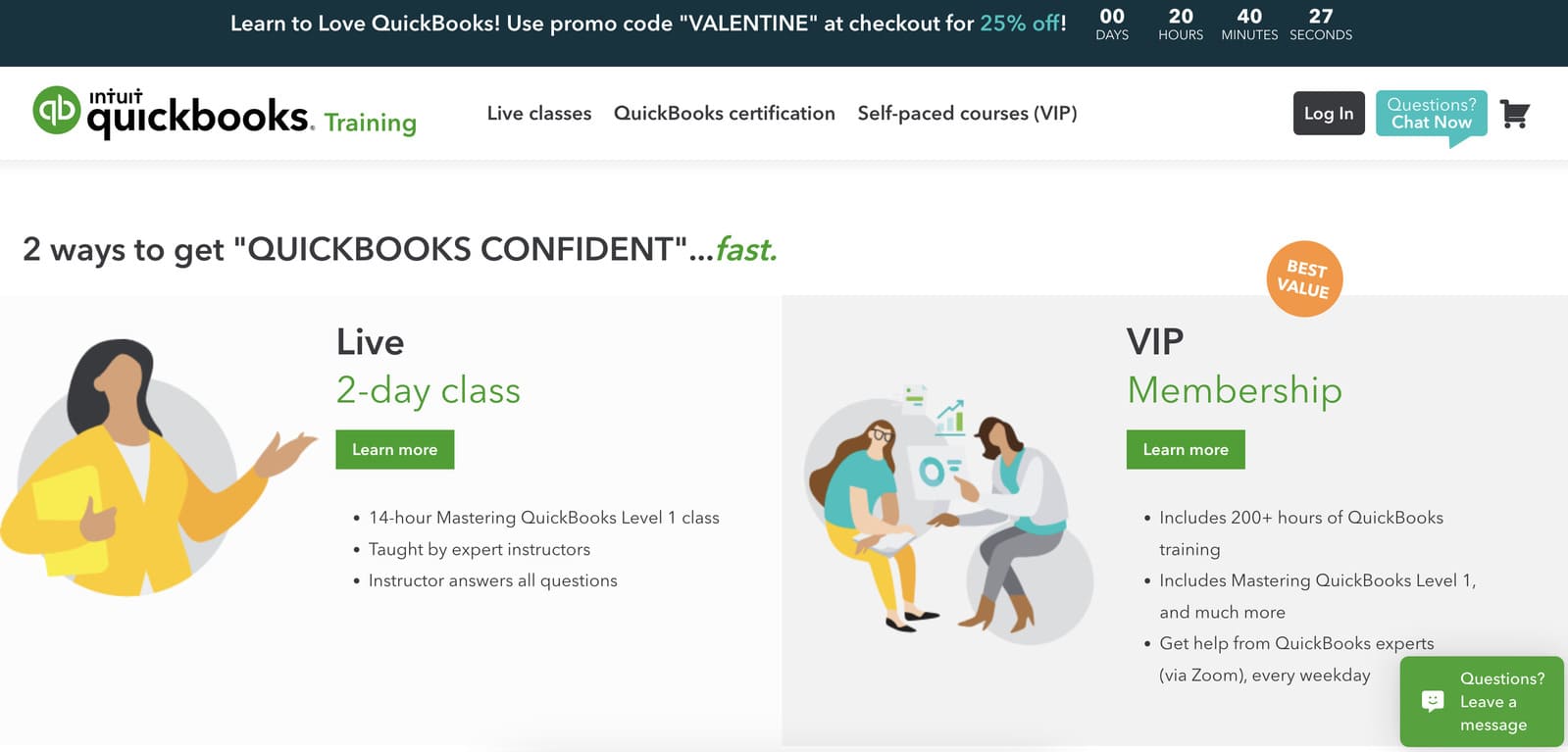 QuickBooks also has a dedicated YouTube Channel.
Overall Experience
My overall experience with their support was very positive. As with most payroll platforms, options are limited until the user completes the account setup process.
Features & Functionality
Payroll Features
QuickBooks' payroll is an add-on but is packed with features to include same-day direct deposit, employee self-service, tax compliance, time and attendance tracking, and benefits deductions.
Multiple Interface Options
The QuickBooks mobile app is intuitive and allows complete control across all devices which connect to a user's Online Account. There is also a QuickBooks Desktop version available for those wanting to keep their payroll on a local server.
Learn Payroll
No matter what stage of business a user is at, QuickBooks has a collection of articles, videos, and tools to help you hire employees and learn payroll fast.
Features & Live Chat
Click the video to see a quick tour of payroll features and a live agent chat:
401k Tracking
FMLA Tracking
Generation of pay stubs and reports
Multi-Country
Multi-State
API / Integration Capabilities
Mobile App For Employees
Automation Features
Calculate and pay employee salaries
Compliance with state and federal tax laws
Direct Deposit for Employee Paychecks
Tracking of employee hours and overtime
Update real-time employee information
HR Features
QuickBooks' HR features include health benefits, 401(k) plan, workers' comp resources, labor law posters, hiring & management tools, and an employee toolkit.  There is also an HR starter kit for employers that help address key setup functions.
Employee Attendance Tracking
Employee self-service update anytime
Vacation/Sick Leave Tracking
Benefits Management
Employee profile management
Organizational Chart
Tax Features
Automatic Tax Payment
Form 1099-MISC
Form 1095-B
Form 1094-B
Form 1095-C
Form 1094-C
Form 940 (Annual federal taxes)
Form 941 (Quarterly federal taxes)
Form 944 (Annual federal taxes)
Form 945 (Non-Payroll Payments-e.g. Pension & Annuities)
Form W-2 ( Tax filing included)
Form W-3
Form W-4
Tax Compliance
Integrations
Time and Attendance Tracking
HR & Benefits Systems
Accounting Software
Direct Deposit
Tax filing and compliance
Ease Of Use:
The QuickBooks site is user-friendly and easy to navigate. Because the platform is so feature-rich, it takes some searching to find the standalone Payroll option.
Setup
To utilize Payroll, the user must create a QuickBooks account and have the following information on hand:
●Business Tax ID/EIN – This will be verified by QuickBooks
●Business Banking Information – This will be verified by QuickBooks
●Business Mailing Address
To run Payroll, employee/contractor address, SSN, and banking information is also needed. *Only address and SSN are needed if payment will be via paper check. The entire sign-up process takes less than 15 minutes.
Run Payroll
In this video, we take a look at the employer dashboard and run payroll:
Verdict:
QuickBooks Payroll is cloud-based and ideal for small to medium-sized businesses. The mobile app, allows users to manage their payroll on the go, and users can also integrate QuickBooks Payroll with other QuickBooks products. As part of the QuickBooks family, QuickBooks payroll has extensive learning and customer support resources to include experts and certifications. If you're looking for a payroll solution that can help you save time and reduce errors, QuickBooks Payroll is an excellent choice.
Click the video to see my closing thoughts:
User Review
Write a review
Leave a review, help others get it right the first time.
Write a Review
11-50 employees
Used for: 1-2 years
A one-size fits all payroll service
I really enjoy having all of my processes handled under one system. Excellent service overall
Dislike:
- Quickbooks mobile app could be better
11-50 employees
Used for: 1-2 years
Quickbooks Payroll for SMBs is great!
If you are already use Quickbooks & have a small to medium business then this is your solution. Easy step-by-step process that is simple and intuitive
Dislike:
This might not be the right solution for larger companies
1-10 employees
Used for: 1-2 years
Great potential!
It is nice to have all our invoicing and payroll in one place. This makes things much quicker and more smooth.
Like:
I like that there is an app so we can access our account even when we are working on the road. It is a very user friendly program
Dislike:
Sometimes takes a while to get a representative on the phone.
11-50 employees
Used for: 6-12 months
Clean & intuitive interface
An automated, full-service payroll that helps us get the job done!
11-50 employees
Used for: 6-12 months
Reliable payroll service
QuickBooks helps our finance team maintain all our payroll processes based on real-time information. Now it is very easy for me to manage and stay on top of everything and has increased our productivity
11-50 employees
Used for: 6-12 months
A God-send for Small Businesses
Quickbooks does the most for our payroll processes. It is a simple payroll service and is extremely useful and saves me a great deal of time managing all our payroll needs
Quickbooks Related Article