About monday.com
Category: ITSM
monday.com is a work management platform that simplifies and automates tasks within a business. The platform is equipped with efficient IT Service Management (ITSM) features that make it easy to create and manage tasks, as well as get information crucial for decision making.
Basic - From:
14-day FREE trial, 30-day prorated refund on yearly or two-yearly plans
Standard - From:
14-day FREE trial, 30-day prorated refund on yearly or two-yearly plans
Pro - From:
14-day FREE trial, 30-day prorated refund on yearly or two-yearly plans
Enterprise - From:
30-day prorated refund on yearly or two-yearly plans
* Featured prices and terms can be updated. Free offers may include additional terms.
Pros
Modern, easy-to-use UI
Highly customizable
Lots of templates
Advanced analytics & reporting tools
Cons
Unnecessarily confusing pricing and plans
Limited ITSM features
Most features are only available on higher plans
Plans And Pricing:
Monday.com offers several pricing plans, starting with a free one. The plan is intended for individuals who would like to keep track of their work, and it offers up to 3 boards, unlimited documents, 200+ templates, and over 20 column types. However, it's limited to only two team members.
Besides the free plan, Monday.com also offers a 14-day pro trial. This trial lets you explore the platform's premium features and choose between any of the four paid plans.
Customer Support
Monday.com offers customer support through various channels.
Ticketing
The company offers 24/7 support through their ticketing platform. You can contact them by filling out a ticket form, and you will get a response via email. When testing the service, I received a reply after 1 hour and 44 minutes.
Knowledge Base
Monday.com provides a rich knowledge base where users can get help without contacting the support team. This website section is populated with articles that help you explore Monday.com features, from getting started and onboarding to the mobile app and best practices.
The section is then complemented with video tutorials, FAQs, and a Community Forum.
Features & Functionality
General Features
Automations
Monday.com lets you avoid repetitive work by automating several processes and tasks.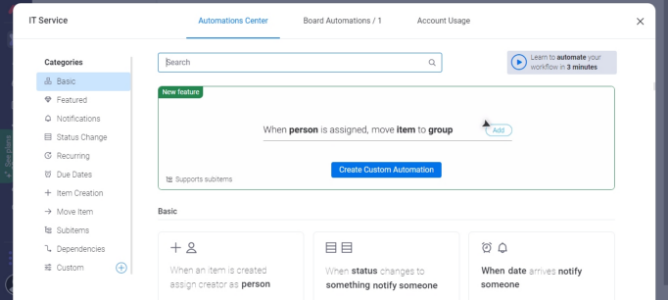 These include status updates, email notifications, dependencies, due date alerts, assigning tasks, time tracking, progress updates, and automated workflows. This means that you will stay up to date with all important tasks and processes, save time, and enhance efficiency.
Customizable Templates
Monday.com is pretty much made up of templates. The platform provides loads of fully customizable templates that make establishing processes and setting up boards super easy and fast. Some templates you can take advantage of include help desk tickets, team tasks, project portfolio tracking, contact management, campaign planning, customer onboarding, event planning, PMO project planning, and product roadmaps.
Integrations
You can seamlessly integrate all your favorite business tools into Monday.com to consolidate all your team's work in one place. Some of the most popular integrations are:
Microsoft Teams
Zoom
Slack
Zapier
Salesforce
Zendesk
Asset Discovery and Management
Configuration Management
Incident and Problem Management
Self-Service Support Desk
Knowledge Management
Request Management
Metrics & Analytics
BI & Reporting
Multi-Cloud Support
Automated Workflows
DevOps Integration
Dashboards and Reports
Multi-Lingual
Native Mobile App
Single System of Record
Virtual Agent
Incident Management
Major Incident Management
Single-Pane Agent View
AI-Powered Insight
Omni-Channel Notifications
Visual Task Boards
Guided Setup
Problem Management
Contextual Knowledge
Automated Notifications
Remediation Plans
Real-Time Analytics
Change Management
Multimodal Change
Change Success Score
Change Approval Policies
Risk Intelligence
Built-In Risk Assessment and Calculation
Request Management
Chatbot-Embedded Portals
Service Catalog Builder
Embedded Experiences
Graphical Workflow
Two-Way Notifications
Quick & Easy Approvals
Reporting
Monday.com does a great job at providing analytics and reports by giving you pretty much everything you need to visualize projects.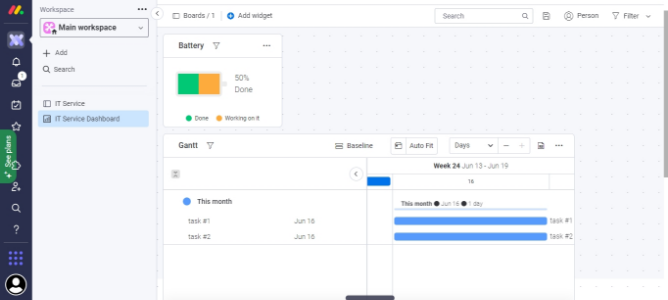 Some of the tools you can use are Kanban, Gantt charts, timeline, map, and calendar views. These give you a bird's view at a glance, information that can be used to track projects, minimize time wastage, and make decisions. On top of these, the platform allows you to create a custom dashboard comprising several boards, which can help track progress, timelines, and budgets.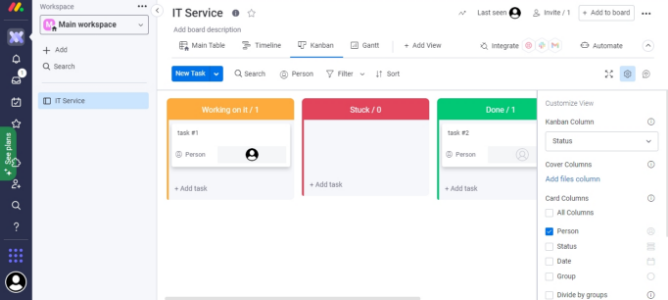 Report Designer
Report Administration
Natural Language Query
Dashboards
Ease Of Use:
Monday.com is intended to make your work and IT management easy. The platform lives up to that, from the setting up process to the actual use of the software.
When you are getting started, Monday will guide you through a wizard that asks for information such as your team size, number of employees, the primary area of management, etc.
From there, you'll be taken through adding team members and various items. You can then navigate through the platform using the menu on the left side. The main items are Home page, Inbox, My Work, Favorites, Apps, Invite Members, Search, Help, and Work Management.
Monday.com doesn't really have a learning curve as you can easily create tasks, add columns, create and customize your dashboards, etc. In case you need some help, you can refer to the website's help center for guides and video tutorials or even contact the support team.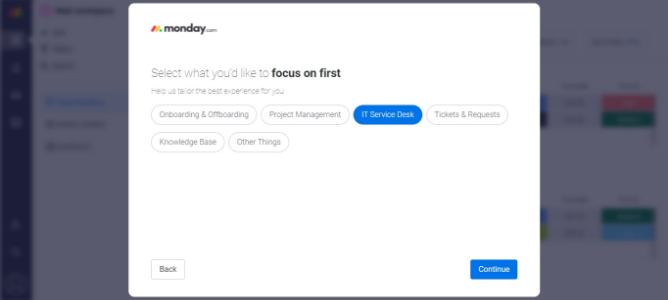 Verdict:
Monday.com is a great and easy-to-use IT service management platform that lets users automate IT tasks and get comprehensive reports in a user-friendly manner. The platform provides lots of features that your team will actually use, and it goes beyond IT Service Management to support other departments such as Sales, Marketing, Operations, Projects, and HR. Monday.com is very easy to use, and you can evaluate whether it fits your team by taking advantage of their 14-day free trial.