About Onpay
Category: Payroll Services
OnPay is a user-friendly payroll and HR platform designed to help businesses of all sizes manage their payroll, taxes, benefits, and other HR tasks in one place. The platform is cloud-based and offers real-time payroll processing, automatic tax filing, and direct deposit, saving businesses time and reducing the risk of errors. It also offers deep integrations with 3rd party software.
ull-Service Payroll
+$6/mo/employee
* Featured prices and terms can be updated. Free offers may include additional terms.
Pros
Free Migration & Setup
Straightforward Pricing
Exceptional customer support
Deep integrations with multiple software
Cons
Limited international support
Plans And Pricing:
OnPay's pricing plans are as straightforward as they come with $40/mo and $6 per person across the board. They even have a convenient fee calculator on their website: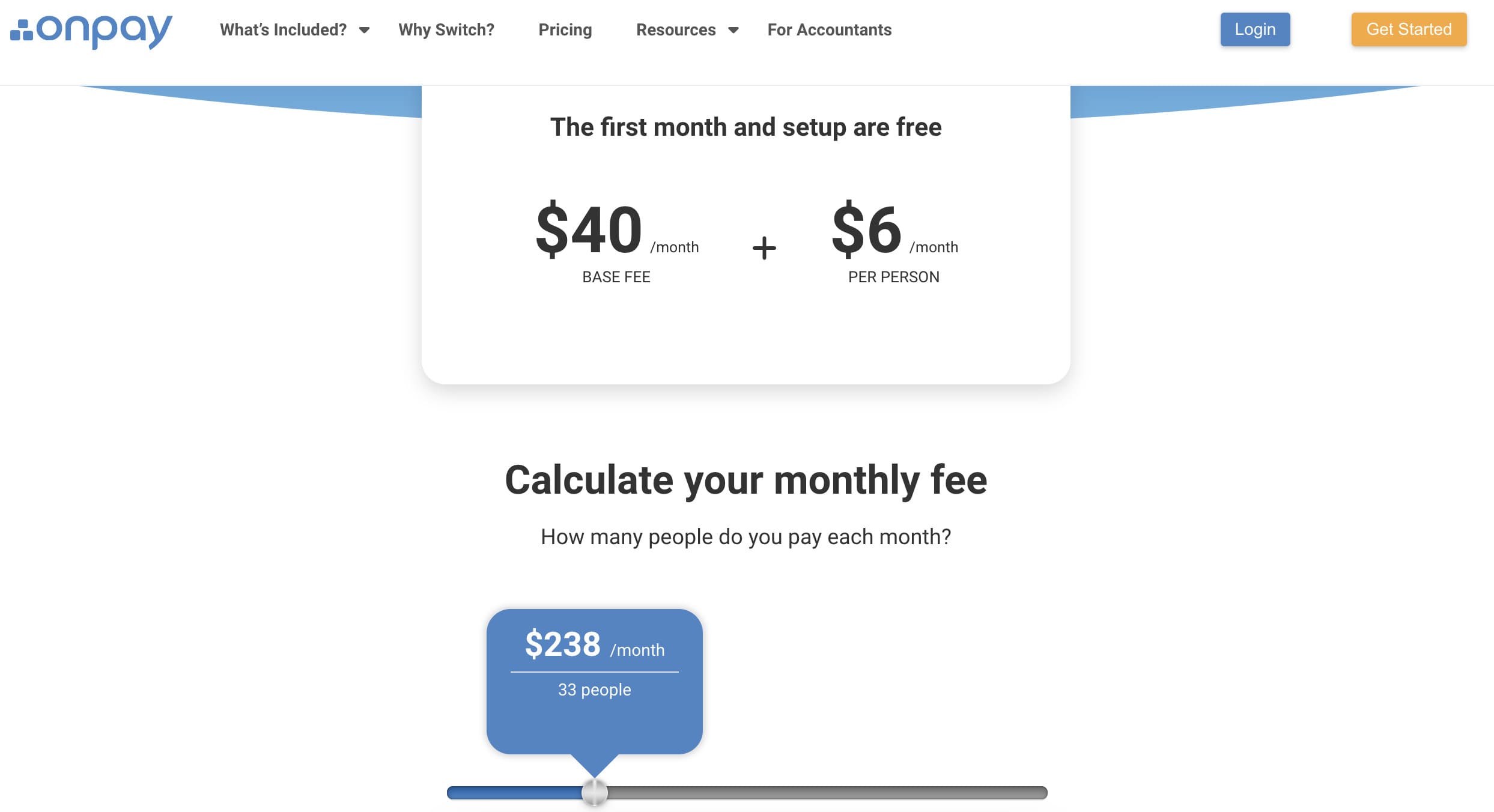 Customer Support
OnPay offers customer support via phone and email from: 9 AM – 8 PM ET, Monday – Friday.
Email Support
I sent a question to their support staff via email and received a reply within 8 hours. The representative answered my question directly with helpful information.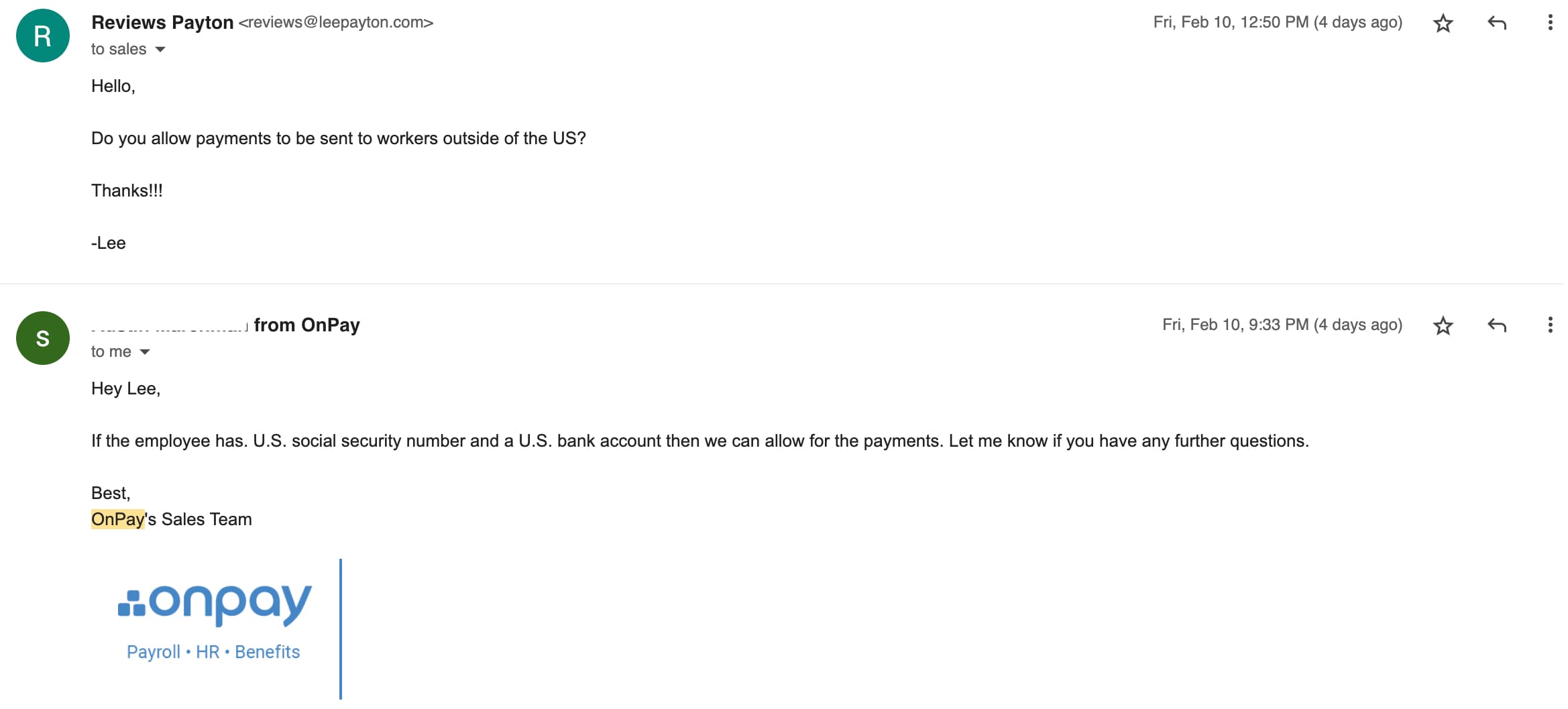 Live Phone Conversation
OnPay is known for its excellent customer service, and my brief phone conversation was pleasant, with no upsell attempts.
Online Resources
The website has a searchable Help Center that's divided into categories and features an interactive map of the US for quick access to tax information.
OnPay also has a dedicated YouTube Channel.
Overall Experience
My overall experience with their support options was very positive. The staff was helpful, answered all questions directly, and offered to guide me through the setup process.
Features & Functionality
Payroll Features
OnPay offers single sign-on, an accountant dashboard, and 6 levels of permissions to keep data secure. You can also design custom payroll reports.
401k Tracking
FMLA Tracking
Generation of pay stubs and reports
Multi-Country
Multi-State
API / Integration Capabilities
Mobile App For Employees
Automation Features
Some of OnPay's automations include automated onboarding flows, E-signing, Online I-9 & W-4 forms, state new hire reporting, and custom personnel checklists.
Calculate and pay employee salaries
Compliance with state and federal tax laws
Direct Deposit for Employee Paychecks
Tracking of employee hours and overtime
Update real-time employee information
HR Features
For HR, OnPay offers document storage + personnel files, direct messaging, compliance audits, and an HR resource library.
Employee Attendance Tracking
Employee self-service update anytime
Vacation/Sick Leave Tracking
Benefits Management
Employee profile management
Organizational Chart
Tax Features
Automatic Tax Payment
Form 1099-MISC
Form 1095-B
Form 1094-B
Form 1095-C
Form 1094-C
Form 940 (Annual federal taxes)
Form 941 (Quarterly federal taxes)
Form 944 (Annual federal taxes)
Form 945 (Non-Payroll Payments-e.g. Pension & Annuities)
Form W-2 ( Tax filing included)
Form W-3
Form W-4
Tax Compliance
Integrations
OnPay connects more functionally than most platforms with popular 3rd party apps, including QuickBooks Online, QuickBooks Desktop, Xero, QuickBooks Time (formerly TSheets), Deputy, When I Work, Mineral (formerly Think HR), and PosterElite.
Time and Attendance Tracking
HR & Benefits Systems
Accounting Software
Direct Deposit
Tax filing and compliance
Ease Of Use:
The OnPay initial sign-up was quick and easy. The user dashboard is clear and customizable, and the functions are easy to locate and use.
Setup of the Payroll Software
Click the video to see the full sign-up process and the information you'll need to create an account:
Run Payroll
In this video, we take a look at the employer dashboard and run payroll:
Uniqueness:
OnPay's deep integrations offer more comprehensive connections to 3rd part apps than most other payroll platforms.
Verdict:
OnPay is ideal for businesses that want to streamline their payroll and HR processes but don't have the resources to manage these tasks in-house. Its pricing is straightforward at $40 per month & $6 per employee, and offers free setup and data migration to help you get running quickly. It also has award-winning customer service and is great for both simple and complex payroll needs with its deep integrations.
Click the video to see my closing thoughts:
User Review
Write a review
Leave a review, help others get it right the first time.
Write a Review
11-50 employees
Used for: 1-2 years
OnPay saves time and money
It is easy to enter weekly employee times and OnPay takes care of the rest which is exactly what we need to get things done!
Dislike:
Customer support could be improved
11-50 employees
Used for: 6-12 months
Great Payroll Company
Super easy and fast to set up my company, the website is extremely user friendly and the service is impeccable
Like:
-Super fast and easy to run payroll
-Attentive staff to request and questions.
11-50 employees
Used for: Less than 6 months
Okay solution
simplicity of onboarding a client (or simply adding a business to Onpay). It takes a minimal amount of information and effort compared to other payroll software I've used
Dislike:
-some browser issues when onboarding client employees
11-50 employees
Used for: 6-12 months
Affordable Payroll & All-in-one
Onpay has good customer service. Their rates are very attractive, probably the best rates I have seen so far. All in all we are very pleased with the service
Dislike:
Nothing to dislike so far
11-50 employees
Used for: Less than 6 months
Great price easy to use
I have been using OnPay since December and have had no issues thus far. Great price compared to bigger payroll companies.Easiest interface
1-10 employees
Used for: 6-12 months
#1 Payroll System available!
From the beginning the whole team has been extremely helpful. We are happy we started to use Onpay. Best experience thus far
Like:
-Ease of use
-Price point
-Assistance from customer support
1-10 employees
Used for: 6-12 months
OnPay is Awesome
OnPay and their platform is outstanding. The Quickbooks integration is super beneficial for us. Tax filing, benefits administration, all in one place and accessible at all times
Like:
- Customer service is impressive.
11-50 employees
Used for: 2+ years
Onpay is the way!
Onpay has been our got to for payroll for the past 2 years and we are so happy with their services. From their friendly customer support to the actual interface- we are very happy we made the switch
Like:
-Great user interface
-Customer Support
Onpay Related Article