About Square
Category: Payroll Services
Square Payroll is an online payroll service that makes managing payroll easy, secure, and timely. With just a few clicks, you can process employees' wages, manage taxes, and pay benefits. Square Payroll simply works with your current bank account to transfer payments to your employees securely. You can even store employee documents, like forms W-2s, to help keep everything organized. With easy-to-understand charts and reports, you'll be able to clearly track employee wages and benefits.
Pay Employees & Contractors
+$5/mo/employee
* Featured prices and terms can be updated. Free offers may include additional terms.
Pros
Free migration from former software
No base fee for contractor-only plan
Integrates with Square products and third-party apps
Cons
No Free Trial
Plans And Pricing:
Square Payroll offers two simple options for paying your employees and contractors.
For $35 per month plus $5 per employee paid, you can manage payroll for both employees and contractors. Alternatively, you can pay contractors only for $5 per month per person paid.
Square Payroll also integrates with other Square products at varying prices.
Customer Support
Square customer support is available Monday through Friday, 6 AM to 6 PM PT. There is also a limited onscreen chatbot and contact form on the website.
Chatbot
The Square chatbot is helpful but limited to general platform questions.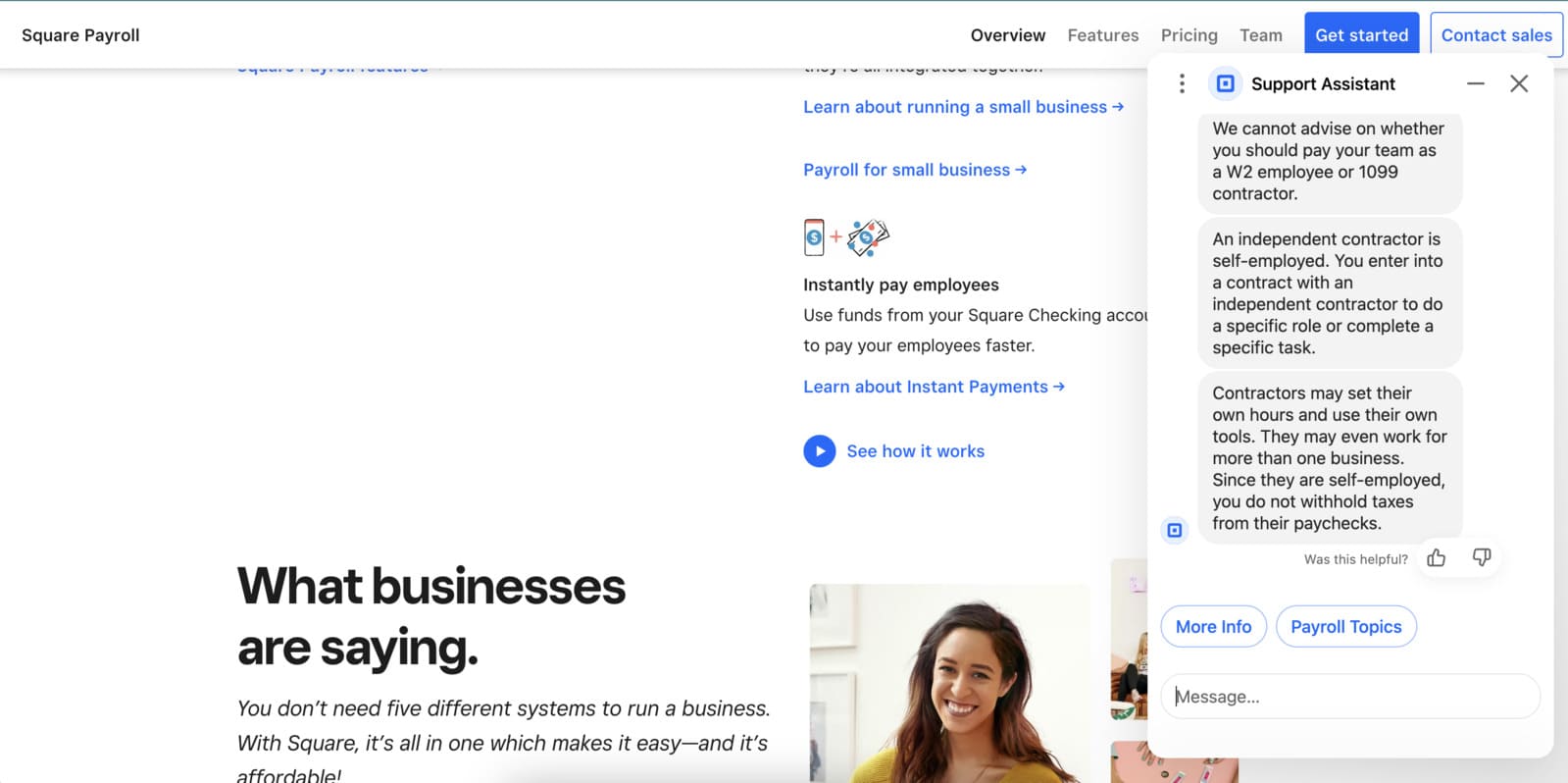 Email Support
While there is no email support available, I was able to send an inquiry regarding multistate payments through a contact submission form. I received a reply within 6 hours but it was a generic response.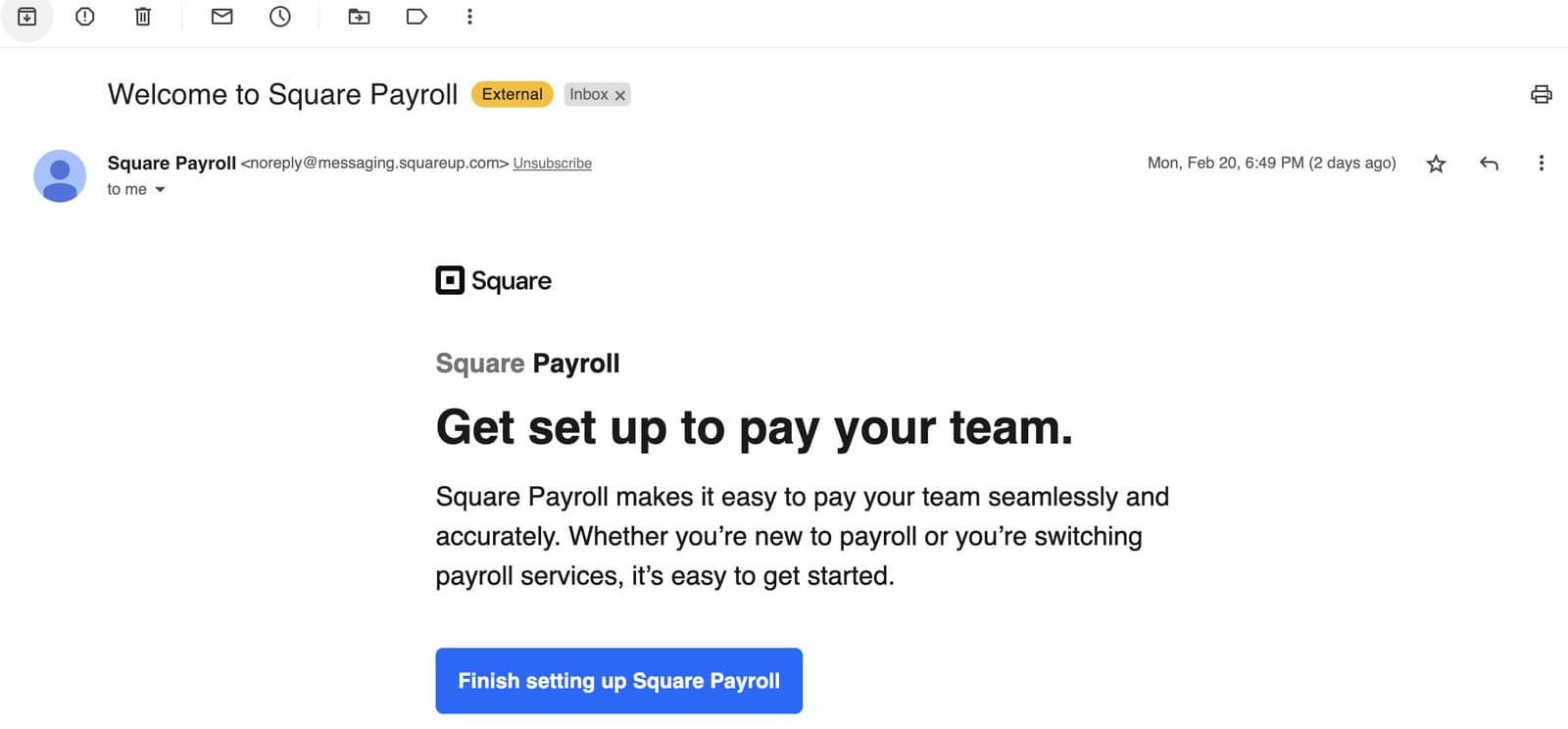 Live Phone Conversation
My phone consultation with the Square support team was pleasant and helpful. My call was answered on the 5th ring with no holding time.
Online Resources
The website has a Resources page with searchable support topics, COVID-19 information, and Company Blog.
Square also has a dedicated YouTube Channel.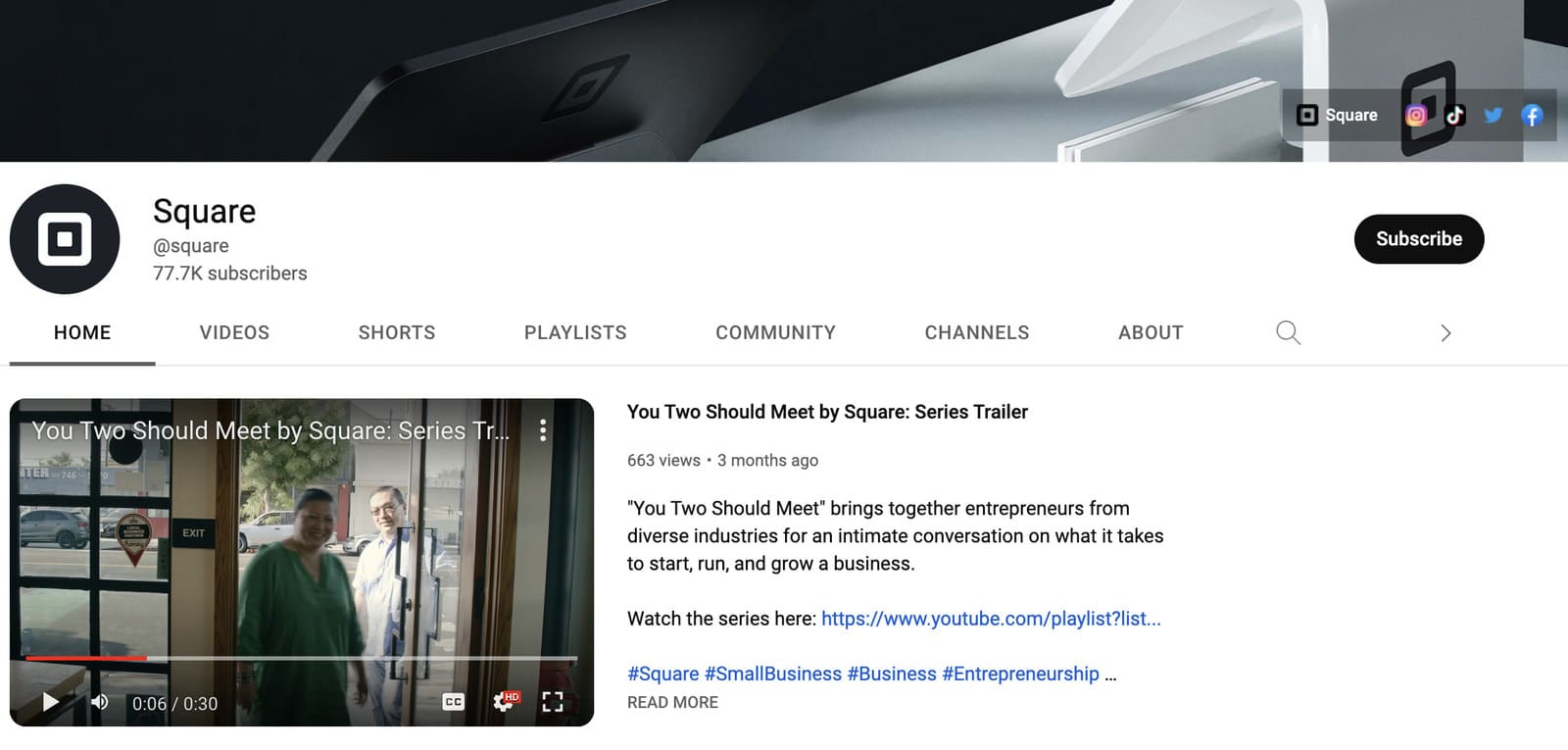 Overall Experience
My overall experience with their support was positive though limited to business hours. The Square staff was helpful and didn't attempt upsells during any contact.
Features & Functionality
Payroll Features
Square Payroll includes automatic quarterly and annual tax filings, timecard, tips, and commissions integration, and flat pricing for payroll services and live support.
Mobile App
The Square Payroll app lets employers manage and process payroll away from their computers. The Square Payroll app is currently available on iPhones and Android devices. Employees and contractors can download the Square Team app to manage their personal payroll accounts.
Square Integrations
With Square Payroll, you can add other tools from the Square family for seamless integration with Square POS, Team Management, and more. It also integrates with 3rd party tools.
401k Tracking
FMLA Tracking
Generation of pay stubs and reports
Multi-Country
Multi-State
API / Integration Capabilities
Mobile App For Employees
Automation Features
Calculate and pay employee salaries
Compliance with state and federal tax laws
Direct Deposit for Employee Paychecks
Tracking of employee hours and overtime
Update real-time employee information
HR Features
Square offers benefits for teams of any size, including healthcare and retirement benefits that automatically sync with your payroll. There is also a pay-as-you-go workers' compensation insurance that automatically syncs with your payroll.
Click the video for a tour of Square Payroll's main features:
Employee Attendance Tracking
Employee self-service update anytime
Vacation/Sick Leave Tracking
Benefits Management
Employee profile management
Organizational Chart
Tax Features
Automatic Tax Payment
Form 1099-MISC
Form 1095-B
Form 1094-B
Form 1095-C
Form 1094-C
Form 940 (Annual federal taxes)
Form 941 (Quarterly federal taxes)
Form 944 (Annual federal taxes)
Form 945 (Non-Payroll Payments-e.g. Pension & Annuities)
Form W-2 ( Tax filing included)
Form W-3
Form W-4
Tax Compliance
Integrations
Time and Attendance Tracking
HR & Benefits Systems
Accounting Software
Direct Deposit
Tax filing and compliance
Ease Of Use:
The Square Payroll page is easy to navigate and has embedded explainer videos throughout.
Sign-Up
The sign-up process is simple at takes less than 10 minutes. The following business information is required to create an account:
●Business Tax ID/EIN – This will be verified by Square
●Business Banking Information – This will be verified by Square
●Business Mailing Address
To run Payroll, employee/contractor address, SSN, and banking information is also needed. *Only address and SSN are needed if payment will be via paper check.
Click the video for a quick tour of the dashboard and sign-up process:
Run Payroll
In this video, we take a closer look at the payroll run process:
Verdict:
Square Payroll is an excellent choice for small businesses looking for an affordable payroll solution.
It has a straightforward pricing model, allows free migration from other platforms, and easily integrates with both internal and 3rd party apps depending on your business needs.
Click the video to see my closing thoughts:
User Review
Write a review
Leave a review, help others get it right the first time.
Write a Review
11-50 employees
Used for: Less than 6 months
Easy enough
Covers all bases of the payroll aspect and does the job. We recently switched, so still need to get used to the software and if it can benefit us
Like:
-Easy to use.
- iOS & Android apps
Dislike:
Not so robust customer service. Better history options can be added
1001+ employees
Used for: 1-2 years
Good Payroll
Overall, I enjoyed my use of Square but our company grew dramatically and it didn't fit our requirements anymore but overall a great product for beginners and getting started with handling your payroll processes
11-50 employees
Used for: 1-2 years
It makes my job look too easy
Square payroll is an all-in-one payroll solution that's easy to use, so you don't have to worry about sending receipts, 1099 statements, quarterly reports, or new hire reports.
Dislike:
The one thing that I found problematic was that it is not easy to understand at first,and can be confusing to use at first
11-50 employees
Used for: 6-12 months
Easy Payroll
Square made it easy for me to see how much I made and received my paycheck really quickly. It is equipped with great features and really am appreciating the simplicity of the software
Dislike:
It is alittle pricey for my liking
51-200 employees
Used for: 6-12 months
Simplicity at its finest!
Square Payroll quite literally takes most of the labor and difficulty out of running Payroll. If you are like me and work in administration or HR then this is the right software for you without the tedious entries and way more control of your payroll proc
Square Related Article