About Thryv
Category: CRM
Thryv CRM software provides excellent customer data organization to ensure you can engage and nurture leads effectively. It features a dedicated client portal that allows customers to enjoy a hitch-free experience for scheduling, secure payments, and interactions.
* Featured prices and terms can be updated. Free offers may include additional terms.
Pros
Robust and comprehensive system
Automated campaign features
Friendly and intuitive user interface
Reliable customer support
Cons
Complex access to free trial
Plans And Pricing:
Thryv offers a 14-day free trial for every one of its plans. However, before you can access it, you have to include your payment details so you'll easily retain access to the tool. The free trial gives access to a few features and you'll also get a demo to gain first-hand experience with the tool, before choosing a plan. With three different plans, users can access numerous functions to grow their businesses.
Since Thryv believes in the uniqueness of every business, it does not explicitly state the price for each plan. Instead, it schedules a demo with users, to know what plan would suit them best. Afterward, a custom price is then given depending on your business type and the number of people on your team.
With any of the plans, you can customize your CRM tool, build customer relationships, streamline payment processes, track sales pipelines, and manage all social media platforms. Though more features attract extra fees, it is worth it. However, you can also get a money-back guarantee that lasts only for 3 days.
Customer Support
Thryv is constantly available to customers and provides several mediums through which you can reach out to them. Through chats, phone calls, emails, in-app tips, videos, and how-to guides, Thryv provides 24/7 support for customers. This helps users gain the appropriate guidance required to maximize each feature.
Live Chat
With the live chat feature, Thryv responds in minutes. It is the most available and satisfactory support channel you can get from Thryv. All you need to access this is to locate the chat icon at the bottom right corner of the home page and click on it. Input your name, email address, and request, and start the chat. You'll surely get friendly and comprehensive replies from the agent assigned to you.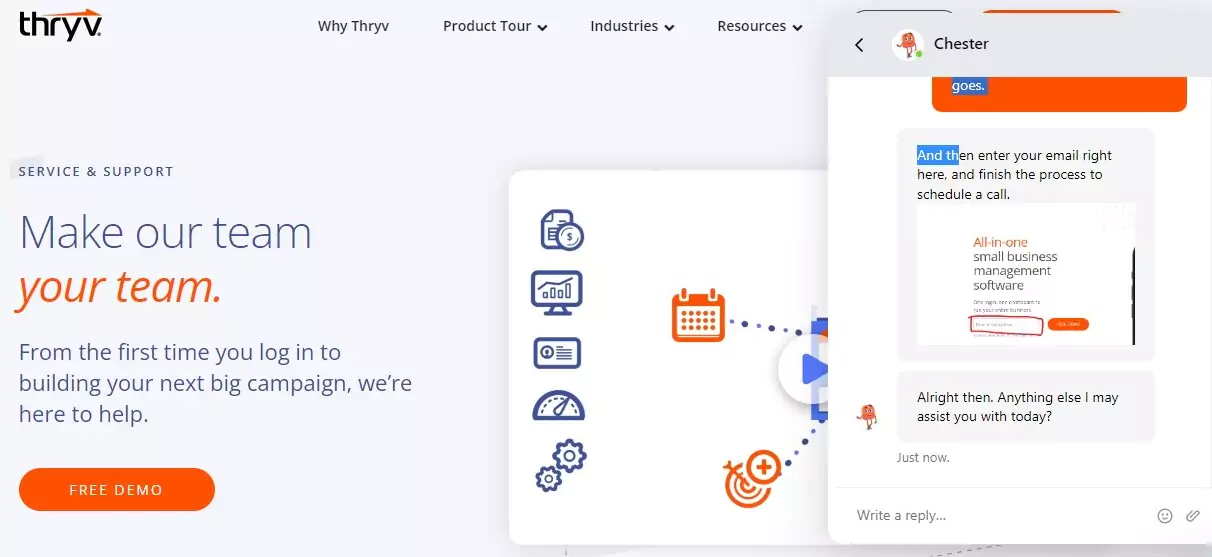 Phone Support
The Thryv phone support team is tailored to locations and the nature of inquiries. This is to ensure their easy availability and effectiveness in communicating help to customers.
Depending on how quickly you want your complaints attended to, you can fill out the contact form on their website and wait for them to reach out to you via phone call or email.
If you want an immediate response, you can make a phone call by dialing the customer care phone number, closest to your location. In my experience, the support reps were responsive and their answers were helpful.
Email Support
Reaching the Thryv email support team was fast and easy. All I did was fill out the contact form on the website, putting my request in simple, clear terms, and I got a comprehensive response in return. From their tone of response, they are willing and passionate about serving their customers.
Features & Functionality
General Features
Social Media Management 
While building client relationships may be demanding, it could be more tasking to engage the public and source leads on social media. However, Thryv makes this easy by helping you to manage all your social media platforms from a centralized place. If you're too busy to make posts in due time, you can schedule posts in advance on any platform you want to engage. Thryv can also help you to analyze competitors' posts and give you ideas of what to post so that you never run out of what to serve your audience. 
Reputation Management
For organizations, especially small businesses, building a good public perception is important to the growth of the business. Therefore, Thryv provides a system to manage this, using the Live Review Acknowledgement service that helps you to monitor customers' reviews on different reputable sites and respond to them within one business day. It also helps you to generate reviews and respond to them promptly.
Sales and Payment
Thryv, in partnership with industry-leading payment platforms, provides a system for the seamless flow of sales transactions. It allows you to create estimates and generate invoices to be approved by clients, before payment. It also enables you to take payment at any stage of the transaction, send reminders for overdue payments, and issue receipts on payment.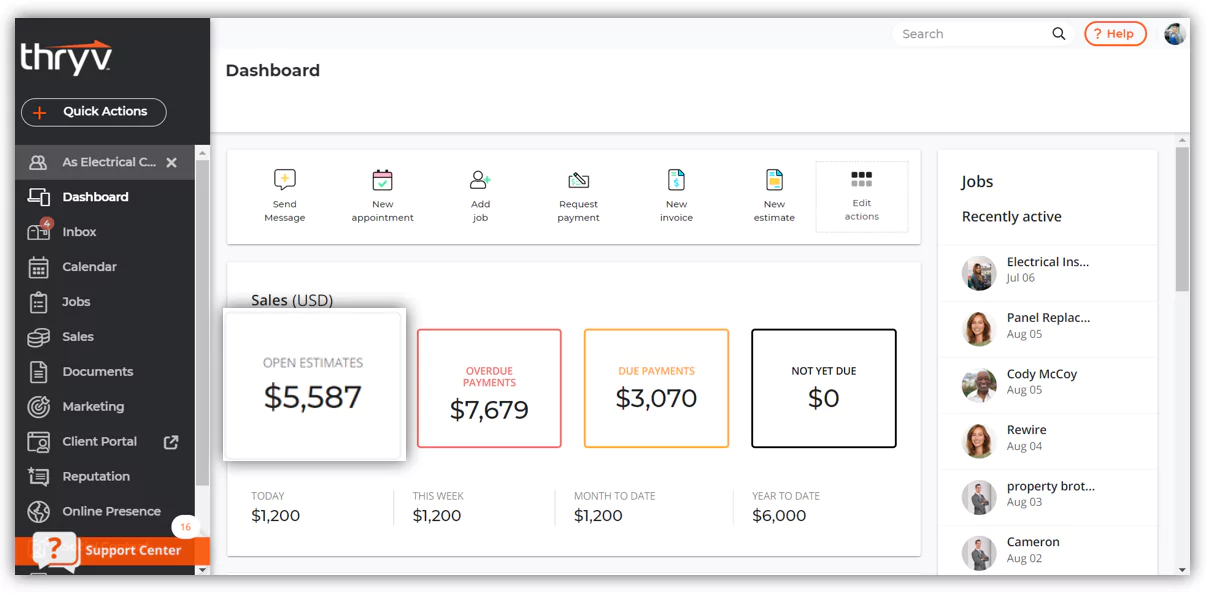 Dashboards
Reporting
Marketing Analytics
Pipeline Management
Call Management
Account Management
Collaborative Data
Mobile App
Integrations
Email
Email Sync
Email Tracking
Email Templates
Schedule Emails
Sales
Contact Management
Instead of storing data on a large, convoluted spreadsheet that could later be confusing, Thryv creates a system for proper storage, organization, and segmentation of customers' data. Thryv does not merely manage contact by computing customer detail, it manages clients by creating a client management system that tracks leads, nurtures them, and serves them with information depending on their peculiarity.
Sales AI
Customer Contact Management
Sales Opportunity
Quote Management
Lead Chatbot
Lead Scoring
Automation
Email Marketing Automation
Send timely messages to your clients, by scheduling a one-off announcement to engage them and lead them through the Call-To-Action. One of the ways to win the loyalty of your customers is to send them timely messages like birthday wishes and offers that would benefit them, but you often times get too busy to remember to do this. Hence, the need to create automated messages that would serve customers in your absence and at the right time.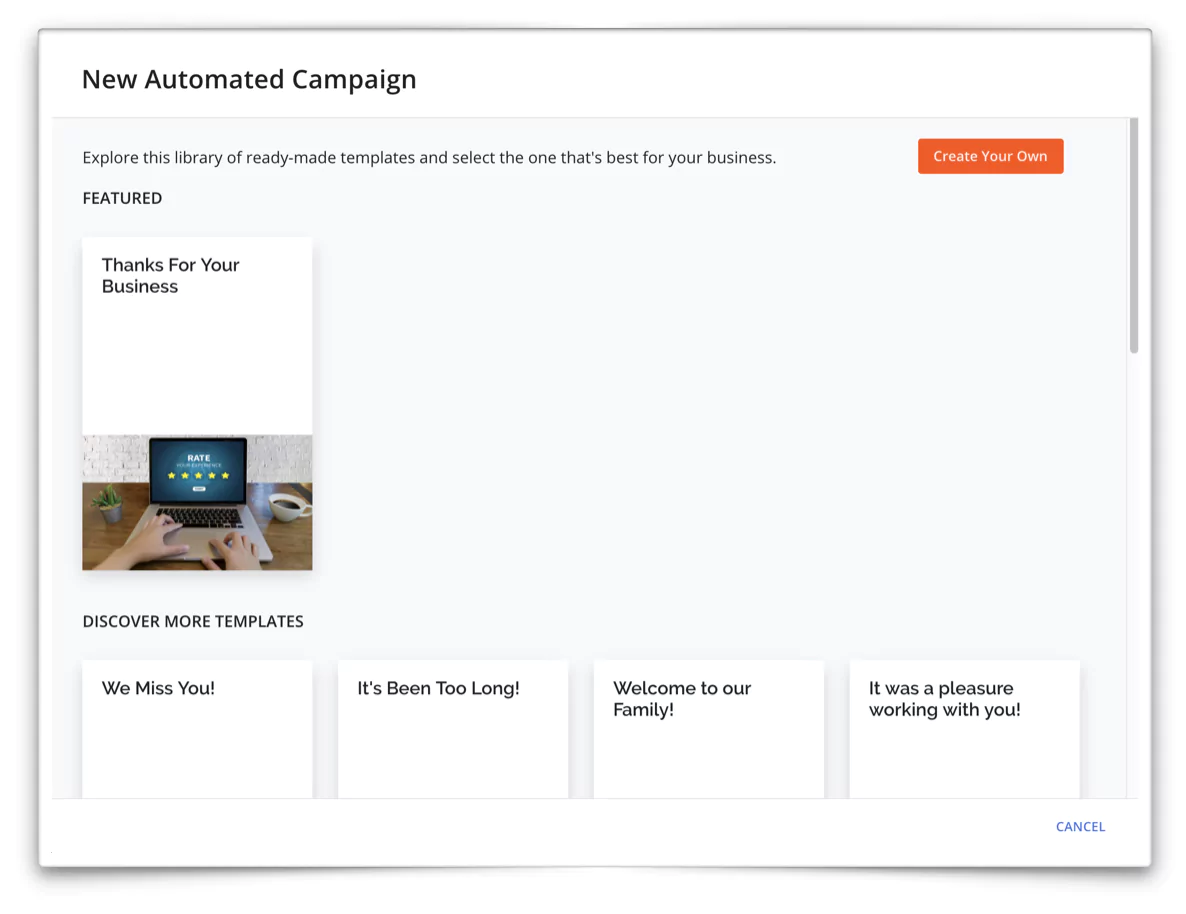 Automated Reports
Marketing Automation
Sales Pipeline Automation
Sales Forecasting Automation
Automated Emails
Ease Of Use:
Like most CRM tools, Thryv seems easy to use due to its intuitive user interface design. However, it could get complicated without a user guide, so you have to watch the videos provided and rely heavily on support to set up. However, you can figure it out within a short time.
Setup
While this may seem easy to do, many business owners mull over it and get stuck because they don't follow the right procedures. Thryv offers an introductory video on the home page, which helps with the setup process.
To set up your CRM tool, the first thing you should do is to organize your customer information by including your customer's details in such a way that it is easily accessible. When you've gained progress in compiling the details, begin to segment the list based on their buyer's journey or purchase cycle. This helps you to organize your leads, so you can communicate to each customer based on their uniqueness.
Contact Import
This is quite quick and easy to do. First, you need to click the Client option on the left-hand navigation bar, click on the Import button, which appears at the top of the screen, and click on "Get Started" to start importing your contacts. Then, make a selection on where you want to import your contact, which could be an Excel spreadsheet, Google contacts, or Square contact. You can use any of these options depending on what suits your business.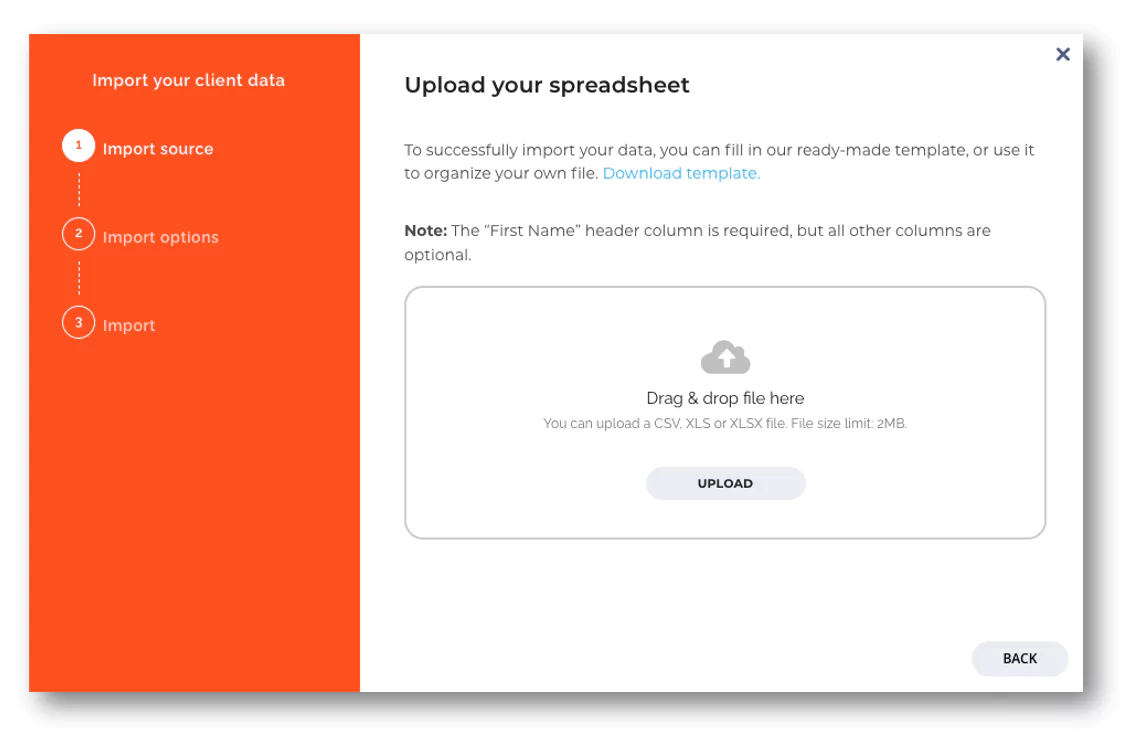 App integration
Thryv creates a platform for smart work, by creating a system to accommodate third-party apps. For instance, Thryv integrates several payment platforms like PayPal and Square to enable the seamless flow of payment transactions. To access third-party apps on Thryv CRM software, simply navigate the App Market at the left-hand navigation bar on the homepage and choose out of the numerous apps available. These apps include Google Contact, Trello, Instagram, Mailchimp, Slack, WordPress, etc.
Automation
It could be tasking to follow up on your leads and run marketing campaigns, but Thryv can give you ease by automating these activities, to increase your sales and productivity. With Thryv, you can automate appointment reminders, follow up with your clients without trying, and organize your invoices.
Uniqueness:
Though there are many CRM companies, you'll rarely find one whose CRM software provides a complete toolbox needed to drive and establish customer relationships as Thryv does. It is so detailed that it incorporates payment processes via various payment platforms and provides features that enhance centralized social media activities. Also, it gives a personalized set-up and custom pricing, depending on the uniqueness of users' businesses.
Verdict:
The growth of every organization pivots towards the strength of its customer relationship, therefore no amount of investment made towards this end is too much. Thryv CRM tool includes a plethora of features, necessary to nurture and improve the customer relationship of SMBs, especially small businesses. 
It is regarded as a complete CRM tool, in the sense that it includes everything necessary to make customer relationships work. Thryv makes sure customers are served right, by offering a personalized CRM setup based on their business needs; this attracts different pricing schemes. In each free trial, Thryv enables users to benefit from some features for 14 days before the paid subscription starts to count, however, no user enjoys this privilege without subscribing to a plan.
Though Thryv looks like a complete package for SMBs, I believe they need to be a little more flexible with their pricing and, if possible, offer a Free Plan to users.
User Review
Write a review
Leave a review, help others get it right the first time.
Write a Review
11-50 employees
Used for: 6-12 months
I really enjoy the Thryv platform.
Using this tool, our business can link concisely with customers and sales programs. Sales, marketing, customer service, and technical support functions are organized, automated, and synchronized through Thryv
11-50 employees
Used for: Less than 6 months
Great Service with everything included that is needed
The social media integration is great. I can post and make advertising campaigns that will run on social media for six months. I have used many different programs/CRMs and there is no comparison to Thryv. Thryv outperforms them on quality and usability.