About Zendesk
Category: CRM
Zendesk Sell is a CRM tool that facilitates pipeline visibility with accurate forecasting and helps you monitor your sales process easily. This tool enhances team productivity as it is a single platform covering lead generation, activity tracking, contact, and deal management.
* Featured prices and terms can be updated. Free offers may include additional terms.
Pros
Customizable features
User-friendly platform
Large database for prospecting
Sales forecasting features
Cons
No free version
Plans And Pricing:
Zendesk Sell has a free trial that allows you to access the software's major features for 14 days. However, if you're looking for a free version you can access forever, that's unavailable with Zendesk. You'll access tools that help you track your sales activities, schedule events, and follow through with communications using the Zendesk Sell platform.
 Even with the free trial, you can access 4 prospector credits and 4 enrichment credits. Zendesk offers sales engagement tools that help you structure a targeted lead list by leveraging the database of 44 million businesses. You'll have to upgrade your plan to access more credits. Since this review is about the Sales CRM tool, we'll focus on Zendesk Sell pricing plans.
Customer Support
This company prioritizes support by offering customers the necessary guidance to fully maximize the tool's potential to manage customer data effectively.
Below is a highlight of my experiences with each support channel.
Live Chat Bot
The live bot on Zendesk is highly responsive and effective in offering solutions. However, before you can reach out to a sales team member, this bot will first confirm if you're an active user of the software. A verification code will be sent to your email confirming that it is linked to your account. If not, you'll receive no support from a real human being.
There's an option for those using the free trial to open an email ticket through the live chat to get the required assistance needed at that time. However, the live bot is limited in providing comprehensive solutions, especially to those using the free trial.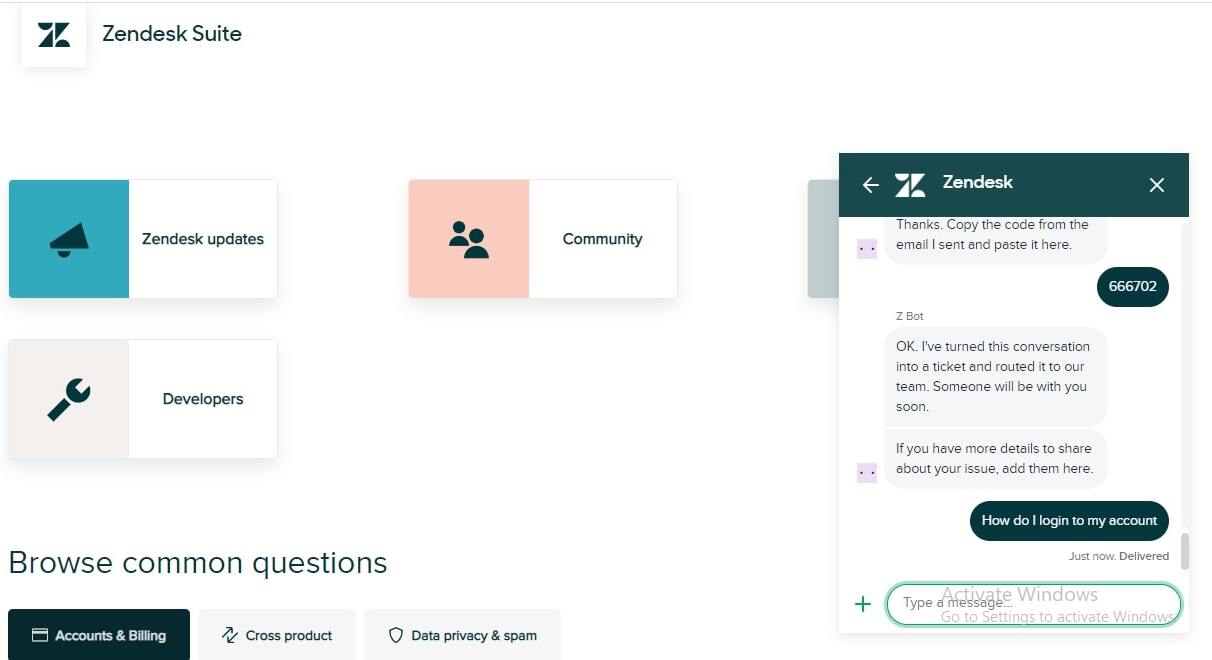 Email Support
You can open a ticket on Zendesk using the live bot that connects you with a support rep or you can reach out directly via the official support email. After opening the ticket, I got a swift response that showed that my ticket had been received. However, it took about an hour before a team member contacted me. It had all the necessary information to help me solve the challenges I was facing with my account.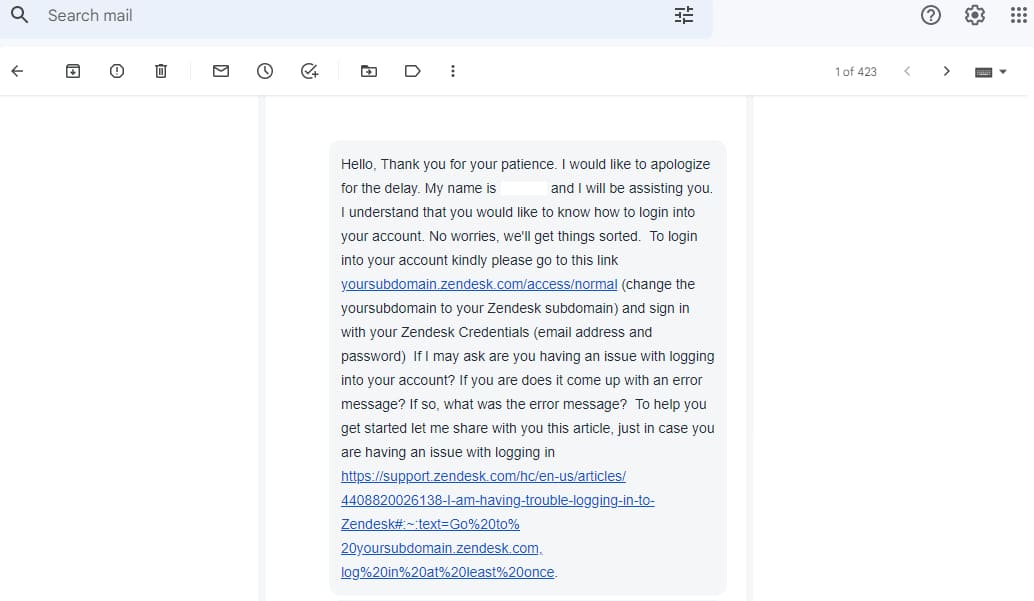 Phone Support
This company makes it easy for you to contact sales if you're looking for the right products or pricing options that suit you best. You can easily book a call back from the sales team. However, it may take 24 hours before the sales team reaches out to you. In my experience, the phone handler was friendly and eager to help me resolve all my issues.
Zendesk Training
This platform provides on-demand courses and certifications that help increase your level of expertise. The duration ranges from 30 minutes to 2 hours, covering different products and competence levels.
Features & Functionality
General Features
Customizable Dashboards
Zendesk Sell allows you to customize your dashboard to suit your needs. You can customize the fields, lead status, lead sources, tags, and smart links on the leads and contacts page. However, the deals page also has options for including deal sources, whether referrals, word of mouth, newspaper ads, or referrals.
Where a deal is lost, Zendesk offers features that help to customize it so you can choose from several options, including poor follow-up, loss to competition, price, service gap, timing gap, and other reasons.
Reporting and Analytics
The reporting and analytics tools of the Zendesk CRM measure numerous metrics that cover pipeline analysis, sales performance, activity reports, sales goals, advanced sales insights, success insights, marketing effectiveness, and voice. These metrics have sub-divisions that accurately measure all your efforts to determine the most successful techniques so you can adjust appropriately. There are also forecasts for future results using multiple values to determine the right results.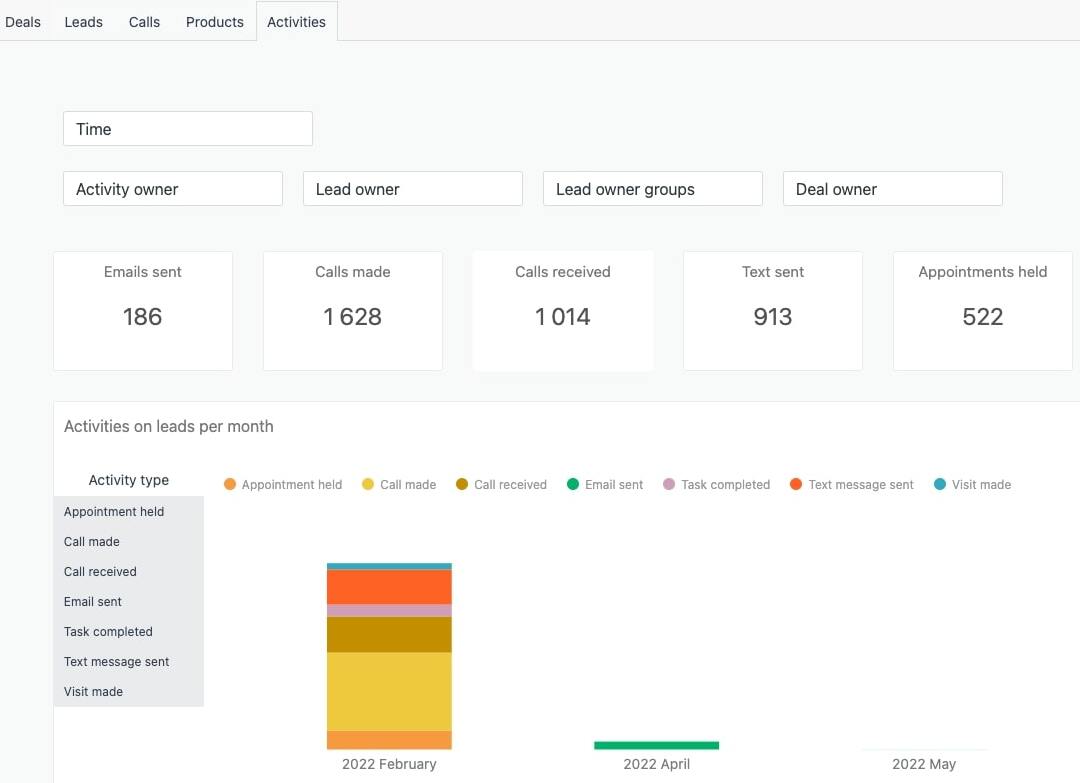 Dashboards
Reporting
Marketing Analytics
Pipeline Management
Call Management
Account Management
Collaborative Data
Mobile App
Integrations
Email
Email Sync
Email Tracking
Email Templates
Schedule Emails
Sales
Sales Engagement Tools (Reach)
The sales engagement tools fall into two categories, prospecting credits and enrichment credits. Depending on the data you have of the lead beforehand, you'll choose the section that suits you best. While using the free trial, you get access to 4 credits each. Clicking on "add," then you'll find new prospects as a subheading. This section offers different companies you can filter to make your search more effective. There are various fields, including job title or industry, as criteria for choosing.
If you find a company that interests you, you can click on "find people" and select from what the list produces. Then, you can review prospects afterward. This tool helps you gain high-quality leads you can import and work with. The enrichment feature gives you comprehensive details about your contacts so you can build fuller profiles.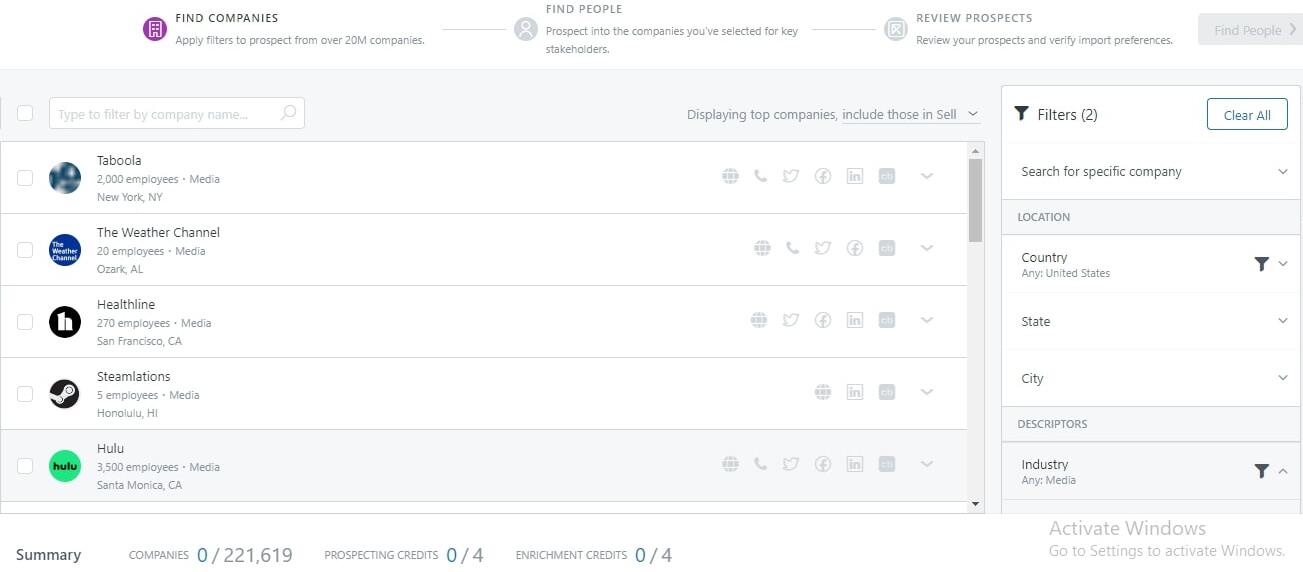 Contact Management 
Zendesk allows you to manage your contacts easily across different pages. You can export files or add details manually. With the customizable features of the Zendesk CRM software, you include new fields, including contact properties and communication levels. This way, you can analyze your contacts and track communication to help you increase revenue.
Sales AI
Customer Contact Management
Sales Opportunity
Quote Management
Lead Chatbot
Lead Scoring
Automation
Pipeline Management
This feature helps you track your sales process to choose more deals so your business can grow quickly. It uses easy-to-understand statistics and visuals to determine the right moves to help you close more deals. You can customize the features on the sales pipeline so you can guide your customers from beginning to end.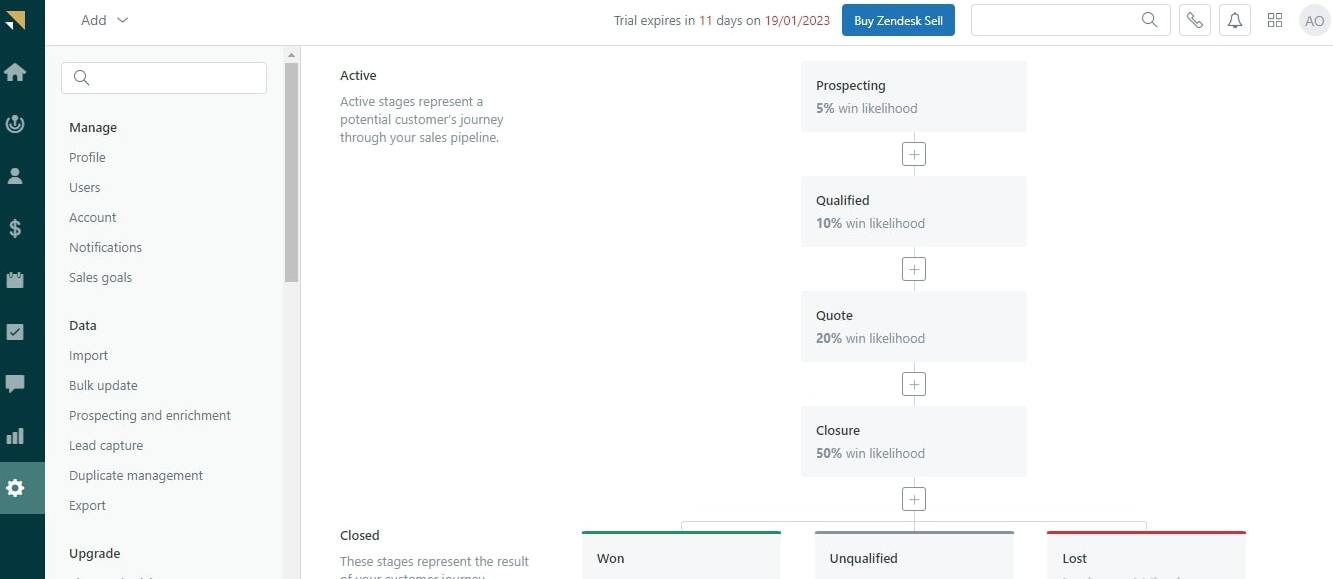 Automated Reports
Marketing Automation
Sales Pipeline Automation
Sales Forecasting Automation
Automated Emails
Performance:
Zendesk is a CRM tool that performs optimally by not only helping you store customer data but also by assisting you in gaining powerful insights from it. Here are a few variables that helped me reach this conclusion:
Speed
Although I encountered challenges while trying to set up my account, it was settled quickly. After the initial hassle, every function that Zendesk Sell offers performed at its best. I had no trouble importing customer data within a few minutes. The video below shows how fast it is to populate your contact list on Zendesk Sell.
Automation
Zendesk Sell is a powerful tool that helps you avoid mundane tasks. Even without any templates, I could create automation rules without breaking a sweat. The effect of the automation was quick, and I was able to improve the general workflow for my entire team.
Given that Zendesk Sell is part of a broader suite of customer relationship and marketing software, it offers all the automation features expected of industry-leading CRM software.
Ease Of Use:
Zendesk is a highly intuitive platform that allows you to build long-term relationships with your clients. This software helps you gain leads, nurture them and increase your chances of closing large deals. It offers these benefits with a user-friendly platform.
I've highlighted my experience navigating the platform below.
Setup
Setting up a Zendesk account is straightforward. You'll have to include your work email, phone number, company name, and employee size. This software offers 30 language options that you choose from depending on your preferences. Once you've gained access to the tool, you must include your experience level using CRM tools to get better guidance. However, I had difficulty using the free trial because the team implemented stringent security measures for trial accounts to prevent abuse and spam.
Audience building and segmenting
Zendesk Sell has pages for leads, contacts, and deals. These pages rely on customer data for you to track activities accurately and transparently for your team members to access. This platform offers numerous options you can pick from to build your audience and import data. You can use a CSV, VCF, Excel, and Google sheets format to add your customer data to the platform. You can also gain data from salesforce, Outlook, iCloud, Google contacts, Zoho, and LinkedIn. Choosing an appropriate format requires considering the data you're importing and the initial file type.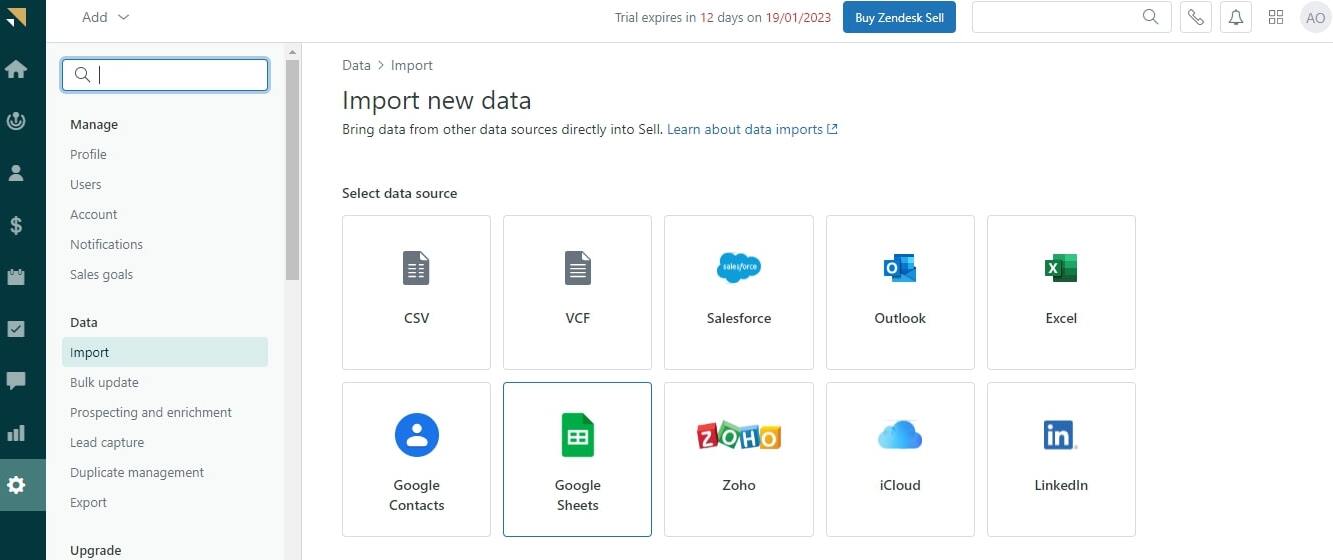 Automation
This software helps you save time by preventing you from repeating manual processes. Zendesk Sell helps you to auto-create a task when you include a new deal. This tool requires you to choose a specific trigger, depending on your preference. You can use new leads, contacts, deals, or a deal stage move as triggers for your automated process. Afterward, you'll have to continue the process by specifying the actions for the event. When creating the task, including the task name and assignment is essential before an automated action is activated. This way, your activities can be smoother.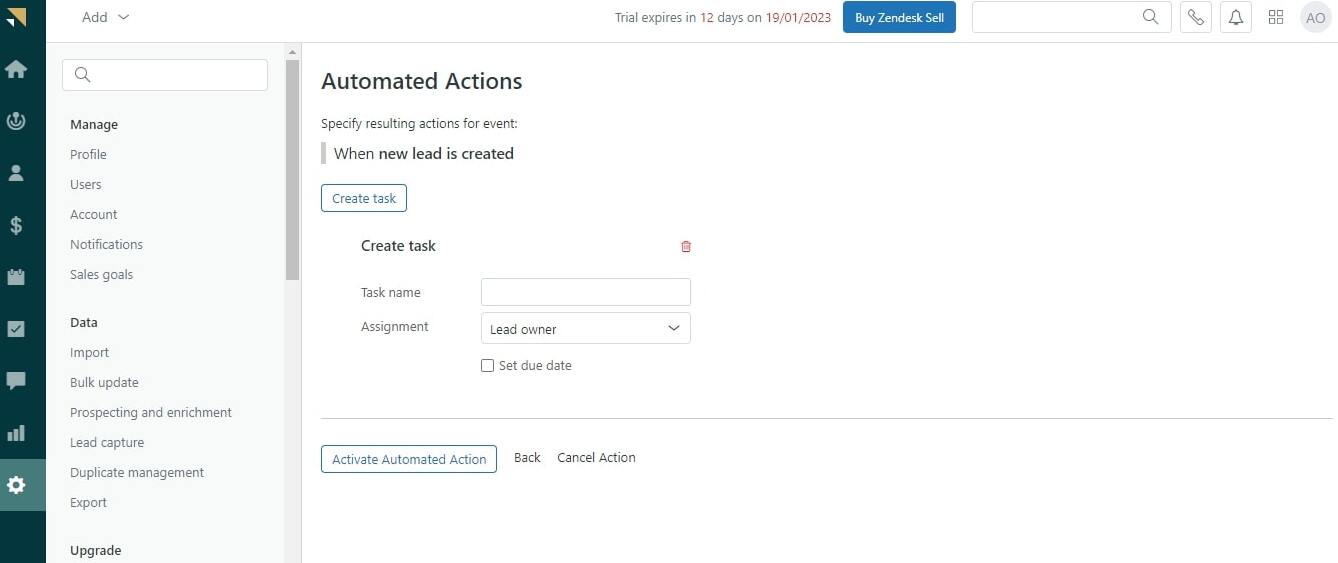 Uniqueness:
Zendesk CRM is an impressive software with sales engagement tools that helps you find new prospects from their database. It also has beautiful dashboards that you can customize to suit your needs.
Verdict:
Conversations play a major role in building strong customer relationships, and Zendesk makes that achievable with its intuitive platform and ample support resources to help users navigate through effectively.
With the 14 days free trial, you can access numerous tools to help you produce better results in your business. There are enviable features that this software possesses, including automation, integrations, management, and reporting tools that help you provide excellent services to your customers.
Finding your way around this application is easy, and the company meets you at every juncture to ensure you're not stranded. It is a great product for both startups and established businesses, regardless of the size and industry. Most of all, the features offered provide great value for the price.
Zendesk Related Article