Pros
Run payroll automatically
Availability in all 50 states
Top-notch employee portal access.
Robust third-party app integrations.
Cons
Health benefits management is not available in all 50 states.
No mobile payroll app.
Same-day deposit is not available.
Pros
Capable support team
Great retirement plans. 
Payroll breakdown gross to net.
Cons
Lacking customization of reports
A long timesheet approval process
Expensive
Introduction
Human capital management is simply a comprehensive set of practices and tools used for recruiting, managing, and developing employees. It addresses most organizations' biggest investment which is the people. Investing in human capital can boost your employee's creativity and productivity, and ultimately your organization's profitability. And when you fail to manage your human capital, it can result in missed opportunities, lost revenue, and higher labor costs, which will greatly reduce your company's profit.
Human Capital Management (HCM) is a set of HR processes and the name of the software category that deals with these processes. In contrast, an Human Resources Management System (HRMS) is a set of integrated software applications and other technologies used to manage HR processes, especially core administrative ones like employee records, payroll, and benefits.
Gusto and Paychex are two of the best HRMS out there and they both offer cloud-based payroll products that include payroll processing, benefits administration services, and human resources support.
An Overview of what each has to offer
In this article, we'll examine what both of these HRMS have to offer their clients and determine which is better.
Gusto
Gusto was launched officially on December 11, 2012, in California by Joshua Reeves and Edward Kim, but was founded a year before that in November 2011 as ZenPayroll. Gusto included the flexibility of paying contract workers and making sure tax compliance even by contract workers. This move gave them an edge over some of their competitors who did not have that flexibility at that time.
Gusto (legally ZenPayroll, Inc.) is a company that provides cloud-based payroll, benefits, and human resource management software for businesses based in the United States and they are operational in every state in the US. Gusto handles paperwork that are needed to help businesses stay on the right track with the law (immigration laws, labor laws and tax law); they also take care of payments to employees and contractors.
What are Gusto's Main Offerings
Like every HRMS, Gusto gives the best HR services to businesses either small-scale or large-scale. In addition to HR services, they offer core payroll processing. As part of the core payroll product, they offer employee onboarding (work authorization forms, direct deposit forms, employee information aggregation). Apart from all these, They also offer employee health insurance, dental insurance, and vision insurance enrollment and administration. Their robust third-party app integrations help in offering other employee-benefit and related products through third parties, including 401K and workers' compensation insurance.
Below is a comprehensive list of services they offer:
Full Automated Payroll services: They pay your employees and contractors with smart technology, and Gusto makes it so stress-free and on time.
Tax and tax Credits: They help to file taxes automatically, help to ensure compliance, and to identify tax credits that can help save you the money you may never have known you qualified for.
Employees Benefits: They support your employees by providing a wide range of health and financial benefits to help the team thrive.
Time and Attendance: With the use of mobile time tracking with geolocation, PTO policies, and reporting, they calculate the time of work and attendance, and hence, they help you save time used in computing.
Hiring and Onboarding: They help in hiring great talents for the firm by posting jobs for the firm, and using applicant tracking systems.
Talent Management: They also help in retaining these talents by nurturing your team's growth and providing great feedback.
Workers Compensation: They help in connecting the firm to a working insurance plan for the employees in events of accidents; the worker and the team are fully protected.
Employee self-service tools: Gusto empowers your employees with SME self-service tools that enable them to go online and use any of the services themselves. They can pay taxes, request time off, and update personal information.
Financial tools like the Gusto Wallet: With this feature, employees can monitor their payments with financial tools that help them save and track where they are spending every penny. They also offer an optional 'employee debit card' for faster and easier access to funds.
Gusto Service
Gusto is one of the leading payroll brands in the country with services reaching almost every star in the country. Apart from the payroll services, they also help in the general human resources service, such as hiring and onboarding, talent management, employee benefits, and many more. They presently have over 50 products. Their inclusion of third-party products that include 401k and worker's compensation insurance makes them the top choice for large and small businesses all over the country.
Paychex
Founded originally by Tom Golisano in 1971, Paychex Inc. is not actively running in 6 countries which include the United States. Paychex Inc. is one of the leading providers of integrated solutions for payroll, human resources, benefits, and insurance services. Its innovative software-as-a-service technology and its mobility platform help to empower small and medium-sized businesses. With over 50 years of industry experience, 680,000 payroll clients over the United States and Europe.
What is Paychex's Main Offering
In addition to payroll and human resources management, Paychex offers a variety of human management services, including hiring and onboarding, employee benefits, and more.
Below is a complete list of the services offered by Paychex;
Automated payroll tax filing: With Paychex, businesses can rely on the automated process of filing state and federal employee payroll taxes without the hassle and extra paperwork involved, thereby making fewer errors and avoiding penalty fees.
Full Automated Payroll Service: Paychex can help businesses pay employees in an easy and stress-free way.
Time and Attendance: With Paychex's time and attendance integrated payroll system, you can get back the time lost in entering timecards and pay employees for the exact time they worked.
Recruiting and Applicant Tracking: Paychex Flex Hiring helps give businesses the time, power, and reach to get the best candidates for their open positions.
Benefits Administration: Employees get all the needed support to access the benefits they are qualified for, be it health or financial benefits, including insurance and more.
401k and Retirement Services: They have different retirement plans like 401k (Administrative and Owners only), 403b, Pooled Employment Plan, and others.
Paychex Service
Paychex offers top services that help small-scale and medium-scale businesses in human resources, human capital development, improved employee conditions, and eventually increased productivity. They have various plans that cater to self-employed businesses, to businesses with ten employees, fifty employees, 100, and even over 1000 employees.
Gusto Vs Paychex
Gusto and Paychex are among the top payroll services in the United States. Rating them side by side is pretty close. But this article aims to compare the services and products both firms offer to customers and help you make the right choice for your business.
Feature Set
Both Payroll services provide similar services to customers. Both Gusto and Paychex provide standard payroll services like direct deposit payroll, tax filing, and calculation; they even have an employee portal for you and your team to track your pay stubs, tax, hours worked, and access tax documents, as they also offer human resources management such as hiring and recruitment of talents, employees benefits. They both integrate well with third-party software to provide some services.
The table below gives some of the differences between Gusto and Paychex
| | | |
| --- | --- | --- |
| Feature | Gusto | Paychex |
|  Payroll |  Direct deposit only for employees and contractors |  Direct deposit or in-house printed checks available for     employees and contractors |
|  Pricing |  One-time fee on most Features |  Add-ons fee required to enjoy full benefits |
| Benefits enjoyed by the employee |  Health, wellness, transportation, housing, retirement,   and custom benefits are available at no additional cost. |  At a significant additional cost, PEO-level benefits are     available |
| Employee Portal |  Employees have lifetime access to see pay stubs hours   worked and lots more |  Employees can simply view pay stubs and tax documents. |
| Third parties brokers |  Gusto partners with brokers to offer employees benefits |  At the PEO level, a full comprehensive range of HR is   provided. |
| Years of experience |  About 10 years |  Over 50 years |
| Areas of Coverage |  Operational in all 50 states of the United States (Health   insurance is not available in some States) |  Operation in 6 Countries in Europe (The United States   inclusive) |
Customer Support
Gusto's customer support is available on call from 7 am to 6 pm on Mondays through Fridays. While they have an active website live-chat bot where you can get answers to your questions. Also, with numerous help-related articles on the website, you can find solutions to any issue you need help with. They also have an active emailing system that would be ready to assist you in any way possible. They have an active social presence that you can chat with on Facebook, Twitter, Instagram, and LinkedIn.
Paychex runs its customer support system just like Gusto's but has a 24/7 support system that comprises calls, emails, and a website live-chat bot that is very active in receiving your complaint or questions. Unlike Gusto, they have dedicated phone lines for specific services they provide, and different lines to call for problems relating to PEO, while payroll-related questions have a different phone line. They also have an active social presence that you can chat with on Facebook, Twitter, YouTube, Glassdoor, and LinkedIn.
Pricing & Plans Comparison
Gusto
On Gusto, the pricing is divided into classes or plans which depend on the products you want for your business: the cheapest on the list is simple, which take $40 per month and an extra $6 per employee which includes lots of products like the full-service single-state payroll that in less W-2s and 1099s, employee profiles and self-service, basic hiring tools, basic support and a whole lot more. Then comes the Plus plan, which goes for $80 per month with $12 per employee which includes every product in a single plan and full-service multi-state payroll, next-day direct deposit, advance hiring, time tracking, and a lot of other products. The highest is the Premium plan, which is quoted as you have to contact Gusto and they will decide based on your business' capacity and involve all the products that a payroll system can give you. Then the Contractor only which for contractors only businesses who do not have W-2 employees, and the price is simply $6 per month per person.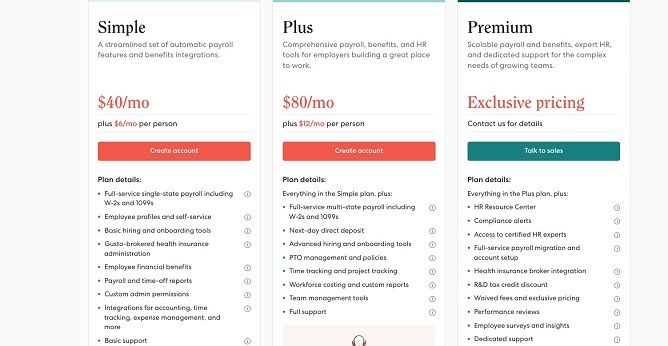 Paychex
Paychex also has 3 different plans or classes: Essentials, Select, and Pro. Of these three plans, only the Essentials have a price rate on the website, with $35 per month plus $5 per employee. The other two plans do not have a price rate on the website, so you have to contact the firm to get the pricing for them. For the Essentials, you get payroll services, including direct deposit, HR library, and hiring help. An additional cost is required for employee benefits, and this plan is available for businesses with fewer than 19 employees.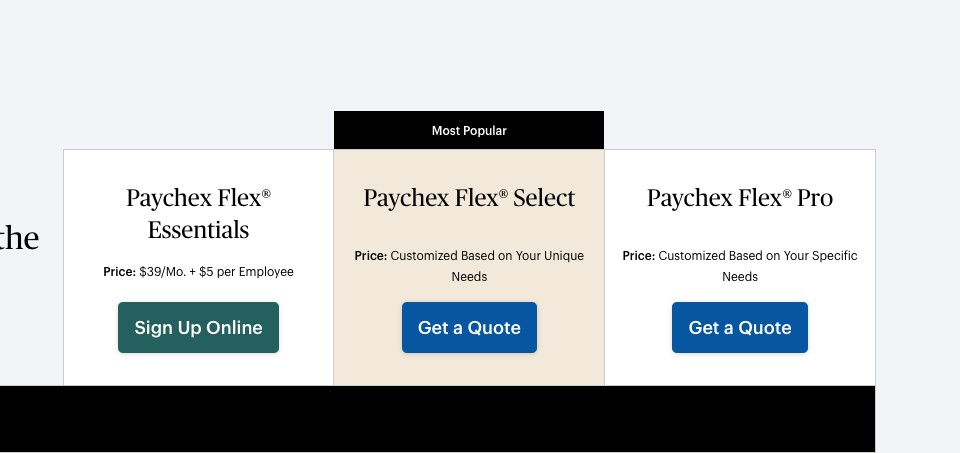 User Experience
The best way to know about a product is to hear from people who have used such products. Hence, we bring you feedback from real people who have used these services and talked about their experiences with each of these services.
Gusto
Some users admit using Gusto for their payroll, PTO, overtime, raise-related, and HR services altogether, and they have been happy with the output as it simplifies the payroll processes and posts reminders for onboarding in the hiring process which they believe is nice. Small business owners believe Gusto is perfect for their small-scale enterprises. Some clients believe the customer support service because they are "human" and they listen well, to answer properly. Some find troubles in entering time off requests, getting the needed material from reports, or getting complete customer support as some would argue that the customer support system is worse than most.
Paychex
A lot of customers commend the customer support service for being compassionate and very responsive. Some even say they have regular monthly meetings with a representative of Paychex to improve their services. Some also appreciate their flexibility in submitting payrolls and how they update their system to fit the customer's requirements. While many people have good things about them, there are also some negative comments from the same people. Some say the website goes down once in a while, some also complained about the visibility period for pay stubs as it has been limited to 3 years. Some also complained about the high additional charges as small businesses may be unable to afford those extra charges.
Final Verdict
The little difference between Gusto and Paychex makes it easy for us to recommend one or the other. But apart from this little difference, they offer almost the same services and products.
Gusto is the better option if you run a small-scale business as its cheapest plan also includes the basics of payroll and Human Resources tools that can sufficiently sustain a small-scale business. So, if you care for an affordable payroll software service that has fewer technicalities, Gusto is your best bet.
Paychex might be the best option for you if you want to depend on them for your entire Human Resources system. Its custom-made plans can assign you HR professionals that will assist you in managing payroll processing, recruitment, workers' benefits and compensations, and lots more. They offer a full PEO that can help your business improve your buying capabilities in getting the best plans (insurance, retirement, tax discounts and others).
Your business size, vision, goal, and what you are looking for will be the determining factor when choosing a payroll software service provider.