A resignation letter is a  formal written document that informs your employer of your intention to leave the company. It is an opportunity to express gratitude for professional opportunities and to provide an appropriate duration of notice which can vary depending on the company. Some employers expect a minimum two-week notice, while others may expect four weeks or more. This gives the company a chance to start the process of advertising and interviewing to find a suitable replacement for your position.
Writing a resignation letter is not only a professional courtesy, but it can also have an impact on your future career opportunities. An effective resignation letter can help to maintain a positive relationship with your present employer and may even create a good impression on your future employer.
No one can discover you until you do. Exploit your talents, skills, and strengths, and make the world sit up and take notice. 
– Rob Liano
When preparing a professional resignation letter, keep in mind that it should be short, simple, and to the point. Your information should be conveyed clearly without unnecessary details.
Address your letter to your direct supervisor or manager and be clear about your intention to resign from your position. Include details about your last day of work and, where appropriate, explain the reason for your resignation in one or two sentences. End on a positive note by including a few sentences about what you have learned and how working for the company has helped you grow, personally and professionally.
Why is a resignation letter important for businesses?
People leave their jobs and positions every single day, but in professional terms, there is a right and a wrong way to do it. A well-written, simple resignation letter can set the stage for a positive transition and help minimize the impact on the company, both in terms of workflow and finance.
The employee turnover rate of U.S. companies is currently around 15% and according to the Bureau of Labor Statistics, over 4 million Americans quit their jobs every month.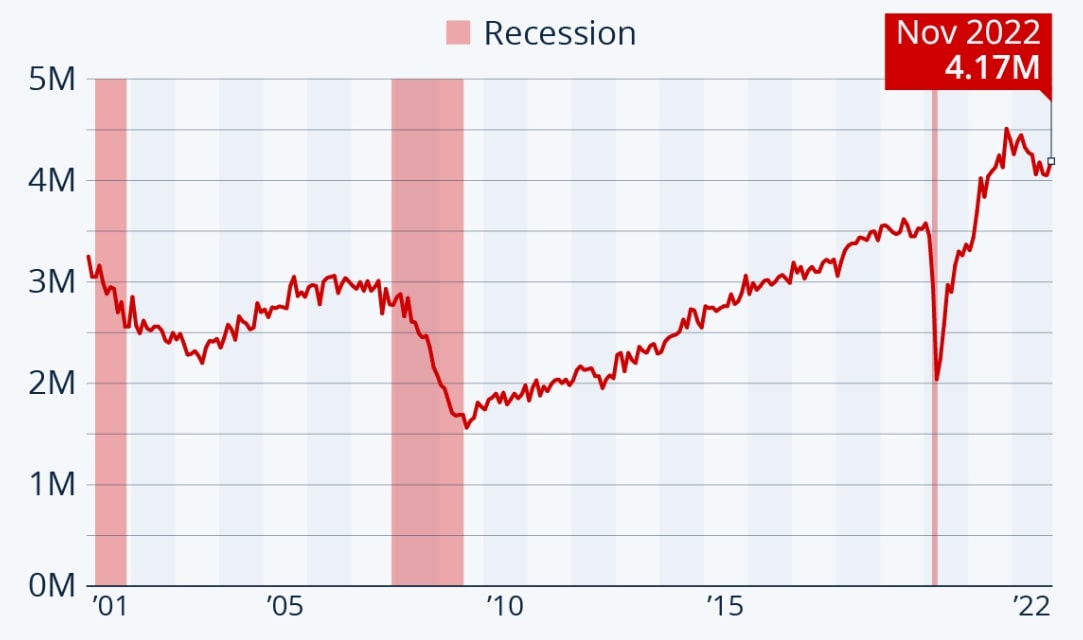 Source:Statista
Employee sourcing and onboarding can be one of the biggest expenses that a company incurs, providing a proper letter of resignation will help with planning and supporting a smoother handover.
As the old saying goes, people may not remember what you did, but they will always remember how you left. Not leaving your position in the correct way can feel personal, almost like a kick in the teeth to your manager. Documenting your exit formally and courteously can take the sting out of losing a valuable employee.
Writing a resignation letter is an important step in the process of leaving a job, it helps your employer make future plans and prevents them from being caught off guard. It also gives you time to plan your exit and tie up any loose ends.
Resignation letter example template
There are many different styles  and letter formats of resignation letters and numerous templates can be found online. A good template can help you format and structure your letter and communicate all the relevant information clearly and concisely.
Here is a basic resignation letter template –
[Your Name]
[Your Address]
[City, State ZIP Code]
[Email Address]
[Today's Date]
[Your Supervisor's Name]
[Company Name]
[Company Address]
[City, State ZIP Code]
Dear [Your Supervisor's Name],
I am writing to inform you that I will be resigning from my position as [Your Job Title] at [Company Name]. My last day of work will be [Date].
I wish to express my thanks for the opportunities and experiences I have had while working for [Company Name]. I have learned a great deal and am grateful for the support and guidance provided by my coworkers and supervisors.
I will do everything in my power to ensure a smooth transition, including completing any necessary paperwork and assisting in finding or training a suitable replacement.
Thank you for the support you have given me throughout my time at [Company Name]. I wish the company every success in the future.
Sincerely,
[Your Name]
Remember to personalize your letter with your own information and keep in mind that your letter should be professional, concise, and respectful. If you want even more help to design a professional looking letter, email tools like Constant Contact and SendinBlue may come in useful for a resignation email.
There are far better things ahead than we ever leave behind.
– C.S. Lewis 
Negative impacts of not writing a resignation letter
Not leaving on good terms and giving your employer appropriate notice can have negative impacts on your professional reputation, and potentially, on future job opportunities.
Failing to write a resignation letter and proper notice can be perceived as unprofessional, rude, and discourteous. This could have the effect of damaging your reputation and professional relationships. Or it may even harm your relationships with future employers and business connections in a new job.
Burning bridges with your existing company will likely mean that you can never return, even if a good opportunity arises. Not providing a resignation letter and giving proper notice can cause difficulties for the company, such as the need to quickly find a replacement. Even with software tools like ADP and TriNet which can help with recruitment management, it can still be costly or require companies to reallocate resources to temporarily bridge the gap.
A new employer may be hesitant to hire you if they believe you may leave your existing job without providing notice, or sense that you don't value the importance of professional communication. In some places claiming unemployment benefits is dependent on giving appropriate notice and a reason for leaving. Not providing a proper letter of resignation may impact you financially.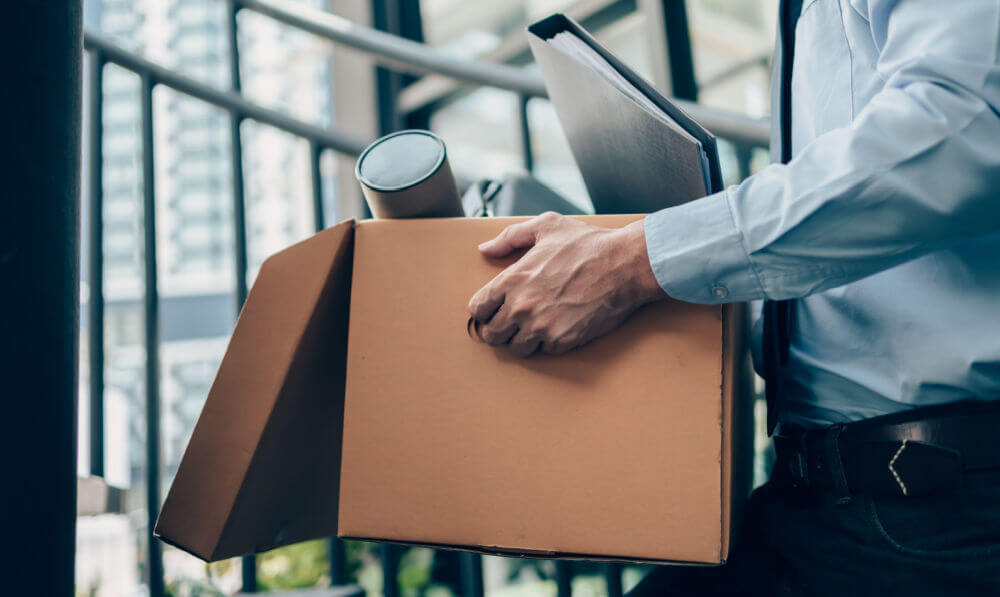 Resignation letter examples with a reason
A resignation letter should include a reason for resigning because it provides context and helps to facilitate a smooth transition for both the employee and the employer. When an employee provides a reason for their resignation, it can help the employer understand the motivations behind the decision and plan accordingly. It can also help to avoid any confusion or misunderstandings about the employee's departure.
Additionally, including a reason for resigning in a resignation letter can help to maintain a positive relationship between the employee and the employer. By being transparent about the reasons for the resignation, the employee is showing that they are being honest and open. This can help to ensure that the employee leaves on good terms with the company.
Here is a resignation letter sample with a reason for resigning –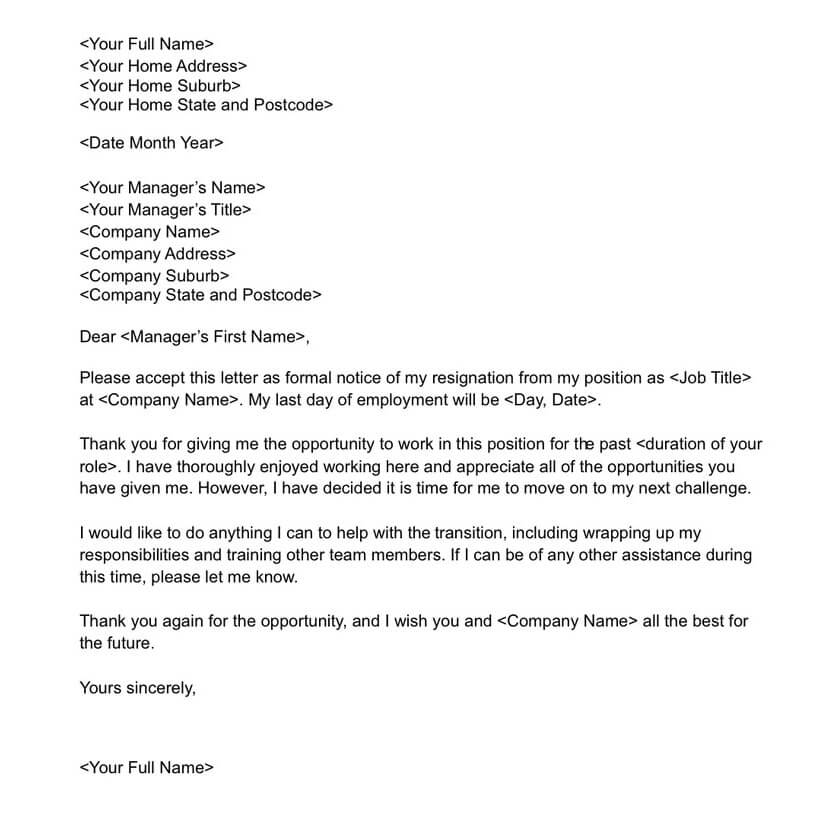 It's important to keep in mind that while it's not mandatory to include a reason for resigning, it's good practice to do so. It can help to provide context and facilitate a smooth transition.
Work takes on new meaning when you feel you are pointed in the right direction.
-Tim Cook 
Resignation letter tips
Using the templates above and ensuring that all pertinent information is a good start for your resignation letter. Here is a recap of some of the key points to remember and incorporate –
Be professional
A resignation letter is a formal document. A professional tone should be used, and negative or emotional language should be avoided.
Keep it brief
A resignation letter should be short, concise, and to the point. Document your intention to resign and provide details and dates for your last day of work.
Give thanks
Take the chance to express appreciation. Give thanks for the business opportunities and experiences that you have had while working with the company.
Provide notice
Allow your employer enough time to find a replacement, make plans for the transition, and arrange any training for a smooth handover.
Include contact information
Add your contact information to your resignation letter so that your employer can contact you if they have any questions or need any more information.
Provide details
Be honest and provide a reason for your resignation, even if you are leaving due to a conflict or misunderstanding. Take care to word this in a non-accusatory and non-confrontational manner.
Proofread and edit
Before sending your resignation letter to your employer, be sure to take a moment to proofread and correct any errors or typing mistakes.
Deliver securely
Deliver your resignation letter using a secure method of delivery such as an email or certified mail and keep the proof of receipt. Even better, it can be courteous to hand deliver your letter and verbally explain what it is for and the reasons why you are leaving.
Finally, always keep in mind that your resignation letter is a formal document. It should reflect your business ethic and be written professionally, whether the cause of leaving is due to a positive or negative situation.