At no time has marketing been more competitive and chaotic than the present. Currently, the media space is suffused with marketing schemes of sometimes grand proportions. The result is that customers are more knowledgeable about various advertising strategies and even less likely to be impressed by them.
In a world of fierce competition and jaded customers, how can businesses still remain relevant? One ready answer is real-time marketing.
In real-time marketing, marketing executives do not spend months planning marketing campaigns. Instead, marketing strategies are immediate and developed on the go, taking advantage of developing trends and events.
Real-time marketing is disruptive, and innovative, and helps businesses sustain their relevance. Marketers have reported a 26% bump in conversion rates as a result of real-time marketing.  RTM has trickle-down effects that go beyond bumping conversion rates. It amplifies the benefits of other marketing strategies, research has found.
This article breaks down real-time marketing. More importantly, you will find actionable steps to implement this marketing style and reap the benefits from it.
What is Real-Time Marketing?
Real-time marketing means creating marketing strategies in real time, and taking advantage of trending local or international events. This real-time marketing definition places it as the opposite of traditional marketing strategies that often require months of planning.
Instead of creating content to last for several months, marketing executives trawl the internet for trends that connect with the business and then jump on them, for as long as the trends last.
On the other hand, real-time marketing can relate to specific events that concern individual customers. For instance, a business can react to a tag or mention on social media or even a comment left on their website. This is especially if the tag or mention has gone viral. And smart marketers are making a killing just by engaging with the trend.
Marketers have reported a 26% bump in conversion rates thanks to real-time marketing.
Characteristics of Real-time Marketing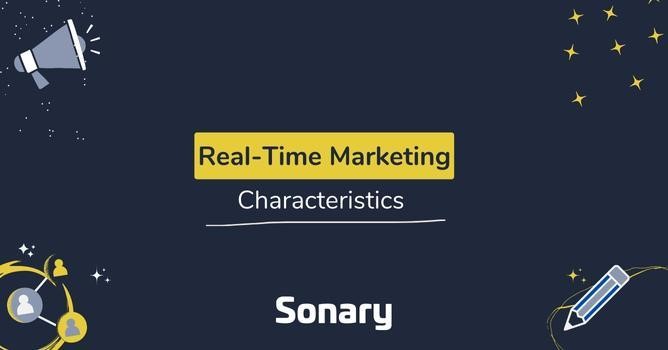 Some of the identifiers of real-time marketing include the following.
Relevance:
This is the most important characteristic of real-time marketing. Every real-time marketing strategy must always relate to currently trending events. Once a cycle is completed, any marketing done then cannot be said to be in real-time or relevant. For it to be real-time marketing, it has to be relevant and relatable at the moment.
Flexibility
Trends change quickly. Thus, the marker of a superb real-time marketing strategy is that it evolves to meet the ongoing conversations in the media. This requires some level of preparedness from the marketers. In some instances, it might be possible to preempt trends. However, in most cases, there's no predicting and no timeline for trending events. Even in these situations, real-time marketing pivots still to meet the rapidly changing tides.
Creativity
Real-time marketing requires marketers to be insanely creative. Trends can be novel and unprecedented, especially in the rapidly-changing world of social media. However, the best real-time marketing strategies are ingenious and find a space for the target business within the current conversation.
Sometimes, an event can spark conversations directly around your product and services. But even when the trends relate to your business only remotely, you still need to devise a means to stay relevant. This is where the test of creativity comes in.
Quick Response Time
Real-time marketing is reactive. Even at that, the window for a reaction is small. The best real-time marketing strategies are usually developed the fastest in response to any event or trend. An excellent marketing strategy developed even a day too late could be irrelevant.
Why Is Real-time Marketing Important?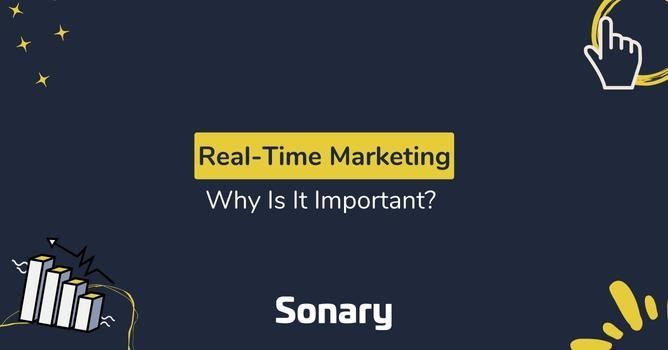 The benefits of real-time marketing aren't far-fetched. Here are some worthy of emphasis:
1.   Improved Customer Engagement
Real-time marketing creates a buzz for your business. Customers typically navigate to places, virtual or not, where trendy conversations are being held. If you implement real-time marketing, you will be speaking directly to those trend-chasing customers. This way, you can increase both the number and reach of your interactions. 76 % of brands claim they experienced increased audience engagement after implementing real-time marketing. This, in turn, translated to increased brand awareness and conversion rates.
2.   Increased Sales
An increase in engagement without a commensurate improvement in sales is counterintuitive. Thankfully, real-time marketing helps you achieve both. Moreover, since real-time marketing increases engagement, it makes the possibility of improved sales more probable.
Real-time marketing also makes it easier to fashion tailor-made solutions for customers. The primary thing this achieves is that it strengthens customer relationships. Excellent customer relationships are a currency in the marketing space.
Tailor-made solutions launched from real-time marketing also foster loyalty and create repeat customers. If a customer purchased from you while catching the current trend, there's a chance that they will come across your brand again when they jump on the next trend. That's as long as your real-time marketing activities are up to date, of course.
3.   Diversity
Real-time marketing diversifies your marketing strategy. Some customers may not fancy reading a blog post at a given time. With real-time marketing, you can give them something else to work with.
A one-line quirky tweet or well-designed flyer in the heat of a trend may be more memorable than any blog post.
A one-line quirky tweet or well-designed flyer in the heat of a trend may be more memorable than any blog post. 
1.   Time-saving
Real-time marketing is more efficient than traditional marketing in one crucial aspect: the time it saves you. You cannot compare the time it takes to write, edit, and publish a blog post or ad campaign to the mere minutes needed to start a hashtag.
Additionally, this style of marketing provides constant content. If you are consistent with your online engagement, you will hardly run out of material to work with. It can also help portray your business as forward-thinking and in tune with the times.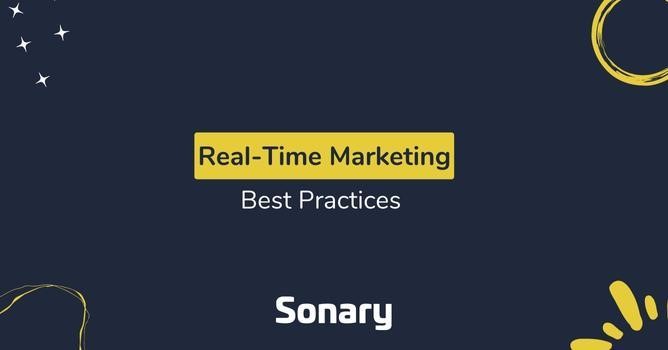 Real-time Marketing Best Practices
Becoming a pro at real-time marketing takes a fair amount of time. However, here are a few best practices to help you get started quickly.
Monitor Trends
You can't implement a successful real-time marketing strategy if you are unaware of trends. Particularly, you need to be on top of conversations that your target audience is engaging in. This ensures that you know what topics are hot, the ones you ought to jump on, and what side to take on conversations.
Being present on social media is non-negotiable because that's where trends are set and followed. Also, having a social media presence isn't enough. You have to develop a plan to stay active and engage with the audience community.
Be Quick
In the real-time experience, time is of the essence. To make the best of real-time marketing, you need to prioritize getting into the conversation while it is hot. If you can't find any meaningful content before the cycle expires, it's best to let it go.
The interesting thing about riding the trend is that it has to come naturally. Forced tweets don't exactly resonate with the audience community all that well.
Posting about a trend at the tail of that trend isn't advisable either. You might get lost in the buzz, most of which people are paying no attention to at the time.
Connect the Trend To Your Brand
Every real-time marketing strategy ought to connect with your brand. Customers need to see the link between the trending event and your brand message.
For this reason, you need to be careful about the trends you get on. You don't want to get roped into the center of a controversy or spearhead a trend that takes a quick flip on your brand.
To stay on the safe side, you can incorporate covert marketing into real-time marketing. That way, you can ride the trend vaguely and let the audience make the connection (and go "hell yeah!")
Avoid Controversy
Regarding controversy again, you need to be extra careful. Nothing hurts a brand more than being on the wrong side of internet controversy, especially one that involves a tight-knit group. For one, you don't want the audience to misconstrue your message.
One wrong misrepresentation of your message in the media can go viral faster than nitrogen gas fills a room. So, in all you do, try to steer away from grossly controversial topics, including religion, sexuality, human rights activism, politics, and several others. Except, of course, you are building a brand in those industries. However, tread with caution.
Consider working with Influencers
You can either engage influencers as brand ambassadors or simply piggyback on their influence. A brand ambassador makes sure your content reaches a wide audience.
However, if you cannot afford an influencer/brand ambassador, you can take advantage of any influencer's reach. Here's how you can do that.
For one, you can become part of a trend started by an influencer. Jumping on the trend early enough can increase your chances of reaching a substantial number of people before the trend chills out.
Secondly, tagging influencers and commenting on their posts can also increase your reach. But you must be mindful of the type of comments and posts that you tag them to. You don't want influencers reporting your social handles.
Challenges of Real-Time Marketing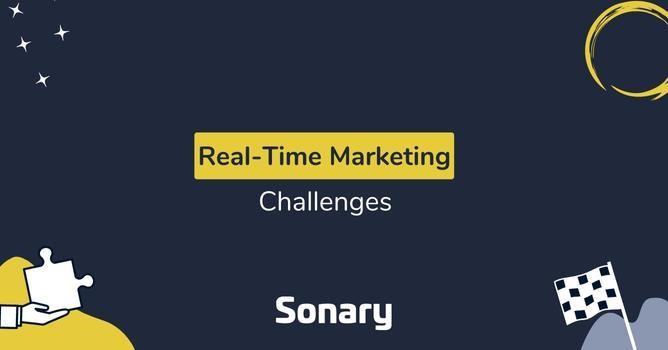 Here are a few challenges associated with real-time marketing to have in mind.
Real-time Marketing May Be Difficult to Pull Off
This is because there are many moving parts involved in the process. Excellent real-time strategies require swift coordination between several parts of a business. This makes it one of the hardest marketing styles to employ.
Marketing assets quickly become obsolete
Relevance is the benchmark of every real-time marketing strategy. Nonetheless, when the cycle is completed, the strategy developed at the height of the trend becomes obsolete. As a result, there will be a pressing need to always create new marketing assets to fit with the trend. Knowing that every event that leads to a trend is unique, each marketing asset will require substantial impromptu work to create.
Real-time marketing may be costly
A lot of resources go into making real-time marketing campaigns. From creating campaigns to paying brand ambassadors and even measuring the campaign's success, the sums add up. Some organizations may have everything down pat – creativity, flexibility, efficient time response system – but will still be unable to implement real-time marketing just because they cannot afford to.
Relevance is the benchmark of every real-time marketing strategy. Nonetheless, when the cycle is completed, the strategy developed at the height of the trend becomes obsolete. 
Final Thoughts
Research by Microsoft reveals that the average person's attention span is eight seconds. Customers hardly keep up with long-form marketing pieces anymore. Worse off, they rarely open promotional emails, and their needs are currently changing on a scale never seen before.
These changes pose enormous challenges to marketing in today's digital world. Marketers need all the help you can get. And allowing the trend to inspire your marketing moves is a pretty good consideration. And if you do, real-time marketing should find its way into your overall marketing plans.
There are exceptional tools designed to help you catch up with these trends, collect leads from them, and maintain a constant connection with your leads. Sonary's ever-green marketing solutions are well curated to help stay on top of your marketing game, regardless of the strategy.