Information shared by word of mouth is possibly the strongest and most compelling recommendation that can be received about products and services. We trust the information given to us by friends and peers and lend more weight to their opinions than data shared in other ways.
This is why online customer reviews are the ultimate salesperson for eCommerce and SaaS companies. Businesses turn to online review sites to gain a real understanding of products and their features.
Online consumer reviews are used for software and SaaS products and share real user experiences with potential customers.
How online review sites add value
Ecommerce review sites and customer review sites offer value to the customer, with actual user insights and details about products and applications. Not only does this supply an in-depth look into the features and useability of products, but it allows users to learn from the experiences of others.
We all need people who will give us feedback, that is how we will improve
– Bill Gates, Microsoft 
For the consumer, access to online reviews is an important part of product research. Companies considering different Saas products weigh the pros and cons of many options before committing to a purchase.
As part of the buying process, customers visit popular review sites to assess things such as –
Functionality
Product Features
User Satisfaction
Ease of use
Suitability
Benefits
Adaptability
The feedback gained from customer review sites gives buyers a sense of security and reassurance. Real-world experiences delivered by current users can be applied to the customer's own use case to determine how well the product fits their needs.
For new companies or start-ups who need to be budget-conscious, review sites help to filter SaaS products and eliminate ones that need to meet their business requirements.
Importance of online reviews
Investing in an appropriate business solution takes time and energy, and for SaaS purchases, there are many variables to consider. Not only will the product need to be suitable, but there could be questions surrounding things like cost, growth, and scalability. Future customers need a way to identify the right product if their investment is to be worthwhile.
Online review sites provide a much-needed resource for potential buyers. A huge 93% of users report that online reviews affect their buying decision, turning to buyer review sites on a daily or weekly basis to uncover product information and expected results.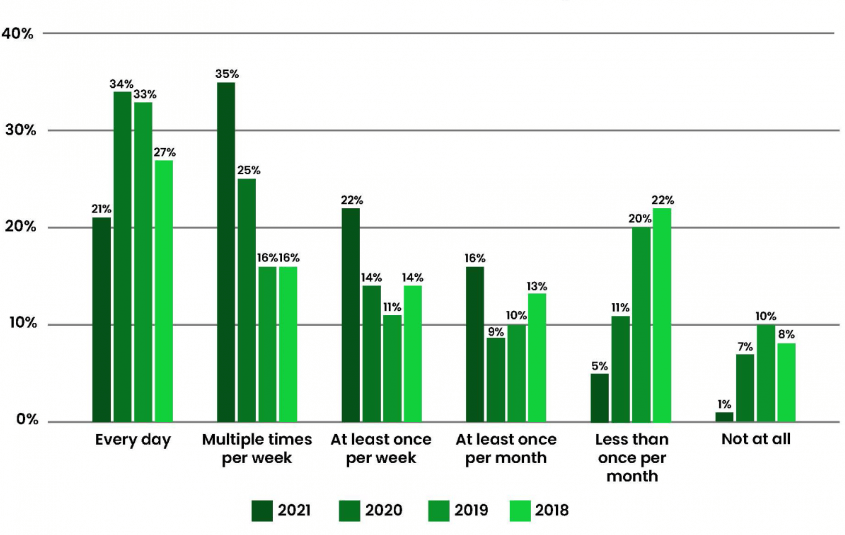 It is not just consumers who benefit from online reviews, they serve an important function for sellers too. Companies that showcase reviews are perceived to be trustworthy and more sales can be gained by having good customer reviews.
Not only can sales be driven upward, but reviews build a strong brand reputation and increase online visibility. Acquiring more online reviews can improve SEO, drive users to SaaS websites, push more traffic, and increase conversions.
Your brand is what other people say about you when you're not in the room
– Jeff Bezos, Amazon
SaaS companies that understand the importance of gathering online reviews actively encourage their customers to provide feedback. Embedded links, website forms, and marketing emails are all methods used to make leaving a review easy and allow companies to collect reviews from customers with minimal friction.
How do online review sites help SaaS providers?
Businesses that wish to use online reviews as part of their strategy have several open channels.
SaaS website
Online review sites
Social media
Social proof
While business websites provide an excellent opportunity for displaying reviews from satisfied customers, potential buyers frequently head to third-party review sites to perform research. With many reviews collected, online review sites are a valuable and accessible resource.
Sites like Trustpilot and Feefo are platforms dedicated to gathering customer feedback, attracting high traffic from users seeking information. SaaS companies with products designed to help productivity like ClickUp and Wrike use customer review sites to gain exposure and strengthen retention rates while building credibility.
If positive reviews boost business, then negative reviews will have the opposite effect. Negative reviews cause consumers to be mistrustful of businesses and potential customers often reject low-rated companies to seek out those with better feedback.
Some online review sites offer a combination of written reviews and star ratings to grade companies. Those with 2 stars or lower are far less likely to win new business. In fact, studies show that only 3% of consumers would be tempted to buy from a business with a 2-star rating.
How SaaS companies leverage online reviews
To steer purchasing decisions, online reviews have become an essential component of the buyer journey. Customers expect to see reviews about a business and become suspicious without them.
Gaining consumer trust and driving online purchases is necessary for businesses to thrive, and online shoppers consult review sites for a high proportion of their purchases. Turning to third-party review sites to find the information they seek.
The number of consumers automatically checking online reviews jumps from just over 19% of 45-60-year-olds to over 30% in the 30-44 age group.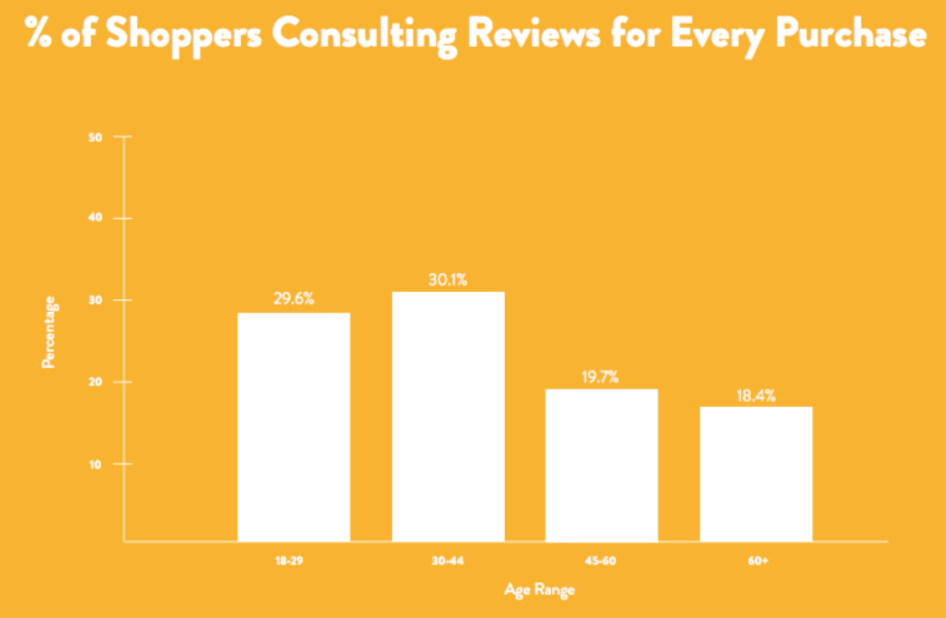 These statistics are important for companies that want to market their products to people in a specific age range.
SaaS businesses that want to leverage the use of online reviews can do so in a number of ways. Displaying consumer information helps well-known brands such as Constant Contact and Hubspot to maintain a strong connection with their customer base by being transparent with customer experiences.
So powerful are reviews that some businesses will offer incentives to customers for leaving honest product feedback, effectively attempting to buy real marketing reviews that may then be posted to their website.
There may be better strategies than this, but there are other ways that SaaS businesses can leverage online reviews to their fullest advantage. Feedback left by customers can be used across different promotional channels.
First and foremost, glowing reviews that communicate customer satisfaction can be highlighted on the business website, making reviews stand out with animations or graphics that draw the eye with attention-grabbing impact.
Social media channels are an excellent review-sharing platform. Posts that include quotes from happy customers or that demonstrate excellent service are a great way to reach different business markets.
Articles and blogs may be created around positive and negative reviews to share case studies or posts that share successes or highlight and correct issues. This kind of content on the business site offers supporting evidence for existing online reviews.
Finally, social proof has recently been a popular marketing tool among many business users. A small pop-up that appears on the corner of the screen unobtrusively shares short customer quotes, effectively reinforcing customer confidence.
Final thoughts
Avid consumers of online reviews are showing no signs of slowing down and their reliance on them looks set to increase over the next few years. With this level of dependency on the information that customer reviews supply, businesses may need to focus efforts on gaining and responding to feedback left by their customers.
All signs seem to indicate that popular SaaS brands like Canva, Fiverr, and Quickbooks that provide valuable services to their customers will be judged and continue to be judged on the strength of their reviews alone. Making online reviews an ever-evolving and crucial part of brand strategy for Saas business.