While Wix and Shopify are considered competitors in the eCommerce space, they offer truly unique features to varying types of users. The teams behind both platforms won't stop optimizing the features and tools to serve a wider range of users.
This article explains the difference between Wix and Shopify by examining each platform in its entirety. By the end of this article, you will become familiar with the features of each platform and how they help your business. Before then, however, let's have a quick rundown of both Wix and Shopify.
Wix as a Website Builder for Online Stores
Wix will be my top recommendation if you want to build an online store for your small business. This website builder comes with a drag-and-drop feature that makes it easy to create a website. You don't have to be a developer before you can use Wix. According to the creators, Wix gives over 200 million users the "creative freedom" that they need to build a website for their online business.
Building an eCommerce store from scratch might be a rigorous task. With Wix, everything is as smooth as it gets. You don't have to build from scratch. The platform has hundreds of eCommerce templates that you can pick from and customize to fit your brand.
The Business management and financial tools Wix provides make record keeping easy. As a matter of fact, when adding products to your Wix store, for instance, it allows you to include the cost of production/acquisition of the product on the backend. This automatically calculates your profit margin and reduces the stress of keeping accounts.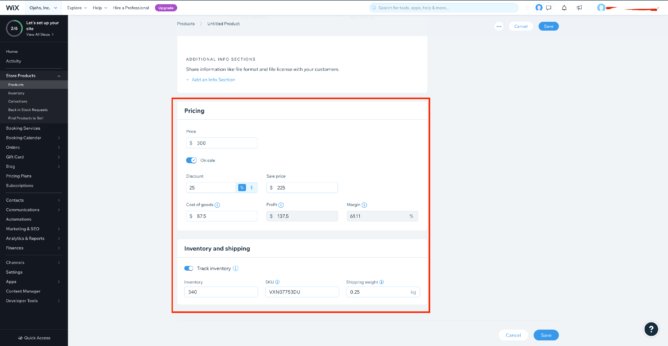 Shopify as a SaaS Solution for Businesses
Shopify also has a drag-and-drop design feature like Wix. However, it is designed almost solely for online retailers. Its scalable solution makes it possible for small businesses to grow at a manageable pace.
Currently, Shopify has 2.1 million users and over 1 million stores operated by merchants in 175 countries. These stores are allowed to process transactions securely in multiple currencies, offering discounts and handling tax payments in real-time.
Regarding accounting and finance, Shopify does offer something similar to Wix. However, with the product listing, Shopify gives users a little more flexibility to offer products in various sizes, colors, models, etc. And each of these varieties can be tracked with ease.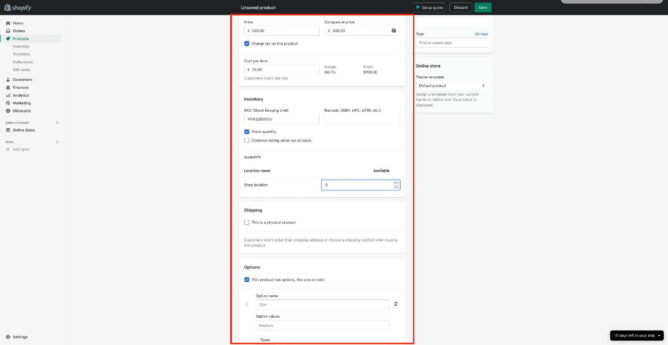 Which is Better? Wix or Shopify?
This is a pretty difficult question to answer. Depending on your needs and budget, both e-commerce solutions provide plans and features that could serve you considerably well. However, you need to understand the features available in both and how they differ from each other. This will help choose which option is better for your online business needs.
Here are some outstanding features offered by both Wix and Shopify with some details about their differences (or lack thereof).
Design Functionalities
Among a handful of things, both Wix and Shopify are known for their highly responsive and intuitive website builders. Both make it possible for small business owners to build a decent website to sell their products and services without breaking the bank and managing the troubles of developers and website designers.
Both website design functionalities of Wix and Shopify differ in some features, nonetheless. For simplicity, I'd give the gold medal to Wix, especially because of the ease of customizing already built templates and the step-by-step guides that are ever-present at the corner of the website builder pages.
Shopify, however, doesn't scamper in defeat. Its builder interface, despite having fewer templates for users to customize, provides a very wide range of prebuilt sections that users can add to their website during the design process. Therefore, when designing your own website, you'd have to dilly-dally a little bit more on Shopify than you would on Wix.
There are a few more design functionalities that are hard to miss when working with Wix and Shopify. They can deeply influence your choice of a website builder and eCommerce solution. Here are some.
Mobile Responsiveness
A recent report revealed that about 45% of consumers shop online with their smartphones. So, when choosing a website builder for your online business, checking for the mobile responsiveness of its design is vital.
Both Shopify and Wix provide an easy-to-customize mobile interface. Working things to fit into a mobile view isn't so tasking on both platforms but Shopify offers a little more control over your mobile view than Wix.
With Wix, the content (especially texts) presented on the mobile interface is pegged to the desktop interface. What this means is that some of the text on the mobile view won't change until you modify them on the desktop interface. I believe that this is done to ensure uniformity across device interfaces. Shopify, on the other hand, gives you a little more control over this design feature. Needless to say, though, if you understand your way around either platform, this shouldn't be a problem in any way.
Templates and themes
Both Shopify and Wix offer users customizable website design templates. On Shopify, they are called "themes". Whichever, (themes or templates), they make it easy for users to own an active website really quickly without having to build from scratch. Nevertheless, you can choose the option of building from scratch if you want to explore your creative limits.
The difference between the templates on Wix and Shopify is the availability to the average user. On Wix, there are over 800 templates for you to choose from. 100% of these templates are absolutely free and customizable.
Shopify, on the other hand, offers less than 100 themes, most of which are paid. Shopify paid themes are often better designed than the free options and they can be pretty expensive, costing as much as $350 each.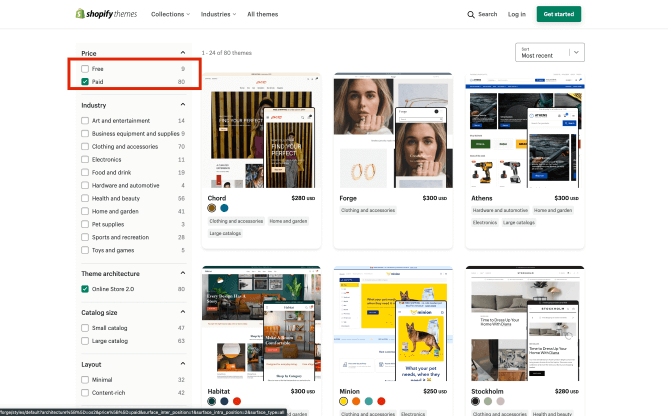 Product and Inventory Feature
Personally, my business doesn't provide physical products, but rather services and delivery of paid digital products. While both Shopify and Wix give provisions for digital and physical products, Shopify gives a tad better inventory management feature for both types.
Shopify's inventory tracking feature includes a Barcode and stock-keeping unit (SKU) code. Wix offers only SKU, but that would do if you don't offer hard-to-distinguish products.
Shopify's inventory management allows you to not only keep track of products but also track the various sizes and colors of the products. On Wix, sizes and colors are not included in product detailing. But there's a perfect workaround for this. You can add each size and color as separate products, and track the inventory individually. Somehow, I think that's way simpler but preference matters.
Bookings and services business
Shopify was built with eCommerce product businesses in mind. Wix, however, was built with all online businesses in mind. If you are a consultant, freelancer, or in the services business, working with Wix will be an excellent decision.
Wix, by default, incorporates booking, event scheduling, and even subscription and price plan features. On Shopify, these features are available via third-party apps. So, if you already opted to use Shopify and are wondering how you can incorporate paid subscription packages on your website, you can find a solution in the Shopify App Store.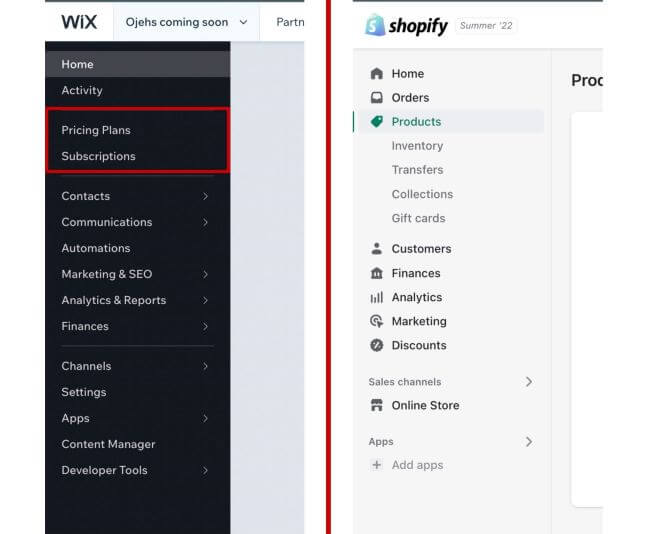 Payment and shipping options
Shopify gets my medal for payment integrations. Alongside Shopify Pay, Apple Pay, Amazon Pay, Meta Pay, and a few other off-hand payment options, Shopify allows the integration of over 100 third-party credit card payment gateways, including Square, PayPal Stripe, and more.
Wix, however, allows 50+ payment gateway integrations along with PayPal and Manual Payment options (check, cash, etc.)
Pricing
Again, the pricing structure of Shopify and Wix differ, and for a good reason. As mentioned earlier, Shopify was built with product sellers in mind while Wix was designed to serve both product sellers and service renderers.
Shopify provides a pricing structure that covers all e-commerce product selling needs. Wix, however, offers pricing for two categories of businesses: Website for showcasing professional services, and eCommerce/business options for payment processing.
The pricing on Shopify range from $5 to $299 per month. With an enterprise package (Shopify Plus) that starts from $2,000 monthly.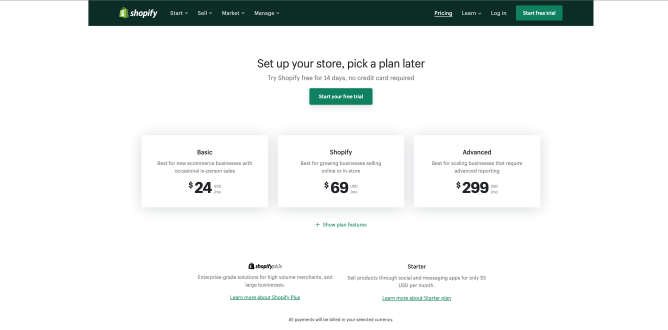 The Website Packages available on Wix are priced between $4.50 and $24.50 per month.

Additionally, Wix has Business/eCommerce options that range from $17 to $35 per month. Enterprises with unique needs can get a package from Wix for a minimum of $500 per month.

Free Trial
Both Shopify and Wix offer free trials. From personal experience, I prefer the free trial offered by Wix. When using the free trial option, neither of these solutions allows you to connect a custom domain to your website.
However, Wix allows you to continue using the free trial package for as long as you want with pretty tight restrictions on payment processing, storage space, an unremovable Wix ad banner, and some others. But you will definitely have a website that's accessible to visitors.
Shopify's free trial places a 14-day limit for its use, although they've offered me another 14-day extension of the trial period. Nevertheless, my website is password protected and only visitors that have the password can access it. This is particularly helpful if you are still building the website and want only selected testers to have access to it. But to remove the password protection, you would have to upgrade to a paid plan.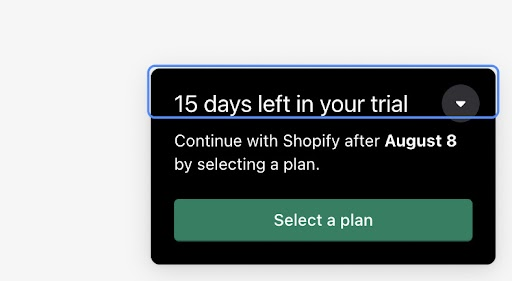 Customer Support
A very interesting criterion to look out for when choosing any website builder or eCommerce solution is their customer support. Both Wix and Shopify are publicly traded companies with a reputation to protect. So, they offer industry-standard customer service to their users.
Nevertheless, there exists a difference between the support offered by both. Shopify has an easily accessible phone support option that allows you to request a call back from an expert. Wix doesn't provide this feature, but it has a humongous repository of guides that you can follow to solve any challenges that you can possibly run into when using Wix.
FAQs
What is the Difference Between Wix and Shopify?
On the surface, both Wix and Shopify are designed to help small business owners create and manage an online store without breaking the bank. Going a tad deeper into the technicalities, you might find that Shopify caters mainly to product businesses while Wix offers options that are suitable for both product sellers and service renderers.
Should I Switch from Wix to Shopify?
Whether you should switch from Wix to Shopify depends on your business needs and, of course, budget. Shopify may offer a much more sophisticated App Store for product sellers that want to scale fast but they are quite expensive.
So, if Wix still serves you well enough, I don't see any reason why you should consider changing. But if scaling is the goal, you can give Shopify a try. In my opinion, however, service renderers are better served on Wix.
Which is Cheaper? Wix or Shopify?
Beyond reasonable doubts, Wix is significantly cheaper than Shopify. The most expensive Wix package goes for $35 per month on the Business VIP while Shopify high-end users part with $299 every month on the Advanced Plan.
The enterprise options also reflect similar price disparity. Wix starts its enterprise pricing at $500 per month while Shopify Plus draws a whopping $2,000 from your corporate wallet every month.
Which is Better for Dropshipping? Wix or Shopify?
Both Shopify and Wix provide dropshipping solutions. However, Shopify has a broader range of options for sellers to choose from.
Which is Better for eCommerce? Wix or Shopify?
E-commerce is basically trading over the internet and both Wix and Shopify provide solutions for businesses to effectively sell and buy electronically. However, Shopify is designed solely for that purpose. While Wix offers a little more than just e-commerce tools, its solutions are not mediocre in any way.
Is Shopify Easier to Use than Wix?
Hard to tell whether either of these solutions is easier to use. Shopify provides a lot more app integrations for its users than Wix but the design interface on Wix is more intuitive and user-friendly.
On a Final Note, Wix vs. Shopify, Which is Better for eCommerce?
On a broad scale, several online sellers prefer to use Shopify for their e-commerce needs. Over 1.75 million merchants currently use Shopify. Nevertheless, Wix is experiencing rapid growth lately, believably because of the cheaper pricing, intuitive interface, and the growing app store. In 2020 alone, merchants on Wix added over 200,000 online stores pushing the number of merchants to over 800,000 in total.
Looking at the statistics, it's easy to deduce that Shopify is a better option for e-commerce but don't be swayed by numbers alone. Take a close look at your precise needs, budget, and available features on both platforms before making a decision for your business.
Still not convinced and need more information? Sonary helps businesses and other organizations choose the right software for their individual needs. Check out our side-by-side comparison of Wix and Shopify and let us guide you to the right software recommendation for your business.