Pros
Price includes services for multiple users
Immediate service activation
Voice studio and live receptionist services
Gives even small businesses a big company feel
Extremely simple to use
Cons
No video conferencing or other collaboration tools
Scalability limited to about a dozen users
Limited advanced telephony features
Pros
High-quality and reliable services
Extreme customization of services including many innovative productivity services
A sophisticated set of APIs deliver a high degree of integrations
A somewhat more comprehensive, intricate, and advanced set of services, especially when it comes to contact centre services
Cons
Expensive
No financial benefits delivered with longer-term contracts
No standalone videoconferencing option
Introduction
There has been an explosion of newly established cloud-based VoIP providers over the past five years.  This explosion has been further accelerated because of world events over the past two years, with the instated health and safety protection measures due to the Covid 19 pandemic.  This state of affairs further fueled the need to enable the mobile workforce with communication and collaboration services.
With so many choices of VoIP providers, it is vital that you select not only a service that is reliable, safe, and trustworthy but also one that responds to the specific needs of your organization.
For this reason, we have put together a comparison of two of the most prominent cloud-based VoIP providers to showcase their strengths, identify their weaknesses, and allow you to choose which one fits best with your organization.
An overview of what each has to offer
Let's begin by taking a closer look at what each of these communication providers has to offer to its customers:
Grasshopper
This interestingly named provider started out back in 2003 by a couple of entrepreneurs that wanted to help small businesses to grow.  Since then, they've literally hopped over the competition and today serve over 350,000 enterprises. 
Grasshopper continues to focus on small businesses, startups, and entrepreneurs as their primary customers.  This is reflected very well in their statement that Grasshopper is "built by entrepreneurs, for entrepreneurs."
Grasshopper's Main Offerings
Grasshopper is a no-nonsense, easy-to-use, and easy-to-understand service that delivers one primary thing that it does very well.  The company's Virtual Phone System for Small Businesses is a business phone number that delivers a complete virtual phone system behind it.  The features that are provided make any small business "look big" from the point of view of the caller.  With sophisticated messaging, call routing, simultaneous call handling, and even the option to use live US-based receptionists to answer your calls, all contribute to the feel of a sophisticated phone system.
Grasshopper is unique in that the service itself does not provide connectivity to the PSTN.  You still need to have your own telephony provider.  Grasshopper essentially provides you with a virtual telephone number that is forwarded to your main phone number.  Before forwarding, however, all of the professional features Grasshopper offers are experienced by the caller. As stated on their site:
"Grasshopper primarily uses your service provider's cellular network for incoming and outgoing calls. Grasshopper does offer both Wi-Fi and VoIP calling options, but they are not the default."
Grasshopper's feature set
So, what does this simple but powerful provider deliver?  Well, here are some of the primary advantages of the service:
Automated greetings – Professionally prepared automated greetings welcome callers and direct them to the appropriate employees.
Business caller ID – When you call, your Grasshopper business number appears on the called party phone, enabling you to hide your personal number.
Desktop and mobile app – You can place calls from either your smartphone, or your computer, and when your cell reception is weak, you can make calls using VoIP over Wi-Fi calling
Business texts – You can text your customers from your business number, and you can set up automatic text responses for missed calls, so you won't lose any potential clients.
Voicemail and fax – Business voicemail messages can be checked via the app or can be received via email as MP3 files or text transcripts using speech-to-text technologies.
Some more add-ons can be purchased as needed and these include:
Call blasting – This is essentially a call broadcast, where incoming calls ring on multiple lines simultaneously, and connect to the phone that was picked up first.
Ruby Receptionists – These are US-based real live receptionists that deliver a personalized experience to your callers.
Voice studio – This is a service that enables you to leverage professional voice talent to create your voice greetings.
Grasshopper's Service Summary
Grasshopper is specifically designed for small to very small businesses and has unique offerings that make these ultra-small operations look polished and professional to their callers.  This of course means that the company's offerings are limited as far as advanced and complex services go, but that is offset well by the unique and truly useful features that the company delivers.  Even so, it is important to note here that Grasshopper does not include many of the most common collaboration tools that are typically included by other VoIP providers, such as videoconferencing, advanced contact center features, or integration with business productivity software. 
RingCentral
RingCentral was founded a few years before Grasshopper, specifically in 1999, and originally focused on small business communications via Microsoft Windows.  It quickly developed into a highly profitable venture which was eventually bought out by Motorola for a price in the "double-digit millions".  Motorola soon changed its focus, which lead to the founding of the independent RingCentral company as we know it today, which completed its IPO in 2013.
With heavyweight investors such as Cisco, and Silicon Valley Bank, and partners such as Avaya, RingCentral has grown to become synonymous with business VoIP services.
RingCentral's Main Offerings
RingCentral's flagship product is its Message, Video, Phone (MVP) service.  This incorporates instant messaging, telephony, as well as video communications over a cloud-based infrastructure.  This turns your laptop, desktop, tablet, or smartphone into a video-enabled VoIP endpoint that lets you communicate with all your coworkers, partners, and associates.  RingCentral also offers an assortment of physical IP phone endpoints ideal for low voice traffic users, receptionists, conference rooms, as well as cordless models for those highly mobile on-premises employees.
RingCentral's Additional Features
In addition to this fundamental offering of its MVP product, RingCentral delivers additional complementary and stand-alone services and functionalities.  These include:
RingCentral Video – This is RingCentral's videoconferencing offering that was introduced in 2020. It is available for free for up to 100 participants and is surprisingly functional for a free service, delivering file sharing, business software integrations, as well as cloud recordings stored for up to 7 days.  The paid version is quite economical and doubles the number of participants and increases the cloud recording capacity and retention period.
RingCentral Contact Center – This is an omnichannel inbound and outbound contact center that incorporates AI, UCaaS, ACD, IVR, quality management as well as workforce and performance management. It also delivers integrations with some of the most popular CRM and customer databases.  It works as an integrated add-on to the MVP product.
RingCentral Webinar – This is a video service delivered by the company that is still in its beta stage but can currently be used for free. It is an add-on platform that is specially designed to deliver webinars with interactive features and performance analysis.
RingCentral's Service Summary
RingCentral is considered one of the behemoths of VoIP communications.  All their products work together to create a communications suite that covers a wide range of the needs of enterprises of almost any size.
Grasshopper vs RingCentral
Both companies started off with similar goals of helping small businesses to grow through communication.  Since then, the two companies took very different paths.  Grasshopper still focuses on small organizations with specialized features geared toward individual entrepreneurs, while RingCentral has developed its services for small, medium, as well as large multi-site organizations with a highly mobile workforce. 
For our comparison, we will focus on RingCentral's MVP product and how it compares with Grasshoppers offering.
Feature set comparison
At first glance, it may seem that both companies deliver a similar service, however, what each offers is based on very different philosophies. 
Grasshopper delivers a set of features that sit between the caller and your normal cell phone number.  These features are used to enhance the caller's experience with professionally created greetings and simple incoming call control before your phone rings for you to answer.  Alternatively, calls can be routed to voicemail, another number you specify, or to a live receptionist provided by Grasshopper that you can train to deal with calls in specific ways.  In addition, the texting service can instantly respond with a text in the event a call cannot be answered.
RingCentral on the other hand delivers a full-fledged telephony service including connectivity to the PSTN.  The provider's telephony feature set is much richer and includes extensive and advanced telephony features, as well as videoconferencing and instant messaging services that are vital for the remote collaboration of your workforce.  In addition, RingCentral supports the integration of various business productivity applications such as helpdesk ticketing platforms and CRM systems.  In addition, it provides a comprehensive developer platform that allows you to develop your own custom integrations with whatever software applications you want.
The following table contrasts some of the key differences in features
| RingCentral | Grasshopper |
| --- | --- |
| Focuses on small, medium, and large-sized enterprises with hundreds of users | Primarily delivers services for individual entrepreneurs and very small businesses of up to a dozen employees |
| Delivers services as well as connectivity to the PSTN | Delivers only services. You are required to use your own telco to provide access to the PSTN |
| Videoconferencing and instant messaging are included in the product | No videoconferencing or instant messaging is available |
| For both incoming and outgoing calls | Is used primarily to service incoming calls |
| No live receptionist service is available | Live receptionists available to take calls |
| No professionally created greeting services are available | Voice studio service available to create professional greetings |
Customer Support Comparison
RingCentral delivers unlimited 24/7 customer support via telephone and online chat for all plans except the entry-level Essentials plan, where you must use the RingCentral Support home page.  There have been some isolated reports from users concerning problems where it was difficult to reach a live agent on the phone, and when they did, they were not as knowledgeable as one would expect.
This support home page is very comprehensive, and you can quickly get to the topic you're looking for relatively easily.  Through this support page, and with your credentials, you can open and submit support cases, but you are also able to access the knowledge base that includes articles, manuals, as well as training materials, and webinars.  
Furthermore, there is an active online community where users exchange tips and ideas with other customers which can be very helpful.
Grasshopper's support pages contain somewhat less information than RingCentral's and this makes sense because there are fewer services being provided.  Even so, the support pages are comprehensive and contain most of the technical information that you need to know to get yourself up and running.  With detailed step-by-step instructions, as well as very clear and useful onboarding videos, you can find the solutions to almost all your problems via the support page itself.  If you do need additional help, you can click the "Call Support" option at the bottom of a relevant help article or video.  Only after you enter your account email, your reason for calling as well as a description of the problem will you be given the support number to call.
Pricing and plans comparison
Grasshopper
Grasshopper offers three tiers of service for its service.  Each tier differs only in the number of phone numbers and the number of internal extensions you can have.  The Solo tier gives you one phone number and three extensions, the Partner tier, which is the most popular one, gives you three phone numbers and 6 extensions, while the small business tier gives you five phone numbers and an unlimited number of extensions.  The monthly cost of the three tiers is $26, $44, and $80 respectively when billed annually.  All other features on all tiers remain the same.  The following shows the three tiers as they appear on the site:

When viewing these costs remember that it's difficult to compare them directly with those of other vendors because of the fact that the plans include multiple phone numbers and internal extensions, so each plan doesn't correspond directly to individual users.
RingCentral
RingCentral's pricing for its MVP offering comes in four tiers.  Cost savings can be achieved by choosing annual billing as well as by increasing the number of subscriptions you wish to purchase.  For a single line, the annually billed monthly cost for each of the three tiers is as seen below: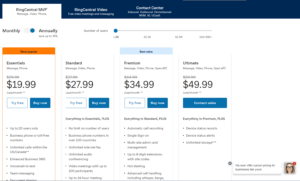 With annual billing enabled, for 100 or more users, these prices go as low as $22.99 per month for the Standard plan, $32.99 per month for the Premium plan, and $43.99 per month for the Ultimate plan.
The following table compares the prices of the various plans from each company.  All prices shown are for annual billing.
|   | RingCentral | Grasshopper |
| --- | --- | --- |
| Tier 1 plan cost | $19.99/ user/ month | $26.00/ user/ month |
| Tier 2 plan cost | $27.99/ user/ month | $44.00/ user/ month |
| Tier 3 plan cost | $34.99/ user/ month | $80.00/ user/ month |
| Tier 4 plan cost | $49.99/ user/ month | – |
| Annual or monthly billing | Yes | Yes |
| Annual billing discount? | Yes | No |
| Discount for bulk subscriptions | Yes | No |
Taking into account that Grasshopper's costs are for one, three, and five phone numbers for each tier respectively, the per-user cost of Grasshopper is much cheaper.  But we must remember that the services provided are so different that we are beginning to compare apples with oranges, so such tables should always be examined carefully.
User experience
Some of the most commonly reported experiences from both providers are found below:
Grasshopper
Users have expressed satisfaction with the simplicity with which Grasshopper services are delivered.  The setup is easy to do, and you are up and running in literally minutes.  Unlimited calls and texts are included with all pricing plans, and you don't need to wait for your number to be ported since you still use the number, and service provider, you have been using until now.  The services have been described as simplistic, which can be good or bad, and this is not surprising since the feature set itself is relatively limited.  However, Grasshopper makes it very clear from the start what they offer, so if you've purchased a subscription, it means you only need the services provided.
RingCentral
RingCentral is notoriously easy to set up, configure, use, manage, and troubleshoot.  They've really got the process of product deployment and user ergonomics down to a tee.  Users are onboarded automatically by following an online wizard and are up and running with a new phone number in literally minutes.  Users have also reported that using both the desktop and mobile app is easy and has presented little to no problems.  Even the provisioning of a physical IP phone is relatively painless if they are purchased directly from RingCentral.
Pros and cons
Here is a list of pros and cons for each provider:
Grasshopper
Pros:

Prices include services for multiple end users
Immediate service activation
Innovative services including voice studio and live receptionists
Delivers a big company feel to even the smallest businesses
Extremely simple to use

Cons:

No videoconferencing or other collaboration tools
Limited scalability, up to about a dozen users
Comparatively few advanced telephony features
RingCentral
Pros

A very long list of specialized telephony features is included in each plan or these can be added individually as add-ons for a small fee, thus providing a highly customized product.
Extremely easy to use, ergonomic, and intuitive in all of its functions, for both end users and administrators
The telephony features offered are innovative and actually useful and do help improve interaction with callers and customers

Cons

Comparatively expensive on a per-user basis
Users have reported some problems with live customer support
The final verdict
Grasshopper and RingCentral are two very different services that, although not completely mutually exclusive, are different enough for us to say that they don't really compete directly against each other.  Grasshopper is arguably better for individuals and very small businesses that already have a satisfactory cellular provider on top of which a virtual number can be added.  For any business with ten or more users needing an internal telephony solution, RingCentral is certainly the better choice, delivering a much richer feature set and providing scalability for fast-growing organizations.
Grasshopper vs RingCentral