Pros
Each plan includes extensive telephony features, or these can be added individually as add-ons, enabling you to create a highly customized service
Extremely easy to use, ergonomic, and intuitive in all of its functions
Innovative and useful features improve customer and caller interactions
Cons
Comparatively expensive
Some users have reported problems with live support
MVP product has limited integration with many RingCentral services
Pros
Better price
Millions of people use it worldwide, so many people have experience with Zoom-like interfaces
Zoom Phone has a deep integration with Zoom Meetings and other applications making it easy to use with a small learning curve
Developers' portal and customization services
Cons
Fewer advanced telephony features
Less developed advanced functionalities
Contract duration increase has no cost savings
Low-cost plans only have online ticketing and chat support
Introduction
Cloud-based communications systems are among the most important investments that new businesses, as well as already established organizations, can make.  Effective communication is vital for the success of any business, and that's why it's important to choose the best VoIP communications provider for your needs.
Two vendors that are well positioned to deliver this essential communication are RingCentral and Zoom.  Both have a lot to offer to any business of any size. In this article, we'll be examining and comparing these two, presenting both their pros and cons, as well as the best that each provider promises its customers, giving you the information you need to make an informed and strategic decision.
An overview of what each has to offer
Let's begin by taking a closer look at what each of these communication providers has to offer to its customers:
Zoom
Over the past two years, the name Zoom has become almost synonymous with video conferencing.  Zoom was founded in 2011 and reached its one-millionth user within two years. In the first two months of 2020, in the midst of the COVID-19 pandemic, Zoom accumulated an additional 2.2 million users, more new users than it had achieved during the whole of 2019!  This brought the grand total of daily meeting Zoom participants to over 300 million per day!
Zoom has really come into its own over the past two years and has truly become a household name.  The company has generally responded well to the needs of the market expanding into various additional areas of business communications.
Zoom's Main Offerings
Zoom Meetings is the flagship product of the company for which it has become famous.  This app delivers its well-known video conferencing service that delivers easy-to-use video communication.  It can be used on a desktop, laptop, or mobile device.  By simply entering your meeting ID and a password, or by clicking the shared link your organizer has provided you with, you can jump right into the meeting, interacting with other participants easily and effectively right from your browser.
Zoom's Additional features
But Zoom is not just about video conferencing.  It has expanded into several related areas offering significant value-added services.  These are often overshadowed by its video conferencing capabilities, but are worth considering:
Zoom Phone System – A fully functional cloud-based IP PBX that delivers enhanced telephony services on your desktop, laptop, or mobile device.  This is the service that directly competes against RingCentral's primary service.
Zoom Contact Center – A relatively new service from Zoom which delivers an omnichannel contact center solution that is optimized for video as well as voice.
Additional specialized services include:
Zoom Webinar – A video service that is specifically designed for the production and streaming of webinars.
Zoom Events – An all-in-one platform that is ideally suited to host virtual experiences, conferences, and events
Zoom Marketplace – A series of ready-made integrations and bots to be leveraged in conjunction with other Zoom products
Zoom Rooms and Workspaces – A series of devices that are specially designed to equip a room to be used primarily for video conferencing and collaboration meetings
Zoom Developer platform – An online space where APIs and SDKs can be developed in cooperation with other developers to enhance and extend the use of Zoom
Zoom's Service Summary
Zoom is among the largest business communications vendors in the market today.  Although it has robust offerings in many areas of telecommunications, its focus still remains in the area of video conferencing.  It delivers a very broad yet deep range of communication services that can be mixed and matched and deeply integrated.  Its large customer base and visibility as a company place it in a very competitive position to continue to expand into related areas of communication.
RingCentral
RingCentral was founded in 1999 and originally focused on small business communications via Microsoft Windows.  It quickly developed into a highly profitable venture, so much so, that it was bought by Motorola for a price in the "double-digit millions".  Motorola soon changed its focus, which lead to the founding of the independent RingCentral company which completed its IPO in 2013.
With investors such as Cisco, and Silicon Valley Bank, and partners such as Avaya, RingCentral has grown to become synonymous with business VoIP services.  In 2020, amidst the pandemic, RingCentral Video was launched, directly competing against Zoom's bread and butter.
RingCentral's Main Offerings
RingCentral's flagship product is its Message, Video, Phone (MVP) service.  This incorporates instant messaging, telephony, as well as video communications over a cloud-based infrastructure.  This turns your laptop, desktop, tablet, or smartphone into a video-enabled VoIP endpoint that lets you communicate with all of your coworkers, partners, and associates.  RingCentral also offers an assortment of physical IP phones ideal for low voice traffic users, receptionists, conference rooms, as well as cordless models for those highly mobile on-premises employees.
RingCentral's Additional Features
In addition to this fundamental offering of its MVP product, RingCentral delivers additional complementary and stand-alone services and functionalities.  These include:
RingCentral Video – This is RingCentral's answer to Zoom's main offering that is available for free for up to 100 participants. It is surprisingly functional for a free service, delivering file sharing, business software integrations, as well as cloud recordings stored for up to 7 days.  The paid
RingCentral Contact Center – This is an omnichannel inbound and outbound contact center that incorporates AI, UCaaS, ACD, IVR, quality management as well as workforce and performance management. It also delivers integrations with some of the most popular CRM and customer databases.  It works as an integrated add-on to the MVP product.
RingCentral Webinar – This is a video service delivered by the company that is still in its beta stage but can currently be used for free. It is an add-on platform that is specially designed to deliver webinars with interactive features and performance analysis.
RingCentral's Service Summary
RingCentral is considered one of the behemoths of VoIP communications, and if their success in that area is any indication, their video-based services are expected to deliver top-notch quality and ease of use.  All their products work together to create a communications suite that covers a wide range of the needs of enterprises of almost any size.
Zoom vs RingCentral
Zoom started off with its video-centered services and moved into several additional areas of communications.  Conversely, RingCentral began with voice communications and began focusing more on video communications in their more recent offerings.  Even so, much of what both companies have to offer overlap.  For example, they both deliver videoconferencing, VoIP telephony services, as well as contact center features.  For our comparison, we will focus on the VoIP telephony service, but we will also mention the additional services delivered by each.
Feature set comparison
Both companies deliver a similar set of advanced telephony features such as voice teleconferencing, advanced voicemail features, advanced call handling, music on hold, call history, and call logging features.  Both companies incorporate video calling with their offerings as well.  However, they do differ in some of the following areas:
RingCentral delivers a much richer feature set for telephony services, including site codes, 8-digit extensions, voice conference with up to 1000 (!) participants, hot desking, and device service and status alerts.
RingCentral provides an excellent developer platform that is somewhat more comprehensive than Zoom's. It allows you to develop your own custom integrations with whatever service you want.
Zoom offers a richer set of services enabling you to enhance your communication experience beyond just voice to a full-fledged highly advanced communications suite, delivering a one-stop shop for literally all your communication needs.
Zoom has more advanced video conference features which enable a simple phone call to be transformed into a highly interactive online session with tools that enable substantial interaction between participants.
The following table contrasts some of the key differences in features
Voice conference calling with up to 1000 participantsVoice conference calling with 3 participantsIntegration with legacy PBXs not supportedIntegration with legacy PBXs supported
| RingCentral | Zoom |
| --- | --- |
| 24/7 phone and chat support for everyone | Support delivered based on the size of the contract |
| Hot Desking | No hot desking supported |
| RingCentral is the only carrier | Bring your own carrier support |
| Extremely granular options and add-ons create a very customized solution | Focuses more on integration with additional Zoom service suites such as Meetings, and Zoom Rooms |
Customer Support Comparison
RingCentral delivers unlimited 24/7 customer support via telephone and online chat for all plans except the entry-level Essentials plan, where you must use the RingCentral Support home page.  There have been some isolated reports from users concerning problems where it was difficult to reach a live agent on the phone, and when they did, they were not as knowledgeable as one would expect.
This support home page is very comprehensive, and you can quickly get to the topic you're looking for relatively easily.  Through this support page, and with your credentials, you can open and submit support cases, but you are also able to access the knowledge base that includes articles, manuals, as well as training materials, and webinars.  
Furthermore, there is an active online community where users exchange tips and ideas with other customers which can be very helpful.
Zoom also has an excellent set of online resources for its users, with comprehensive coverage of virtually any and all technical or administrative issues you may encounter.  Zoom's support however is different depending upon the plan you have purchased.  The basic plan which is free includes support from the online Knowledge Base, the Zoom Community, as well as via Chatbot.  For the pro plan, you add to this online web tickets and live chat with an agent or a technical support staff.  And for the business or enterprise plan that has a greater than $200 per month subscription cost, you can speak with an agent on the phone or via a Zoom meeting.
Pricing and plans comparison
Zoom
Zoom offers three tiers of service for its Zoom Phone offering where each one is billed on a per user per month basis.  The cost will vary depending upon the country in which the service will be used.  Below you can see the annual prices for the USA for the three available tiers: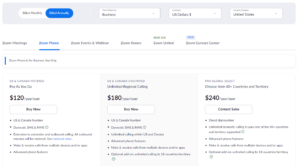 Interestingly enough, whether billed monthly or yearly, the cost is the same.  So at least for the Zoom Phone offerings, there is no benefit to purchasing an annual plan.  Thus, the above prices translate to monthly values per user of $10, $15, and $20 respectively.
Additional savings however can be achieved by purchasing Zoom United, which includes Zoom Phone and Zoom Meetings services in a package deal, saving at least 15% in annual costs, according to the company.
RingCentral
RingCentral's pricing for its MVP offering comes in four tiers.  Cost savings can be achieved by choosing annual billing as well as by increasing the number of subscriptions you wish to purchase.  For a single line, the annually billed monthly cost for each of the three tiers is as seen below: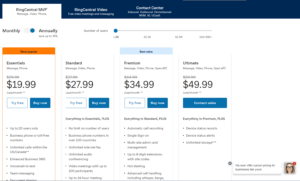 With annual billing enabled, for 100 or more users, these prices go as low as $22.99 per month for the Standard plan, $32.99 per month for the Premium plan, and $43.99 per month for the Ultimate plan.
Ultimately Zoom's prices are markedly cheaper than RingCentral's, while RingCentral remains among the most expensive VoIP providers on the market.
The following table compares the prices of the various plans from each company.  All prices shown are for annual billing.
|   | RingCentral | Zoom |
| --- | --- | --- |
| Tier 1 plan cost | $19.99/ user/ month | $10.00/ user/ month |
| Tier 2 plan cost | $27.99/ user/ month | $15.00/ user/ month |
| Tier 3 plan cost | $34.99/ user/ month | $20.00/ user/ month |
| Tier 4 plan cost | $49.99/ user/ month | – |
| Annual or monthly billing | Yes | Yes |
| Annual billing discount? | Yes | No |
| Discount for bulk subscriptions | Yes | No |
User experience
Arguably among the most important sources of information that will help evaluate a VoIP provider is user experience.  The most commonly expressed views of users of both services are listed below:
Zoom
Users are reporting that the service is easy to use and easy to set up.  People of all technical backgrounds, including those with no technical background, have been largely able to use Zoom services, including Meetings and Phone, with little or no problems.  There are generally few things users have disliked about Zoom, other than the slightly higher costs for more advanced services, beyond the Zoom Phone options.
RingCentral
RingCentral is notoriously easy to set up, configure, use, manage, and troubleshoot.  They've really got the process of product deployment and user ergonomics down to a tee.  Users are onboarded automatically by following an online wizard and are up and running with a new phone number in literally minutes.  Users have also reported that using both the desktop and mobile app is easy and has presented little to no problems.  Even the provisioning of a physical IP phone is relatively painless if they are purchased directly from RingCentral.
Pros and cons
Here is a list of pros and cons for each provider:
Zoom
Pros:

Better price
Zoom Meetings is free and used by millions of people worldwide, thus many people already have experience with a Zoom-like interface.
Zoom Phone has a deep integration with Zoom Meetings and a whole myriad of other applications making it easy to use with a small learning curve for users
Comprehensive developers' portal and services for customizations

Cons:

Comparatively fewer advanced telephony features
Less developed advanced functionalities for specialized applications
No cost savings with an increase in the duration of the contract
Customer support limited to online ticketing and chat for lower-cost plans
RingCentral
Pros

A very long list of specialized telephony features is included in each plan or these can be added individually as add-ons for a small fee, thus providing a highly customized product.
Extremely easy to use, ergonomic, and intuitive in all of its functions, for both end users and administrators
The telephony features offered are innovative and actually useful and do help improve interaction with callers and customers

Cons

Comparatively expensive
Users have reported some problems with live customer support
Fewer additional RingCentral services that can be integrated with the MVP product
The final verdict
Zoom and RingCentral both have developed into highly desirable business communication service providers.  Each one comes from a different background but delivers a comprehensive spectrum of services.  Zoom focuses more on the video side of things, with more functional options for remote collaboration, while RingCentral delivers a very flexible and highly configurable set of packages for their services focused somewhat more on voice.
RingCentral delivers a service that will readily fulfill all of the voice requirements of most businesses.  Zoom on the other hand will deliver video-centered services but with a sufficiently high quality of service for most businesses.  The largest difference between the two is arguably the price, where RingCentral is almost twice the cost of Zoom per subscriber in some cases. 
Both RingCentral and Zoom are among the largest VoIP service providers on the planet and are thus both tried and tested, so both are good and reliable choices.  The most fundamental question that customers are called upon to respond to is if the flexibility and specialization of RingCentral is worth the extra cost.  For some it is, for others, Zoom delivers a service that is more than enough for their needs.
Pick the one that's right for you