With thousands of businesses acting as direct competitors to your brand, how do you stand out? Beyond crafting a unique brand story and finding your selling point, you need to be able to market yourself effectively to the masses. That's where demand generation comes in, allowing you to capture the public's attention and boost your brand visibility.
Demand generation is the marketing and sales strategy that you initiate in order to increase the online awareness of your brand. All the tactics under this umbrella help to fortify your marketing funnel, showing the world why they should want your product or services.
Across all of your social channels, the content you produce with demand generation in mind will supercharge your lead generation. From propelling you into the public eye to increasing your website traffic, demand generation is about putting you on the map.
In this article, we'll break down absolutely everything you need to know about demand generation, helping you get started with this set of invaluable marketing strategies.
Your brand is the single most important investment you can make in your business
– Steve Forbes
How Does Demand Generation Marketing Help My Brand?
Customer relationships are the center point of any brand. While securing a sale is always beneficial, if you're unable to continually engage your customers, they'll churn from your business. Demand generation helps to strengthen relationships, making customers realize why your brand should be their go-to choice.
Instead of one-off efforts, demand generation is about creating an extended strategy that draws in your customers now and long into the future. By using a series of ongoing demand generation techniques, your business will be able to:
Increase Brand Visibility
Distinguish from Competitors
Generate More Leads
Increase Revenue
Let's break these down further.
Increase Brand Visibility
Brand visibility is the overall public perception of a brand. Brands with very low visibility will be unknown to their audience, while you'd find household names at the opposite end of the spectrum.
There is a direct connection between brand visibility and the overall success of a business. As more customers find out about your offerings, more people will come to your site, leading to a higher number of conversions.
Demand generation marketing allows your business to position itself across all of your channels in a way that draws customer's attention to you. While the press makes up 11.1% of public perception, the other nearly 90% is related directly to the efforts you make across your owned channels.
From your activity on social media (39.4%) and brand-owned content (14.9%), you're able to craft your own reputation and facilitate high-impact demand generation. With this in place, you'll start to increase your brand visibility and bring in new customers.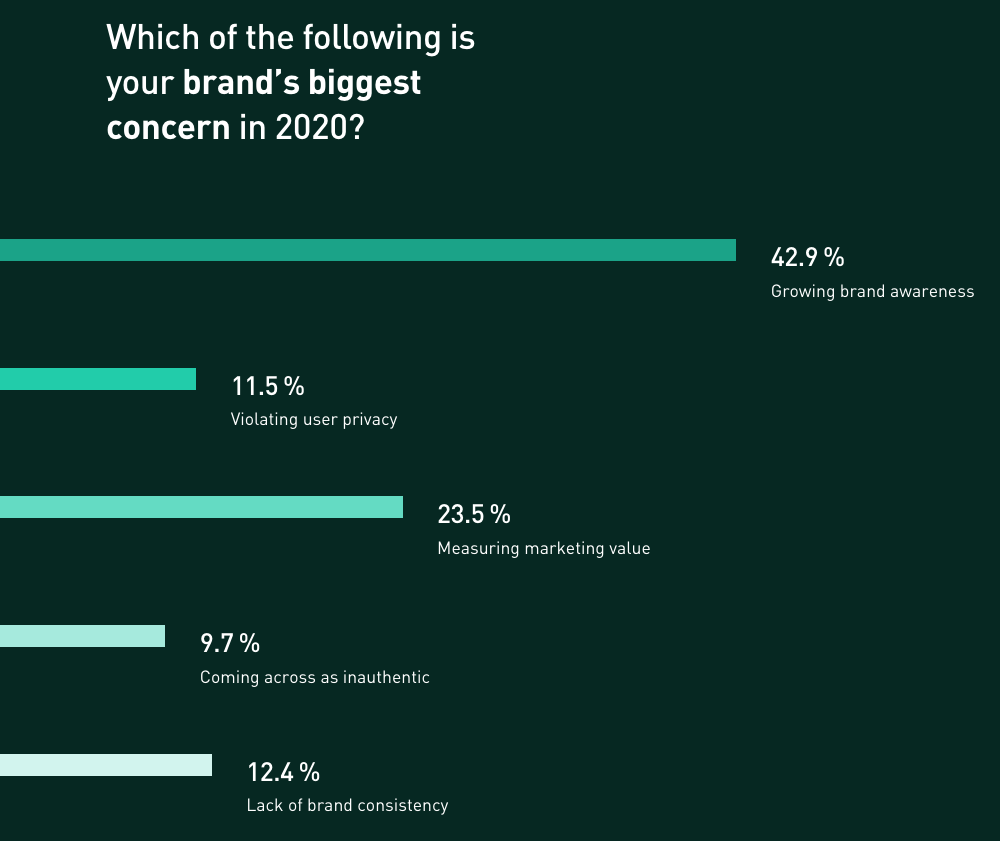 Distinguish from Competitors
In our digital era, it's easier than ever to create and run a business. In fact, the US Census Data demonstrates that in one financial quarter alone, 1.25 million new business applications are submitted in the USA. With thousands of new businesses joining the game every day, you've got a lot of competition.
Even if you offer a fairly similar service to your competitors, demand generation will help you stand out from the crowd. By providing a unique user experience, as well as a well-crafted online identity, you'll be able to win customers over from your competitors.
Producing content that viewers find useful will help you build up a rapport with your audience. Equally, thanks to Google's Helpful Content Update, you'll be able to use demand generation tactics to move up the SERP rankings and beat out your competitors for that top spot.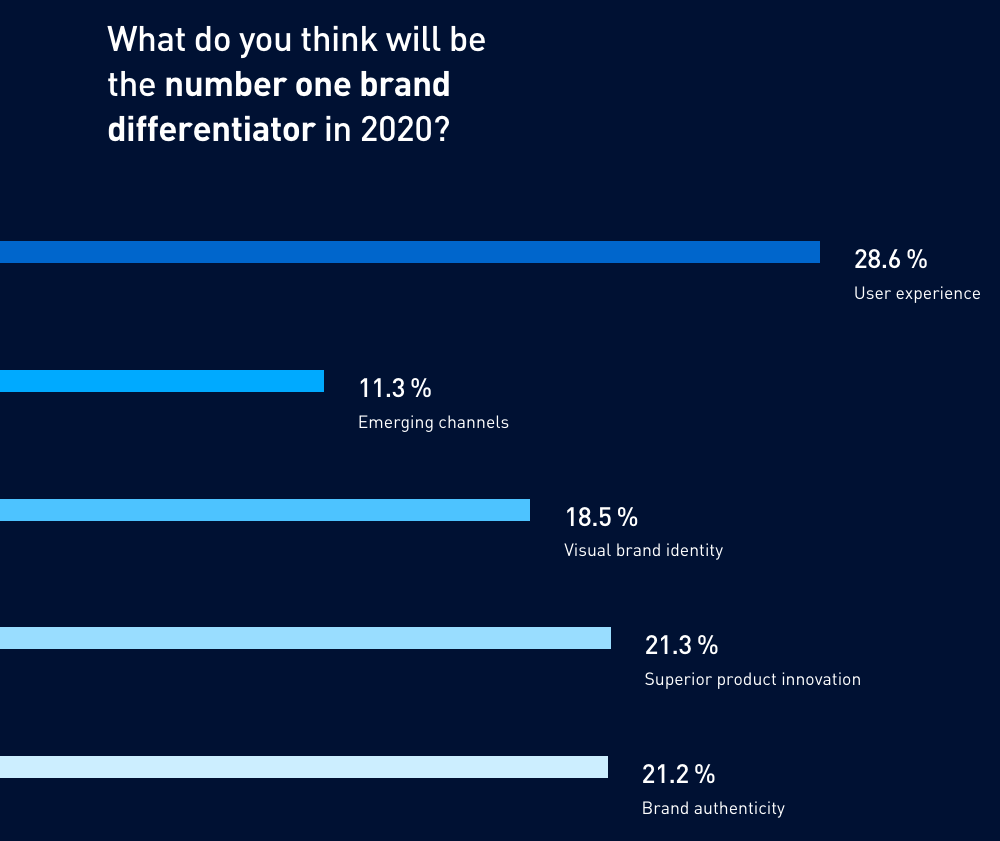 Generate More Leads
Demand generation marketing helps new clicks to flood your website. Whether they encounter you on social media, through natural search traffic, or through one of your lead magnets, you're able to pull in unique visitors.
Cultivating different social channels where users can find you helps to capture a larger audience. Over time, this larger quantity of traffic will help you obtain more new leads. Even if your click-to-lead percentage remains the same, the increase in traffic will help you to generate more leads for your brand.
Increase Revenue
Following swiftly on from more leads comes an increase in revenue. Effective demand generation positions your company as a commodity that consumers should seek out. With increased demand and more leads, you'll begin to pull in more revenue.
According to MetricHQ, the average lead conversion rate is around 4%. If you have 100 visitors on your site, you can expect around 4 conversions. Through demand generation, you'll increase the overall flow of visitors to your site. While that 4% may not change, if you have 10,000 visitors on your site, you'll be expecting around 400 unique customers.
That's not to mention the fact that demand generation tactics also help to improve the customer experience. If you're continually impressing and satisfying your new customers, you'll be able to convert them into returning customers, increasing your company's average lifetime value (LTV).
What Are the Best Demand Generation Strategies My Company Can Use?
Demand generation is a surefire way to capture and convert high-quality leads for your business. By crafting a reliable marketing pipeline, you can carry new users through your sales funnel and convert them into customers.
When engaging in demand generation, here are the top three strategies that you should turn to:
TOFU Content
Email Marketing
Account-Based Marketing
Let's explore each of these further.
TOFU Content
TOFU (Top-of-the-Funnel) content is personalized digital content that you create in order to engage as many people as possible. In these articles, you'll be creating in-depth guides to important topics within your business niche. Each post will be highly educational, providing quality content to your audience for free.
TOFU content ranks incredibly well online, with information content being the most effective online content format. Beyond this, you'll be delivering infographics, social media updates, blog posts, videos, and podcasts to your audience. Over time, these regular posts will convert you into a leader within the industry, with customers coming to you due to your quality insight.
TOFU content helps convert your website into a site of interest, building customer familiarity and helping you excel in the SERP rankings. Bring on the natural traffic!
Email Marketing for Demand Generation
When thinking of demand generation, organic social content is often what first comes to mind. After all, 39% of brands use content creation and organic traffic as their leading forms of demand generation. However, generating demand through email marketing is actually the leading strategy.
Email marketing works so well because users have already demonstrated their interest in your brand by signing up to your mailing list. From there, you have the unique opportunity of creating content that goes directly to their inbox. This level of direct connection helps you to facilitate further interaction.
Consistency is vital in demand generation. If you repeatedly show your mail list subscribers why your brand is perfect for them, you can reduce the size of their personal sales funnel. Instead of having to go through TOFU, MOFU, and BOFU marketing, email demand generation cuts out a few steps, helping to propel you toward success.
If you haven't yet gotten started with email marketing, our platform recommendation is Constant Contact. With flawless automation and a range of business templates, they'll help you get this aspect of demand generation up and running in no time.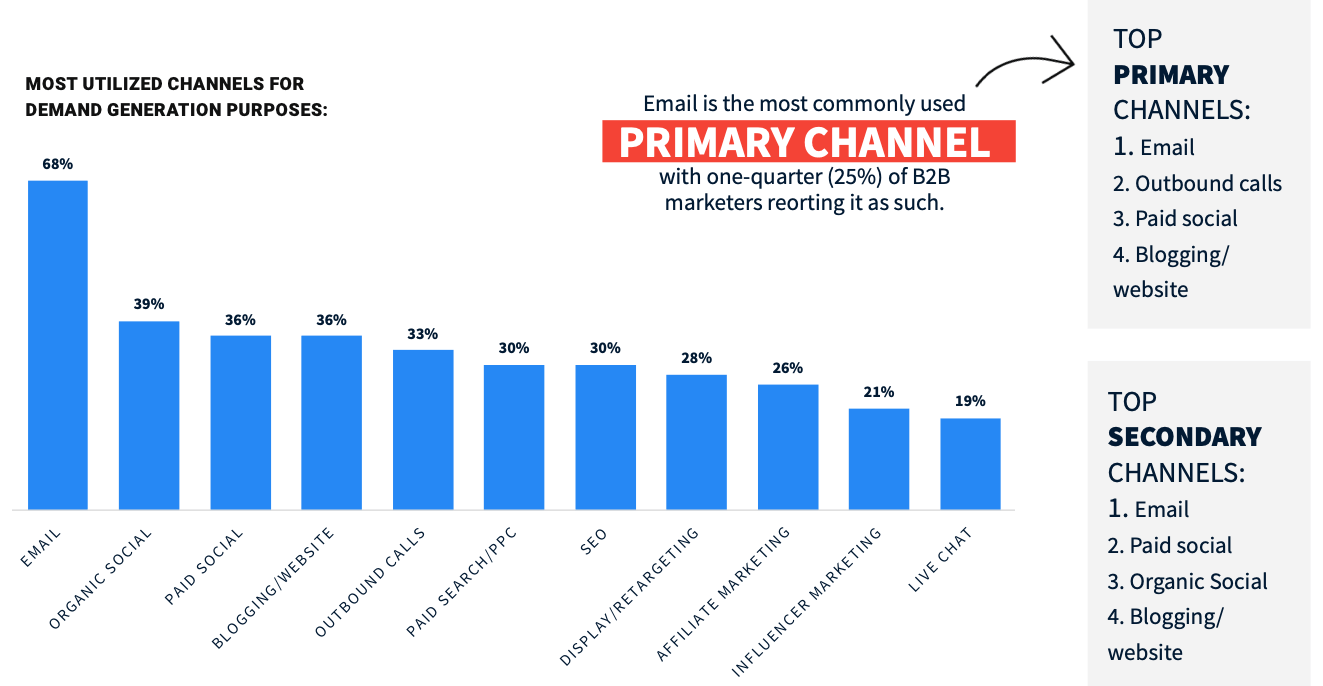 Account-Based Marketing for Demand Generation
It's important to remember that not everyone is going to be a fan of your product, despite how hard you try. Due to this, you should turn to the crown jewel of demand generation: account-based marketing. Currently, ABM outperforms 87% of all B2B demand generation tactics, rightfully claiming its place as a strategy you cannot afford to overlook.
ABM is where you concentrate your resources on user segments that have the highest chance of a conversion. By using a composite of customer and company data, you can chart which demographics you have the highest rate of success with. You'll be starting off strong with high-value candidates.
The way you position yourself at the beginning of a business relationship has a profound impact on where you end up
– Ron Karr
From there, you can reverse engineer content that your chosen group has an affinity for. This form of demand generation targets ideal candidates, rapidly boosting your engagement, interaction, and conversion rates.
Don't forget about the power of data for your business. A smart demand generation strategy will revolve around data-driven insights. If you don't already have a CRM to collect and manage customer data, then we recommend Monday. It's extremely easy to use, comes with a range of robust integrations, and can provide an unmatched CRM experience for your teams.
Once armed with the power of data, you can set off toward world-class ABM. Targeting high-value customers will rapidly increase the efficiency of your demand generation, helping to push your business further into public awareness.
Final Thoughts on Demand Generation
Demand generation is one of the leading sets of marketing strategies that you can use to boost the online presence of your brand. While many companies will engage with digital marketing, very few actively use generation tactics.
Capitalizing on demand generation will allow you to fortify your online presence, increase brand visibility, and push past your competitors to become a world-leading brand. After engaging with the strategies and tactics that we've outlined in this article, you'll be well on your way to success.