Pros
Better price
Millions of people use it worldwide, so many people have experience with Zoom-like interfaces
Zoom Phone has a deep integration with Zoom Meetings and other applications making it easy to use with a small learning curve
Developers' portal and customization services
Cons
Fewer advanced telephony features
Specialized applications lack advanced functionalities
Increased contract duration does not result in cost savings
Low-cost plans only have online ticketing and chat support
Pros
High-quality and reliable services delivered
Extreme customization of services including productivity
A sophisticated set of APIs deliver a high degree of integration
Comprehensive, intricate, and advanced set of services
Cons
Comparatively expensive
No financial benefit with longer-term contracts
Recent world events have compelled and even obliged modern businesses to adopt and embrace remote communication services at an unprecedented rate.  This in turn has urged communications providers to develop new, more robust, and more innovative services to respond to these business needs.
Two particular vendors that have benefited greatly from this recent trend are Zoom and Vonage, not only in revenue but also in the development of new and pioneering services.  In this article, we'll be examining and comparing these two, presenting both their pros and cons, as well as the best that each provider promises its customers.
An overview of what each has to offer
Let's begin by taking a closer look at what each of these leading VoIP providers has to offer to its customers:
Zoom
The name Zoom has become almost synonymous with video conferencing these days.  Zoom was founded in 2011 and had reached its one-millionth user by mid-2013.  In the first two months of 2020, in the midst of the COVID-19 pandemic, Zoom accumulated an additional 2.2 million users, more new users than it had achieved during the whole of 2019.  By that time, Zoom had more than 300 million daily meeting participants.
Zoom has really come into its own over the past two years and has truly become a household name.  The company has generally responded well to the needs of the market expanding into various additional areas of business communications.
Main offerings
The main offering of the company is that for which it has become famous – Zoom Meetings which is the app that leverages its video conferencing service.  This is a service that delivers easy-to-use video conferencing.  It can be used on a desktop, laptop, or mobile device.  By simply entering your meeting ID and a password, or by clicking the shared link your organizer has provided you with, you can jump right into the meeting, interacting with other participants easily and effectively.
Additional features
But Zoom is not just about video conferencing.  It has expanded into several related areas offering significant value-added services.  These are often overshadowed by its video conferencing capabilities, but are worth considering:
Zoom Phone System – A fully-fledged cloud-based IP PBX that delivers enhanced telephony services on your desktop, laptop, or mobile device.
Zoom Contact Center – A relatively new service from Zoom which delivers an omnichannel contact center solution that is optimized for video as well as voice.
Additional specialized services include:
Zoom Webinar – A video service that is specifically designed for the production and streaming of webinars.
Zoom Events – An all-in-one platform that is ideally suited to host virtual experiences, conferences, and events
Zoom Marketplace – A series of ready-made integrations and bots to be leveraged in conjunction with other Zoom products
Zoom Rooms and Workspaces – A series of devices that are specially designed to equip a room to be used primarily for video conferencing and collaboration meetings
Zoom Developer platform – An online space where APIs and SDKs can be developed in cooperation with other developers to enhance and extend the use of Zoom
Service Summary
Zoom is among the largest business communications vendors in the market today.  Although it has robust offerings in many areas of telecommunications, its focus still remains in the area of video conferencing.  Even so, its large customer base and visibility as a company place it in a very competitive position to continue to expand into related areas of communication.
Vonage
Vonage comes from a very different background and legacy than Zoom.  Founded much earlier, in 1998, it started off as a provider of residential telecom services based on VoIP, one of the first commercial VoIP providers in the USA.  Over the years, and through a series of acquisitions, the company has expanded its presence into business-to-business communication services, delivering unified communications (UC), contact center applications, and communication APIs for integration with third-party applications.
Main Offerings
In the area of unified communications, Vonage delivers cloud-based telephony services to your desktop, laptop, mobile device, or IP desk phone.  Users enjoy over 50 advanced UC features including productivity and collaboration tools.  It incorporates video conferencing into all its telephony services, so it does compete directly with Zoom's bread and butter as well.
Additional features
In addition to this fundamental offering of UC services, Vonage delivers a multitude of other complementary and stand-alone services and functionalities.  These include:
Contact centers – These are omnichannel contact center services that incorporate speech analytics, workforce management, conversational AI, as well as integrations with some of the most popular CRM and customer databases.
Communications APIs – Vonage focuses greatly on the successful integration of its business communication services with other applications via its Application Programming Interfaces or APIs. In this way, advanced customization and deep integration can be achieved vastly enhancing productivity and efficiency.
Conversational Commerce – This is a feature that can create AI-powered omnichannel experiences that boost sales and increase customer satisfaction
Service summary
Vonage comes from a voice-only background but has successfully moved into the related and neighboring areas of video communications.  Having said that, Vonage has a very advanced set of products that are geared towards sales, customer support, customer management, and the use of AI to enhance the customer experience.  This in combination with its highly integratable Communications APIs makes it ideal for specialized customer service requirements.
Zoom vs Vonage
As we have seen above, each company seems to focus on a somewhat different aspect of business communications.  Even so, much of their offerings overlap, as in the VoIP telephony services they both provide.  We will focus on this service in our comparison, but we will also mention the additional services delivered by each.
Feature set
Both companies deliver a similar set of advanced telephony features such as voice teleconferencing, advanced voicemail features, advanced call handling, music on hold, call history, and call logging features.  Both companies incorporate video calling with their offerings as well.  However, they do differ in some of the following areas:
Vonage delivers a much more granularly configurable service, especially when it comes to integration with third-party applications and APIs.
Vonage also makes extensive use of AI in many of its offerings, including conversational AI.
Vonage has many more options, especially for its contact center services that include speech analytics, workforce management, and even gamification of agent performance with goal setting and rewards for achievements.
Zoom has more advanced video conference features which enable a simple phone call to be transformed into a highly interactive online session with tools that enable substantial interaction between participants.
Zoom video conferencing is free for use for up to 100 participants, for sessions with a duration of up to 40 minutes.
Customer support
Vonage delivers 24/7 customer support via email, chat, and online case/ticket creation.  Via telephone, they are available from 8 AM to midnight on weekdays, and 9 AM to 9 PM on weekends, but emergency on-call after-hours support is also available.  In addition, the support section of the Vonage website is well put together and helps users find information in articles and tech manuals that can be very helpful.  This includes tutorials, videos, and training to get the most of your Vonage service.
Furthermore, there is an active online community where users exchange tips and ideas with other customers which can be very helpful.
Zoom also has an excellent set of online resources for its users, with comprehensive coverage of virtually any and all technical or administrative issues you may encounter.  Zoom's support however is different depending upon the plan you have purchased.  The basic plan which is free includes support from the online Knowledge Base, the Zoom Community, as well as via Chatbot.  For the pro plan, you add to this online web tickets and live chat with an agent or a technical support staff.  And for the business or enterprise plan that has a greater than $200 per month subscription cost, you can speak with an agent on the phone or via a Zoom meeting.
Pricing and plans
Zoom offers primarily three tiers of service for its Zoom Phone offering where each one is billed on a per user per month basis.  The cost will vary depending upon the country in which the service will be used.  Below you can see the annual prices for the USA for the three available tiers: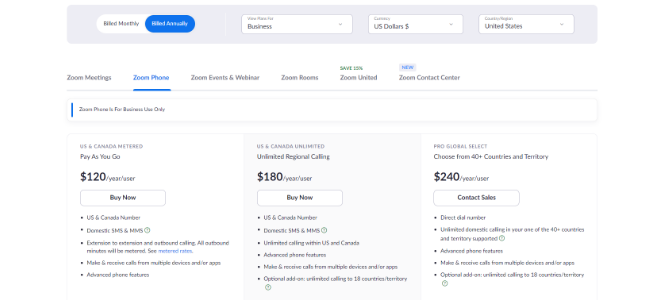 Interestingly enough, whether billed monthly or yearly, the cost is the same.  So at least for the Zoom Phone offerings, there is no benefit to purchasing an annual plan.  Thus, the above prices translate to monthly values per user of $10, $15, and $20 respectively.
Additional savings however can be achieved by purchasing Zoom United, which includes Zoom Phone and Zoom Meetings services in a package deal, saving at least 15% in annual costs, according to the company.
Vonage's pricing for its UC offering also comes in three tiers.  However, cost savings can be achieved only with an increase in the number of lines included in the purchase.  There doesn't seem to be any annual billing available for cost savings.  For a single line, the monthly cost for each of the three tiers is as seen below: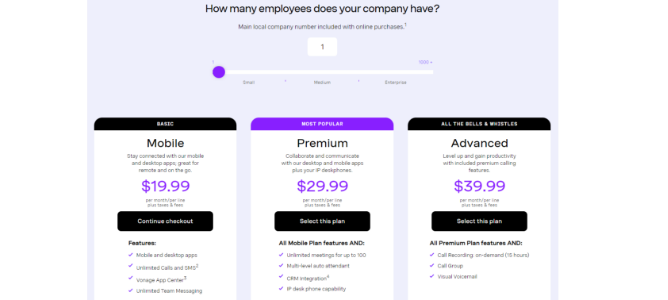 For up to 99 users, these prices go as low as $14.99 for the Mobile plan, $24.99 for the Premium plan, and $34.99 for the Advanced plan.  For a larger number of lines, you are asked to contact sales.  This seems to suggest that lower prices are available for bulk subscriptions.
Ultimately Zoom's prices are markedly cheaper than Vonage's.
User experience
Arguably among the most important sources of information that will help evaluate a VoIP provider is user experience.  The most commonly expressed views of users of both services are listed below:
Zoom
Users are reporting that the service is easy to use and easy to set up.  People of all technical backgrounds, including those with no technical background, have been largely able to use Zoom services, including Meetings and Phone, with little or no problems.  There are generally few things users have disliked about Zoom, other than the slightly higher costs for more advanced services, beyond the Zoom Phone options.
Vonage
If we're just looking just at the UC and telephony features of the service, Vonage is typically difficult to beat.  Not only because of its ease of use and reliability, but because of its depth of functions, and the feature-richness it delivers.  Users are reporting that the service just worked "out of the box" and administration, adding phones, and assigning numbers to users were very simple and straightforward. 
Pros and cons
Here is a list of pros and cons for each provider:
Zoom
Pros:
Better price
Zoom Meetings is free and used by millions of people worldwide, thus many people already have experience with a Zoom-like interface.
Zoom Phone has a deep integration with Zoom Meetings making it easy to use with a small learning curve for users
Comprehensive developers' portal and services for customizations
Cons:
Comparatively fewer advanced telephony features
Less developed advanced functionalities for specialized applications
No cost savings with an increase in the duration of the contract
Customer support is limited to online ticketing and chat for lower-cost plans
Vonage
Pros
High-quality and reliable services delivered by a highly experienced VoIP provider
Extreme customization of services including many innovative productivity services
A sophisticated set of APIs deliver a high degree of integration with other business applications as well as with services delivered natively by Vonage
A somewhat more comprehensive, intricate, and advanced set of services
Cons
Comparatively expensive
No financial benefits delivered with longer-term contracts
The final verdict
Zoom and Vonage come from very different beginnings, but both have developed into highly desirable business communication service providers.  Zoom focuses more on the video side of things, with more functional options for remote collaboration, while Vonage delivers an extremely well-put-together package of voice-centered services.
When viewed from a voice-only perspective, Vonage has the upper hand with more advanced and granular offerings.  For those customers looking for a video-centered experience, Zoom is the way to go.
Keeping in mind that both of these providers deliver their services to hundreds of thousands of businesses with millions of end-users really does indicate that they are both good and solid choices.  What's more important to each prospective customer however is that which will determine what you choose in the end.