Women have historically been underrepresented in business. Even though the tech industry appears to be among the most progressive fields in the workplace, it still lacks adequate gender diversity.
Though women make up 50.04% of the US workforce, they represent a tiny proportion of the tech industry. This article will explore the most recent trends concerning women in the technology workplace. We will also consider Covid-19's impact on workplace gender diversity and solutions to increase workplace gender representation.
Women in the Global Workforce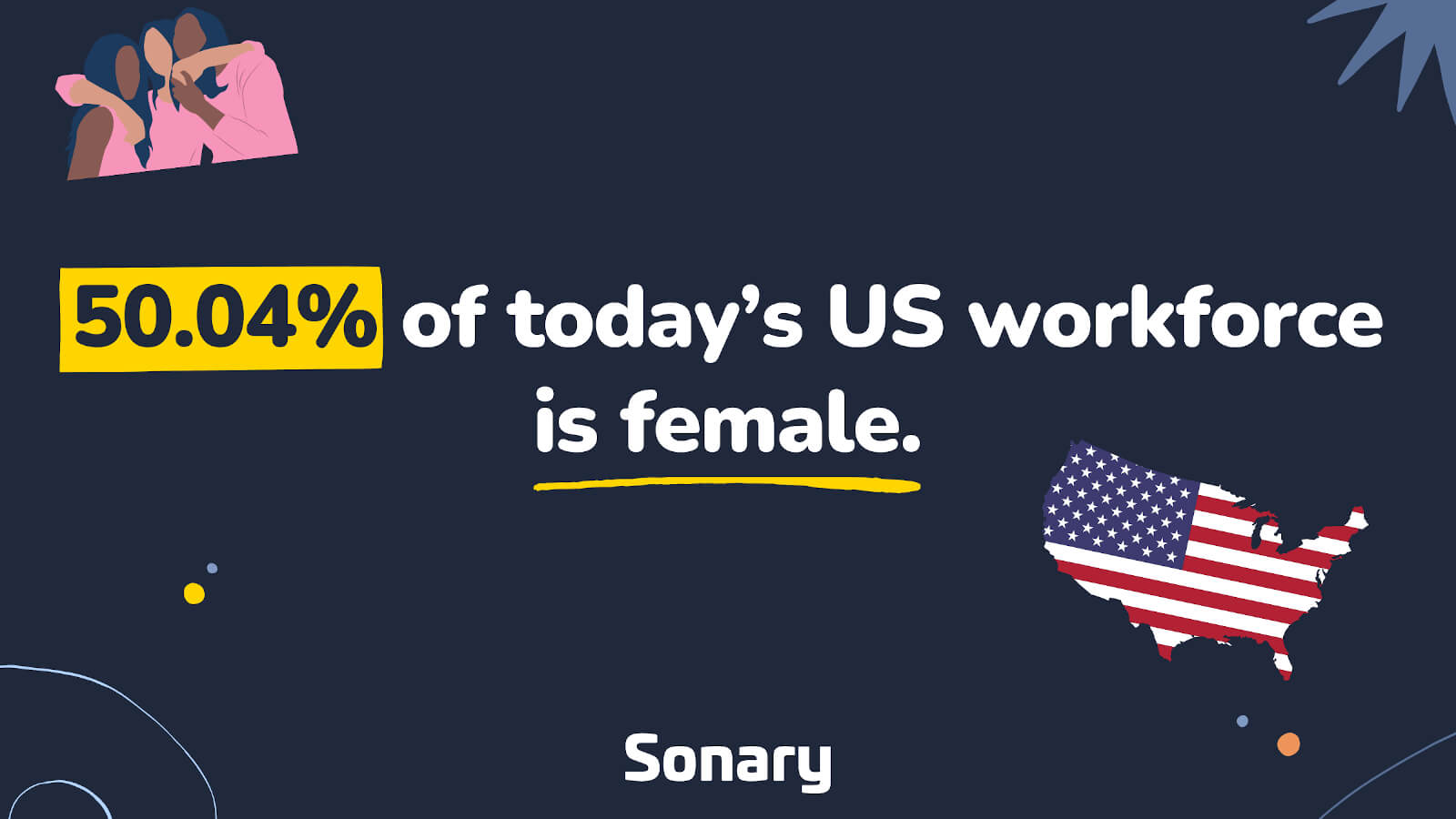 As previously stated, women make up 50.04% of the US labor force today. According to the latest available data from the Bureau of Labor Statistics, 57.4 percent of women were employed in the United States in 2021, up 0.3% from the year before but down 2.6% from 1999. On the other side, the proportion of males working in the US in 2019 was 69.2%, 17.4% less than that of men working in the US in 1948.
Key Statistics:
Women make up 50.2% of US workers who have received a college education (

Elsesser, 2019

).

Canada has the most significant representation of women in the labor force (61.3%) (

Team Stage, 2022

).

69.8% of the women interviewed in a survey preferred participating in the workforce rather than being a stay-at-home wife/mother (Statista, 2021).
Gender Equality and Representation in the Tech Industry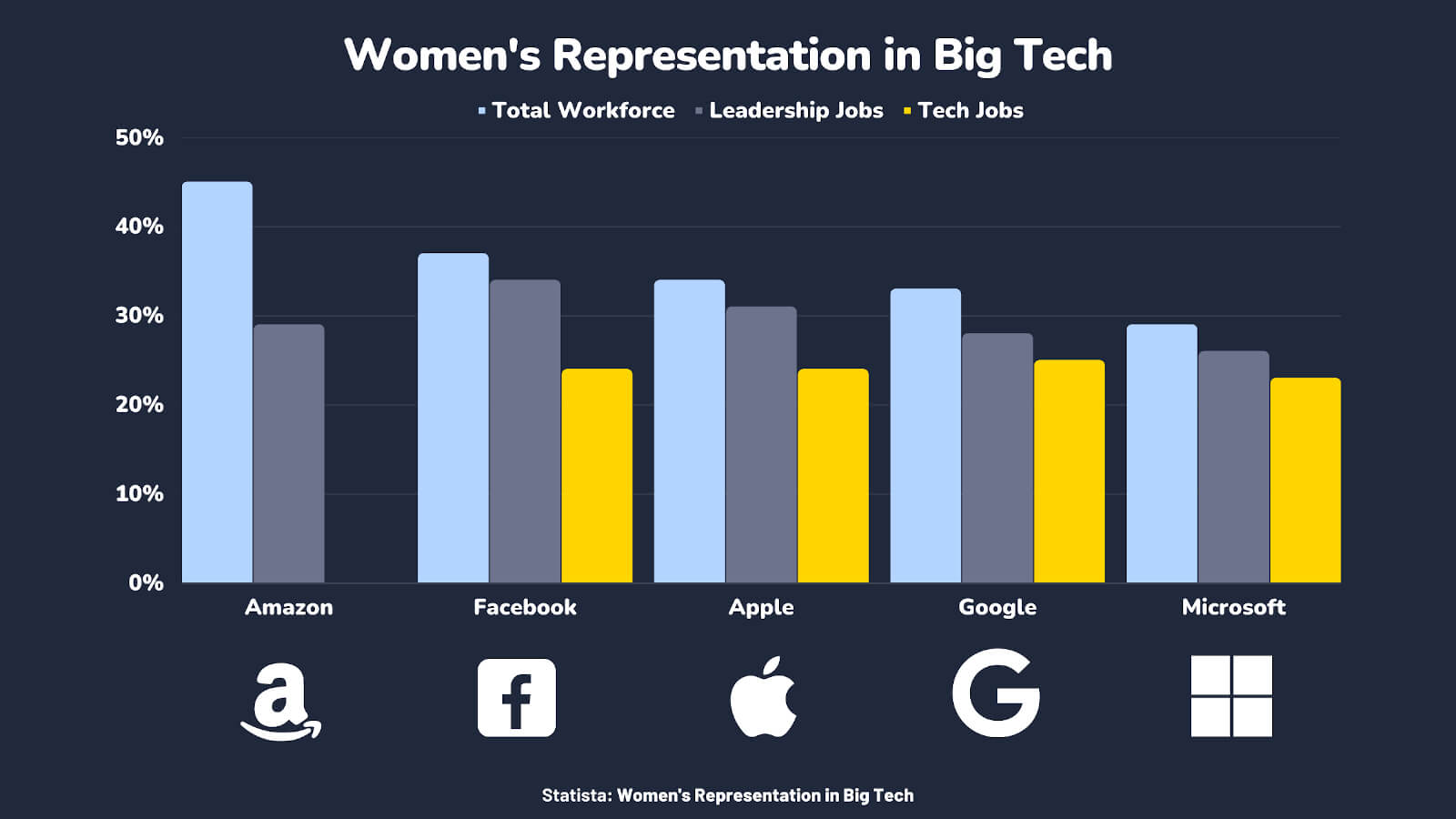 Most tech employers are consistent with women making up 26% of their personnel. Unfortunately, this standard has decreased by 2.1% since 2021 for large and mid-size companies and 5.1% for smaller companies. Nevertheless, 83.6% of the technology industry is notable for hiring, training, and promoting diverse personnel. Although over 50% of employers in mid-size tech businesses lead the industry in hiring women, the industry overall is still predominantly male.
Key Statistics:
Representation by GAFAM
GAFAM is the stock acronym for the top five tech companies in the world: Google, Apple, Facebook, Amazon, and Microsoft. Even in these major tech organizations, the overall representation of female employees is still relatively low, and it gets even lower in actual technology-related positions (Apple, Facebook, and Google: 23%; Microsoft: 20%) (Statista, 2021).
Key Statistics:
In leadership roles, Microsoft has the lowest percentage (26%), and Facebook has the highest (34%) percentage of female leaders (Statista, 2021).
Microsoft has the lowest female employee population (29%), and Amazon has the highest (45%) (Statista, 2021).
In 2020, Amazon reported having a 55.4% male and 44.6% female employment ratio. However, women held only 29.3% of available managerial positions (Amazon, 2020).
Women in Technology General Tech Statistics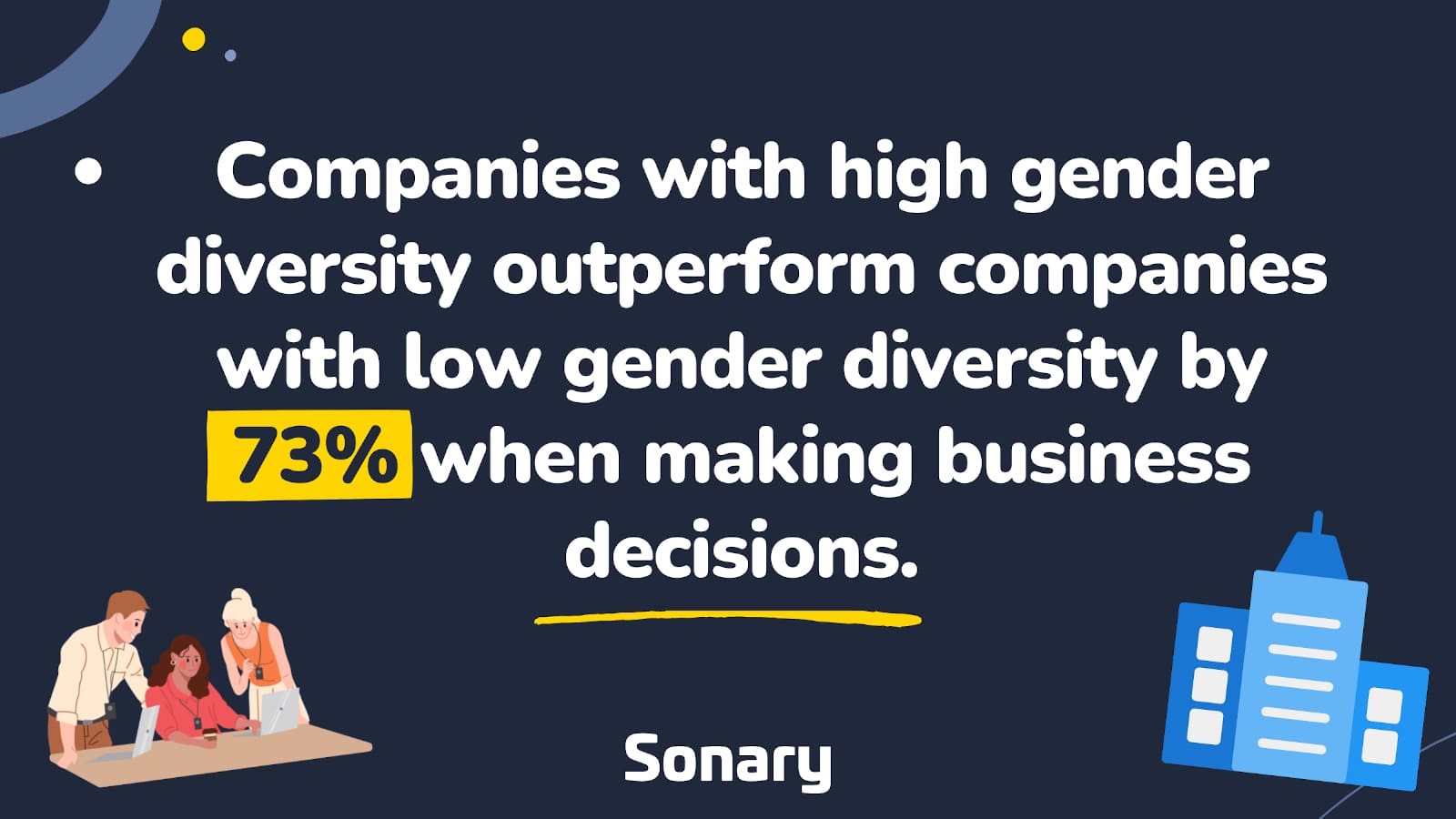 We had predicted a growing demand to implement better gender representation in the workplace. Because research has shown that diversity enhances the ability to offer various products and services, businesses must explore opportunities to increase gender and ethnic representation.
Key Statistics:  
Percent of Women in Software Engineering Positions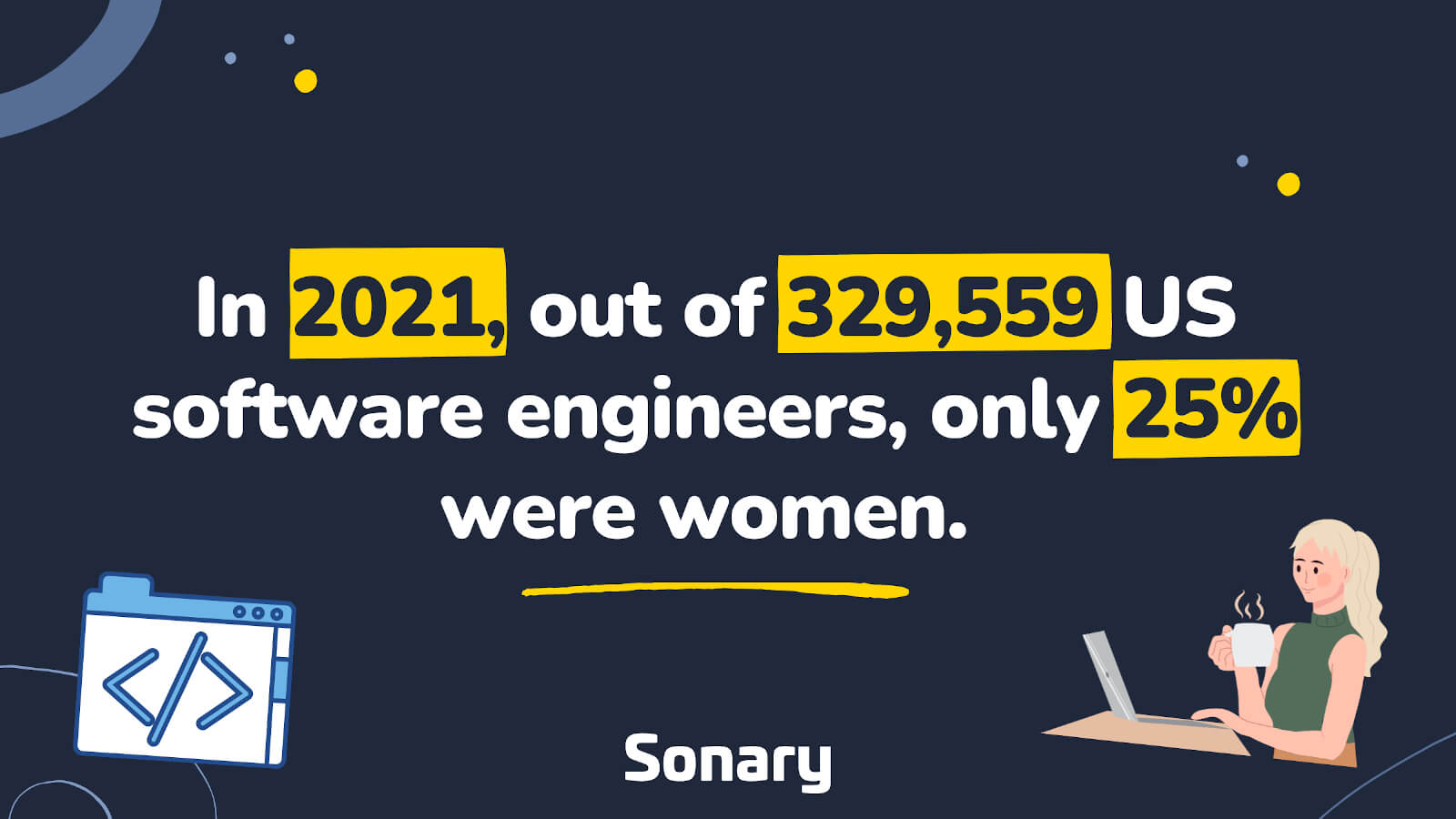 Despite the increase in female software engineering employees, women are still underrepresented in the industry. For every four positions in the software engineering field, only one of them will be occupied by a woman.
Also, white men and women hold most software engineering positions (52.3%).
Key Statistics:
Women in Technology Education Statistics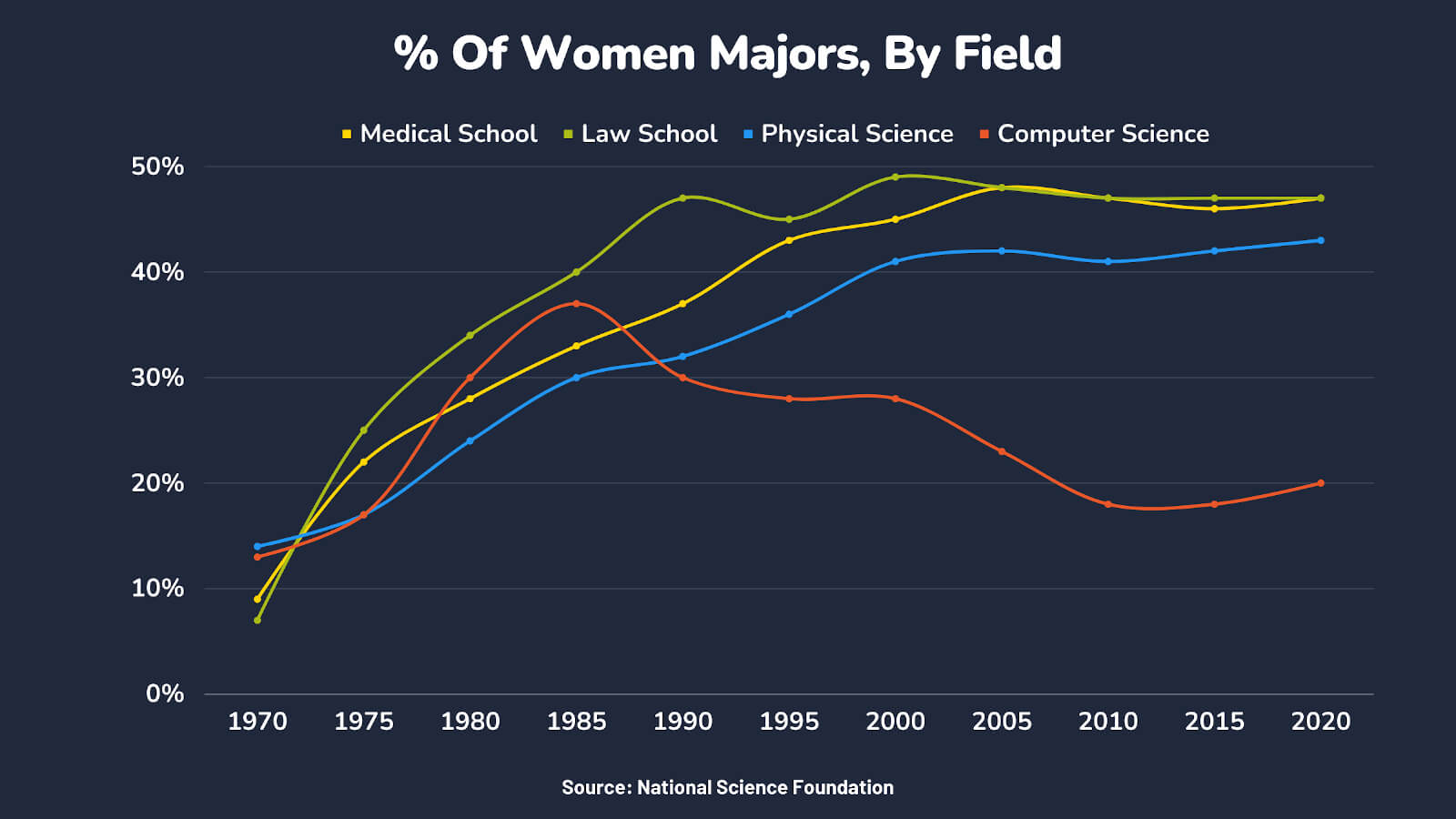 As mentioned earlier, even female students in technology education face the same dilemma of surviving in a male-dominated sector that potential female tech employees often face. Even with the recent increase in computer science positions, women are still the least likely to pursue degrees in the field. Thus, women only make up 32.8% of the workforce for computer science entry-level positions, and Asian women only make up 25% of the workforce in the computer science field. The following statistics reveal that there are a variety of reasons that impact women's decision to pursue degrees in STEM subjects.
Key Statistics:
Global statistics on women's interest in STEM subjects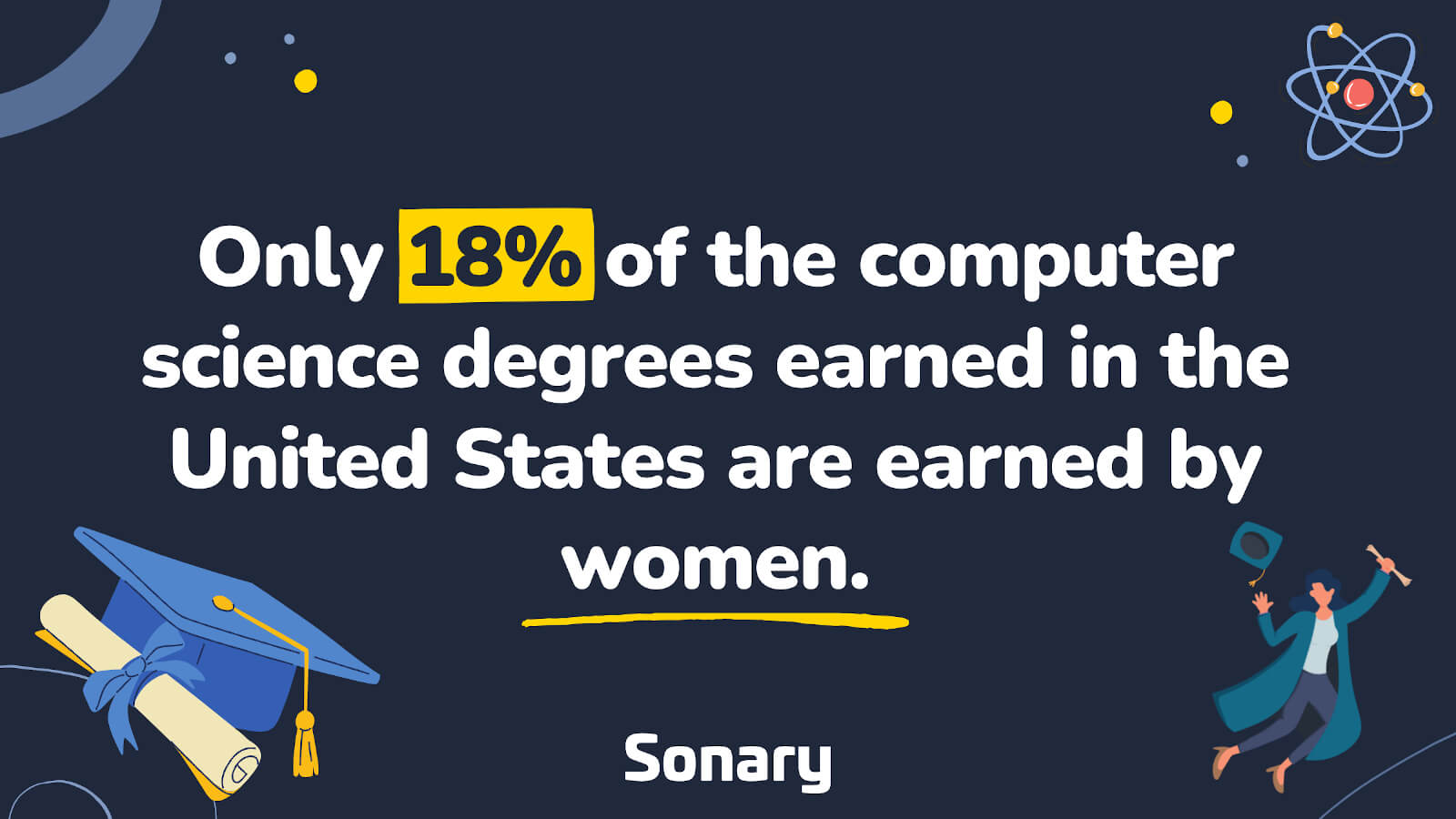 Women And Tech Workplace Trends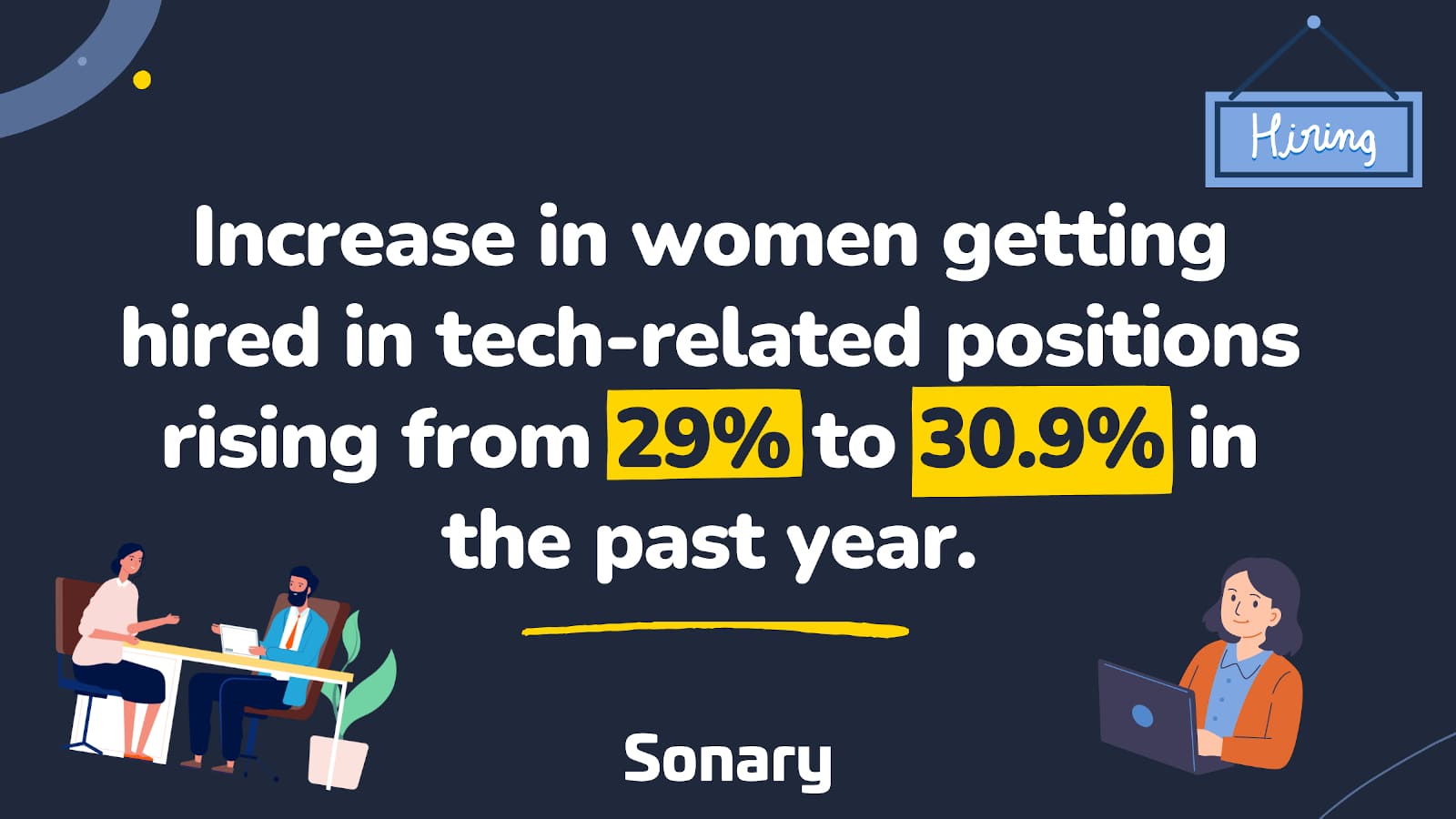 Despite most of the labor force in the United States being women, the tech industry is one field where very few female employees are hired. As stated earlier, working women often face the challenges of trying to survive in male-dominated work environments. For example, almost half of the female population working in the tech industry has reported experiencing gender discrimination while getting hired or during employment. Also, over 60% of US female workers in the tech industry felt the opportunities for advancement were very bleak.
However, there has been an increase in women getting hired in tech-related positions—from 29% to 30.9% in the past year. White males make up most of the new employees in the tech industry while white females comprise 10.9% of new hires. Statistics reveal that businesses promoting gender equity tend to hire more women.
General Statistics:
Only 3% of available computing jobs are held by African American women (Statista, 2020).

Women are 22% more likely to experience "imposter syndrome" in STEM/tech careers than men (

Women in Tech, 2022

).
Hiring Statistics:
Tech-jobs statistics:
Discrimination and harassment in the workplace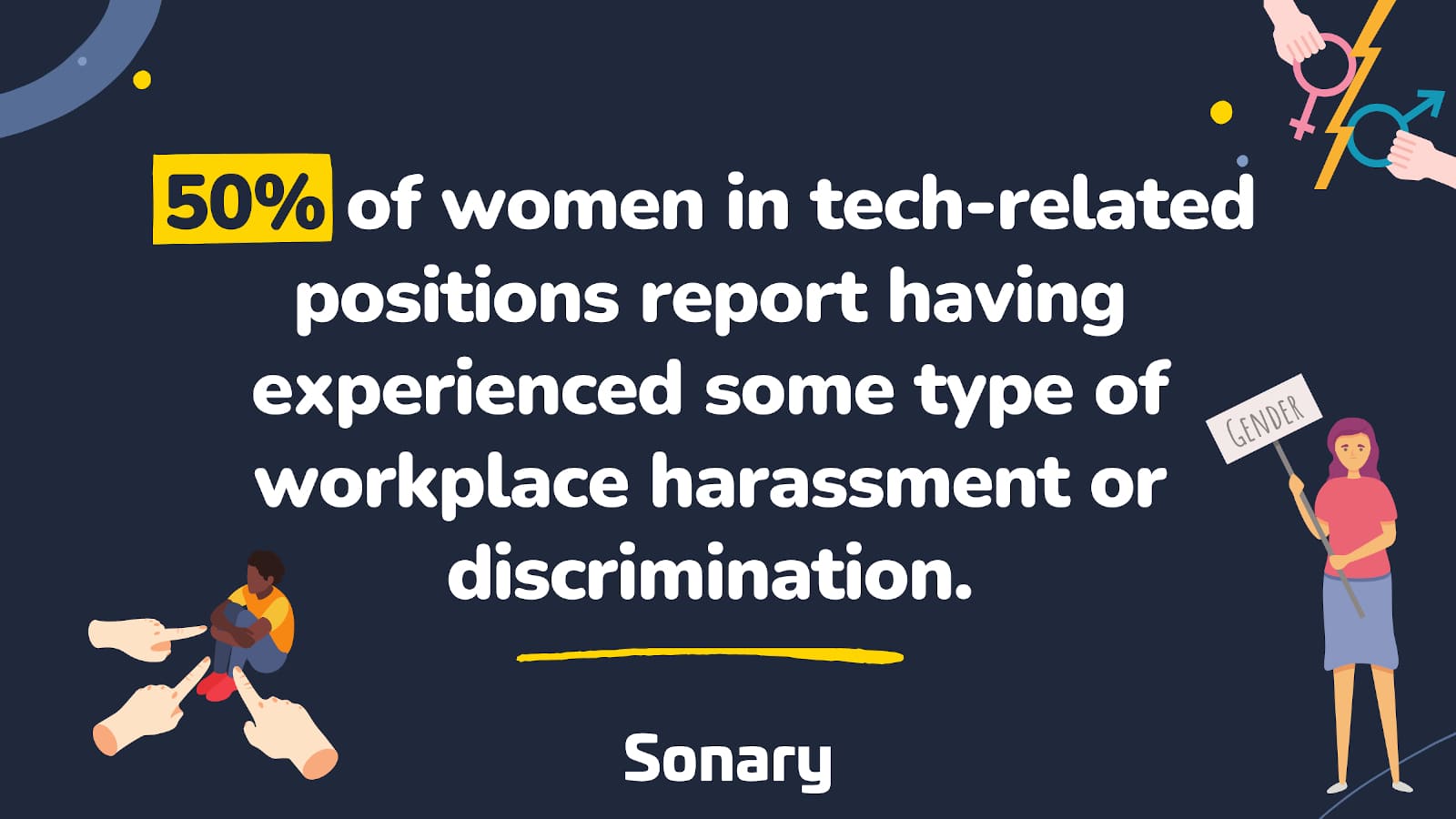 Compensation statistics:
Statistics on Women as Tech Entrepreneurs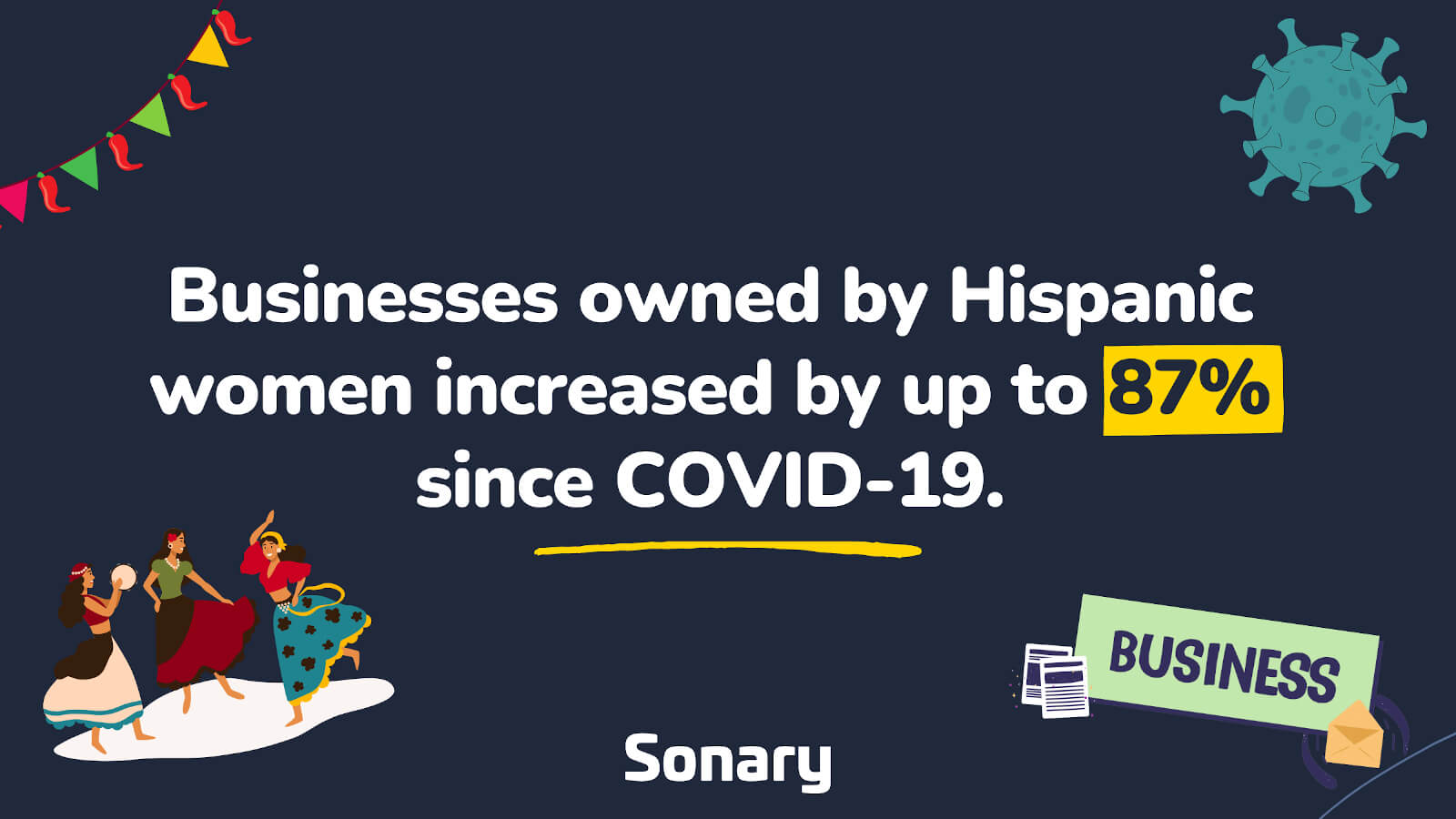 Although 40% of U.S. businesses are owned by women (of which 64% of those are owned by Asians, Hispanics, and African Americans), only 2% of these female entrepreneurs receive equitable start-up funding, and investment options. Thus, for every four tech startups, only one will be founded by a woman (Silicon Valley Bank, 2020). Also, for every tech startup, only 37% have a minimum of one female board member, but 53% will have at least one female senior executive (Silicon Valley Bank, 2020).
Key Statistics:
Women in Technology Leadership and Business Statistics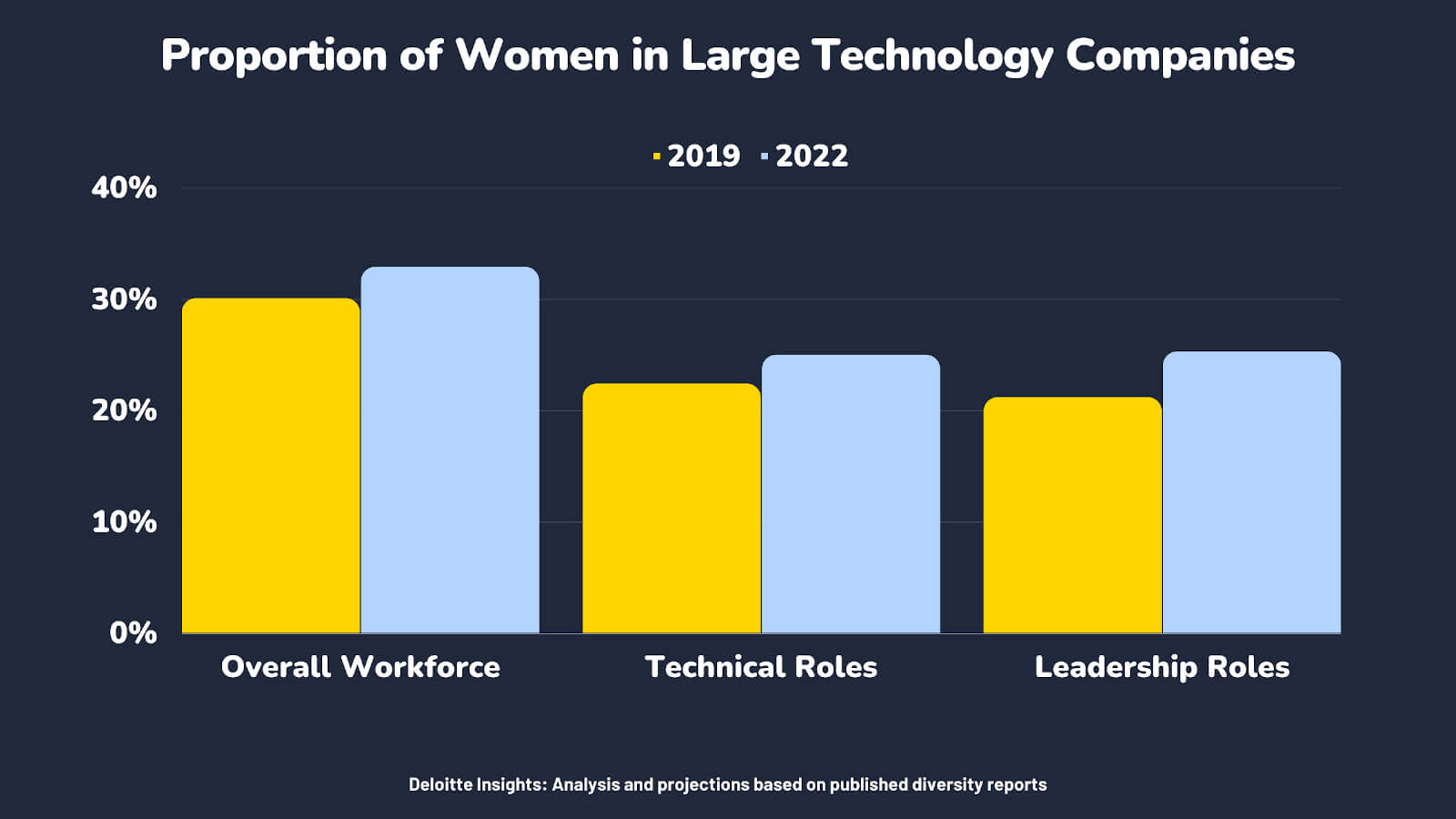 Despite the advances, women have achieved in leadership and entrepreneurial roles. Many do not experience sufficient opportunities for funding or advancement. Thus, the further a woman advances in the tech industry, the fewer options she will have. In larger businesses, women hold 5% of the available CEO positions.
Key Statistics:
Statistics on Why Women Quit Tech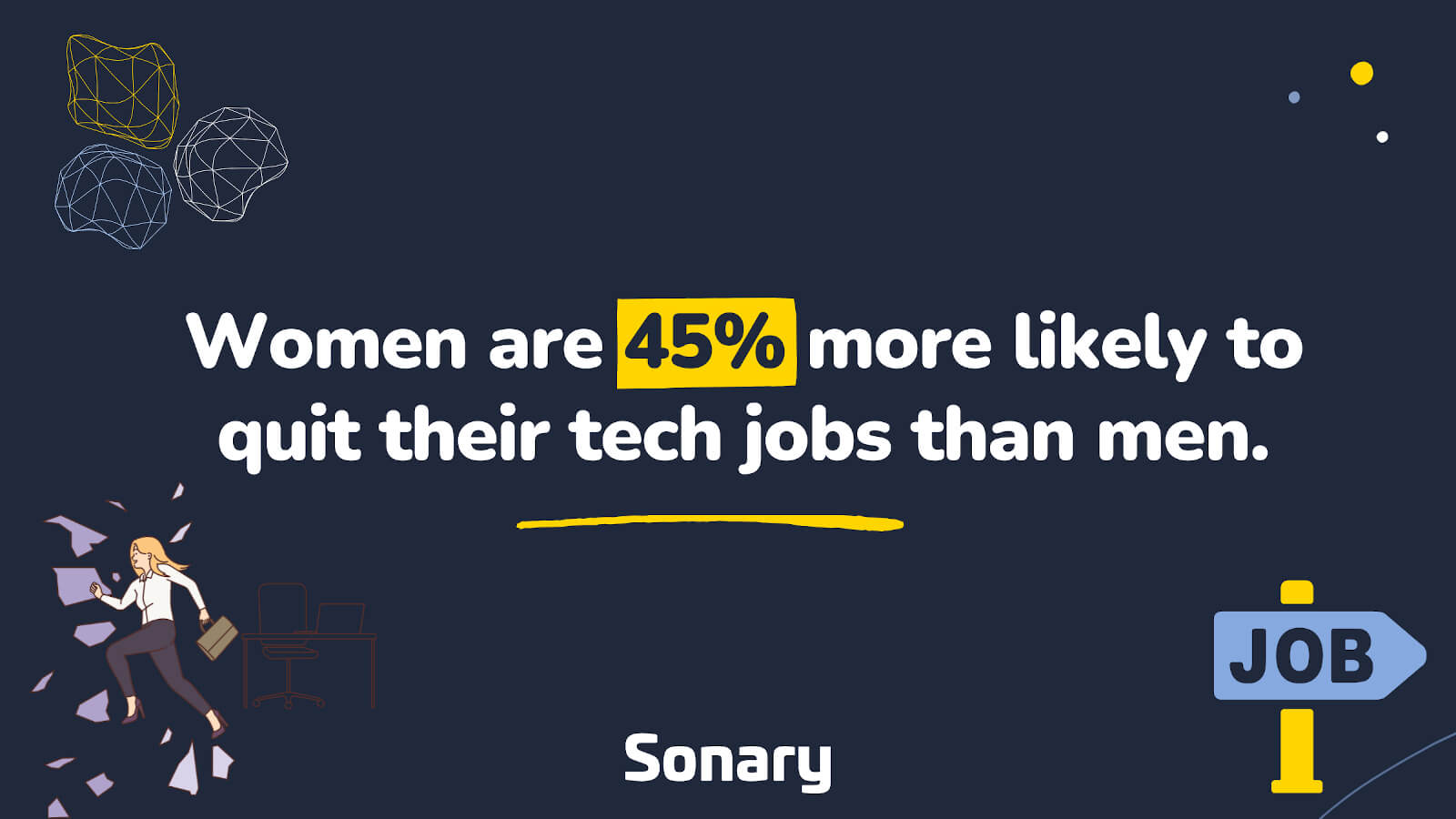 Research on employee recruitment reveals that employee retention in the tech industry remains challenging for female employees. About 11.3% of female STEM employees quit the tech industry last year. Unfairness or mistreatment within the work environment was the most frequently cited reason for leaving, according to Tech Leavers 2017 Report. These statistics reveal that tech companies need to work harder at achieving gender inclusivity, promotion opportunities, and more workplace safety guidelines to recruit and retain female tech professionals.
Key Statistics: 
The Impact of COVID-19 & Remote Work on Female Tech Employees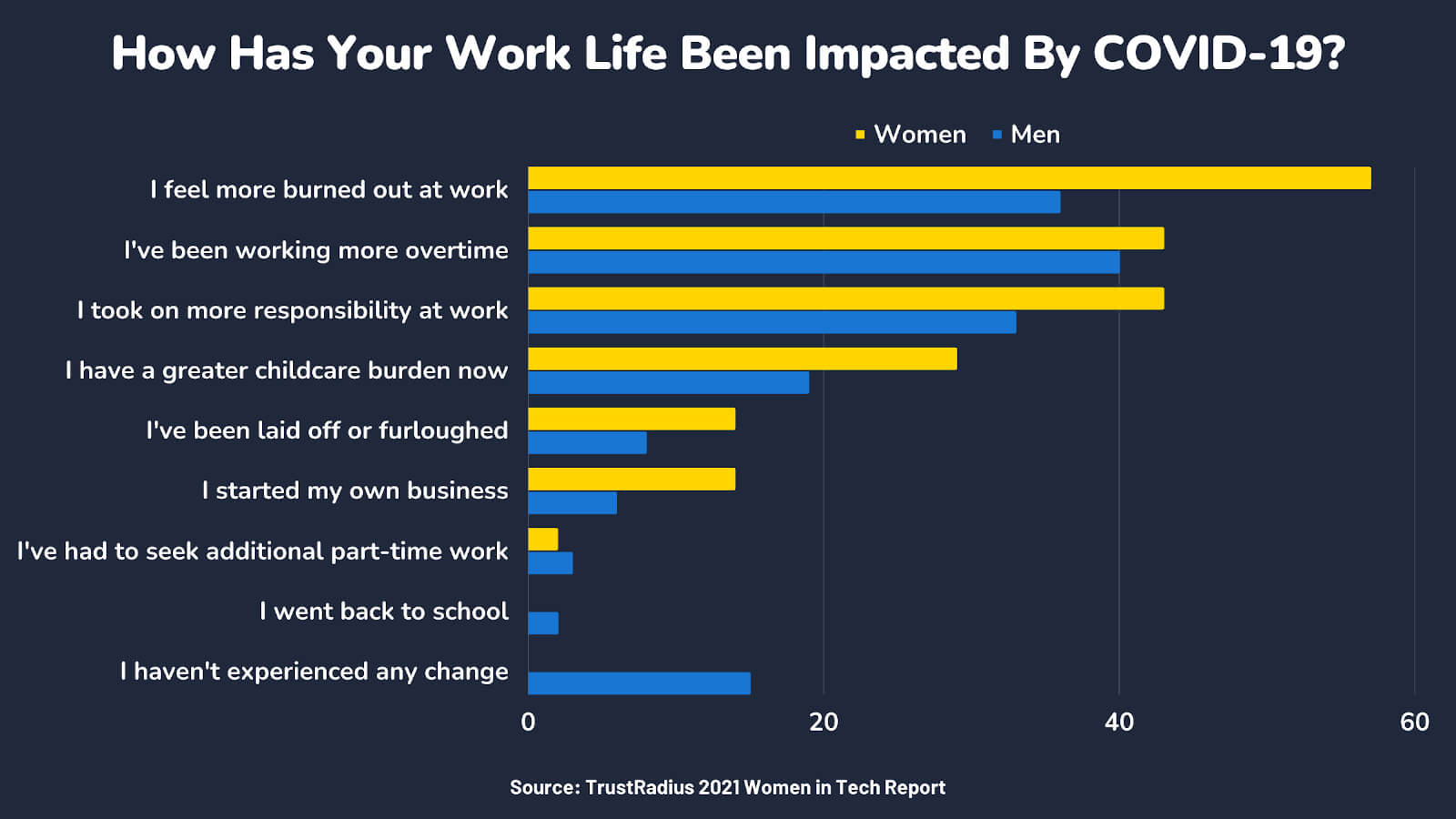 COVID-19 has greatly influenced how businesses recruit and maintain employees. During the shelter-at-home orders, 75% of 1.2 million working mothers quit their jobs because of the challenges of balancing work, childcare, and other domestic duties. However, women employed in tech-related jobs benefited from remote work options because it allowed them to create a better work/life balance. Even men report being more inclined to seek positions allowing remote work options since COVID-19.
Key Statistics:
A Final Look at Gender Inequity in the Tech Industry
These statistics show that the gender gap in the tech industry is a critical concern. Although women are starting to dominate the labor force, the tech industry is still male-dominated. So, the question remains: what can tech companies do to achieve more gender diversity in the workplace?
For starters, there need to be fewer discriminatory recruitment practices before women enter college. Girls Who Code is a perfect example of a non-profit organization that utilizes gender equity recruitment practices. To inspire more women to embrace tech jobs, technology education programs need to make a better effort to expose female students to information on notable women in the tech industry to let them know that the tech industry can be a promising career for women as well.
Once the tech industry has addressed less discriminatory recruitment practices, there needs to be an increased effort to promote gender diversity in everyday business operations. Thus, if companies would invest more in implementing equal opportunity employment practices, equal pay rates, and skill-based promotions, we may see improved employee retention among females in the tech industry. After all, no one wants to be in a career field without hope for advancement or fair compensation.
The pandemic has had a disproportionately negative effect on women in the workforce. With over 75% of 1.2 million parents leaving their jobs in response to the pandemic, it is clear that working mothers have been forced to make an untenable choice between their careers and caring for their families.
Here are some more articles for those who want to explore important tech trends.