Pros
A very long list of specialized telephony features
Extremely easy to use, ergonomic, and intuitive in all of its functions
The telephony features offered are innovative and useful
Cons
Expensive
Users have reported some problems with customer support
Pros
High-quality and reliable services
Extreme customization of services including many innovative productivity services
A sophisticated set of APIs deliver a high degree of integrations
A somewhat more comprehensive, intricate, and advanced set of services, especially when it comes to contact centre services
Cons
Expensive
No financial benefits delivered with longer-term contracts
No standalone videoconferencing option
Introduction
When it comes to telecommunications, it's important to ensure that you choose the provider that delivers what your enterprise needs most. For this reason, we are taking a look at two of the largest VoIP providers worldwide and comparing them head-to-head. Specifically, we'll be looking at RingCentral and Vonage.
These industry behemoths have a rich legacy of service over the past two decades, and both have grown substantially during the pandemic. But each one approaches their services slightly differently, and this difference may be a clincher as far as the vendor you choose. In this article, we'll be examining and comparing these two, presenting their pros and cons and the best that each provider promises its customers.
An overview of what each has to offer

Let's begin by taking a closer look at what each of these leading VoIP providers has to offer to its customers:
RingCentral
RingCentral was founded in 1999 and originally focused on delivering communications services to small businesses leveraging Microsoft Windows.  Its business plan was so well executed that it quickly evolved into a highly profitable venture.  It was so successful that Motorola bought it for a substantial amount.  Motorola soon changed its focus, which led to the founding of the independent RingCentral company, which completed its IPO in 2013.
Interest in the company did not wane as large investors such as Cisco and Silicon Valley Bank and partners such as Avaya continued to invest heavily in RingCentral, eventually becoming synonymous with business VoIP services.
RingCentral's Main Offerings
RingCentral's flagship product is its Message, Video, Phone (MVP) service.  This incorporates instant messaging, telephony, as well as video communications over a cloud-based infrastructure.  This turns your laptop, desktop, tablet, or smartphone into a video-enabled VoIP endpoint that lets you communicate with all your coworkers, partners, and associates.  RingCentral also offers an assortment of physical IP phones ideal for low voice traffic users, receptionists, conference rooms, as well as cordless models for those highly mobile on-premises employees.
RingCentral's Additional Features
In addition to this fundamental offering of its MVP product, RingCentral delivers additional complementary and stand-alone services and functionalities.  These include
RingCentral Video – This is RingCentral's videoconferencing offering that was launched in 2020 in large part due to the driving force of the pandemic. It is available for free for up to 100 participants.  It is refreshingly functional for a free service, delivering file sharing, business software integrations, as well as cloud recordings stored for up to 7 days.  The paid version increases the number of participants and the cloud storage size and the file retention duration.
RingCentral Contact Center – This is an omnichannel inbound and outbound contact center that incorporates AI, UCaaS, ACD, IVR, quality management, workforce, and performance management. It also delivers integrations with some of the most popular CRM and customer databases.  It works as an integrated add-on to the MVP product.
RingCentral Webinar – This video service delivered by the company is still in its beta stage but can currently be used for free. It is an add-on platform specially designed to deliver webinars with interactive features and performance analysis.
RingCentral's Service Summary
RingCentral is considered one of the world's largest VoIP communications services.  Having such a large customer base speaks for itself as far as quality, cost, and competitiveness goes.  RingCentral's additional services complement the MVP product very well, delivering a whole ecosystem of communication services that cover the needs of most enterprises of almost any size. 
Vonage
Vonage comes from a somewhat different background and legacy compared to RingCentral.  Founded just a year earlier in 1998, it started as a provider of residential VoIP telecom services, one of the first commercial VoIP providers in the USA.  Over the years, and through a series of acquisitions, the company has expanded its presence into business-to-business communication services, delivering unified communications (UC), contact center applications, and communication APIs for integration with third-party applications.
Vonage's Main Offerings
Vonage provides their Unified Communications service, a cloud-based telephony service delivered to your desktop, laptop, mobile device, or IP desk phone.  It delivers voice, messaging and video and users enjoy over 50 advanced UC features, including productivity and collaboration tools.  It incorporates video conferencing into all its telephony services.
Vonage's Additional features
In addition to this fundamental offering of UC services, Vonage delivers a multitude of other complementary and stand-alone services and functionalities.  These include:
Contact centers – These are omnichannel contact center services that incorporate speech analytics, workforce management, conversational AI, as well as integrations with some of the most popular CRM and customer databases.
Communications APIs – Vonage focuses greatly on the successful integration of its business communication services with other applications via its Application Programming Interfaces or APIs. In this way, advanced customization and deep integration can be achieved vastly enhancing productivity and efficiency.
Conversational Commerce – This is a feature that can create AI-powered omnichannel experiences that boost sales and increase customer satisfaction
Vonage's Service Summary
Vonage comes from a voice-only background but has successfully moved into the related and neighboring areas of video communications.  Having said that, Vonage has a very advanced set of products that are geared towards sales, customer support, customer management, and the use of AI to enhance the customer experience.  This in combination with its highly integratable Communications APIs makes it ideal for specialized customer service requirements.
RingCentral vs Vonage
This is one of the most "evenly matched" comparisons that I have written in the past few years.  Although they started off with somewhat different backgrounds, these two providers are both excellent in what they offer and are indeed comparable.  For this reason, as we evaluate them, we must look closely at the details of implementation that will make the difference for your business.
Feature set
Both companies deliver a similar set of advanced telephony features such as voice teleconferencing, advanced voicemail features, advanced call handling, music on hold, call history, and call logging features.  Both companies incorporate video calling with their offerings as well.  The truth is the plans of both companies are so phenomenally similar that it has been difficult to find some differences.  Some comments concerning this comparison are found below:
Both support CRM integrations with many of the most popular business applications and software including Hubspot, Office 365, Salesforce, Sugar CRM, Zendesk, and Zoho
Vonage delivers service to customers in over 40 countries and can provide local Direct Inward Dial (DID) numbers from over 96 countries
RingCentral delivers service to over 30 countries and can provide local DID numbers from over the USA, Canada, UK, and RingCentral supports CRM integration for
RingCentral delivers a standalone videoconferencing option called RingCentral Video, something for which Vonage has no counterpart product
Vonage delivers highly sophisticated features including speech analytics, workforce management, and gamification options
The following table contrasts some of the key differences in features
RingCentral
Vonage

24/7 phone and chat support for everyone

Phone support:

Monday to Friday, 8 AM to 12 AM EDT,

Saturday – Sunday 9 AM to 9 PM EDT

with emergency on-call after-hours support. Chatbot support 24/7

Service available in over 30 countries

Service available in over 40 countries

Local DID numbers available in 160 countries

Local DID numbers available in 96 countries

No specialized residential offerings

Delivers separate plans geared more towards residential customers
Customer support
Vonage delivers 24/7 customer support via email, chat, and online case/ticket creation.  Via telephone, they are available from 8 AM to midnight on weekdays, and 9 AM to 9 PM on weekends, but emergency on-call after-hours support is also available.  In addition, the support section of the Vonage website is well put together and helps users find information in articles and tech manuals that can be very helpful.  This includes tutorials, videos, and training to get the most of your Vonage service.
Furthermore, there is an active online community where users exchange tips and ideas with other customers which can be very helpful.
RingCentral delivers unlimited 24/7 customer support via telephone and online chat for all plans except the entry-level Essentials plan, where you must use the RingCentral Support home page.  There have been some isolated reports from users concerning problems where it was difficult to reach a live agent on the phone, and when they did, they were not as knowledgeable as one would expect.
This support home page is very comprehensive, and you can quickly get to the topic you're looking for relatively easily.  Through this support page, and with your credentials, you can open and submit support cases, but you are also able to access the knowledge base that includes articles, manuals, as well as training materials, and webinars. 
RingCentral also has an active online community that users will definitely find useful.
Pricing and plans comparison
RingCentral
RingCentral's pricing for its MVP offering comes in four tiers.  Cost savings can be achieved by choosing annual billing as well as by increasing the number of subscriptions you wish to purchase.  For a single line, the annually billed monthly cost for each of the three tiers is as seen below:

With annual billing enabled, for 100 or more users, these prices go as low as $22.99 per month for the Standard plan, $32.99 per month for the Premium plan, and $43.99 per month for the Ultimate plan.
Vonage
Vonage's pricing for its UC offering comes in three tiers.  However, cost savings can be achieved only with an increase in the number of lines included in the purchase.  There doesn't seem to be any annual billing available for cost savings.  For a single line, the monthly cost for each of the three tiers is as seen below: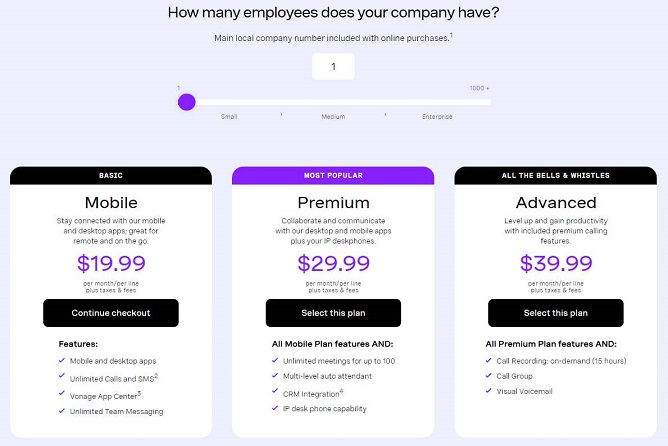 For up to 99 users, these prices go as low as $14.99 for the Mobile plan, $24.99 for the Premium plan, and $34.99 for the Advanced plan.  For a larger number of lines, you are asked to contact sales.  This seems to suggest that lower prices are available for bulk subscriptions.
The truth is that both RingCentral and Vonage are among the most expensive VoIP providers out there, but this is no surprise.  Their value for money is still quite high since they usually outperform most other providers.  Having said that, you can see from the following table that, like their feature sets, their prices are also comparable.  All prices shown are for annual billing where it exists.
| | | |
| --- | --- | --- |
|   | RingCentral | Vonage |
| Tier 1 plan cost | $19.99/ user/ month | $19.99/ user/ month |
| Tier 2 plan cost | $27.99/ user/ month | $29.99/ user/ month |
| Tier 3 plan cost | $34.99/ user/ month | $39.99/ user/ month |
| Tier 4 plan cost | $49.99/ user/ month | – |
| Annual or monthly billing? | Yes | Monthly billing only |
| Annual billing discount? | Yes | No |
| Discount for bulk subscriptions | Yes | Yes, but for over 100 users, you are asked to contact support |
User experience
The most useful information that can be collected about VoIP services often comes from those that have used the services themselves.  The most commonly expressed views of users of both services are listed below:
RingCentral
RingCentral is notoriously easy to set up, configure, use, manage, and troubleshoot.  They've really got the process of product deployment and user ergonomics down to a tee.  Users are onboarded automatically by following an online wizard and are up and running with a new phone number in literally minutes.  Users have also reported that using both the desktop and mobile app is easy and has presented little to no problems.  Even the provisioning of a physical IP phone is relatively painless if they are purchased directly from RingCentral.
Vonage
If we're just looking just at the UC and telephony features of the service, Vonage is typically difficult to beat.  Not only because of its ease of use and reliability, but because of its depth of functions, and the feature-richness it delivers.  Users are reporting that the service just worked "out of the box" and administration, adding phones, and assigning numbers to users was very simple and straightforward. 
Pros and cons
Here is a list of pros and cons for each provider:
RingCentral
Pros

A very long list of specialized telephony features is included in each plan or these can be added individually as add-ons for a small fee, thus providing a highly customized product.
Extremely easy to use, ergonomic, and intuitive in all of its functions, for both end users and administrators
The telephony features offered are innovative and useful and do help improve interaction with callers and customers

Cons

Expensive compared to VoIP providers other than Vonage
Users have reported some problems with live customer support
Vonage
Pros

High-quality and reliable services delivered by a highly experienced VoIP provider
Extreme customization of services including many innovative productivity services
A sophisticated set of APIs deliver a high degree of integration with other business applications as well as with services delivered natively by Vonage
A somewhat more comprehensive, intricate, and advanced set of services, especially when it comes to contact center services

Cons

Expensive compared to VoIP providers other than RingCentral
No financial benefits delivered with longer-term contracts
No standalone videoconferencing option
The final verdict
Although their roots are somewhat different, RingCentral and Vonage are among the most similar VoIP vendors we've compared.  They both have developed into highly desirable business communication service providers, delivering high-quality, highly available, and highly configurable services.  There is very little difference between them.
When making your decision, it may just come down to price or a particular specialized feature that one vendor may have and not the other.  Or it may have to do with the countries that each supports in both location and DID numbers.
Keeping in mind that both of these providers deliver their services to hundreds of thousands of businesses with millions of end-users really does indicate that they are both good and solid choices.  I would recommend either one with confidence.
Pick the one that's right for you