Project management software is no longer just for IT companies working on their next software release. There is a good chance you can benefit from project management software, regardless of your business size, type, or industry,
Automated project management tools are useful for tracking projects of all sizes. Whether managing projects with a few team members and milestones or complex projects with staff in multiple locations, you can simplify your project planning processes with the right project management tool.
How Small Businesses Can Benefit from an Automated Project Management Solution
Stay on top of deliverables and deadlines by implementing project management software. Microsoft Excel spreadsheets are helpful, but emailing the most recent version to coworkers can result in errors and confusion. PM software enables file sharing, is a collaboration tool, supports resource allocation, and more.
PM Software Benefits
Better reporting. No more surprises with a dashboard view of due dates, bottlenecks, and resources. Use Gantt charts and customized reports to give all employees the information they need to do their job.
Increased productivity. Automated workflows eliminate the human element from redundant, tedious tasks, minimize errors, and keep employees focused on their jobs.
Improved collaboration. PM software offers online collaboration tools to let team members work together even when apart. File sharing, automatic notifications, and real-time visibility into data and reports ensure everyone is looking at the same version simultaneously.
Immediate communication. Email status updates new task assignments, updated deliverable dates, etc., with automated triggers and notifications, ensuring everyone on the project stays informed.
Simplified resource allocation. Assigning tasks is simplified with quick views into projects and resources. Monitor employee availability and capacity, manage workloads, delegate tasks, and maximize utilization with the right PM tool.
Features to Look for in Project Management Software
Whether you use Agile PM methodology and have a scrum master who manages work sprints or you manage marketing campaigns, you want a product that fits your needs. Look for PM software with some of the following usability features:
Clear, useful visuals with easy-to-read dashboards, timelines, and ready-to-use reports.
Mobile app accessible to iOS and Android
Short learning curve offering an easy-to-use drag and drop functionality, customer support, and online help.
A user-friendly user interface that is straightforward and easy to understand for all levels and skillsets.
Six Project Management Software Products for Small Businesses
We've rounded up a list of the top six PM software products with the most popular features for small businesses. Many offer free plans and limited trial periods so you can test them without worrying about pricing. Advanced features are available with higher-level plans.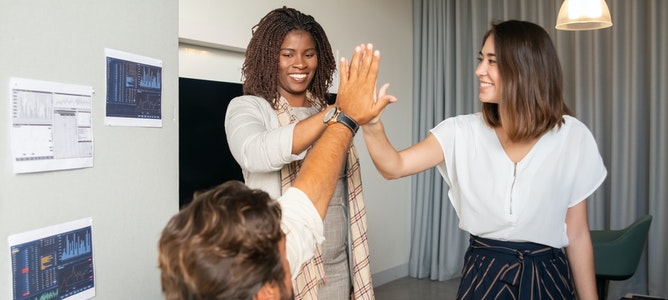 Photo by Kampus Production, Pexels
Asana
Asana features easy-to-use tools to quickly set up individualized project views, simple task assignment and organization, and intuitive reports and views. Useful across all company operations, including managing marketing campaigns, Asana makes it easy to create agile product roadmaps and communicate and collaborate with remote teams.
Clarizen
Clarizen offers a centralized approach to communication, task management, and scheduling and combines the best of project management and work management tools. Clarizen's intuitive UI and ready-made templates make it easy for small teams to get up and running with little support.
Monday
Monday is considered by many to be the best comprehensive PM tool. Monday is affordable and versatile and is known for its easy startup, extensive customization options, and multiple visualization options, including calendars, charts, files, roadmaps, and timelines.
Smartsheet
An award-winning project and portfolio management tool, Smartsheet provides a robust dashboard and a variety of views and reports for easy management of plans, resources, and schedules. Smartsheet includes team collaboration, content management, digital asset management, and easy integration with your company's tech stack.
Teamwork
Teamwork is an all-in-one project management platform ideal for small teams. Set up projects, assign tasks, collaborate, and track time in one place. Teamwork easily integrates with CRM, offers real-time views of budget and profitability, and uses Kanban boards for quick project status overviews.
Wrike
Wrike is an excellent Monday.com alternative. It seamlessly integrates with other products, syncs with Jira, and its API makes it easier to develop apps that work with Wrike. Wrike boasts one-click reporting, an interactive Gantt chart view, custom workflows, a real-time view of project schedules, and a customizable dashboard.
Project Management Solutions Right for You
Find out more about these and other PM products with Sonary's project management software comparison information.
For more information about project management best practices see our Learning Hub.