Intro
The COVID-19 pandemic has had a profound impact on how people work. Upwork data found around 25% of Americans worked remotely in 2021, and by 2025, it suggests that around 36.2 million Americans will work from home.
With so many people working from home, there has been a dramatic increase in the demand for remote working tools. This is especially true for video conferencing software, which has seen immense success in the last two years.
We will dive into 100 video conferencing key statistics and facts, and learn about 7 new trends for 2022 and beyond.
Market Size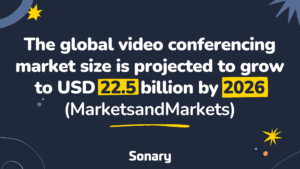 How much growth has the market seen? Below are some key statistics and facts on the video conferencing market size that may give you an idea:
The video conferencing market is worth $4.66 billion. (Grand View Research)
The global video conferencing market size is projected to grow to USD 22.5 billion by 2026. (MarketsandMarkets)
North America is expected to be the world's largest market for video conferencing Solution throughout the forecast period. (MarketsandMarkets)
The North American video conferencing market held a revenue share of approximately 39.0% in 2021 due to the higher adoption rate in the region. (Grand View Research)
The Asia Pacific market for video conferencing is expected to witness a CAGR of over 14.0% through 2030 with the adoption of new work styles across regional businesses. (Grand View Research
The corporate segment dominated the market by acquiring a revenue share of over 28% in 2021. (Grand View Research)
Zoom Statistics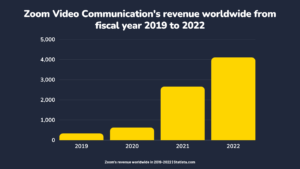 Zoom is undoubtedly one of the world's most popular video conferencing platforms. Zoom had a decent launch when it was first founded in 2011, however, its popularity has exploded ever since the beginning of the COVID-19 pandemic in 2020. When most major companies adopted remote work setups, Zoom was perfectly positioned to empower remote teams worldwide. Although the pandemic has begun to ease in some areas, the work-from-home trend is still rising. Since Zoom has become a major player in the video conferencing space, it's worth taking a look at how much of an impact they've made in recent years and where they stand today. Below are a few statistics that cover Zoom's growth and success as a video conferencing platform:
Zoom recorded 39.34 million downloads in Q1 2021 in the Asia-Pacific region. (Statista)
Zoom made $1.021 billion in July 2021. (Backlinko, G2)
Zoom has 2,278 business customers each contributing over $100,000 per year. (Backlinko)
Zoom has 467,100 paying customers that have more than 10 employees. (Zoom)
Zoom has 88 customers contributing more than $1 million in annual revenue as of Q2 of FY 2021. (Matthew Woodward)
Zoom Phone is the second biggest product for Zoom. (Matthew Woodward)
Zoom Phone launched back in 2019 and Zoom has since sold over 1 million phone seats across 44 countries. (Zoom)
The number of meeting minutes Zoom facilitates every year is now over 3.3 trillion. (Matthew Woodward)
Zoom was one of the fastest growing apps of the pandemic; meeting participants increased by 2900%. (Business of Apps)
Zoom rapidly increased its revenue over the past two years, growing by 319% in 2020 and 53% in 2021. (Business of Apps)
Work From Home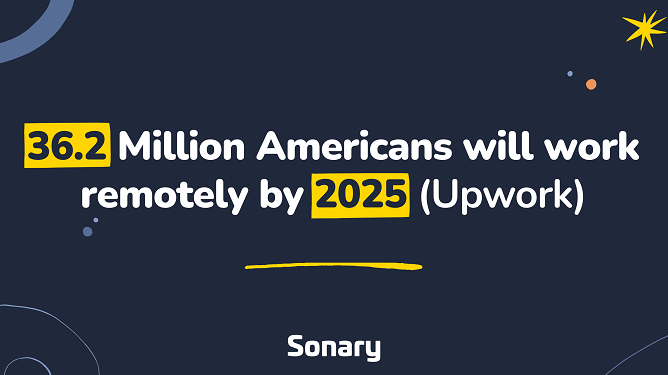 The work environment landscape has changed dramatically since the pandemic. A study conducted by Mercer found that 70% of companies said they were planning to adopt the hybrid model. The major chunk of the workforce was able to see the benefits of working from home, and for companies that seek to attract the best talent, they must at least accommodate those seeking remote work. Between March and April 2021, a FlexJobs survey found that 58% of respondents would "'absolutely' look for a new job if they cannot continue remote work." Video conferencing tools were rapidly adopted among other tools that empower remote teams. Below are a few statistics that reflect how working from home has impacted employees:
Video conferencing cuts travel costs by 30%. (Finances Online)
55% of companies allow for remote work. (Hubspot)
30% of employees are full-time remote workers. (Hubspot)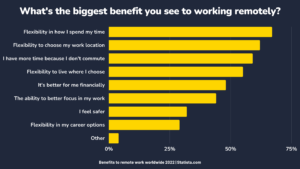 77% of remote workers report higher productivity levels when working from home. (Hubspot)
74% of employees say that they are less likely to leave a company that offers remote work. (Hubspot)
83% of the workforce say because they can work from home, they have increased job satisfaction. (Hubspot)
55% of businesses say video conferencing effectively increases employee engagement. (GetVOIP)
78% of employees say they use web conferencing tools for team meetings. (GetVOIP)
45% of teams use video calling tools daily or weekly. (GetVOIP)
87% of team members say video calling has helped to speed up the decision-making process. (GetVOIP)
Covid-19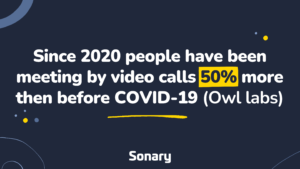 The COVID-19 pandemic pushed abrupt closures of many offices and workplaces worldwide. Which ushered in a new era of remote work for millions of employees across the globe. In fact, six out of ten workers reported being more productive than they expected throughout the pandemic and 70% of respondents felt that remote work would have a positive impact on their mental health according to this study. Below are a few statistics that reflect how COVID-19 has changed the way we work: 
30% of organizations started using web conferencing for the first time due to Covid 19. (Finances Online)
Since 2020 people have been meeting by video calls 50% more since COVID-19. (Owl Labs)
After COVID-19 92% of people surveyed expected to work from home at least 1 day per week and 80% expected to work at least 3 days from home per week. (Owl Labs)
4% of Americans worked from home before the COVID-19 pandemic. (Earth Web)
81% of those surveyed believe their employer will continue to support remote work after COVID-19. (Owl Labs)
Due to COVID-19, 61.9% of companies are planning more remote work now and in the following years to come. (Upwork)
In Japan, 65% of events will offer in-person and video conferencing options while in the UK 39% of events will offer in-person and video conferencing options after COVID-19. (Statista)
88% of Businesses Encouraged Their Employees to Work from Home After the Pandemic Was Declared. (Earth Web)
25% of Companies Will Move 10% of Their Workforce to Permanent Working-From-Home Positions After Covid. (Earth Web)
86% of Businesses Have Implemented a Covid-Related Policy. (Earth Web)
Software Spending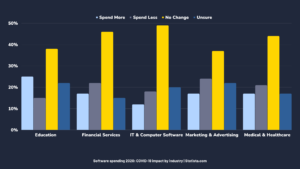 The software industry has been a significant contributor to our ability to work remotely and collaborate with other teams online. Companies are rapidly adopting software systems to provide ideal remote and hybrid work environments for their workforce. Below are some key statistics on the state of software spending and where we can see it going in the future:
Worldwide IT spending is projected to total $4.4 trillion in 2022, an increase of 4% from 2021. (Gartner)
The two fastest-growing categories of technology spending in 2022 are software and IT services. (Gartner)
More than 667,600 IT jobs will be added between 2020 and 2030. (US Bureau of Labor Statistics)
Spending on data center systems will hit $207 billion, representing a 5.8% year-over-year increase. (Gartner)
Enterprise software is projected to have the highest growth rate in 2022, at 11.5%. (Gartner)
Communication services will see the slowest overall growth rate for 2022 compared to 2021, but it still sits at the number one spot for the largest total spending levels next year at $1.48 trillion. (BMC)
Worldwide end-user spending on public cloud services is forecast to grow 20.4% in 2022 to a total of $494.7 billion. (Gartner)
Software-as-a-service (SaaS) remains the largest public cloud services market segment and is expected to reach $176.6 billion in end-user spending in 2022. (Gartner)
In Q1 2022 alone, Public Cloud Ecosystem Quarterly Revenues Leap 26% to $126 Billion. (Synergy Research Group)
In Q1 2022, the biggest growth driver in the public cloud ecosystem came from infrastructure which grew by 36% to reach over $44 billion. (Synergy Research Group) 
Conferencing Equipment Market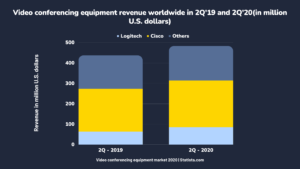 The global video conferencing equipment market was estimated to exceed US$3 billion in 2019. The market has witnessed an annual growth rate from 5.9% in 2019 up to 10.5% in 2020. The global video conferencing market as a whole is expected to reach 9.95 billion in value by 2028 with a CAGR of 11.4% according to market prospects. Below are some key statistics and facts about conferencing equipment:
Video conferencing stats show that the hardware segment led with a revenue share of 47%. (Grand View Research)
Video Conferencing Hardware is expected to Ship 3.6 Million Units in 2022. (Future Source)
By 2023, the annual video conferencing units and seat license shipments will reach 86.7 million. (CIsion PR Newswire)
The global video conferencing equipment market was dominated by Cisco in 2020. (Statista)
In March 2020, video conferencing apps on Android and iOS hit a record of 62 million downloads in a week. (TechCrunch)
77% of people have used desktop computers or laptops to access video calls. (TMC Net)
34% of people have used dedicated conference room equipment to attend a virtual meeting. (TMC Net)
31% of people have used a mobile phone to access video calls. (TMC Net)
13% of people have used tablets to connect to video calls. (TMC Net)
During COVID-19, 86% of organizations used virtual technology to interview potential candidates. (Gartner)
Market Share Winners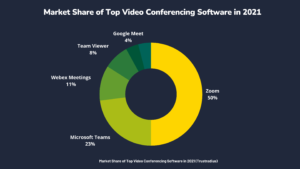 According to Markets and Markets, APAC is estimated to hold the largest market share in video conferencing in 2021. China, Japan, and India are the major countries contributing to the growth of the video conferencing market in APAC. The infrastructural growth in APAC, especially in Japan, South Korea, Australia, Singapore, China, and India, and the increasing deployment of 5G networks present opportunities for the video conferencing market. 
In 2021, Zoom dominated the video conferencing market share with 50% of the total market share. (TrustRadius)
In 2021, Microsoft Teams obtained 23% of the video conferencing market share. (TrustRadius)
In 2021, Webex obtained 11% of the video conferencing market share. (TrustRadius)
In 2021, TeamViewer obtained 8% of the video conferencing market share. (TrustRadius)
In 2021, Google Meet obtained 4% of the video conferencing market share. (TrustRadius)
The remaining 4% of the video conferencing market share was obtained by multiple smaller vendors. (TrustRadius)
Microsoft Teams was the most compared product to Zoom throughout 2021. (TrustRadius)
Webex was the second most compared product to Zoom throughout 2021. (TrustRadius)
Remote Work Winners
Gartner attributes the increase in spending to the continued growth of the web conferencing market, which it estimates will reach $3.4 billion by 2020. The firm believes businesses are increasingly turning to web conferencing to improve communication and collaboration among employees. Below are some of the key software spending statistics:
67% of businesses have increased spending on web conferencing software – the largest increase in remote tool spending. (Exploding Topics)
57% of businesses have increased spending on collaboration tools. (Exploding Topics)
52% of businesses have increased spending on remote desktop tools. (Exploding Topics)
41% of businesses have increased spending on security software. (Exploding Topics)
23% of businesses have increased spending on learning management software. (Exploding Topics)
14% of businesses have increased spending on time-tracking tools. (Exploding Topics)
11% of businesses have increased spending on telemedicine. (Exploding Topics)
11% of businesses have increased spending on tools listed as "other". (Exploding Topics)
Software from Microsoft and Google currently dominate the productivity software market. (Exploding Topics)

Microsoft Office 365 has a 53.95% market share. (Exploding Topics)Software from Microsoft and Google currently dominate the productivity software market. (Exploding Topics)
Google Apps currently has a 41.46% market share. (Exploding Topics)
Software Statistics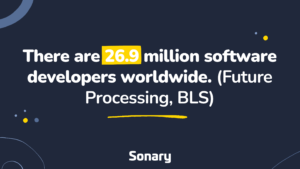 The software sector has seen incredible growth in recent years. This is due to the increasing demand for software applications and the advancement in technology. The software sector is expected to continue growing at a rapid pace. Below are some key software statistics and facts:
There are 26.9 million software developers worldwide. (Future Processing, BLS)
Nearly 70% of developers used Javascript in the past 12 months. (Statista, Developer Tech)
The global software development market size was valued at 429.59 billion in 2021 and is expected to expand at a CAGR of 11.7% from 2022 to 2030. (Grand View Research)
61% of software developers use Windows OS and 47% use Linux. (Statista)
The SaaS industry has increased in size by around 500% over the past seven years. (Information Services Group)
SaaS industry value is set to increase by over 2x by 2025. (Reply)
The AI market will grow to a $190 billion industry by 2025. (MarketsandMarkets)
The global value of the low-code development platform market is projected to be $46.4 billion by 2026. (Globe Newswire)
Organizations with more than 1,000 employees use 150+ SaaS applications. (BetterCloud)
Video Conferencing News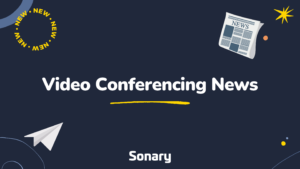 With so much going on within the industry, it's easy to miss some of the top headlines that are driving innovation within the video conferencing space. In case you missed any, below are some notable video conferencing news so far in 2022:
Zoom, Microsoft Team up for VR Video Conferencing
Zoom and Microsoft Teams announced a partnership enabling their customers to receive cross-platform video calls and share meeting information between the two services without the need for extra licenses or third-party assistance. Additionally, the updates will include developments toward artificial intelligence and virtual reality features to enhance video conferencing on both Zoom and Teams.
Ford is turning its EVs into video conference rooms with help from Cisco
Ford announced a new partnership with Cisco, makers of Webex video conferencing software, to turn its Ford F-150 Lightning into an office space. Darren Palmer, Vice President, Ford Electric Vehicle Programs, stated, "Ford is excited to be collaborating with Webex by Cisco for next-gen experiences in our electric vehicles, we see Webex as providing a secure and immersive collaboration experience." The feature will only be available for use when the vehicle is stationary and will have features that will suppress sound from others in the vehicle.
Microsoft, Cisco, Zoom pledge conference room compatibility
Microsoft, Cisco, and Zoom said they would improve interoperability among their products (Microsoft Teams, Cisco Webex, and Zoom) to allow users to join meetings with their choice of video conferencing software. The initiative aims to provide a simple way to use one device to hold video calls on various video conferencing software. While critics are skeptical this will be achieved.
Google Hangouts is shutting down in November 2022
Google announced that it will be sunsetting its Google Hangouts application. Google Hangouts offered messaging, voice call, and video call services. Google is beginning to migrate Google Hangouts users into Google Chat. The Google Hangouts desktop site will be available for use until November 2022. The company plans to give users at least a one-month notice then afterward, the site will point to the Google Chat site. All user data from Google Hangouts will be migrated into Google Chat.
You Can Now Join Video Calls from Google Docs, Sheets & Slides
Google has made updates to make it possible to join Google Meet video calls from other Google productivity apps such as Google Docs, Google Sheets, and Google Slides, allowing for a smoother user experience when operating the workspace. When users are using Google Workspace to work on a file together, they can easily make a video call to colleagues on the same document instead of having to switch to a third-party video conferencing app such as Zoom.
LinkedIn is taking on Zoom with a new virtual events platform
LinkedIn is developing a new virtual events platform that offers audio and video calls. This development comes as an effort for LinkedIn to have users spend more time on their professional social networking site. The update will allow meeting organizers and event planners to list, host and market interactive virtual events.
Zoom launches AI tool for sales departments
Zoom built an AI tool that collects information from video conference transcripts and helps analyze calls in efforts to assist sales teams to close more deals. The product update, called Zoom IQ for Sales, provides sales teams with trends and action items from video calls with customers and provides AI-driven recommendations on the next steps. The product uses machine learning models to make suggestions based on customer questions during sales calls. It will also provide insight into if salespeople are speaking too quickly or using too many filler words during client calls. The update can also pull insight from CRM systems for ongoing negotiations.
Microsoft: We've halved the power used by Teams video meetings to save your PC
Microsoft has made updates to Microsoft Teams that will create more equitable experiences for devices of all qualities. Both low-end and high-end devices will be able to receive similar qualities when using the Microsoft Teams application. The updates include improved camera-related optimizations to reduce the load on the CPU as well as improved GPU usage in video conference calls, in particular where meetings have over 10 users. This update comes in an effort for Microsoft Teams to stand out from the competition where performance is a key indicator in the video conferencing space.
Google Meet Rolls Out Live Translations
Google has started rolling out live translations during video calls in its Google Meet applications. The update provides a feature that automatically translates English speech to Spanish, French, German, or Portuguese through captions that can be displayed at the bottom of the screen during a Google Meet video meeting. Google states it has made these live translations available to a limited number of Workspace customers in early January and that it will release the feature to all users shortly afterward.
Zoom takes its video service to the contact center
Zoom announced a new contact center-as-a-service product that provides video calling to companies seeking to offer their customers more visual interactions. The product also offers voice calls, text messaging, and web chat. Zoom is planning to update its contact center offerings with integrations for workforce management, electronic health records, and CRM software. 
7 New Trends for 2022 & Beyond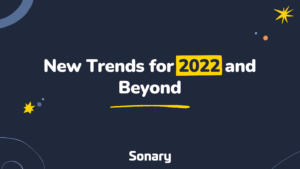 Video conferencing technology has come a long way in recent years. High-definition cameras and microphones, along with better internet speeds, have made video conferencing a more viable option for businesses and individuals. There are a few trends that are worth noting when it comes to video conferencing technology. Below are a few video conferencing technology trends to be aware of as we move forward into 2022 and beyond:
#1 Cloud Technology
Cloud technology usage has been increasing and is a significant trend in video conferencing software. Cloud-based video conferencing provides more convenience for users such as accessibility for mobile work, incorporating database functionality for uploading and accessing files, and allowing real-time updates to tasks and projects. Additionally, cloud-based video conferencing is easy to implement, can save on costs, and increases productivity for remote teams. Lastly, cloud-based video conferencing software can be accessed by any device, such as a laptop, phone, or tablet simply through a web browser or application.
#2 Artificial Intelligence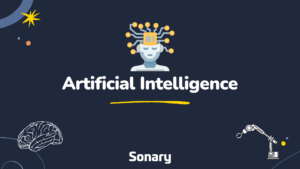 Artificial intelligence (AI) and machine learning in video conferencing is a new technology trend that has risen recently. It is used to optimize connections, video compression, audio quality, and more for an improved user experience. AI is improving video compression by optimizing the algorithm to identify the areas that require improved resolutions. Additional improvements to video include virtual backgrounds that allow users to blur their backgrounds and focus on the participant. AI is enhancing audio quality by improving voice recognition and identifying background noise to suppress it. These are just a few of the many improvements that AI is making.
#3 Productivity Enhancements
Nowadays, products are improving to increase productivity for remote teams. In the older days of video conferencing, technology was difficult to use, expensive and unreliable. Today video conferencing has been optimized to enhance productivity during meetings. This includes features such as transcriptions, which will write down everything users say during the call and can easily be accessible afterward. File sharing allows users to share documents live on a call to allow for quicker reviews and feedback on certain files. Additionally, integrations that will connect all your essential apps and with AI can update all your systems from one video call. Video conferencing has evolved to not only talking about a project but to getting projects done.
#4 Hybrid Events
Since the start of the pandemic, most companies have been migrating to online-only events. But since the pandemic has been easing, some companies are becoming more comfortable with hosting not just in-person meetings, but hybrid events as well. In fact, in Japan, 65% of events will offer in-person and video conferencing options while in the UK 39% of events will offer in-person and video conferencing options after COVID-19. (Statista). Hybrid events are becoming a trend in work and allow for more attendance since the events will be easily accessible online as well and won't require a trip to the destination.
#5 Security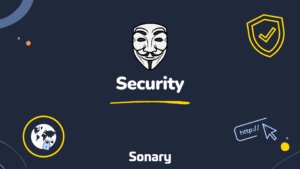 Since many of these video conferencing software requires just a link to join, it's easy for that one link to be compromised if sent to the wrong person. Security features such as encryption ensure that users don't only need a link to access a call, but may also need a specific password or email address to access the video conference. If you're on a company call that is sharing sensitive information or sharing confidential files on the app, it comes as no surprise that security is top of mind for many companies using these video conferencing products. 
#6 Live Video Editing
When on a live video call, ensuring the presentation is visually appealing has been a rising trend. Providing production effects such as virtual backgrounds and readily available recordings is attracting many users to certain platforms. Additionally, enterprises that have large workforces may not always have a 100% attendance rate when holding company-wide calls. Video conferencing products will include a readily available recording afterward such as a quick and simple intro and outro to the video as well as any editing features to cut out unnecessary parts. This trend has become more popular since it ensures all invitees can absorb the content without having to join these calls live.
#7 Live Translations
Live translations during a video call are in the early stages of its trend. Multinational corporations that have offices in multiple countries will benefit from live translations in video conferencing calls. Companies like Google have begun rolling out live translations during their video conferencing calls to ensure that teams from all over the world can understand the contents of the meeting in any language they prefer. Some platforms are also allowing for live interpreter options to provide interpretations live instead of relying on AI to do all the translations. Video conferences that provide accessibility for users that understand different languages will be a significant trend in the coming years.
Trends provide a great overview of where certain industries are heading. Regardless of which video conferencing software you are using, chances are you're seeing your vendor adopt at least one of the above trends. As of today, the above trends seem to be driving the development of video conferencing software and customers are excited to see how these enhancements evolve throughout the rest of 2022 and beyond.
Conclusion 
Video conferencing is a key technology for businesses of all sizes. It can save time and money while also improving communication and collaboration. The above statistics clearly show the current and upcoming state of the global video conferencing technology and how they are positively impacting business operations across industries and geographic locations. While video conferencing has become more established and has presented clear market leaders, moving forward we should take note of the innovations happening in the space that will further change the way we work. As a business leader, acknowledging how these technologies are changing the workplace and implementing them in your operations may attract better talent and grant a competitive edge.
Sources
Global Video Conferencing Equipment Market – Industry Reports (researchreportsworld.com)
Video Conferencing Statistics – TrueList 2022
The State of Video Conferencing in 2022 (getvoip.com)
Video Conferencing Market Size, Share | 2022 – 2026 | MarketsandMarkets
COVID-19 Software Industry Statistics (trustradius.com)
20 Astonishing Video Conferencing Statistics for 2021 (digitalintheround.com)
https://investors.zoom.us/sec-filings
Zoom User Statistics: How Many People Use Zoom In 2022?
Zoom Reaches 1 Million Zoom Phone Seats
Zoom Revenue and Usage Statistics (2022)
Video Conferencing Market Size, Share & Trends Analysis Report By Component (Hardware, Software), By Deployment (On-premise, Cloud), By Enterprise Size, By Application, By End-use, By Region, And Segment Forecasts, 2022 – 2030
STATISTICS ON REMOTE WORKERS THAT WILL SURPRISE YOU (2022)
REMOTE WORK STATISTICS 2022: HOW MANY PEOPLE WORK FROM HOME DURING COVID?
Gartner Forecasts Worldwide IT Spending to Reach $4.4 Trillion in 2022
Computer and Information Technology Occupations
Public Cloud Ecosystem Quarterly Revenues Leap 26% to $126 Billion in Q1
Video Conferencing Hardware to Ship 3.6 Million Units in 2022
Fascinating Remote Work Statistics (2022)
Managed Services & As-a-Service Market Insights
REPLY MARKET RESEARCH HUB: FROM CLOUD TO EDGE
Artificial Intelligence Market by Offering (Hardware, Software, Services), Technology (Machine Learning, Natural Language Processing), Deployment Mode, Organization Size, Business Function (Law, Security), Vertical, and Region (2022 – 2026)
The Global Low-Code Development Platform Market size is expected to reach $46.4 billion by 2026, rising at a market growth of 25% CAGR during the forecast period
Statistics
Video conferencing market value worldwide 2026 | Statista
Digitalization of the meetings industry – statistics & facts | Statista
Software spending 2020: COVID-19 impact by industry | Statista
Video conferencing equipment market 2020 | Statista
Global video conferencing technology share 2020 | Statista
Video conferencing market value North America 2026 | Statista
New work virtual meeting challenges worldwide 2021 | Statista
Events: in-person vs. online after COVID-19 worldwide 2021 | Statista
Zoom's revenue worldwide in 2019-2022 | Statista