The 5 Best Accounting Software Programs of 2023
The demand for comprehensive accounting software solutions is more noticeable among small-to-medium-sized businesses (SMBs) today than it has ever been.
As SMBs grow, leveraging a tool that allows them to manage their accounting transactions is instrumental in enabling them to scale their workflow processes and measure their financial health.
82% of unsuccessful small businesses cite cash flow challenges as the primary reason for their failure. 
The stats are revealing. According to data shared by Statista, 38% of startup failures are attributed to poor management of company funds as well as an inability to raise sufficient capital. Fundera further compounds this claim by reporting that a staggering 82% of unsuccessful small businesses cite cash flow challenges as the primary reason for their failure.
If you operate a business based on an invoicing system, for example, and your invoices aren't paid until after your loan payments are due, you might end up with a cash flow problem.
In light of reports that document the multitude of financial issues SMBs face, company executives are all scrambling to find finance software for small businesses that provides easier accounting solutions to the complex challenges of modern-day SMB financial reporting.
This article breaks down the key ways in which execs stand to benefit from acquiring the right accounting software to manage their small business as well as examples of Software as a Service (SaaS) tools that are revolutionizing how SMBs handle their accounting operations today.
Let's dive in.
What is accounting software?
Accounting software is a computer program or system used to record and analyze financial transactions within an organization. It automates many of the manual processes involved in traditional accounting, such as recording transactions, creating financial statements, and generating reports.
Accounting software can be used by businesses of all sizes, from small startups to large corporations, to manage their financial records and make informed financial decisions. Some common features of accounting software include the ability to create invoices, track expenses, manage accounts payable and receivable, and generate financial reports.
Accounting Software for Small Businesses: Benefits
SMBs that empower themselves with the right tools maximize their chances for growth while also reducing the likelihood of premature stagnation.
Cloud-based accounting software for small businesses  is one such tool that enables company executives to gauge the state of their business's accounts and inform future financial decisions they make for their company.
Here are some of the main benefits that SMBs enjoy when they've secured the best online small business accounting software that aligns with their specific needs:
Automate Manual Accounting Processes
Small-to-medium-sized business leaders who leverage SaaS accounting tools tap into financial automation solutions that help reduce time spent executing manual account  and invoice processes.
While managing an SMB's finances is not as laborious a task as it is to manage that of a Fortune 500 company, it is still a complex, demanding process that involves several variables.
There are multiple financial transactions that SMBs conduct and document regularly. These include:
Incurred expenses
Supplier payments
Advertisement costs
Customer payments
Operational expenses
Payroll/staff payments
Business licenses/insurance policies
Tax payments
While accountability is critical to a business's success, manually keeping track of an SMB's account-related transactions is a time-consuming, monotonous activity. Moreover, manual data entry increases the chances of human accounting and bookkeeping errors which may spell disaster for a company's financial accountability.
However, SaaS accounting solutions enable you to reduce the time spent manually recording business transactions by allowing you to automate key accounting tasks. In fact, data from Go Remotely shows that accounting software helps businesses to automate as much as 75% of their financial tasks.
The US accounting services statistics show that almost 75% of accounting tasks can be automated by using the software.
By implementing computerized automated processes, not only do you reduce the occurrence of human accounting errors, but you also free up time that you and your team can invest in other areas of your business that require greater attention.
Comprehensive Reporting and Data Visualization Tools
Finance software for small businesses also equips business executives with tools that facilitate holistic data collection, reporting, and visualization related to their business's finances.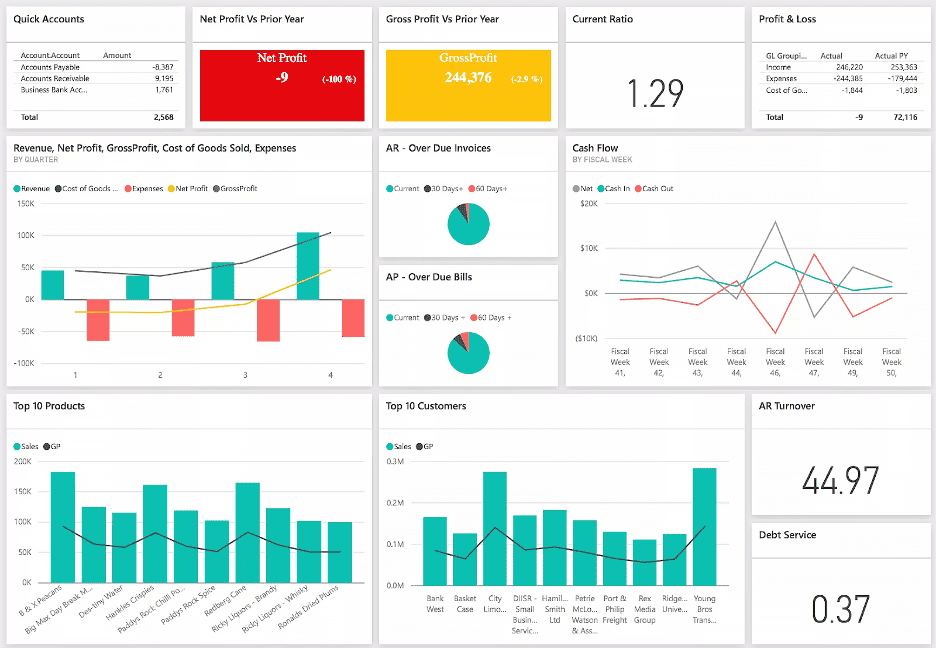 Source: Visme
The best way for an SMB to truly determine the state of its finances is to access accounting records that it has recorded to conduct financial analyses. Manually pulling up a business's data and organizing it into reports is a taxing process that may result in false data analyses due to human error.
SaaS accounting tools solve this problem by providing features that allow businesses to create systematic reports and customizable dashboards that collect and visualize various types of data that influence a company's financial wellness, all with the click of a button.
Companies that use software programs to collect, visualize, and analyze financial data in one place avoid the hassle of having to constantly download financial statements from various sources only to upload them one by one to their main program. Instead, having everything interconnected within a single software program makes it easier to pull up more accurate accounting information and reconcile discrepancies that may crop up in a business's finances.
All in all, these reports and dashboards go a long way in aiding an SMB to:
Keep track of its cash flow
Obtain key insights into its spending habits
Determine profit and loss margins
Expense tracking and categorization
Sync bank account and credit card payments for easier reconciliation
Reduce Tax Liability
Businesses must record all transactions that it handles for tax purposes. Failure to correctly keep track of its financial transactions or produce them when asked by tax authorities can land your company in hot water.
Not only do you risk getting a heavy sanction from your local tax authorities for non-compliance with tax laws, but you also jeopardize your company's ability to continue operating.
These software programs help SMBs minimize the chances of harsh penalties by providing them with data collection and visualization features that make for easier accounting.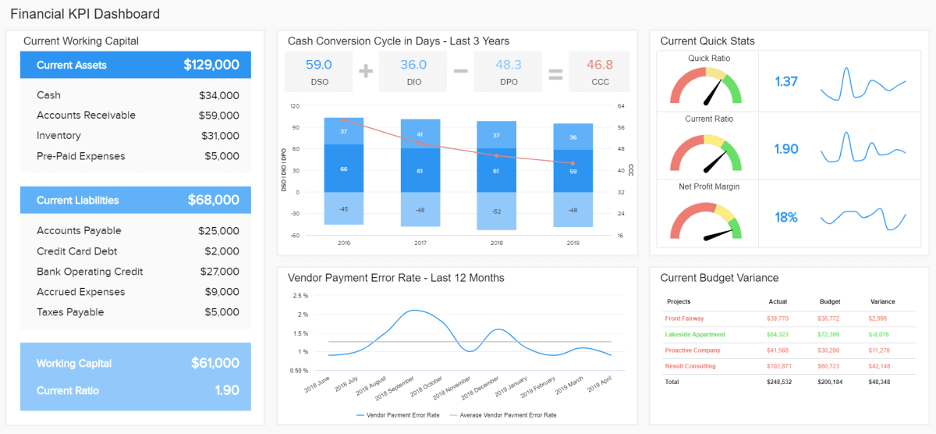 Source: DataPine
On one hand, the ability to track all financial transactions, record them using easy-to-use cloud technology, and visualize them with just the tap of an icon makes it easy to store and access your financial data when needed. This is especially true when tax authorities decide to conduct spontaneous audits of your company.
On the other hand, having easy access to financial documents that are constantly updated as your business grows ensures that the information you include in your tax and sales forms is in keeping with your company's latest transactions.
5 Easy-to-Use SMB Accounting Software
Not all accounting software for small businesses is made equal.
There is no one-stop solution that fits the demands of every single SMB. Ultimately, the software program you choose must have the features and functionalities that allow you to build greater transparency in your company's financial transactions and nail your accounting processes.
That said, there are programs that stand out from the rest for their features, interface, and compatibility with most SMB accounting needs.
Here are five of the best accounting software to manage small businesses:
Quickbooks
Intuit Quickbooks, also known as Quickbooks Online, is one of the most popular and widely used accounting software programs among SMBs today. Favored for its user-friendly interface, QuickBooks offers a multipurpose cloud-based suite, specifically targeted towards SMBs, that provides them with wall-to-wall finance management coverage on solutions related to invoicing, expenses, and reports.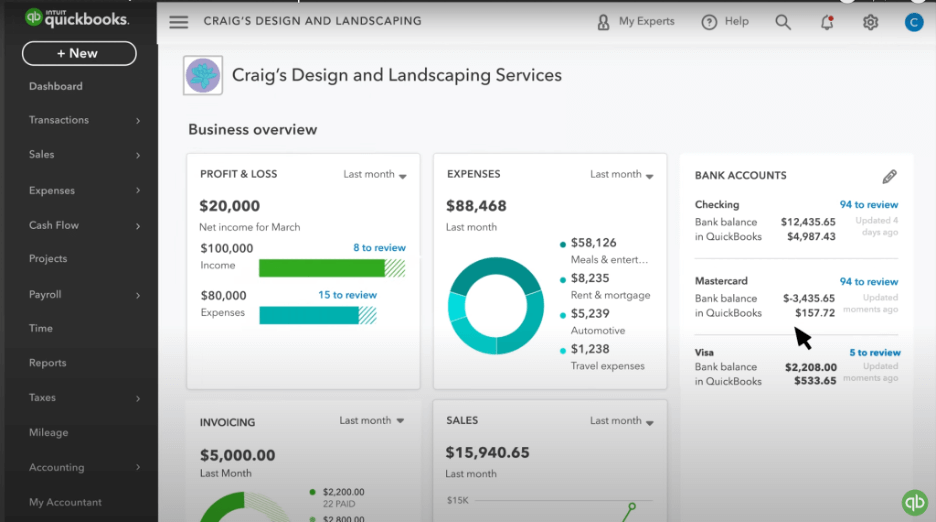 Credits: QuickBooks
Intuit Quickbooks Online offers SMBs a tiered pricing subscription system consisting of three unique payment plans, features, and options depending on your business's needs. From the standpoint of a business executive, this helps to reduce the learning curve seen in other applications purchased through a flat rate or usage pricing business model. In both cases, users have access to all features and functions available in an application, which can be overwhelming from a UX perspective, especially if the user does not need all of those features. Tiered pricing subscription systems, on the other hand, help promote a positive user experience since the program's use is limited to the options that you selected upon signing up.
It's also important to note that Quickbooks Online is built with an intuitive feel that enables you to scale your finance processes as your SMB grows. For example, simply upgrading to a new subscription plan allows you to increase the number of users who have access to your company's financial data. This is important as your company scales and more people end up needing access to your company's accounts.
While some business executives do experience occasional issues syncing credit cards with bank accounts depending on their country, QuickBooks Online does provide some of the most comprehensive, easy-to-navigate solutions among software accounting programs today.
Freshbooks
Freshbooks is a popular SaaS accounting platform designed to provide easy-to-use bookkeeping and accounting solutions for SMBs. Known for its sleek user interface and for supporting 100+ integrations, Freshbooks simplifies the challenge of using accounting software for business executives while also helping you to streamline transactional operations, collaborate with multiple team members, time tracking, and gain better insight into your company's financial performance.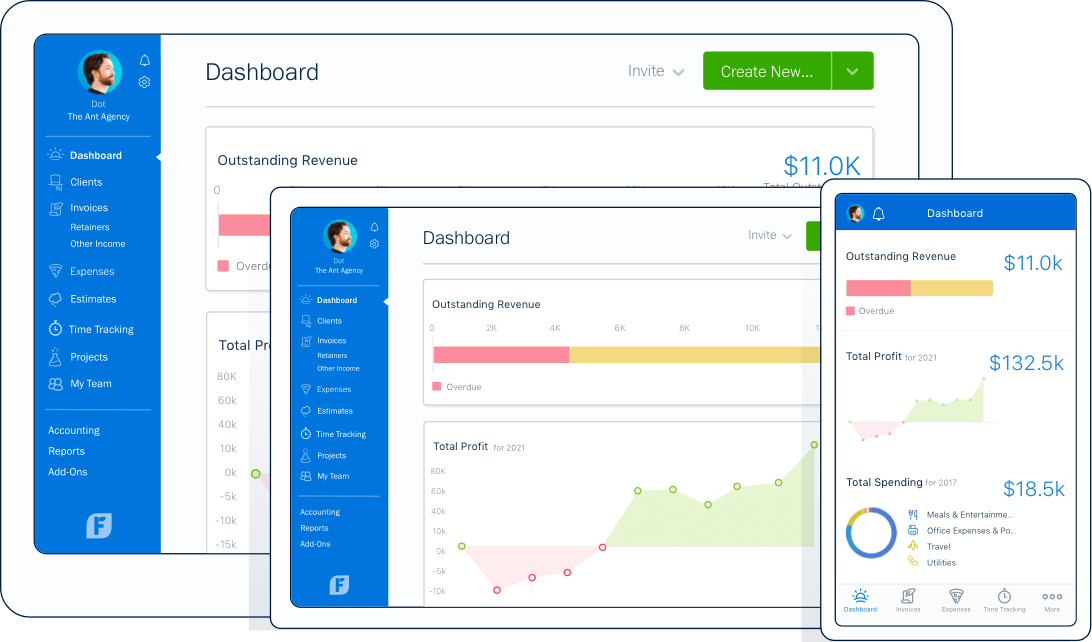 Credits: Freshbooks
Similar to Quickbooks, Freshbooks optimizes the user experience by adopting a tiered pricing subscription system consisting of four different payment plans, each one offering its own suite of features and functions. This, in turn, does allow some room for SMBs to scale operations as they grow since by simply upgrading their subscription plan, they gain access to a wider range of financial management features and add-ons.
That said, compared to Quickbooks Online, Freshbooks lacks an inventory management system as well as a built-in payroll service. What's more, a user does not have the option to access quarterly tax estimates. This leads some users to categorize the platform as one that is more suited to independent contractors and freelancers as opposed to small  businesses that are scaling quickly.
That said, Freshbooks does provide a wide range of features across its 4-part tiered pricing system that help all SMBs scale their processes. It is up to you as a business owner to determine which features best align with your specific needs and choose the right plan based on that.
Melio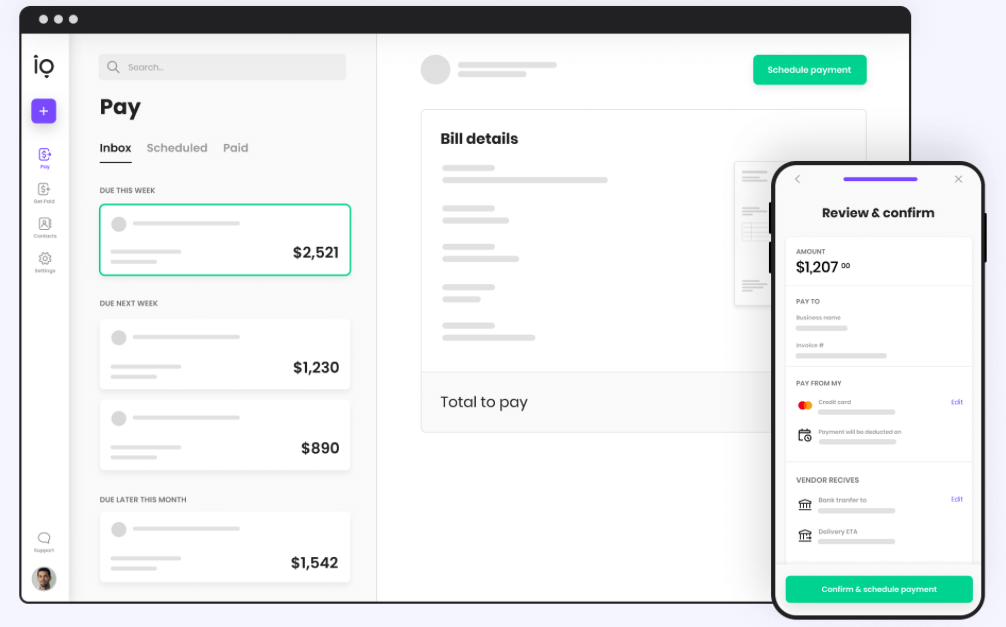 Credits: Melio
Melio is a cloud-based small business accounting software. It offers a range of features to help business owners manage their finances, including the ability to create invoices, track time and  expenses, and manage accounts payable and receivable. Some highlighted features of Melio include its ability to integrate with popular payment  processing platforms such as PayPal and Stripe, and its ability to automatically categorize and reconcile transactions. Melio also offers a mobile app for iOS and Android devices, allowing users to manage their finances on the go.
In terms of pricing, Melio offers a free plan that includes basic accounting features such as expense tracking and invoicing. The paid plans start at $15 per month and offer additional features such as multi-currency support and the ability to connect to more than one bank account. Melio also offers a customized enterprise plan for larger businesses with more complex accounting needs.
Zoho Books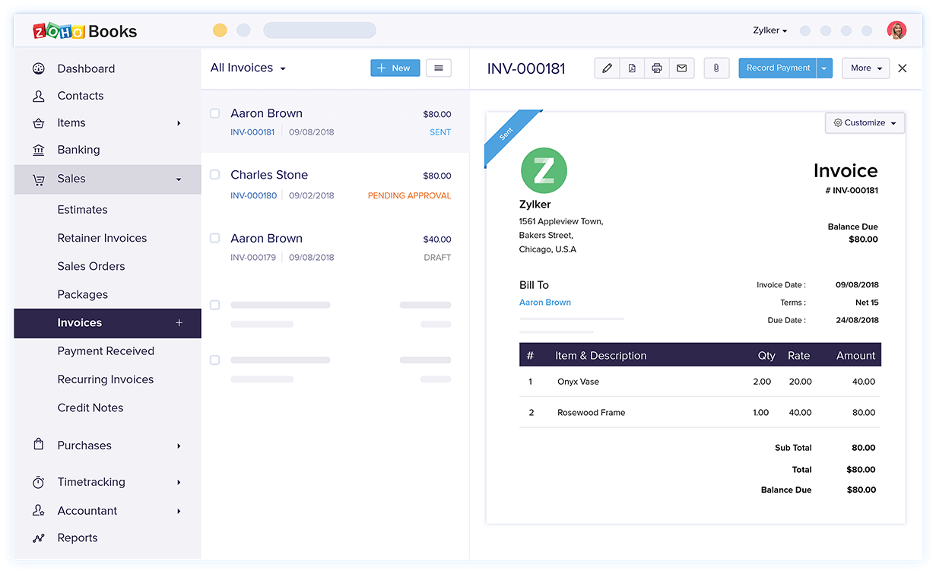 Credit: Zoho Books
Zoho Books is a cloud-based accounting software that offers a range of features to help business owners manage their finances. It includes tools for invoicing, expense tracking, and project management, as well as the ability to create financial reports and inventory management. Some highlighted features of Zoho Books include its integration with other Zoho apps, such as Zoho CRM and Zoho Projects, and its ability to automate tasks such as the creation of recurring invoices and the sending of payment reminders. Zoho Books also offers a mobile app for iOS and Android devices, allowing users to access their financial data on the go.
Zoho Books offers a free plan for businesses with fewer than 10 customers. The paid plans start at $9 per month and offer additional features such as the ability to connect to multiple bank accounts and support for multiple currencies. Zoho Books also offers a customized enterprise plan for larger businesses with more complex accounting needs.
Odoo
Odoo is a cloud technology software package that helps companies run smoother operations and implement  business management processes with ease.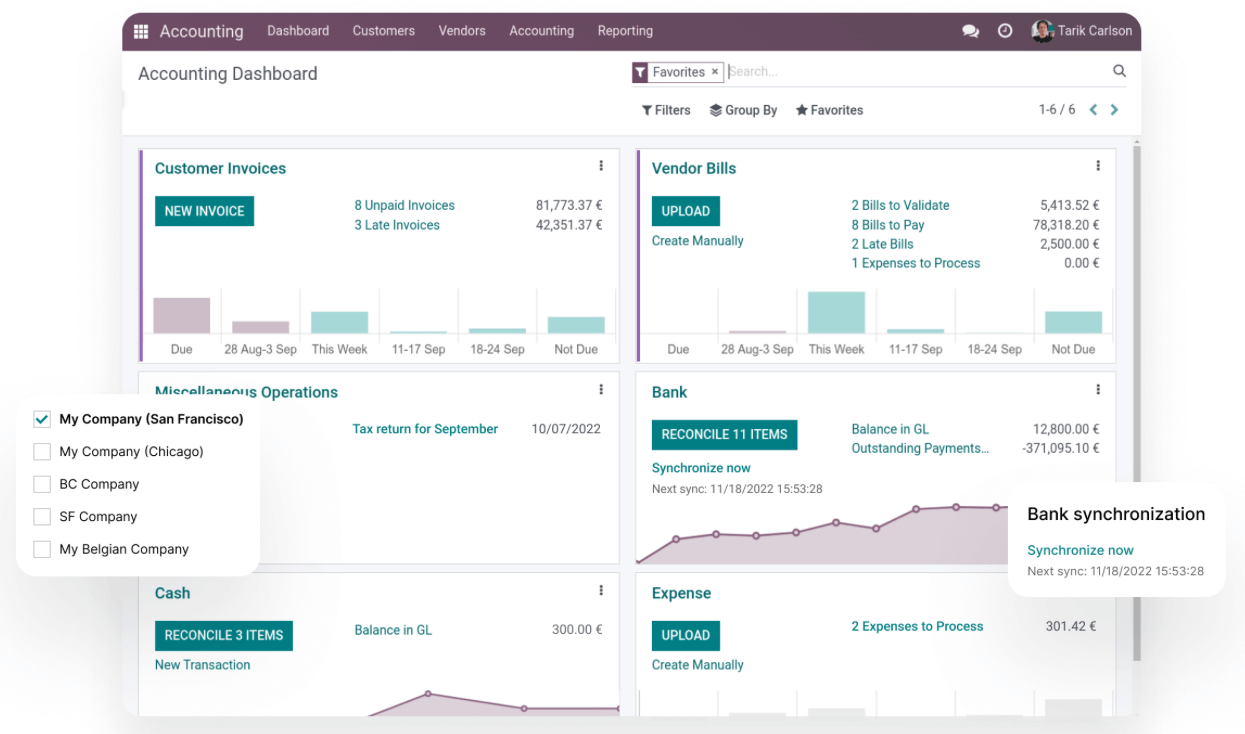 Credits: Odoo
Unlike Quickbooks and Freshbooks that are marketed specifically as cloud accounting software, Odoo differentiates itself as an all-inclusive business management suite that offers a host of additional management solutions not directly linked to accounting. However, it is for this very reason that Odoo ranks among the most easy-to-use accounting software  and invoicing for SMBs today.
Since Odoo is an all-in-one management package, users experience a similar user interface and design experience when navigating between different functions within the suite. As a result, there is no need for a user who's more experienced with the suite's CRM platform to face a learning curve when switching to its accounting functions. By streamlining the user experience, Odoo helps make incorporating an accounting solution easy for SMBs.
That said, unlike Quickbooks and Freshbooks, Odoo's pricing structure is a cross between a freemium and a tiered pricing system. Odoo also charges its users an extra fee on top of the monthly subscription cost for connectors, integrations, and success packs, among others. For that reason, some SMBs find Odoo's pricing structure to be more complicated than that of Quickbooks and Freshbooks.
Despite the added costs that SMBs may have to assume when using Odoo in conjunction with other applications, the software still remains a popular cloud-based platform that offers intuitive, easy-to-use features for financial management and business accounting.
Conclusion
Finding the right accounting software for your SMB is never an easy task.
But it's far from impossible.
This guide provides you with a breakdown of three of the most popular, easy-to-use platforms to help manage your small business's account and make better financial decisions that help your company to grow.
Be sure to go through the features, app integration options, and usability experiences offered by each accounting software platform to determine the best match for your small business's needs.
That way, when you do choose a platform, you are confident knowing that you have a tool that you can use to take your company to the next level.