With nearly 5 billion people using the internet, our perception of what makes up a website has changed. A website in the 90s is completely different from a website in 2023. To put things into perspective and understand what has changed, we gathered some of the most interesting web design statistics that will blow your mind.
The following list of stats provides you with data from real sources that you can use to further your career as a web designer, improve your website, or better understand how modern website design and digital marketing work together.
Let's get started.
General Web Design Statistics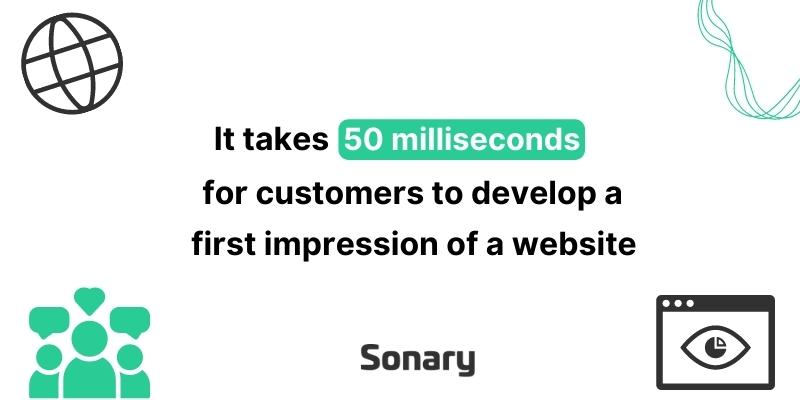 Creating attractive, fast-loading pages that make a good first impression on visitors is the essence of web design. If a page takes more than three seconds to load, it will likely be abandoned. Poor design choices can also cause visitors to leave.
Many people view the design quality of a page as a reflection of the brand's quality. Design quality is further proven critical by Adobe's findings that 59% of users prefer beautiful design over website simplicity, while 64% of customers believe a website should be good at holding their attention Building a website from left to right can help with visitor attention, although the right half of the page should not be ignored. Page load speed is important for increasing leads and engagement, and a slow-loading page may cause a visitor to leave quickly.
Key Statistics:
Web Design Industry Statistics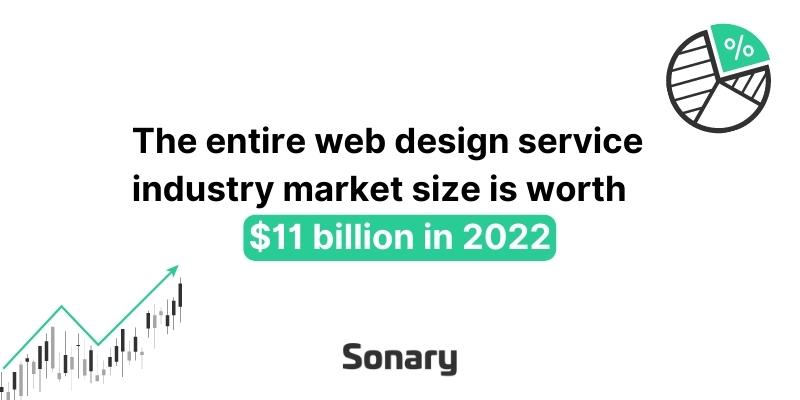 The web design industry consists of both software and service providers. Web design service professionals charge between $1,000 and $4,000 and take an average of two months to complete a project. The service industry has decreased by 3% from 2017 to 2022, but the number of web developers in the US is expected to reach 229,000 by 2032.
The web development software industry is worth $13 billion, but the "do it yourself" approach to website building with drag-and-drop builders is also considered a popular choice. Many professionals in the web services industry use these software tools, which allows more people to enter the industry through white-label services.
Key Statistics:
Mobile responsive web design statistics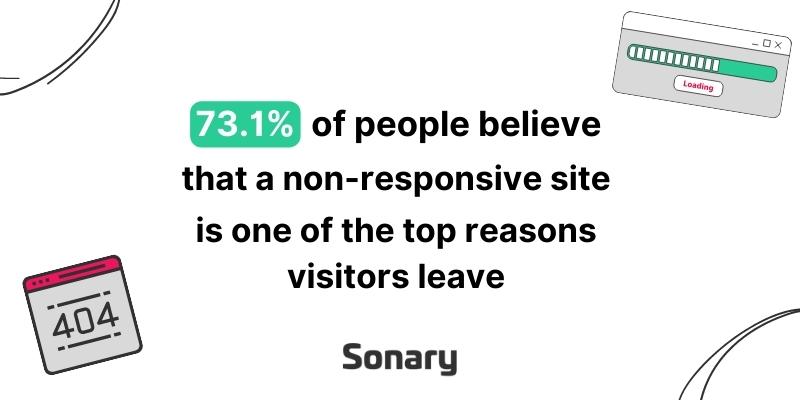 Over half of global web traffic comes from mobile devices, making mobile optimization crucial for developers. Google prioritizes mobile-first indexing, meaning the mobile site takes precedence over the desktop version. If a site is not mobile-optimized, 73% of users will leave, leading to lost income. Most customers prefer a site that displays well on their current device (65%), while 49% expect it to work on all devices. Users give up to ten seconds to fix display issues before leaving the site permanently.
A mobile-optimized site is necessary for online businesses, especially in eCommerce, where smartphone users often use a company's mobile site for one-time purchases. A good mobile product experience can lead to the use of a company's mobile app, especially if incentivized with rewards.
Knowing these facts, anyone with a website needs a mobile version. A mobile-friendly website will create a better user experience, which is our next topic.
Key Statistics:
UI/UX Web Design Statistics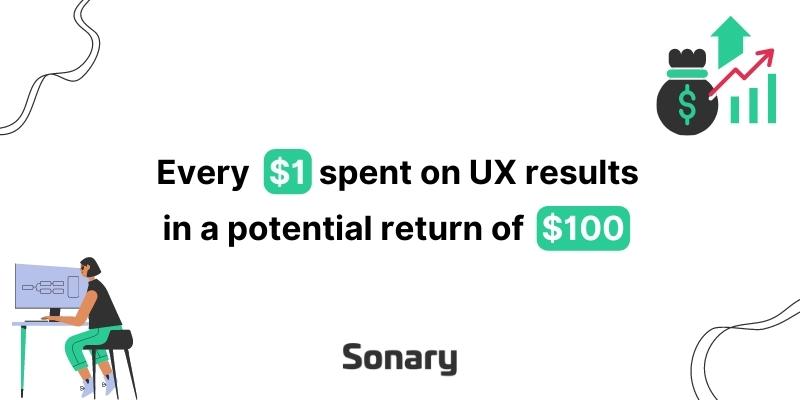 UI (user interface) and UX (user experience) are important for website development and can bring a return of ten times their investment. Functionality and engagement are key for UX and UI, and simple navigation is a top priority for 94% of people. Focusing on the design elements above the fold, the first two screenfulls, and the use of color can influence a visitor's decision to stay or leave a website. Primary color schemes are the most popular, while bold colors are preferred, but it's important to avoid anything too unusual. There is no one-size-fits-all solution, but applying data to website design can be helpful.
Key Statistics:
E-commerce Web Design Statistics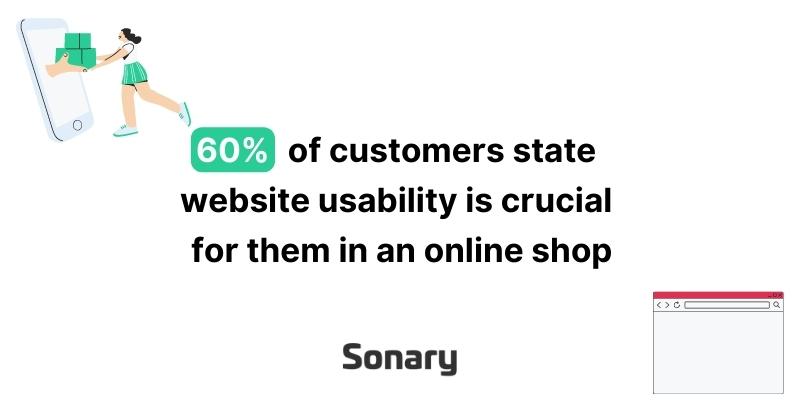 eCommerce saw a 14% increase from 2020 through 2022. These growth rates are spurred by COVID-19 but have only recently stabilized. Even with these stable numbers, we sell many more online products than before.
With eCommerce, many of the standard page design elements still apply. For example, a faster pace loading speed results in a higher conversion rate (8%). Even a one-second delay can result in a drop in conversion rates of as much as 7%.
Customers also appreciate easy navigation, as most customers appreciate one-click checkouts. This returns to our intro quote, with customers stating that usability is the number one priority when browsing an eCommerce website.
Despite the strong push for eCommerce, one in four businesses doesn't have a website for online sales. This is despite the mass increase in eCommerce sales that grew and continue to grow.
Those who own websites seem to understand their priority, as most owners redesign a site because of a low conversion rate. With a fast, easy-to-navigate site, site owners can overcome this issue.
Mobile optimization, which we discussed earlier, is also a huge deal. Over 10% of all online commerce is expected to be generated on mobile devices. Beyond that, customers are also more likely to contact a company if they have a mobile-optimized site.
Companies can also increase their order value by building their optimized site to contain relevant product recommendations, which increases purchase potential. A fast and mobile-friendly website redesign can ultimately lead to value-packed conversions, more sales, and better results.
Key Statistics:
On-page web design statistics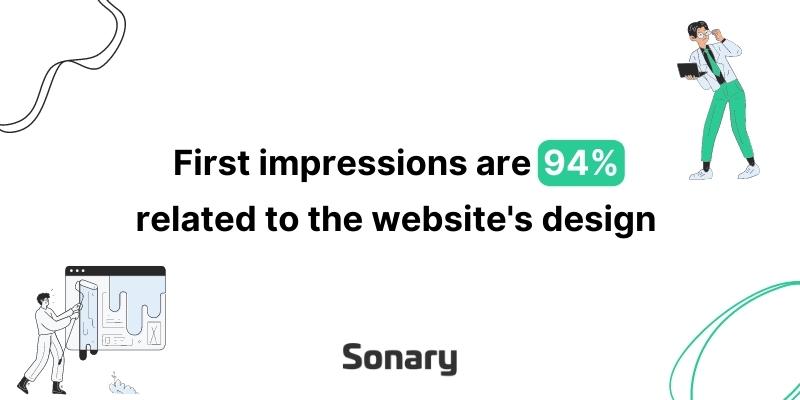 Earlier, we mentioned that first impressions are everything. The graphic above shows that first impressions are more than 90% based on design. Those who don't prioritize their design will be more likely to have a negative first impression.
So, what makes up an excellent first impression for a website? To answer that, we need to determine what consumers want. Their top visual elements are photos, color, and videos. In particular, having a video on your page increases page viewership by 1.4 times, which can help you maintain a website audience.
You also want to keep your site up to date, which causes customers to leave about 40% of the time. Using outdated site design techniques can be a sign that your business doesn't stay current.
One example of modern design that isn't followed is more focused websites. Some websites are now more sales oriented and are part of large-scale sales funnels. Despite customers wanting more clarity, few websites have a call to action (CTA).
An average of six seconds is spent on most site elements. These include logos, navigation menus, search boxes, social network links, and the site's main image (hero image). If your website content is too long, it also might cause customers to leave (or, in a better situation, they might switch devices).
The best way to keep a returning audience is to have relevant content. If the content doesn't meet their needs or solve a problem (or is otherwise irrelevant), website visitors are likely to leave the website and not return.
Key Statistics:
Web Design Trends Statistics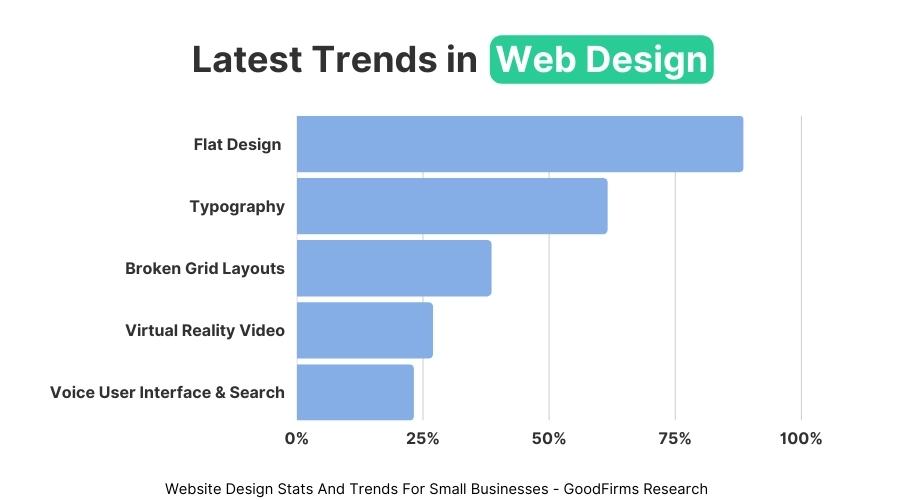 Trends are often a good sign of what people are looking for. Those trends include the list in the graphic above, but let's break them down below:
Flat designs use simple elements and styles that emulate three dimensions using simple style. These designs rely on flat, plain colors to keep things simple for designers and viewers.
Expressive typography uses different font styles to express a brand's personality or another emotional element.
Broken grid layouts rely on a series of boxes to sort out a simple structure, but these boxes aren't always the same height or width.
Virtual reality videos are specific to sites that use VR to check out sites using a head-mounted device.
Other trending design elements include a color preference for green and blue and a higher demand for interactive content.
Color preferences change depending on the topic. Take some time to understand how emotions and colors connect. There often won't be a one-size-fits-all solution for the color of your website.
Interactive content engages the user upon visiting. Buzzfeed, for example, has used interactive content as a way to successfully engage users, as 90% of those quizzes have been completed. Other types of interactive content include interact e-books.
Key Statistics:
Technical Web Statistics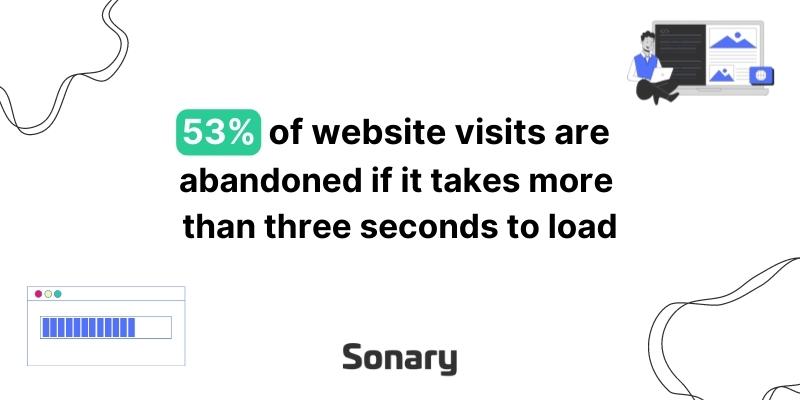 Don't harm your website's performance with your design.
While web design is important, performance is a larger factor.About 88.5% of customers will leave a website for slow loading. Many of those customers (about half) will leave after three seconds. Few (but some) will last as long as ten seconds.
Faster page loading must apply to both mobile and desktop pages. These faster loading times can result in an increase in conversion rates and average order value. Even a one second delay can result in reduced customer satisfaction and sales.
Key Statistics:
Final thoughts
The latest web design statistics provide an interesting viewpoint of the industry. Whether you use this data to decide whether pursuing a web design career is for you or you want to build your website, we hope this helps you out.