Every year, companies struggle to figure out the best time to send marketing emails.
2023 is no different. As the world continues to see new life habits brought about by hybrid and remote work policies, ambitious companies all strive to figure out how behavioral changes in their target audience should affect their approach to email marketing.
Timing email campaigns is key to maximizing the impact of your advertising efforts. With data from Omnisend attesting to the massive return on investment (ROI) opportunities that email marketing brings, ignoring the importance of timeliness can mean the difference between a successful or failed email campaign.
This article details all the information you must know to better time your emails in 2023. We also discuss strategies that help maximize the reach of emails as well as the practices you should avoid if you want a successful campaign.
The Challenge of Timing Marketing Emails
Before diving into the data, it's important to state that there are several factors besides growing your company's ROI that justify the importance of timing emails in 2023.
Most marketers understand right off the bat that sending out poorly timed emails has a negative effect on open rate, click-through rate (CTR), and overall user engagement, among other things.
When an email is released at the wrong time, it's typical for the sender to review the data, compare campaign timings to discover what worked best, and then modify their timing strategy to suit whatever works according to the data they've consulted.
While this isn't an obviously bad strategy, examining the data you've collected in isolation is never a smart idea when timing an email since there are several factors related to your target market, email content, and outreach frequency that complicate your email strategy and make the concept of perfect timing a lot more elusive than you think.
Let's take a closer look at some of these factors:
1. Demographics
Studying demographic data has always been a staple in most statistical and data analytical activities. Email marketing is no exception. Segmenting your target audience demographically provides you with the key insight that helps you determine the most suitable time zone to send out broadcasts to your email list.
Since demographic segmentation implies grouping your target by age and sex, among others, you automatically gain insight into a few behavioral traits that typically accompany people who belong to a specific demographic.
For example, a study conducted by YouGov determined that 25% of young people between the ages of 18 and 24 go through their email as soon as they wake up to start their day. If you segment your email target audience demographically and you realize that most recipients belong to a given age range, then taking into account any related information you have access to does help you refine the best time for that given audience.
2. Seasons
Seasonal activities and events are added factors that make picking the right time to send out a marketing email blast trickier than meets the eye.
This concept is not new to email campaigns. On one hand, seasons refer to different times in the year when certain sectors of the population experience different weather patterns. During spring, it is common for marketers to spruce up their email campaigns with more pastel, bright colors and vivid imagery to reflect the emotions that come with spring. Winter-related emails tend to feature imagery and colors related to Christmas or snow. On the other hand, it also refers to activities that happen in seasons, such as Black Friday or Christmas sales.
Apart from conditioning the kind of content seen in these emails, seasonable activities also play a huge role in influencing the timing of those marketing email campaigns. This is because seasons may also indicate a change in your target audience's behavior. For example, during the time of Black Friday sales, your target audience may be more engaged in their inbox than at other times for fear of missing out on a great bargain. In such cases, your margin for a successfully timed email may be higher.
However, you must also be strategic in your timing to ensure that your email doesn't get lost in the onslaught of campaigns from other businesses that are all clamoring for a chance to grab hold of your target audience's attention.
3. Industry/Market

Linked closely to behavior and habits, understanding the industry and market that you are targeting also plays a pivotal role in pinpointing the best time to release any type of marketing email.
As someone involved in marketing, no doubt you understand that there are fundamental differences that distinguish B2C and B2C companies. Those differences go beyond the typical sales funnel by also encompassing the best day and time to reach out to contacts within each industry.
For example, if you are reaching out to a contact at a B2B company, then it goes without saying that sending them an email on the weekend will probably get your email pushed to the bottom of their inbox since they don't usually check their email on a weekend or in the worst case they will hit the unsubscribe button.
These are just some of the factors you must bear in mind when examining the data presented below so you can make the right strategic decision before you send out your email campaign.
Best Email Sending Times
Based on 30 billion emails sent through Moosend and the analysis of the data recorded from each one, the best time to send an email campaign is between 8-9 am.
Claims from Hubspot on email marketing bolster this data. In a statistics report, they indicated that almost 35% of marketers they reached out to from the United States believed that between the hours of 9 am and 12 pm were the times when their email marketing efforts recorded the highest open rate and, in turn, the most engagement.
Sendinblue concurs, having listed 10 am as an optimal time to send marketing emails. In the same breath, they also mention the hours of 3 pm and 4 pm as being alternative times that recorded high engagement rates that rivaled that of the 10 am timeslot.
Moosend does seem to imply that the hours of 3 pm and 4 pm are still recommendable times to send an email campaign, highlighting that engagement with email campaigns usually begins to suffer after 6 pm which is usually at the end of a workday.
That said, while the information presented above has been published by respectable brands, each company prefaces its findings by reiterating that these general facts must be weighed against the specific behavioral traits and characteristics of the industry and the target audience you're aiming to engage.
Remember that each demographic, season, industry, and market comes with its own set of unique characteristics that must be factored in when coming up with a strategy to time email marketing campaigns.
Worst Email Sending Time
Given that the best times to send marketing emails fall within the range of 9 am to 12 pm and 3 pm to 4 pm respectively, it's easy to assume that sending an email any other time means that your campaign will record rock-bottom open rates and the poorest engagement possible.
That's not true. While the times above listed do record the highest universal open rates, it doesn't take away from the fact that sending emails in other time slots allows you to record decent engagement rates.
For example, based on data shared by Marketo, marketing emails sent out at 5 pm still brought in high open rates, albeit not as high as those seen when sent at other times in the day.
That said, universally, data shows that the worst times to send emails are late at night and early in the morning.
According to Hubspot, emails sent out between 6 pm and 9 pm record only a 6.6% engagement rate compared to emails sent earlier in the day, such as between the hours of 9 am and 12 pm.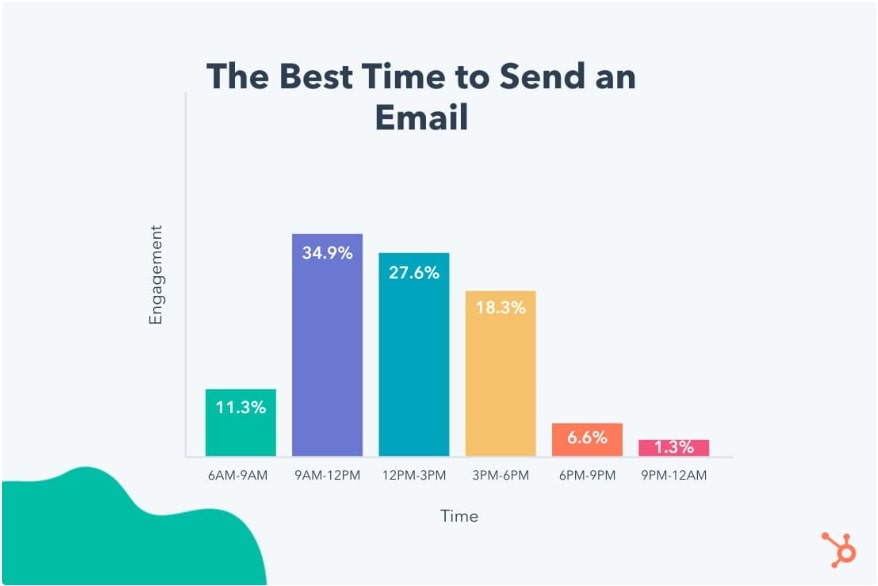 Source: HubSpot
Hubspot also reports even lower engagement rates of 1.3% for marketing emails sent between 9 pm and 12 am and lower than average rates of 11.3% for emails broadcast between 6 am and 9 am.
Sendinblue supports this statement by reporting data attesting to the low engagement rates for emails sent between the hours of 7 pm and 7 am.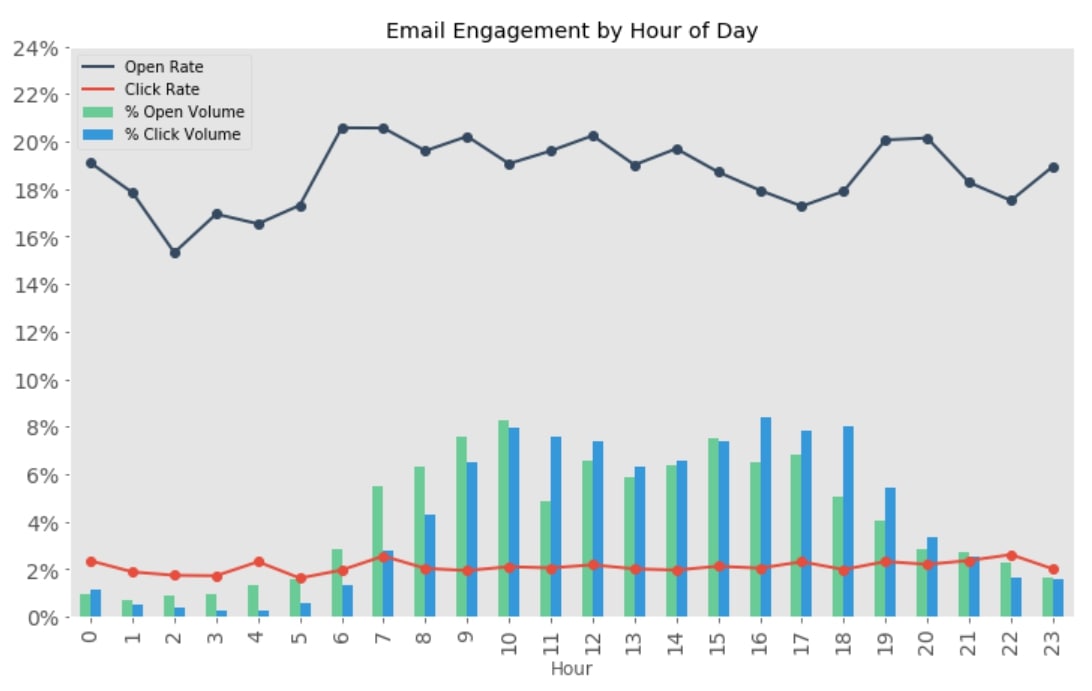 Source: Sendinblue
Best & Worst Days to Send Marketing Emails
Timing isn't the only factor that plays a role in how well your email marketing performs. Choosing the right day to broadcast your email blasts is also critical in maximizing the impact that your marketing emails have.
Let's take a closer look at what the experts have to say about the best day to send emails.
What experts have to say
According to Moosend, Thursday is the day when marketers record the highest engagement with their email campaigns. Next to Thursday, Tuesday was reported as being the second-best day to broadcast marketing emails.
Wordstream also recorded similar data, citing Thursday, Wednesday, and Tuesday as the days that yield the highest open rates.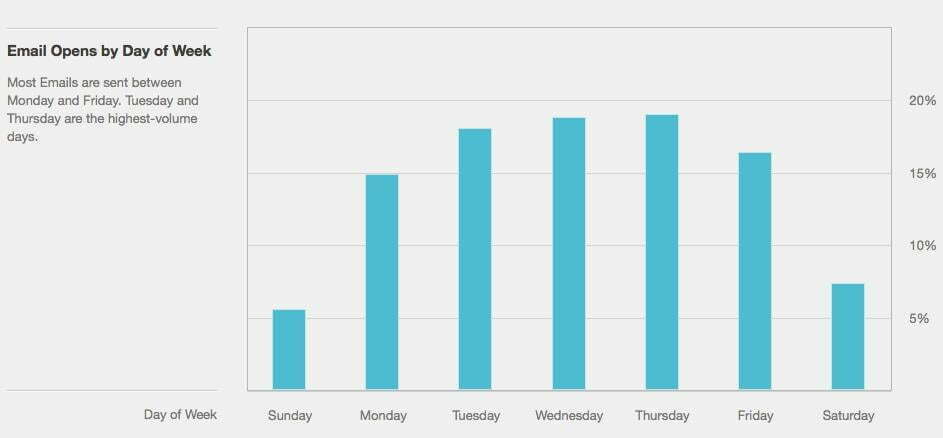 Credits: Wordstream
Like Wordstream, Sendinblue's data pinpoints Wednesday as the optimal day for marketing emails as well as Tuesday coming in second, implying that emails sent around the middle of the week tend to outperform others.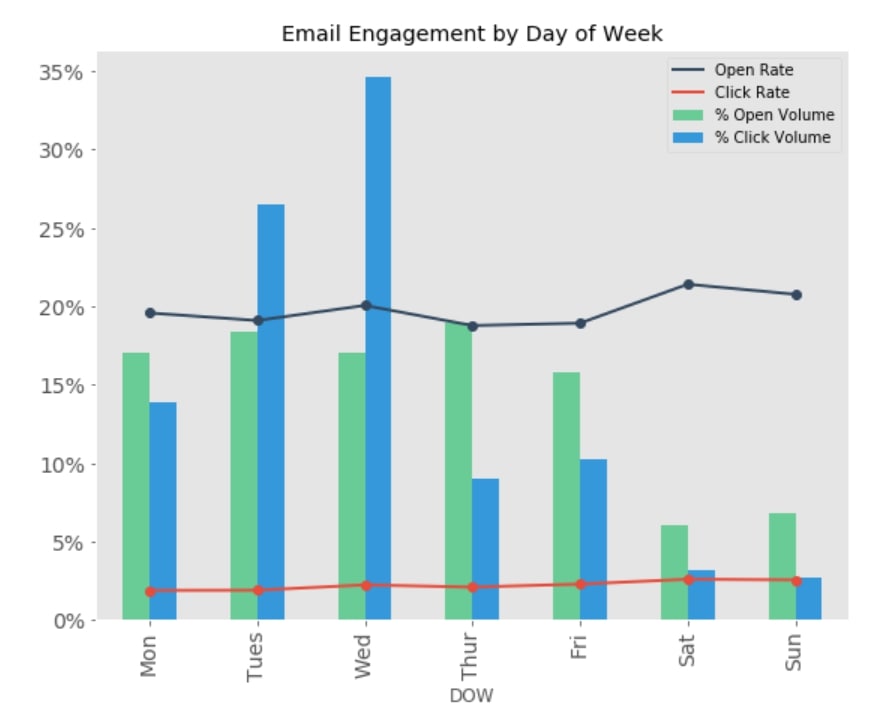 Source: Sendinblue
Universally, experts cite Saturday and Sunday as the days that record the worst email engagement. They attribute this due to the fact that most people view Saturday and Sunday as days to relax and disconnect, hence as subscribers, they tend not to check their inboxes on the weekend.
How to Get Higher Email Open Rates
While following the data listed above does help to improve engagement, there are more initiatives that you can practice to increase your email open rates.
Improve Your Subject Lines & Email Copywriting Content
Subject lines play a huge role in your email open rate. The more engaging a subject line is, the more likely someone is to feel enticed to open your email and view its contents.
Making an effort to refine your subject lines and make them more clickbait-worthy is one of the fastest ways to increase a marketing email's open rate.
What's more, going the extra mile by ensuring that the content in your email is engaging enough to recipients is also another way to grow your email's open rate. This is especially true if you send out recurrent emails like a newsletter or product update emails. The more captivating your content is, the more people are likely to engage with your emails in the future.
Study Data From Your Tracking Tools
Most email marketers broadcast their campaigns using email marketing automation tools such as Klayivo, ConvertKit, or Mailchimp.
These tools have built-in data capturing and analytical tools that help you record important information about your data.
Marketers must spend time analyzing the data, identifying trends, and coming up with conclusions about the performance of their data in order to propose improvements that better future campaigns.
Focus On Your Target Audience
While the conclusions mentioned above do give you general insights into how email engagement pans out based on days and timing, some of these rules apply differently depending on your industry and target audience.
While these rules are useful to start, once you get some data coming in on your campaign performance, study it and dive deep into your target audience and their behaviors. Use those conclusions to condition the approach you take for future campaigns by making them as customer-centric as possible.
Conclusion
Email marketing is a science.
As an email marketer, the more you use data to inform your decisions and refine your strategies, the more likely you are to improve the quality of your campaigns.
Paying attention to the days and times when marketing emails perform the best helps you craft campaigns that reach your target audience time and time again especially when sending out your campaigns on a weekday.
That said, once you have enough data to inform your email performance, always complement those general rules that guide email marketing with the conclusions that you've extracted from how your own campaigns have fared.
That way, you always ensure that your marketing efforts are tailor-made to reach your target audience and maximize engagement.