The nuances of eCommerce design escape many website owners. They use a few popular brands as a guide and focus on making their website aesthetically pleasing to the detriment of everything else. Yes, a website with impeccable graphic design is important but there's a lot more that goes into an eCommerce site to make it successful.
Most of these eCommerce design elements are subtle but have an outsized impact on your conversion rates. Without taking the time to understand them, you may not be able to use them effectively. This guide highlights successful websites' different graphic design elements and why they're so powerful for eCommerce brands.
Varied product images
There are several types of jobs in graphic design, especially for e-commerce websites. One of those important jobs is ensuring that there is sufficient imagery on every product on your website. Why exactly is this important?
Online shopping is unique because people purchase physical products without touching or smelling them. All they have to rely on is their sight and a product description. If the product image isn't large and high-quality, people may not be able to get an accurate idea of the item. Beyond that, the right product images can help put customers in the right frame of mind.
For example, you can include the standard image on a white background. You can also place an image with a model using the product to illustrate the lifestyle associated with your brand. Maybe the model is climbing a mountain or at a posh restaurant. 360-degree images will also help your potential customers see the product from every angle.
Also, a deep zoom function should be incorporated as a part of the eCommerce website graphic design. Someone should be able to increase the size of the image and get a feel for the item's texture. If it's wool, they should be able to see some of the fibers that come off of it. If it's cotton, they should be able to see how it was stitched together.
Some of the best e-commerce graphic designers integrate short videos into their product features to supplement imagery. The goal is to show the product as well as the lifestyle associated with it. It doesn't have to be a fancy affair. Less than sixty seconds is enough time to get your point across.
Automated review and feedback collection
One of the most powerful tools in your eCommerce arsenal is an honest customer review. They help your visitors assess the quality of the products, the authenticity of your brand, and to build trust. Collecting this feedback manually is difficult and time-consuming. Instead, allow any paying customer to leave a review. You can do this by using an automated feedback request via email a few days after an order is completed.
During your e-commerce website design, you can also sync your website to review platforms like Sonary. As users share their feedback on those platforms, it is automatically shared on your website for potential customers to see.
When doing this, though, it's essential to explore different types of graphic design ideas to see which one fits seamlessly into your website. Inasmuch as reviews and feedback are important, they have to make your website look off.
Related product sections
We often see big brands cross-selling and up-selling other products based on what we are about to order. Some of these product recommendations are due to our browsing history, saved through cookies collection, or products that are often used alongside what we are ordering.
Whichever it is, incorporating related products into your eCommerce design can significantly boost your bottom line. For one, cross selling and upselling make up 35% of Amazon's sales. This is because people are more receptive to buying additional products when they are in the buying process. Why come back for something you might need when you can just add it to the cart right now?
You must go beyond beautiful graphic design interfaces when designing your eCommerce website. While that is no doubt useful, you can do more by incorporating a good recommendation algorithm into your website. You can easily find cheap (or even free) recommender systems on GitHub. Incorporating it effortlessly should be included as a responsibility in one of the types of jobs in graphic design and web development. Consider finding an expert to handle that for you.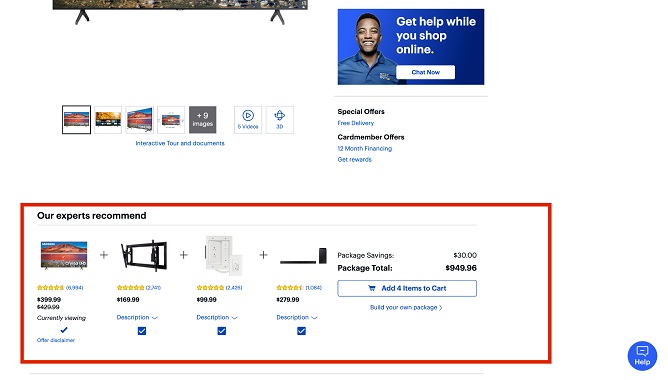 When using some of the best e-commerce solutions, you may not have to hire a professional to integrate recommender systems. Squarespace, for instance, has a feature that allows you to pair every product with related products, which will be displayed to buyers accordingly. However, this works best if you have an inventory size that can be managed manually. Huge inventories leave you no choice but to work with a pro. 
Here's a resource to learn more about cross-selling and upselling
Search filtering
Most websites have a basic search function that'll help visitors uncover pages they're looking for but eCommerce needs to go a step further. The ability to do deep searches is an essential eCommerce design element – especially if you have a large product catalog. 
Firstly, it's an essential part of e-commerce graphic design to position this search element in a visually accessible location on the website. The top of the page is ideal. 
Secondly, the search function should allow users to filter results based on multiple parameters. For example, customers can search based on size, color, model, production year, version, etc. 
While the basic HTML look will work just as well for the search options, you should consider switching things up a bit for your customers aesthetic pleasure. A recent case study shows that e-Commerce websites with a well designed search tab were found to generate more revenue from visitors than others. 
Category comparison pages
This is an uncommon eCommerce design element but it's useful when you have many similar products and your average customer isn't too educated about the product. To make it more appealing for customers to look at, you can explore different types of graphic design ideas to present this product comparison to users. 
Although this is very popular among software subscriptions, Amazon does this exceptionally well with products. Here's what it looks like.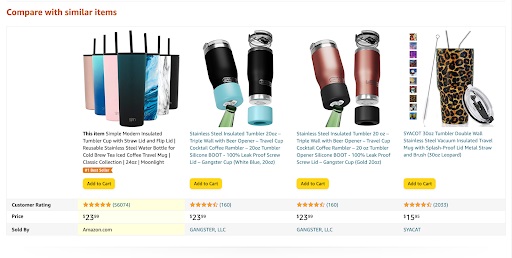 In whatever you do, however, ensure to put a limit to the comparison. Comparing too many products can cause a delay in decision making or, worse, high mental friction, that can make potential customers dump your products altogether. The best brands often limit this comparison to 3 or 4 products, but a professional familiar with various types of jobs in graphic design, especially UX design will know what's best. 
Clear support options
People are always skeptical about brands that don't provide enough support or contact information. How will you reach out when things go the opposite way from pleasant? 
Make sure to provide a prominent link to your contact page. Usually, top brands add a "Contact Us" page to their navigation bar or the website footer. This makes it possible for users to jump straight to it from anywhere on the website. 
People also  like to take a look at your refund policy because they want to confirm whether or not they'll be able to return the item. You should give your refund policy some deep thought before writing it out. Customers expect you to keep to your words. But merely writing isn't enough. Website policies are the most boring pieces of writing to comb through. Consider incorporating different types of graphic design tactics to make it interactive. It pays to be transparent to customers.
Prominent CTAs
We are constantly asking "so, what now?" whenever we scan through a new website. Different types of graphic design professionals already know this, that is why they tactically position call-to-actions in prominent positions on a website during design. The most effective CTAs are designed to pop into customers' faces just when they start asking that "what now" question. 
Buttons are also an essential part of the website CTA. The best types of graphic design experts understand the nuances of website action buttons. So, they ensure that they use the right font class, size, color, and background when designing buttons. Using the right color for your clickable buttons alone can increase conversion by 34%, according to a study. 
Nevertheless, it's crucial for you to use colors and fonts that are congruent with your brand identity. As a matter of necessity, you should consider the impact of fonts and colors when choosing your brand identity. According to studies, red, blue, and black buttons (among others) have shown to drive higher conversion rates. 
Prominence is equally important. The size of your buttons can impact conversion. However, using intrusive call-to-action buttons can be counterproductive. You need to figure out what size is perfect for your target audience and this depends on the type of product you're selling. Needless to say, it's better to have a bigger-than-normal button than to fill up your website with small hard-to-find buttons. 
Using a tool like Square Online, you can easily design effective buttons for your website with the precise size that you want. You can also choose from a wide range of colors to increase the conversion. Regardless of the immeasurable options available to you, ensure to maintain consistency across the entire website. Once you choose a font, color, and size, do well to maintain them. 
Conclusion
By 2027, the eCommerce industry is expected to grow to $27.15 trillion in value. That is more than twice its size in 2020. The brands leading this growth are constantly incorporating the best design elements into their website. 
So, whether you are new to the industry and trying to seize your niche or contending with the big brands, you should put the different types of graphic design at the center of your website outlook. The elements described in this article can help you get started in the right direction. However, you don't have to do it on your own. Here are some top recommended e-commerce solutions that you can use to build high-conversion graphic design for your business.