30-Second Summary:
Businesses can better support employees with employee engagement software.

Many online employee engagement platforms include performance management, communication, and employee development and recognition features.

Understand the benefits of implementing employee management software.

Find out whether your employee management needs can be met with a business software package.
Employee engagement, or the level of enthusiasm and dedication employees have towards their job, takes work and the right tools. Engaged employees feel recognized as valuable contributors to the company and are willing to help. On the other hand, disengaged employees only show up for the paycheck. Contributing factors to the level of engagement include clarity of employee roles, two-way communication, regular employee evaluations, and timely recognition.
Each step of an employee's journey within your company comes with an opportunity to impact these factors, thereby influencing their engagement. Simplify your processes and improve employee engagement by automating antiquated processes, deploying new functionality, and ensuring the employee experience and all its associated processes are efficient and employee-focused.
Find out how you can benefit from implementing employee engagement software.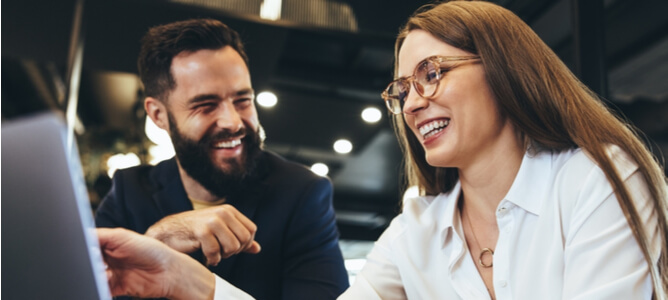 What is Employee Engagement Software?
Employee engagement software removes the stress of manually managing your company's critical employee processes. Employee engagement software digitizes everything from onboarding to employee development, company communications, surveys, and employee recognition. When properly deployed, employee engagement technology can increase employee job satisfaction and help retain your workers.
The right online platform will benefit everyone from your C-suite to your newest level one employees.
About Emplo Employee Engagement Software
Regardless of what size business you run, there will be a product popular for ease of use and pricing to meet your needs. One of the most popular is Emplo.
Emplo is the leader in the employee engagement software marketplace. The company consistently receives high marks in user reviews for its robust functionality that helps improve communication across organizations, simplifies and speeds up internal processes, and streamlines many HR workflows.
A web-based performance management suite that follows a SaaS model, Emplo is also available as an app on iOS and Android devices. Here's just some of what Emplo offers:
Skills inventory management
Competency models
Performance reviews
Instant feedback3
60/270/180/90 competency assessments
and much more
The Benefits of Implementing an Employee Engagement Product
Turn to employee engagement software and realize many benefits, including:
Better Internal Communication
Informed employees are more willing to participate and engage and are more receptive to change. Keep everyone abreast of company news by automating the flow of information throughout the company. Push important events and news to a specific group, including contingent workers and freelancers, or the entire company. Make it easier for employees to find FAQs and the org chart, solicit employee feedback, and offer a peer-to-peer recognition platform.
More Effective Employee Development and Performance Management
Revolutionize your employee development and performance management process by putting control in the employees' hands. Quickly and easily create and track employee goals, establish employee development plans and timelines, and establish knowledge tests with rewards and compensation incentives. Management receives notifications when the employee meets or misses milestones so they can give rewards or intervene as appropriate.
Improved Strategic Decision Making
With an online platform, management has access to the tools to make better decisions and take action. Real-time access to internal data allows them to uncover obstacles, shortcomings, and opportunities; assess levels of competencies; identify high performers or underachievers, and get a view into hiring and retention metrics.
Increased Staff Productivity
When you automate internal employee processes, you will free up all employees from the drudgery of paperwork and eliminate many headaches. No more tracking down the current copy of a performance review. No more juggling multiple Excel spreadsheets for webinar classes and new hires. No more emails requesting salary approvals. Save time on internal processes and increase your company's profitability by getting your staff back to doing what you hired them to do.
Make Employee Engagement Software a Part of Your Engagement Strategy
Improve your employees' level of engagement with a business software package. Most employee engagement online platforms are available for Linux, Mac, and Windows and offer mobile apps for Android and iOS for easy access from iPads and iPhones. Use the platforms' APIs to add functionality.
Find information about employee onboarding and offboarding, ways to boost employee morale, and more employee engagement topics in our Learning Hub.
Sonary provides extensive HR software reviews, data, and comparison tools to help you find the best software solutions for your small business.