One of the most effective marketing tools available to organizations today is the regular creation and curation of amazing online content. While not as common as blogs or articles, eBooks are particularly effective—especially when gated—because of their ability to generate leads. Read on to find out more about gated content, how to create eBooks, and more.
How to Develop and Create an eBook
The fundamental goal of offering an eBook is to provide value to a reader by providing information and solving a problem. To do this, it's essential to know who you're writing for and what information they're after or problems they need solved. Once you know your audience and have determined a subject to tackle, you can begin the process of creating the content and eBook design.
Content Creation
Without a doubt, the most important part of eBook creation and subsequent marketing is the content itself. Aim for a descriptive and catchy title that accurately represents the content. From there, utilize succinct headings and clear sentences throughout.
Regardless of your subject, your written content (and supporting graphs, charts, images, etc.) should be easy and interesting to read and peruse and should offer readers information, insight, perspective, and/or data they can find nowhere else.
Create a Style Guide and Layout
Once your content has been created and organized into sections with headings, create a table of contents. If your eBook doesn't have data or insight that's already been interpreted visually in graphs or charts, select text that can be transformed into bullet points, charts, or infographics. While copy forms the foundation of most eBooks, the most effective eBooks utilize visuals to get their point across.
Make sure the visuals you're including are effective. How? Develop a style guide that includes your color palette, fonts, and any other visual collateral so that the team putting the eBook together can create something cohesive.
Page Layout Templates
Once you have your style guide in place, it's time to tackle page layout. Start by looking through various collections of eBook templates to see what might work for you when it comes to ensuring that the flow of each page is easy to understand for the reader.
Where can you find eBook page layouts templates? Canva offers an excellent eBook template library. New to Canva? Read our Canva software review.
Upload Your eBook
Once you have the copy and visuals plugged into your layout, it's time to publish and place the eBook on your site. Be sure to include download options—whether gated or not (more on this below)—that allow your eBook to be viewed on a variety of screen sizes and formats including popular eBook formats, Kindle, Nook, iPad, and smartphones (Android/iOS—Apple or Mac).
eBook File Formats
Multiple different file formats can support eBooks such as:
PDF files are created by Adobe and are popular across browsers and industries.
MOBI Format
MOBI files are an eBook file format created by the company Mobipocket for their Mobipocket Reader software.
EPUB Format
The EPUB file format is by far the most popular eBook file format. Created by the International Digital Publishing Forum in 2007, it replaced the open eBook format (OEB). BFree to use, open standard, and vendor-independent, EPUB remains a popular eBook format.
RFT Format
The Rich Text Format is supported by every eBook reader on the market.
AZW Format
The AZW and AZW3 extensions are Amazon's two proprietary eBook formats. AZW is the oldest of the two, having debuted alongside the first Kindle in 2007.
IBA Format
Another proprietary eBook format you're likely to encounter is IBA. Apple's iBooks Author application uses this file type to create books.
LRS, LRF, and LRX Format
LRS, LRF, and LRX are the file extensions for the Broad Band eBook format. They were Sony's proprietary formats, created for use on the company's own line of eBook readers.
FB2 Format
The origins of the XML-based FB2 can be traced back to Russia. It is popular among eBook collectors due to its ability to store metadata within the eBook file itself.
DJVU Format
DJVU is well-known in the scientific community. It compresses data ten times faster than PDF, allowing it to store more than 100 black-and-white scans in under a megabyte.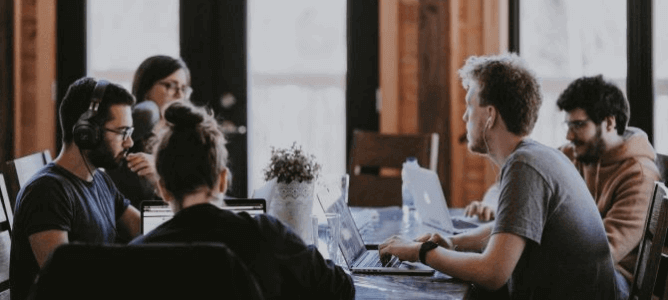 Photo by Annie Spratt, Unsplash
What is Gated Content?
While eBooks and other forms of online content can certainly be made available from your website and/or social media platforms without asking anything of those who access that content, eBooks are perfect for "gating". What is gating or gated content?
Gated content is any content that requires a reader or downloader to hand over useful or actionable information in order to access it. While the information asked for can vary, in general, most B2B organizations require at least the following to access gated content:
In addition to these requirements, it's common for gated content to also seek a phone number and/or a response to a low-friction question, such as how many people work in the reader's department or company.
Why is Gated Content Valuable?
Without a doubt, gated content is valuable because of the information it provides. Getting names and contact information from people interested in an eBook generates automatic leads. But gated content does more than that.
Because there is an exchange of value—the eBook (or other content formats) on the part of the site owner and personal/work information on the part of the downloader—the person downloading your eBook is demonstrating a certain level of trust in your business or organization. This early foundation of trust can be leveraged later in a follow-up sales call or email.
So there you have it: a guide for using eBooks in your marketing efforts to generate qualified leads.
Sonary helps businesses and other organizations navigate today's complex business environment. Check out our Learning Hub for more insight, tools, and tips.