Introduction
For many employees, the COVID-19 pandemic flipped the world on its head. Needing to stay home was an awakening for most, resulting in many leaving their jobs, and becoming what is known as The Great Resignation. Because of this, knowing more about human resources (HR) has become incredibly important.
Many of these changes have shown a need in improving the overall HR process. Businesses have grown increasingly reliant on HR software.
But regardless of technology's power to provide a consistent HR process, the need to develop effective strategies is still there. But for HR strategies to work, you need data.
To help you with this data pursuit, we've gathered the most important HR and HR software statistics for 2023. Below, you'll find information you can use to help with your human resource decisions.
Employee productivity statistics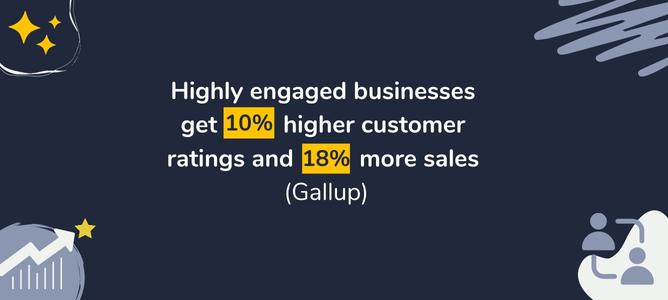 Ultimately, many HR specialists need to focus on hiring productive employees. To do this, employers need to be just as engaged as their employees, as 63% of employees say culture drives success. The data also points toward that resulting in improved productivity (by 14%), higher customer satisfaction (10%), and more sales (18%).
Freelancers represent a new potential, having more productive hours than standard employees. Sometimes, getting a fresh perspective can be helpful, as the average worker doesn't get much done beyond the first two and a half hours. This lack of productivity relates to stress (41% of employees share this) and lack of control regarding big decisions.
Employee morale and engagement statistics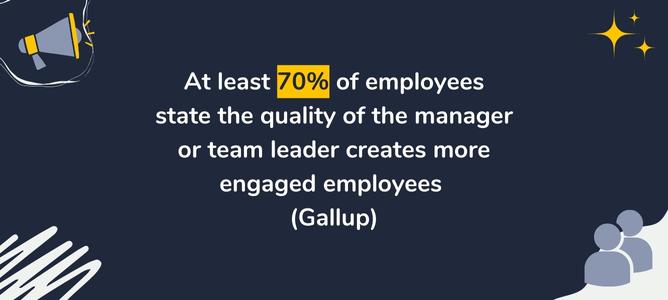 Morale and engagement rates reveal a lot about how HR professionals can assist employees and companies. There's clearly a lot of work to be done, as only 20% of global employees are engaged. Much of this comes from not finding work meaningful, a lack of transparency, and having a poor work leader or manager, which can result in overall employee burnout and poor job satisfaction.
More personal recognition of an employee's hard work can be incredibly helpful. Meanwhile, also providing employees with hybrid work schedules has been shown to improve employee wellbeing. Much of this has been shown to work in any company's favor, resulting in increased profitability by 23%.
Development and training statistics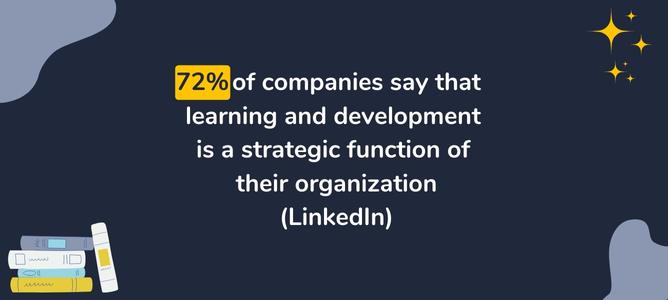 (LinkedIn)
Continued development of training links heavily in with job advancement and development. This much is true, especially for new employees and retention. After all, without senior support, 68% of workers will consider leaving a job.
The push for smaller teams and the need for flexible employees is clear. Internal mobility and cross-functional training will more likely keep employees, so providing employees with skills is important.
In addition, it's important to check your preference for remote vs on-site employees. There is evidence pointing towards an implicit bias towards development (through promotion) of on-site employees.
HR profession statistics
With The Great Resignation and the Coronavirus pandemic, the HR profession is now more challenging than ever. Employee expectations within their work environment has changed immensely, resulting in HR professionals needing to adjust their approach. Below, you'll find some statistics related to the HR profession.
Employee retention statistics
Employee retention is one of the biggest challenges for the HR profession. Namely, because one in three hires (33%) will quit within the first year. Even among later employees, 3% of them will still quit. HR professionals will need to work with employee needs, which have been shown to be related to achievement in their career, health or family-related issues, or desire for a better work-life balance.
Onboarding statistics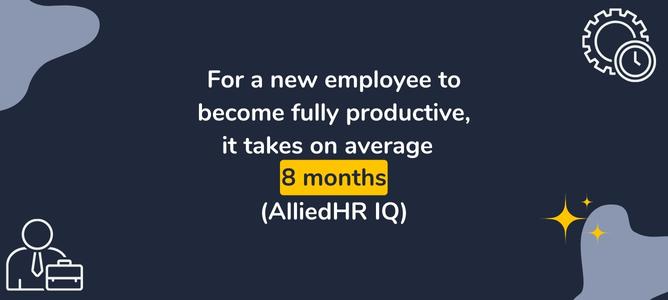 Over 90% of employees decide whether they want to stick with a company based on onboarding. However, few companies (one in four) and employees (12%) rate those onboarding processes as successful. Much of it comes down to having a formalized onboarding process, as 77% of employees who follow a clear and formal onboarding process are more likely to stay. HR professionals need to pay close attention to onboarding to increase employee retention.
General HR market size statistics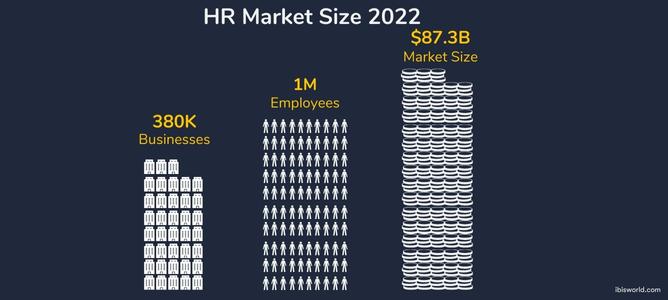 Despite technology being a major driving force behind HR, the industry is more than tech. Overall, this is proven with expected growth rates above 12%. With a current overall market size of $87 billion, this means that there is significant growth potential for newcomers to the HR industry. Leading companies, like Randstad, are likely to try to take advantage of this growth rate.
HR software market size statistics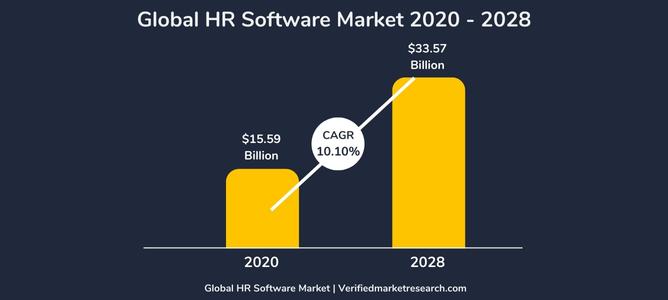 When looking at the HR market size, there are two areas to look at: the overall field and how technology has affected it. To start, we will focus more on the technology aspect.
HR technology market size statistics
Below, you'll see a breakdown of various market sizes and spending statistics related to HR technology. From these statistics, there is consistent data across the board that the value of HR software is expected to nearly double. A good portion of this will be driven by a combination of artificial intelligence (AI) and cloud-based solutions. Most of this growth will take place in North America, with both the European and Asia Pacific markets just behind.
HR salary statistics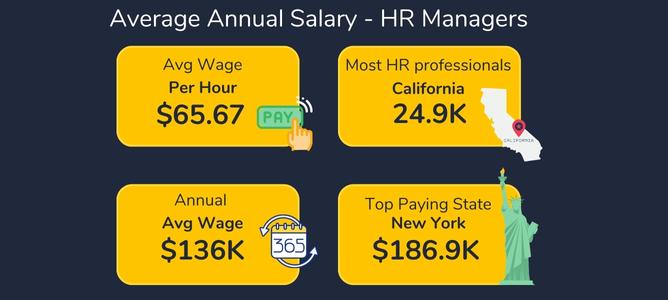 For those who need to hire a new HR manager, most managers expect to be paid a minimum of $65 per hour. This is not considering the need for entry-level positions. The highest paying state for HR professionals is New York while the highest number of HR employees work in California.
HR technology statistics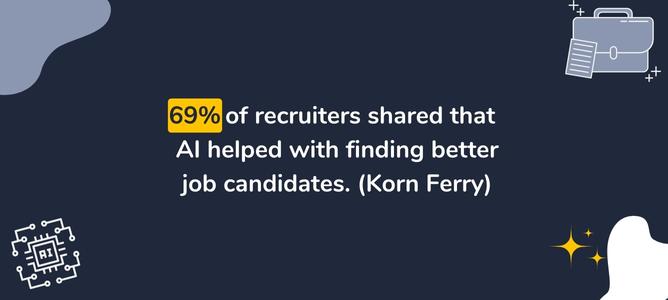 From our earlier section, the growth of HR technology is going to nearly double within the next decade. Because of this, the need to invest in HR software is real. In the below statistics, you'll see the problems HR software seeks to solve and how they assist through automation.
HR technology function statistics
Technology can help solve many of the biggest challenges faced by HR professionals. Business owners and HR specialists benefit from its potential for increased flexibility and talent acquisition features.
Remote work, which has been heavily in demand since the COVID-19 pandemic, benefits heavily from the use of HR tech. Most hiring managers agree that remote working is better, as we've taken the past few years to develop those technologies. Thanks to the impact of modern video conferencing technology (which you can read more about in our blog about video conferencing statistics), it is easier than ever to establish genuine connections, regardless of where employees work.
Technology has also been shown to benefit those in talent management. Talent acquisition is an incredible challenge for recruiters, and most recruiters (69%) admit that usage of AI technology has improved with finding candidates, screening them, and supporting them. The statistics below will show you the benefits of using HR software.
HR automation statistics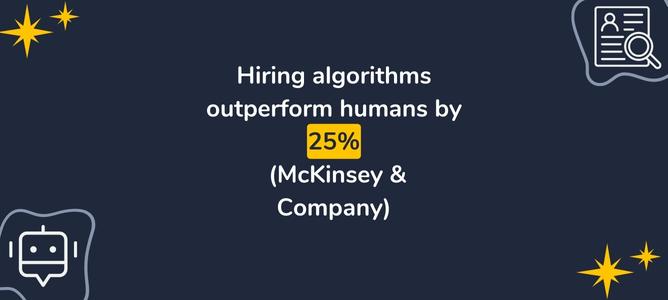 Automation has proven effective across a variety of functions and industries. In its current form, its most potent use has been to screen applicants, outperforming human hiring managers by 25%. With the right hiring algorithms, you can spot the character traits that meet your business needs, getting better job seekers with a reduced chance of worker's compensation abuse.
IBM, in particular, has used their HR management system to reduce their HR team by 30%. Overall, this has saved them money that they can spend towards talented individuals.
AI and automation can cause increased profits, improved employee morale, and prediction of when a person is likely to leave their job. For many businesses, the issue is finding the talent who can leverage this technology, meaning that most businesses are still in the early stages of using this technology.
Statistics from leading HR software companies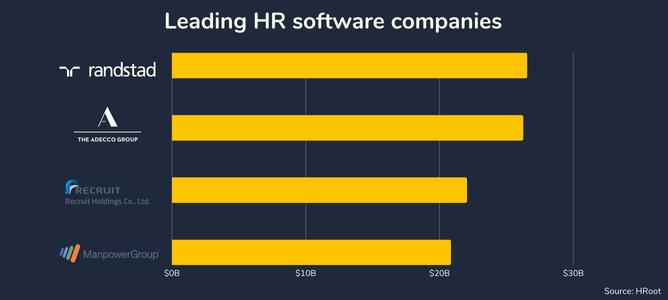 Below, you'll see the top four human resource service providers worldwide. These rankings are from HRoot, a global ranker of HR service provider:
Randstad – $26.5 billion
The Adecco Group – $26.2 billion
Recruit Holdings – 22 billion
ManpowerGroup – $20.8 billion
While these are the top four companies worldwide, they have not earned the most profit. Below, these companies are the top five for profitability. This data also comes from HRoot:
Most of these companies have a strong segment for HR management software. According to HRoot, operating profit growth among HR software companies sat at 103.1% on average, the highest compared to other types of HR businesses. For example, many of them are payroll service companies.
Should you use HR software?
The need for streamlined HR processes is essential. HR software allows you to create a consistent HR experience. So, you should use HR software to improve the employee experience.
HR software allows small to medium-sized businesses to save money and time. Companies like Paychex and ADP allow you to outsource your payment processing system. These payment systems remind us why detailed bookkeeping is important and how technology makes it easier.
Many of these HR software systems also allow for consistent file tracking systems. Sage, for example, works to streamline your onboarding process. It also assists you throughout employee training, an important aspect of HR management.
Many HR software systems also work with employee offboarding. Zenefits, for example, is another company that handles the full process. They can even help store your documents for compliance, which is important if you need to offboard an employee.
Check out our HR product reviews to compare your options.
How many companies are using HR software?
According to an International Services Group (ISG) survey taken in 2021, it's estimated that 46% of companies are using HR platforms. This is up by 20% from the prior year, namely because of the push of COVID-19.
Additional data from IBISWorld tells us that there are over 500 HR & payroll businesses in the United States. This is concerning growth rates of 11%, which are expected to remain consistent. There is a good likelihood of more HR platforms and companies using these platforms. 
Why is HR software necessary?
HR software is necessary because our world is creating more small businesses and teams. These teams need to work independently, requiring more effective HR solutions, many of them AI-driven and cloud-based.
The massive growth of these services, especially during COVID-19, allows for greater flexibility. This allows a business that runs out of a basement to compete with larger companies. These micro-specialized businesses need HR solutions as well, creating a demand for better software.
Even larger businesses are seeing the demands of their widespread workforces. Office and sales employees are demanding hybrid work schedules and remote work opportunities. Greater flexibility and freedom is something companies cannot avoid, increasing the demand for a more robust technology sector on all fronts, including human resources.
Conclusion
From the collection of statistics above, you should be able to make better strategic decisions. By considering the global and local effects of how HR has changed, you can better meet stakeholder needs.
Over the next ten years, the push for further automation and technology-driven features will probably change our perspectives again. As always, knowledge and information will be your best weapon in attracting top talent, retaining talent, and nurturing talent to push them to the next level.