It is estimated that over 333.2 billion emails are sent and received daily. Many of these emails immediately hit the spam folder, but not for the reason you might think.
Beyond the many spam emails you get, many marketers hit the wall because they forget about their audience. To avoid being one of these billions of emails, you need to understand personalized email campaigns.
Over 333.2 billion emails are sent and received daily worldwide.
What is personalized email?
The definition of personalized email is simple on paper: these are emails built using receiver information. As a business, you use customer information to customize the email to appeal better to your target audience.
Think of it this way: when you subscribe to an email newsletter, why do you do this? Often, it is because you want some valuable information. When you get emails that aren't relevant, directed, or engaging, you might take yourself off the list.
Personalized email campaigns have the greatest potential to meet reader needs by being relevant, direct, and helpful.
Why should I care about personalized email?
There are three reasons you need to consider a personalized experience for your emails. Here's a breakdown of those reasons:
They get better earnings and engagement
9 out of 10 people are more likely to buy from companies that send custom emails.
Nine out of ten people are more likely to buy from companies that send custom emails. Even if you aren't selling in the email, eight out of ten people are more likely to share personal data.  Customized emails improve your odds of success, regardless of what your goals are.
They motivate readers to take action
When you tailor your experience for the reader, the reader will more likely respond to it. It has proven that personalized emails increase your click-through rate by more than double.
Readers are more likely to respond to what you give them if they see themselves in what you send. Event- or behavior-driven are great examples, responding to specific actions your customers take on your site.
Your reader is more likely to resonate with it
Relevant content is with the best email marketing techniques. When you (or your readers) are looking at a problem they have, they want a solution. When your email provides that solution by referencing information you have about them, you'll definitely get a response.
Examples of personalized emails
Below, you'll find a few examples of how this works. You might find more than a few of these in your inbox.
When the subject lines of the emails you read show "Happy Birthday (Name), Here's Your Discount," how likely are you to click? If it's a brand you already love, chances are you might.
Wishing your customers a happy birthday and giving them a gift is a great way to get your customers to think of your brand. Think of it like getting a thoughtful birthday card.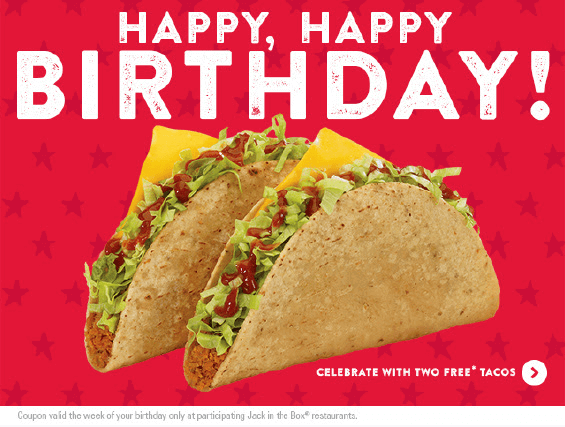 Welcome emails 
Almost all email newsletters have a nice thank-you message, giving you that warm and fuzzy feeling of being involved. If you have a newsletter, think back to the first time you got a subscriber. That first feeling was likely one of excitement, so bring that feeling to each new subscriber with a warm welcome.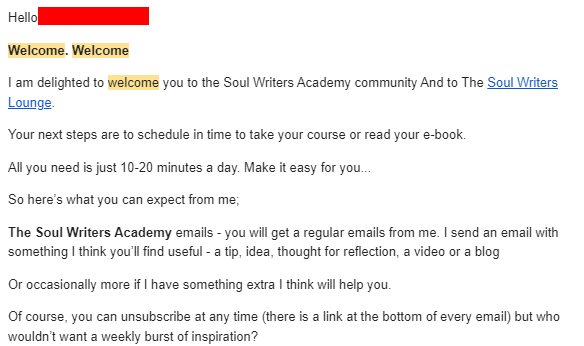 Abandoned cart emails
7 out of 10 customers will hit the exit button on a checkout page without buying.
One common email marketing strategy is reminding people they left something behind when shopping on your website. You might worry that it's "pushy," but think of it as a friendly reminder. It's no different from reminding your friend they forgot their wallet at home.
It's estimated that 7 out of 10 customers will hit the exit button on a checkout page without buying. For eCommerce businesses, not having these emails is paramount to giving up more than half of your earnings.
Creating effective personalized email campaigns using these nine proven methods
Now that you have a solid understanding of personalized emails (with a few examples), you deserve a few more steps. Below, you'll find nine proven methods to create effective personalized email campaigns.
1. Use the recipient's first name
One of the most effective parts of a personalized email is the use of the reader's first name. When you see your name in an email, it's going to feel more personal. It isn't about a generic customer target. Instead, it's about you.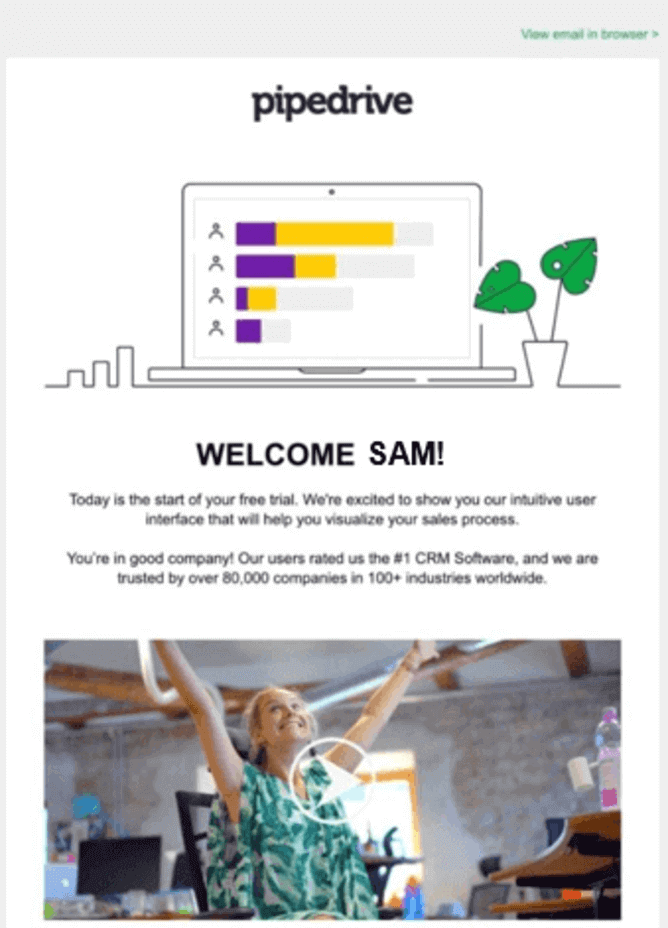 Think about this in a regular conversation. Using someone's (first) name acknowledges their identity. These simple personal touches can bring your email to a new level.
You only need to do it once or twice, through an email. Overdoing it can have the opposite effect of sounding unusual. If it makes sense, put their name on the subject line. This way, your email can stand out before it's clicked.
To make this easier, ‌use an email marketing tool that allows you to create and save custom templates. Constant Contact, for example, allows you to create design-oriented drag-and-drop templates, even if you have no design experience.
Word of caution: avoiding using middle or last names. You don't want to sound overly formal. The usage of a middle name might make the reader think you are about to scold them for not cleaning their room.
2. Create an engaging hook
The subject line is the most powerful part of your email content strategy. It is the first thing the reader will see, so it's up to you to transform this into something that will wake your customers up.
To get your readers to follow your instructions, you need to start by getting their attention. You can also call this your hook.
A good hook jolts people out of the normal sleepy state of browsing emails. It draws their attention by using their name and something relevant that shocks them.
For a great example of this, Alex Hormozi is the author of "$100M Offers: How To Make Offers So Good People Feel Stupid Saying No." The author has received over seven thousand reviews on Amazon. Much of this comes from the hook: making an offer that people would be crazy to refuse.
A promise to your reader about what will happen is one way to create your hook. Here are some other strategies you can also use:
Share a staggering statistic related to their concerns (XX% see growth after following this strategy)
Create a pattern interrupting ‌people wouldn't commonly see in your emails (Tim, this new strategy is crazy!)
Hint at something of incredible value in the email (Read this email if you want to double your business growth)
Don't over-promise in your subject line if you feel uncomfortable delivering in any follow-up offers. Always be sure you are confident in the guarantees and claims you make in the header before using them.
Make your content come from a person.
3. Have it come from a person (not a company)
Take a moment to look through your emails. Many of them likely come from businesses updating you about the latest releases or features. These are great, but how connected do you feel to a business-driven email?
There are few cases where a business can overtake the connection you feel with a person. While companies like Gerber can do this with multi-million dollar budgets, small companies can't do the same. One shortcut to getting connected to your audience is to make your content come from a person.
A great example of this comes from Trello. Taco, the mascot of Trello, is part of the experience for anyone who subscribes to the project management software. You can find the mascot on their Twitter account.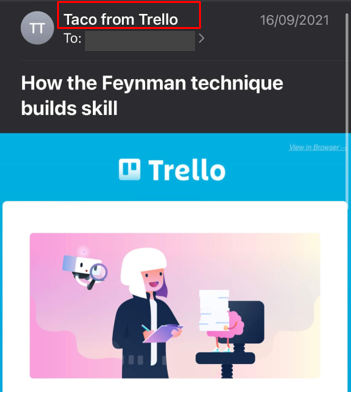 While you don't need to create a mascot, it reminds us of an important lesson: the best way to personalize your emails is by personifying them. You are more likely to develop a relationship with a person, not a business.
4. Create your email based on the buyer's journey
The buyer's journey determines many of the decisions of how you market your content. After all, if someone isn't aware of your product, you wouldn't send them a new product announcement email.
The email you send needs to relate to whatever the customer currently goes through. You'll find this situation to be most appropriate for those who might have a purchase history with you.
In our earlier example, we mentioned the importance of abandoned cart emails. Without that history, you wouldn't be able to take part in that style of email personalization.
If you work more in a service industry, you might base your next email on what your customer relationship management software says. To help expedite this, you need a CRM that integrates with your email, such as InfoFlo.
InfoFlo integrates with Outlook email systems, VoIP phone, and SMS integration. Through this, you can create a multi-faceted marketing campaign that allows you (or your sales team) to act based on up-to-date information.
5. Create a VIP segment that gets special emails
 There's no doubt that people like to feel special. If you want to encourage your raving fans to stick around, give them special treatment.
Sephora, a popular makeup brand, has a membership program called "Beauty Insider." It's free to join, but the true benefits are for those who spend more than $1000 per year.
Sephora members get more benefits the more they spend. When moving to the next level, they get a reminder email of ‌these additional benefits. These benefits include exclusive discounts and a free birthday gift.
Giving your customers and readers the VIP treatment personalizes the email based on their contribution to your business. The more they give, the more you can give them free coachings, tools, or resources that benefit them.
Make sure that whatever freebie you give them will actually benefit them. If you sell makeup products, include free makeup, not a free can of your favorite soda. Be relevant to your customer's needs.
6. Use A/B testing
Simply put, not all emails are going to land. Regardless of your best efforts, you'll send a personalized message that doesn't connect. So, how can you be sure of what does and doesn't work? Through A/B testing.
A/B testing lets you test two different emails. When sending both, it gives you a good idea of what type of email works best for your goals. Typically, you'll want to keep the email that gives you more engagements.
You can do this manually by splitting your email segments. However, if you want to save yourself some time and effort, use HubSpot. HubSpot is a full suite of marketing tools that include an email template builder and A/B testing.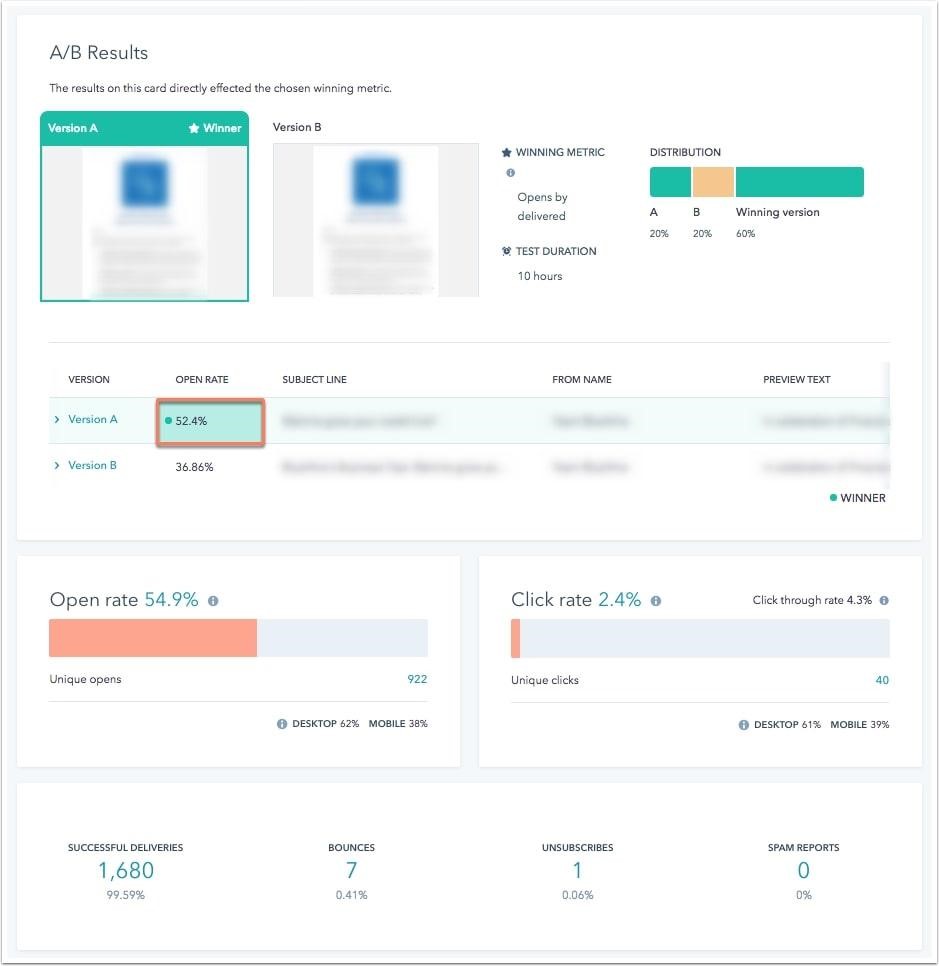 When testing, keep your changes to a single element. Typically, you'll want to start by changing one aspect of the offer, normally the email subject. By focusing on one area, you can pick out what works and doesn't.
7. Make your new subscribers feel like they are part of something
Imagine you signed up for your favorite marketing influencer, only to get sold an unrelated product by the first email. The first email you get as a new subscriber is often the most important. So it's important to make your subscribers feel like they are part of something greater.
To do this, you need to start by thanking your new subscribers for their time. You can follow this up by providing them with more reasons to stick around. Here are a few suggestions:
Invite them to your Facebook group to bring them into the community
Provide them something incredibly valuable within the first three emails (free template, free guidebook, etc.)
Make a promise to them within the first few emails on what they will get out of following you
There are many people in your field who can offer good tips and advice. To stand out, you need to promise your subscribers continuous value, giving them reasons to stay engaged.
On average, most people engage with emails between 10 and 11 am.
8. Schedule your emails when they get the most results
Email scheduling software allows you to choose when to send emails. The point is this: people will be more receptive to your emails at specific times. Of course, you need to know how to schedule emails.
On average, most people engage with emails between 10 and 11 am. These responses happen on their mobile phone. However, your customer might prefer to receive emails at around 6 pm. Finding out which creates a unique sense of personalization based on customer needs.
Many email marketing tools, such as SendGrid, allow you to build expressive emails and schedule your emails. Using data from analytics tools built into these email marketing softwares, you can find out when your emails get the most responses.
To speed up this data-gathering process, you can use A/B testing. The point is always to email when you are most likely to get maximum responses.
So have it set up to send one set of emails at 11 am and another set at 4 pm. Based on the number of responses, keep the time that has the most effectiveness.
9. Create clear calls to action for simple landing pages
The Call To Action (CTA) is the centerpiece of any personalized email. All business emails need to have this in some form. But the big mistake business owners and marketers make is lack of clarity on your CTAs.
Whenever you have a CTA, the next action you want your audience to take should be obvious. For example, clicking "buy now" shouldn't lead the customer to an information page, it should lead them to a full shopping cart.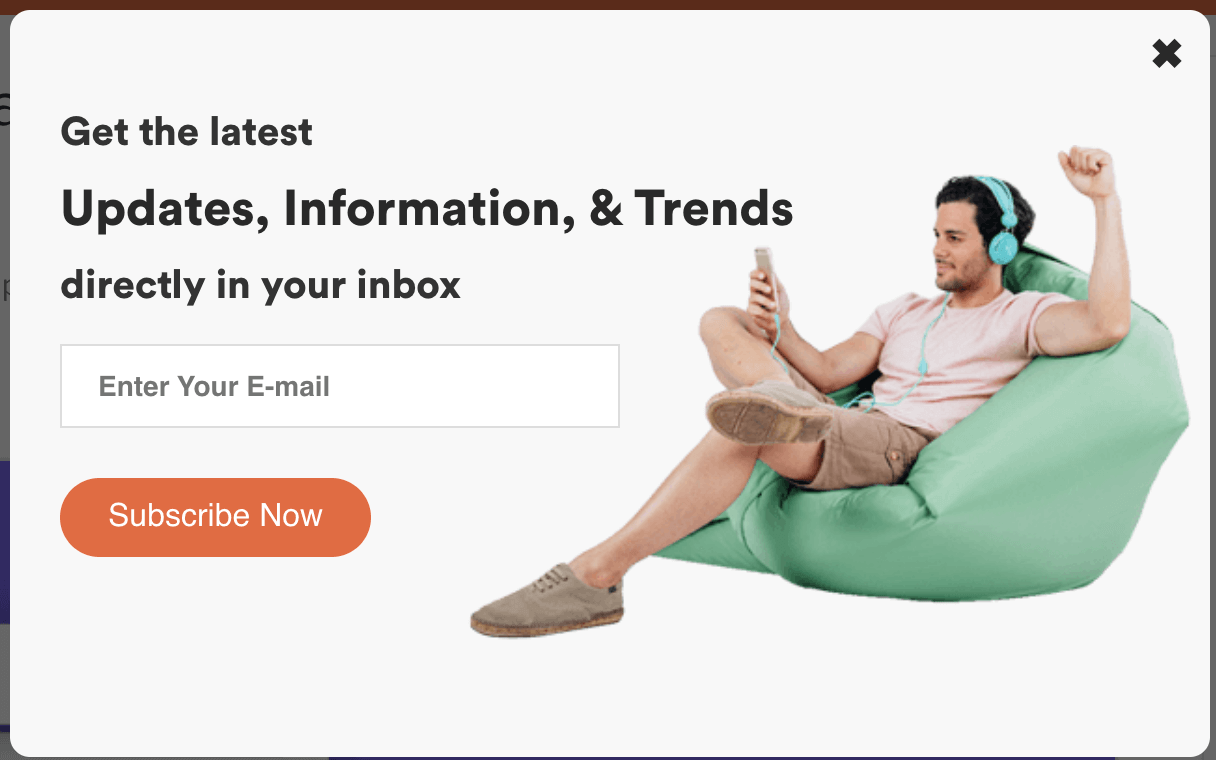 Make sure that prospective customers know exactly what they will do after clicking the bottom. Make your email copy incredibly blatant so there can be no confusion on the other side.
When they reach the landing page on the other side, make sure that it is straightforward as well. If there is any confusion, your audience will not take the desired action.
Conclusion 
Personalized email campaigns are driven by customer data. By using this, you can make your emails more relevant, timely, and engaging. 
Having more engagement will help you meet your business goals with greater ease. Whether you want more sales or more followers, personalization makes people feel involved. Just be sure always to add value that appeals to your reader.