Every business exists to make money. In most cases, they need to do two things to make this happen. The first is to provide a service/product and thereafter acquire customers to pay for the product/service. You probably know this already, but sustainable businesses do a little more than these two things.
Great businesses aim to satisfy their customers well enough that these customers are inspired to speak good of the brand. While business landscapes have evolved over the years, this differentiating principle hasn't. Even in an online setting.
The global ecommerce space will be worth an estimated $6 trillion by 2024. 
Writing of online business settings, about 2.14 billion people worldwide purchased an item online in 2021. Research also shows that the global ecommerce space will be worth an estimated $6 trillion by 2024. I see numbers and smell opportunities.
To leverage these opportunities, businesses must get their happy customers talking by opening feedback channels to unlock the power of customer evangelism. And online reviews have become enormously helpful in accomplishing this fit. For that, I consider reviews a big deal.
Of course, almost every business I know uses online reviews to collect and share glamorous customer feedback. So, what's the big deal?
It is impactful to use reviews. For starters, reviews from satisfied customers may compel a potential customer to make a purchase just like the word of mouth of the good old days.
Still, online reviews are more impactful than that. This article explores the enormity of the impact of online reviews in many areas of business, along with verifiable statistics to prove it, starting with how to harvest good reviews.
How to get good online reviews
The relevance of online reviews is drum-full but these five paint a vivid picture of why you should incorporate online reviews into your business processes. The question, however, is how you can harvest these reviews from your customers. Here are a few ideas to try.
Nudge your customers to leave a review
This trick doesn't exactly require a magic wand. It's as simple as just asking your customers what they think about your product or service.
All you need to do is send customers an email a few hours or days after a purchase has been delivered. In the email, you can simply request them to leave a feedback. Thanks to dynamic emails, now customers can share their experiences without leaving the email inbox. All you need to do is find a way to integrate it into your sales plan and… kaboom!
Throw some incentive into the mix.
Sometimes, email nudges are not so effective. Less than 10% of your email recipients will take their time to write up a review for your product or service. However, you can take that number up by a few more percentage points by offering an incentive.
Some brands offer discount coupons as rewards to encourage customers to leave online reviews. Other major brands with a loyalty program of some sort, offer loyalty points or gift cards that can be used in selected marketplaces.
This tactic has two positive effects. It inspires users to leave online reviews and increase the chances of them returning to do business with you since the discount coupons can only be used in your stores.
Upwork does this exceptionally well. Here's an example of an email from them.

Respond nicely and professionally to every review you get
When customers are invited to leave online reviews for a product or service, they usually scan through reviews shared by other customers before them. The responses that are given to those reviews also get their attention.
When you respond professionally to online reviews, there are higher tendencies that new customers will be willing to share their feedback on your product or service as well.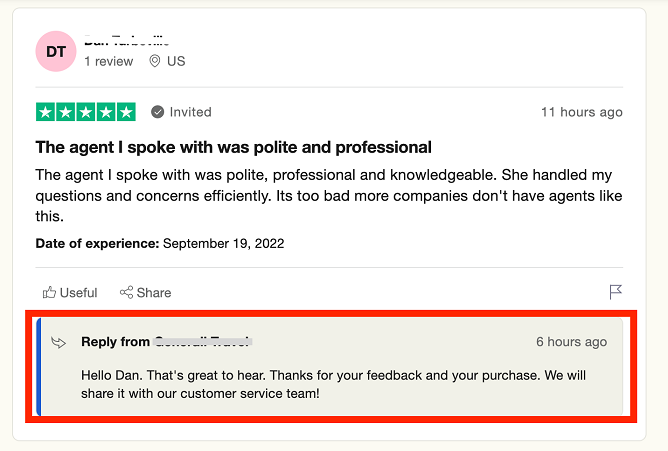 Why are reviews important to businesses?
Some businesses use online reviews just to show what previous users/customers are saying about their services/products. But there are many other crucial reasons why you should incorporate online reviews into your marketing plans beginning with the commonly known increase in sales.
Reviews drive purchases
A potential customer starts thinking of purchasing an item because they have a problem to solve. A couple of things happen before the actual purchase is made. The ideal customer first researches the best possible solutions to solve the problem that they are having, and uses the information they find to make impossibly objective decisions. Yes, I said it. "Impossibly objective!"
An interesting realization is that no matter what a business says about its product or services, customers take every piece of information they find with a pinch of salt during their research. They understand that a business is trying to sell its product and as such could conceive some unpleasant things about it. Just like Tesla never talks about its Model S exploding.
Beyond the information provided by a company, customers want to know other people's experiences with the product. And, in an online setting, reviews are the only way customers share their experience with a product or brand.
As a matter of fact, online reviews often strike the final blow on any doubts that a potential customer may have. Expectedly, internet users have come to trust these online reviews. The 2022 Local Consumer Review Survey reveals that 77% of consumers 'always' or 'regularly' read reviews when checking out businesses online.
It doesn't even matter if you provide a digital service or if you're a brick-and-mortar store several blocks away. Online reviews affect how you get new customers and retain old ones. A study reported in the Prestige International Journal of Management reveals that 93% of consumers believe there's a strong correlation between online reviews and their shopping choices.
Consumers trust reviews written by customers 12 times more than content written by a business.  
Furthermore, consumers trust reviews written by customers 12 times more than content written by a business. This is because customers, for the most part, don't have an incentive to lie. And they are typically very quick to wrath.
Therefore, as shoppers share their experience with your brand, the rest of your world is watching and acting accordingly. An insanely influential tool; online reviews!
Reviews increase brand visibility.
You've probably never even thought about this, but reviews do a lot to grow your brand's digital presence beyond your website and social media accounts. It gives you visibility through search engines.
If you take a moment to google "where to play snooker near me", you'll find several merchants. Some of these businesses have never optimized their websites for the appropriate keywords to warrant being on that result page. But they are there nonetheless, and reviews made that happen. Here's what I'm talking about.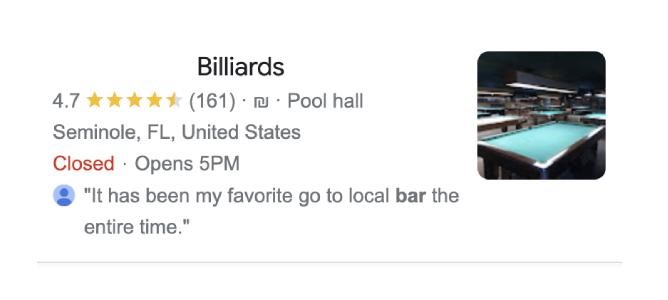 Search engines, like Google, don't only index the content on your website. They also look through the reviews shared by other internet users and suggest answers to queries related to the services mentioned by a reviewer. This may seem like it's not a big deal, but it is, in fact, the hugest deal if you find yourself in a competitive business environment.
In 2021, 81% of consumers used Google to assess businesses close to them and 82% of these consumers believe that user reviews are valuable to their search. So, having robust online reviews can potentially put you in the face of everyone with a smartphone within proximity of your business location and far beyond.
Reviews are critical for closing big sales.
The concept of a big sale (or big purchase) is tricky. I may consider a brand new iPhone 14 Pro a big purchase while Dylan Field, the CEO of the newly acquired Figma, may not even regard a new Mercedes-Benz Classic as a big purchase.
By definition, a big purchase is one that drains a consumer's cash reserve. So, you can decide whether your business makes big sales depending on your target customers. However, that's beside the point.
The point, here, is that big purchases are something you consumers think hard and long about. And online reviews go a long way to helping you close them. And we are not referring to a handful of online reviews. Way more than that.
If I was considering the new iPhone 14 Pro and Dylan Field is considering a mansion in the suburbs of San Francisco, you might find us combing through dozens of online reviews to figure out what either iPhone 14 users or residents of SF suburbs are saying about their experiences.
If the reviews are awesome, the Apple dealer and a realtor get to close a sale. Otherwise, I will hold on to my cherished $1k+ and Dylan will put his one million bucks somewhere else.
A statistical support for this can be found in this 2015 Moz report. According to the survey, 67.7% of respondents use online reviews to make purchasing decisions when considering high-end products like smartphones and cars.
For businesses that offer high-end products or services, failing to incorporate online reviews in your sales and marketing operations could be a lethal omission.
Online reviews are open lines of communication.
Customers consider online reviews as two-way communication channels. When they leave feedback about your service or product, they expect you to respond to their feedback in a respectable way. Great businesses utilize this channel mostly to mitigate the effect of a poor customer experience. Here's an example: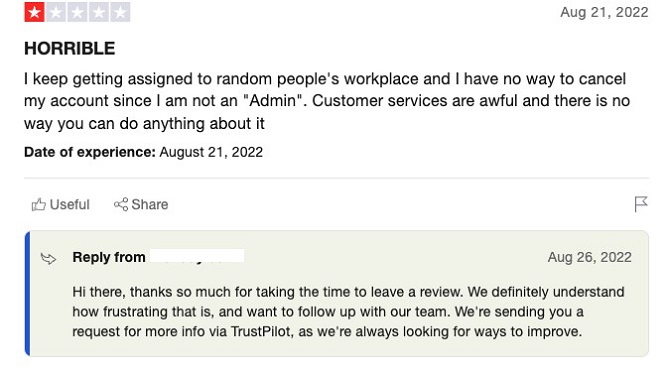 In 2020, about 89% of consumers reported to have paid attention to how companies respond to reviews. This factor is very important because real customers understand that no organization is perfect but seeing that yours is making the commitment to do better by showing concern towards other customers' opinion of your brand goes a long way.
Other than disaster control (when an experience goes sour), businesses use reviews to thank their customers for their loyalty and feedback. When customers feel openly appreciated by your business, they will be more likely to become returning customers.
Reviews offer unique perspectives.
When we set up businesses, we anticipate what a customer will want and like. Sometimes, we conduct surveys to collect opinions from customers.
In reality, it's difficult to really hit the spot on customer expectations. However, through online reviews, you can gradually collect real-life ideas to serve your customers better. Here's an example.
Imagine you run a sizable dining that caters to a unique demographic of consumers characterized by their romanticism. Deem lights, roses, and scented candles. Stuffs like that.
Then, after an experience, a customer leaves an online review, pointing out how the deem lights makes it hard for her to see what's happening around and that puts her on the edge. Aha! Right there is a valid concern that never crossed your mind during setup.
You may have imagined that deem lights were the best option for that type of dinner. And a few experts that you consulted had probably agreed with your 'deem' idea as well. But with a unique perspective shared via an online review, you find yourself rethinking your choice of light not just to please that customer but to address the concern of proper vision for your diners.
Three review sites you should be paying attention to
Knowing the importance of online reviews and how to harvest them from your customers are not enough to position you for great consumer evangelism. You need to ensure that your reviews are collected and accessed via the right platforms.
Currently, there are dozens of review platforms that cater to companies of various industries. Depending on your business, you can incorporate more than one review collection channel into your processes but it's best to use highly trusted options. These three sites below have seemed to cater to small and medium businesses across several industries.
Google My Business Reviews
Regarding visibility, Google is the one-stop shop for online visibility and organic traffic. By simply setting up a Google My Business (GMB) profile for your company, you can start collecting online reviews from customers with ease. These customer reviews will be synced with their email addresses and their Google followers can get to see them too.
Setting up on Google My Business puts you within the good graces of the 64% of consumers who actively search for contact information of local businesses through their GMB profiles. You can join billions of businesses around the world to utilize the power of Google to collect reviews from consumers and gain more exposure.
Facebook Reviews
There are 2.9 billion monthly active users on Facebook, so it's a goldmine of information for customers and businesses. Since Facebook rolled out its unique review system in 2018, businesses have tried to make the most out of these billions of monthly activities.
With that many activities happening on the platform, it's unadvisable for small and medium size businesses to ignore the need to use Facebook as a review platform.
Currently, over 60 million businesses are trying to hit home runs on the platform. You don't want to be left out.
Yelp
Yelp is one of the pioneers of online reviews for businesses. It has over 184 million reviews for 66 million businesses worldwide, according to their Q2 2014 investor report.
Currently, more than 178 million people visit Yelp monthly to read reviews about a business that they wish to buy from and 35% of these researching customers visit local businesses to make a purchase within 24 hours after reading their Yelp reviews.
These staggering statistics makes it hard to ignore the need to claim a business listing on Yelp and start harvesting reviews from your customer via the platform.
Conclusion
The relationship between customers is very solid even without knowing themselves. This is because they all have one thing in common. They are all parting ways with their money. So, they are particularly concerned about how others feel about that decision.
Devising a means for customers to share their experiences can help potential customers hasten their decision to buy from you. You can try incorporating these review requests into your email marketing strategy.
Collecting these reviews opens up a communication channel that allows you to connect customers' unique perspectives, which can be a competitive advantage when incorporated right.
You have to make it a priority to adopt tested tactics for harvesting these valuable online reviews from customers while positioning your business in platforms where reviews really matter.