30-Second Summary:
A good website builder will have all the features you need to create a stunning website.

One of the most important features to look for is a user-friendly interface.

Both free and paid plans are also important.

A large selection of plugins is also crucial.

Only choose a website builder that meets all of your needs.
Do you need to build an incredible website!? If so, then a website builder can be extremely helpful. Website builders are software that allows you to build websites without writing code! Many entrepreneurs use these tools to build wildly successful eCommerce stores. 
However, despite the fact that website builders can be highly useful for building profitable websites, not all website builders are equal. In fact, some are significantly more user-friendly and contain better features than others.
In this article, we are going to go over the most important 11 features that a website builder should possess. After reading this article, you should have a much better idea of what to look for when you are choosing a website builder. Let's get started!
What Features Should a Website Builder Have?
1.  Easy-to-Use Interface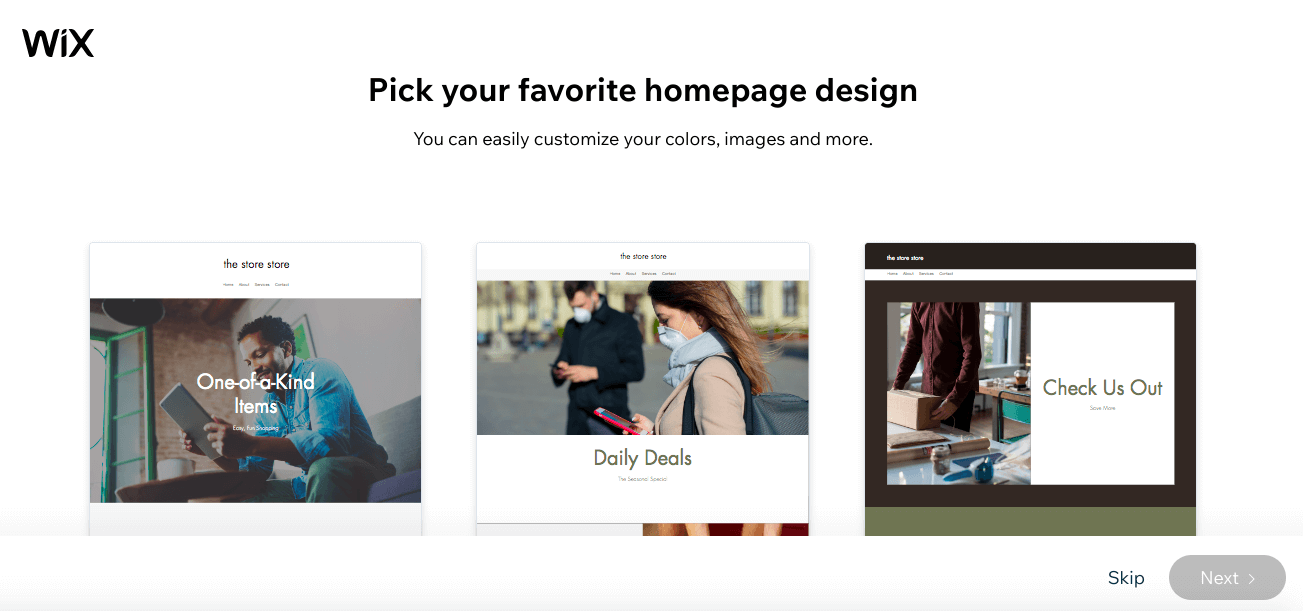 The entire purpose of a website builder is to make it easy for you to build a website without having to write code. So, for this reason, a simple and easy-to-use interface is perhaps the most important feature for website builders to have! A good user interface is clean and elegant and makes it easy for you to choose options and add elements to your website. You can see an example of the Wix.com user interface above. As you can see, it makes it very easy to choose different options for your website.
2.  High-Quality Templates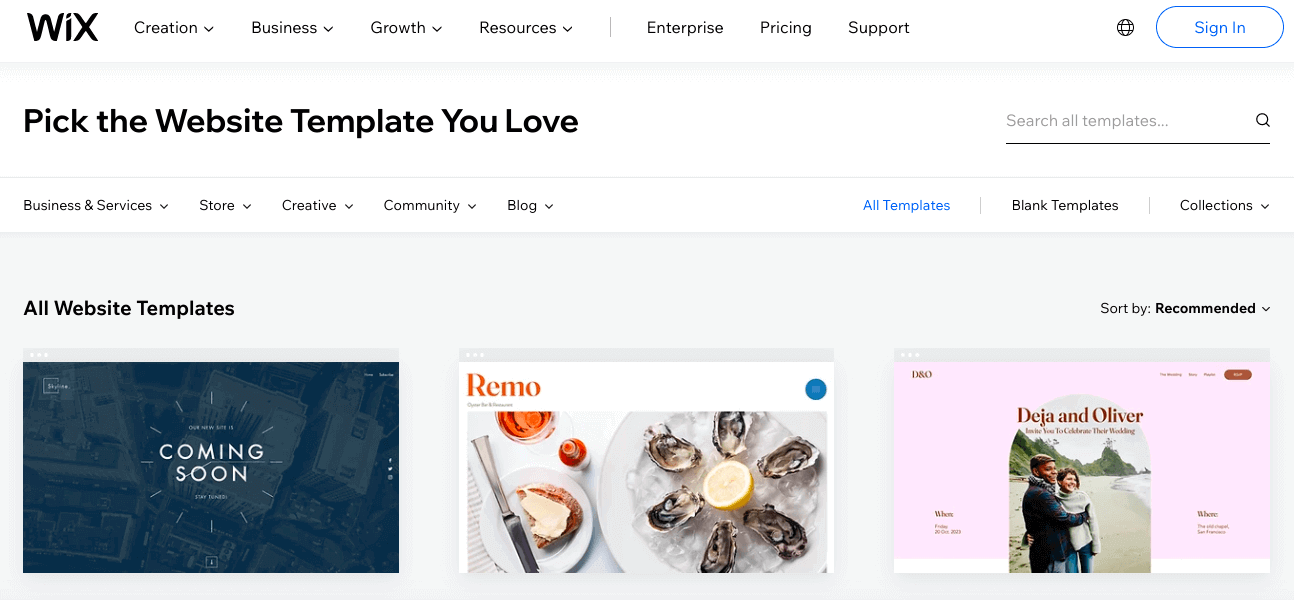 When you are trying to build a beautiful website, you need to have a variety of high-quality templates to choose from. Having a variety of templates to choose from will increase your chances of being able to find a template that resonates with your unique brand and style preferences. Further, being able to choose from a variety of templates prevents you from having to think too hard about how your website should look. In other words, offering high-quality templates simplifies the process of designing a website, which is highly beneficial.
3.  SEO Tools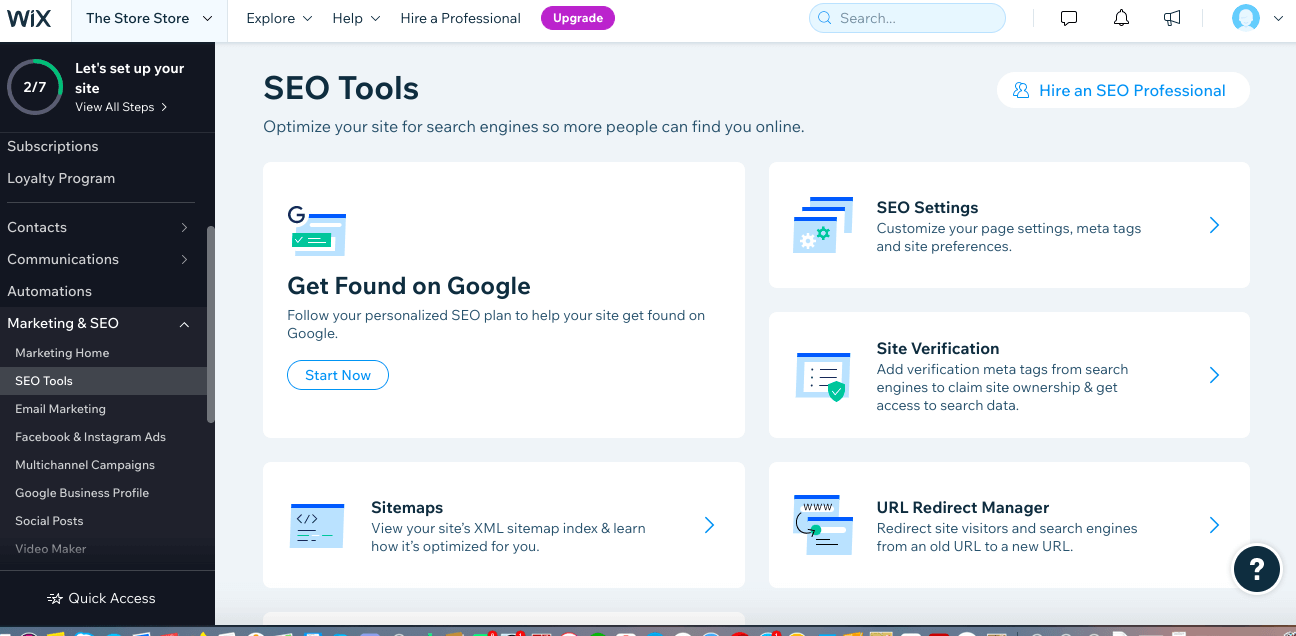 Ideally, a website builder will have built-in SEO tools that can help you to improve search engine rankings for your website. Having better search engine rankings can dramatically boost the amount of traffic for a website, which in turn can dramatically increase sales. The better that the SEO tools are on a website builder, then ideally, the less reliant that the website owner will have to be on paid traffic. This is because having better SEO is supposed to increase the amount of organic traffic. In fact, SEO drives 1,000% more traffic than organic social media.
4. A Large Selection of Plug-Ins 
Plug-ins are pieces of software that add extra features or functionalities. So, plug-ins can help you to get extra functionality on a website builder. For example, plug-ins can help you to add contact forms, to add analytics tools, to add live chat, to add social media tools, to add a photo gallery, etc. A good website builder will offer many different website plug-ins that can enable you to do much more with your website than you might otherwise be able to.
5. Great Customization/Design Tools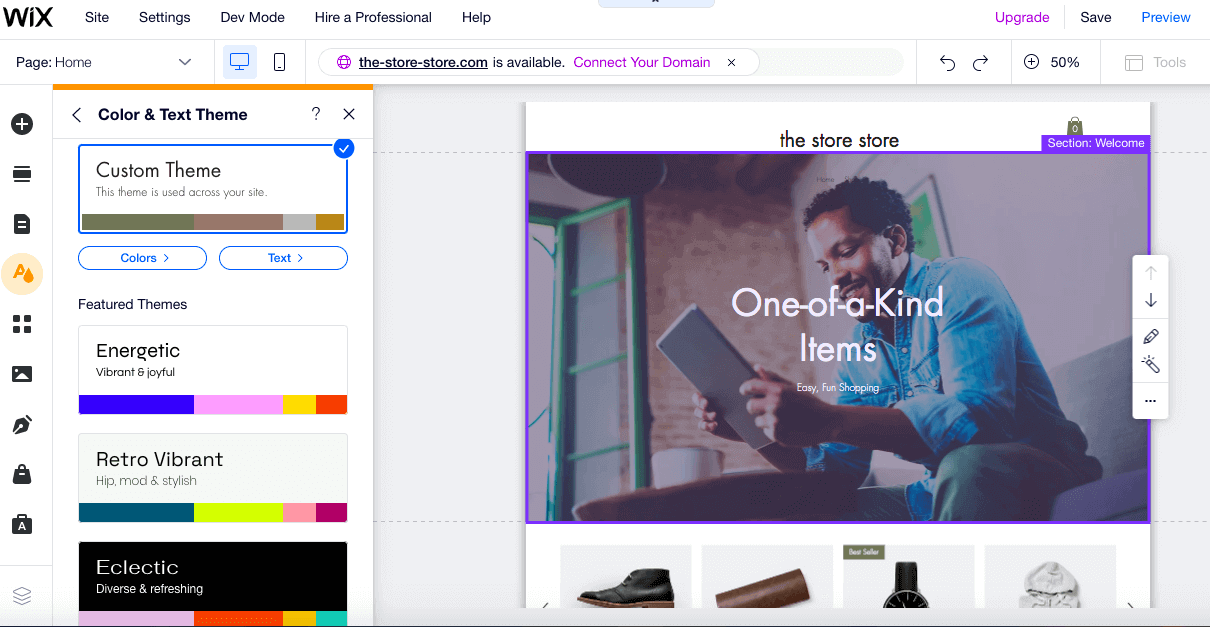 Customization tools are tools that allow you to customize your website. These can include themes that let you alter the colors, tools that let you add social media buttons, tools that allow you to add your customer testimonials, and more. You can see an example of Wix's customization tools above. The benefit of customization tools is that they allow you to have more control over how your website looks without you having to go in and actually write more HTML code. Being able to customize your website also allows you to make your website more unique and helps it to stand out from your competitors. This can be highly beneficial for your business.
6. Security Features
At a bare minimum, you should make sure that your website builder offers a secure socket layer (SSL) certificate for both free and paid plans. This certificate gives you the peace of mind to know that your website is a hypertext transfer protocol secure (HTTPS) site. When a site is HTTPS secure, it means that all of the information is encrypted, including sensitive customer data. The last thing you want when you are trying to build a website and launch an online business is to have a security breach in which your customers' personal data including payment information is stolen. Many website builders also offer plugins for advanced security features such as data backup plugins. The more security features, the better.
7. Custom Domain Names
Usually, if you go with the free version of a website builder you will be assigned a domain name that is associated with the site builder. This is true whether you use Shopify, Wix, etc. For example, if you use Wix to build your website, you might be assigned a domain name like StephaniesBakery.Wix.Com. But, most people would prefer to remove the "Wix" from their domain names. So, for example, a custom domain name for Stephanie's Bakery could be StephaniesBakery.com. You should always make sure that the website builder you are planning to use allows for custom domain names. Otherwise, you could get stuck with a domain name that you don't want!
8. A Blogging Tool
Considering the fact that 77% of internet users read blogs and that blogs are vital for SEO, it is key that your website builder has a good blogging tool. Additionally, statistics published by Statista show that there are at least 31.7 million bloggers in the US alone. A good blogging tool will allow you to easily add new blogs in a way that is clean and well organized. If your website builder does not have a good blogging tool, then adding blogs can be very difficult. So, make sure yours has one! Of course, you will still be responsible for writing and posting the blogs even if your website builder has a good blogging feature. But, you can always outsource this work to a professional writer if you would like!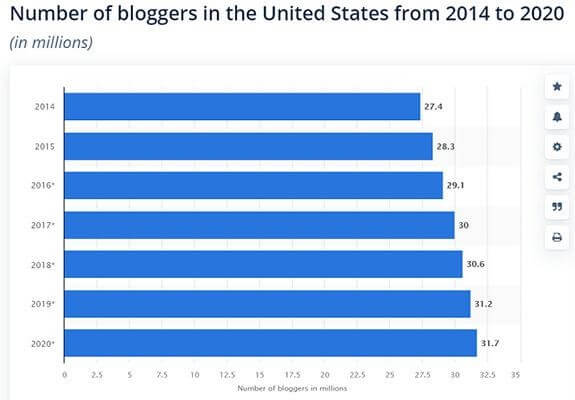 Source: Statista
9. Analytics and Reports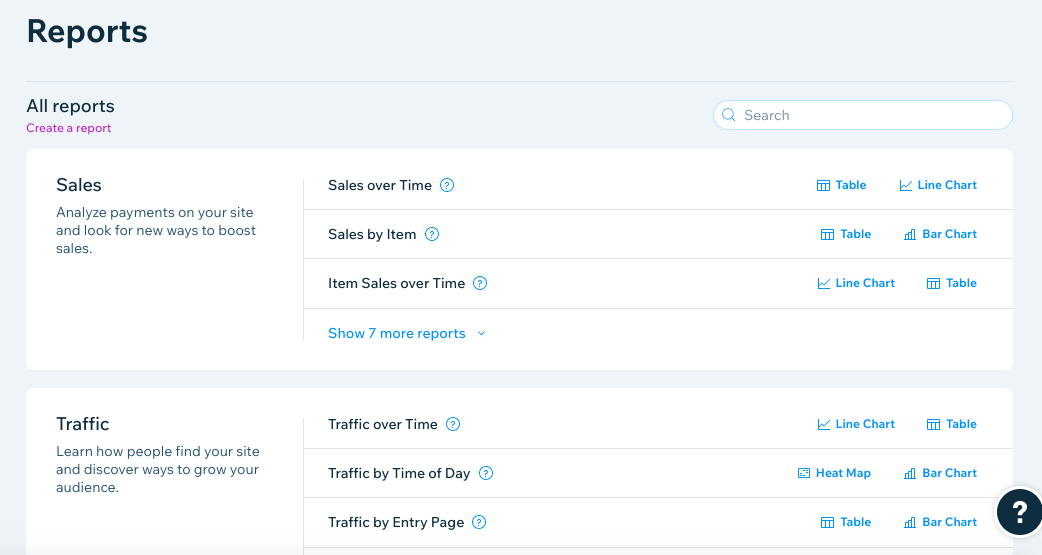 Your website builder should have analytics and reports in order to let you know how every page of your website is performing. This information is crucial in order for you to understand what is working well and what needs to be improved. If your website builder does not have this feature, then it will put you at a significant disadvantage. Some website builders also allow you to integrate third-party data/analytics tools such as Google analytics. This, too, can be highly beneficial and is something that you should look for.  
10. Ecommerce Solutions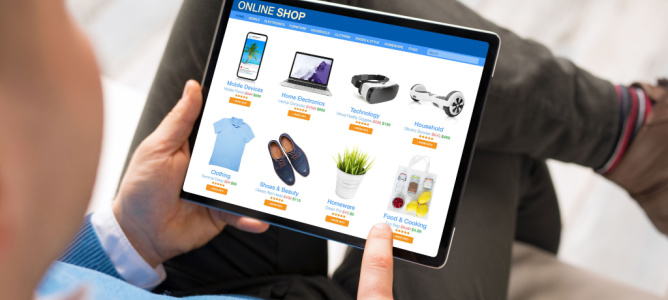 If you are planning on selling anything on your website, then you are going to need high-quality ecommerce solutions. This means that you will need to be able to easily list products for sale, adjust prices, display product images, have a method for accepting payments, have a method of accepting shipping information, etc. Essentially, it needs to be easy for your customers to browse your ecommerce products and make purchases on your website. Some websites have better ecommerce solutions than others.
11. Social Media Integration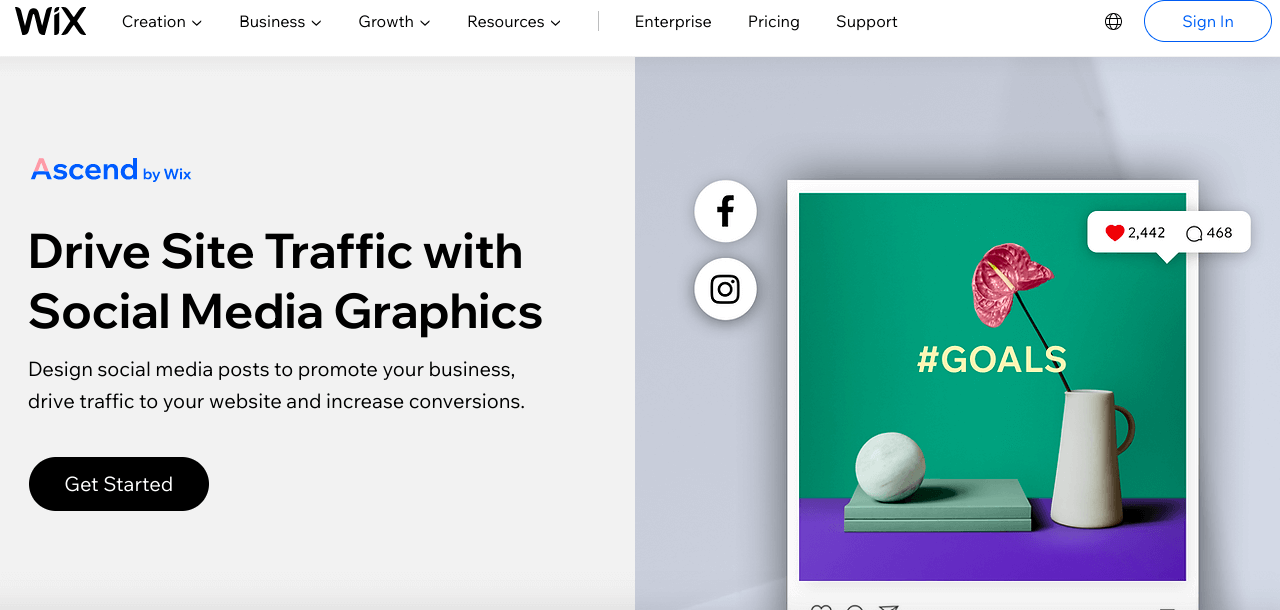 Being able to integrate social media easily is another important feature that you should look for in a website builder. When you can seamlessly integrate social media onto your website, it makes it easier for your followers to connect with your brand and your website. It also makes it significantly easier for you to market your website.
Conclusion
If you are looking for a website builder, then you will have many different options that you can choose from. Some of the most popular are Wix, Shopify, Square, BigCommerce, and Squarespace. In order to get the best possible result for your website building efforts, it is crucial to choose an option that has enough high-quality features. You should look for a website builder that has as many of the eleven features that we have listed in this article as possible. If you can find one with all 11, then you should seriously consider it.
If it is your first time using a website builder, then the user-friendly interface might be the most important feature for you to consider. This is because it might take you a little time to adjust to using a website builder. So, the more user-friendly the interface, the better.